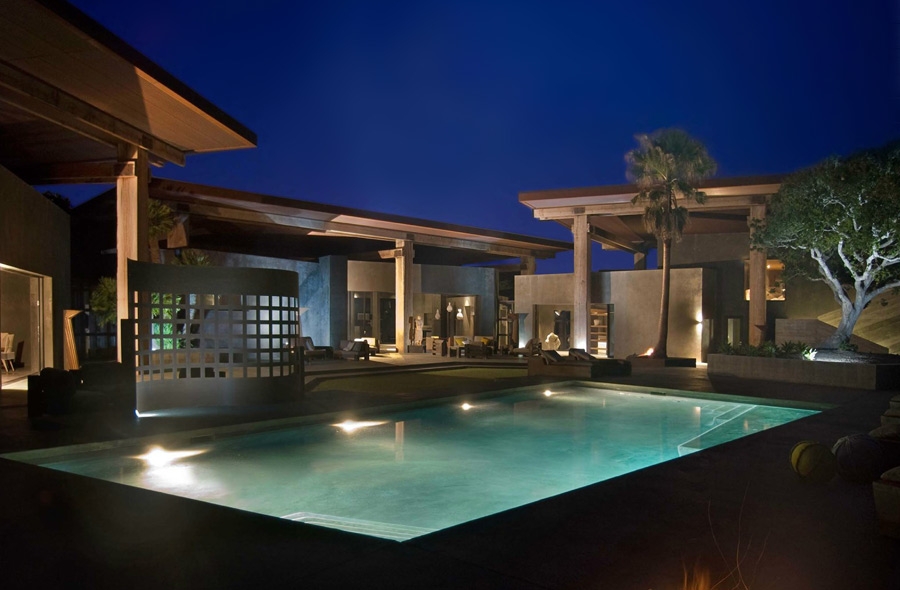 An American First: Tres Paraguas. The whole world looks and longs for America and its way of life! It follows that California is one of the most desirable locations for internationals to locate – to have a second home – a hideaway.
Between Los Angeles and San Francisco, midway between these two cities is the ideal place: it is the small town of Carmel-by-the-Sea on the spectacular Bay of Monterey. It shares the bay with the famous residential/golf community of Pebble Beach, the coastal resort towns of Monterey and Carmel, and the breathtaking Big Sur coastline.
Carmel is one of the newest, re-emerging destinations, having all the attributes of California: summer climate all year-round, premier golfing, boating and fishing; world-famous art market and restaurants, music and art festivals, the iconic Concours d'Elegance, AT&T National Pro AM, jet center… everything is only minutes away from this small town.
A young Carmel couple, Aime and Bob Carroll, contacted me in October 2004. Aime asked that I conceive a new design environment to be built for her and her family – something new and exciting for Carmel!
My inspiration comes two-fold:
The Request: "Build something new and modern—create an environment we have not already experienced."
Having lived in California for over 50 years, I always wanted to live in not one house, but a compound, a quinta, of individual buildings:
One building for entertaining and a theater.
One building solely for cooking and dining.
One or more buildings, or domiciles, for family visits or friends.
A building with a library/study, bath, dressing and bedroom.
A separate spa building, perhaps.
I was given the opportunity to accomplish this.
The Tres Paraguas are three giant rectangular roofs of corrugated Corten steel mounted on 30″ x 30″ inch columns of Douglas Fir – 26 feet high. These roofs float free, stilt-over, the five buildings below. Quite a sight! The compound's five houses are clustered around a half-acre enclosed courtyard facing south. It has a sunken lawn rising up to a pool and spa and a cantina outdoor kitchen, lounge and bar with Jacks Peak Park as the backdrop.
The buildings are modern pueblas, self-roofed with heavily stuccoed walls in three earth tones, 18-foot walls and 12-foot high sliding glass partitions, pocketing into the end walls, allowing the buildings to be completely open as pavilions.
Built on its own five-acre pinnacle above all surrounding properties, the home affords 360-degree views of the entire Monterey Bay and the forests of Jacks Peak. This gives you a beginning natural landscape of live oaks and pines, to which I have added Canary palms, Mediterranean palms, a Washingtonian palm, multitudes of agaves, and New Zealand flax as ground cover – all giving a strong visual texture to the hillside terrain.
Enter on Aguajito Road thru the Corten steel ribbon gate and wind up to the house. The five houses span approximately 13,000 square feet with a half-acre enclosed courtyard to the south and a long cast concrete parapeted terrace to the north and the bay. It's great for lunch or cocktails at night lit by the town of Monterey.
Three years in the planning and four years to completion, this is the master work of a master artist and designer with meticulous attention to detail. The result is well worth it. It is a place that will endure, that only gets better and more cherished as you experience it.
Created by Ron Mann, the entire layout is designed for relaxed time-off living – noise free – for total seclusion and restoration, and every kind of world-class entertaining!
For More Information Please Visit
www.TresParaguasCarmel.com • (831) 214-2545
Living on the San Francisco Bay
A True Belvedere
This true waterfront "Belvedere" offers unobstructed views of the Golden Gate Bridge and the San Francisco skyline. The private, gated estate has 5 bedrooms, 4 full and 3 half baths in the main residence plus separate 1 bedroom, 1 bath guest quarters. The property also features level lawns and multi-car parking. $18,800,000
San Francisco Bay Front
Unobstructed views of the Golden Gate Bridge and the San Francisco skyline can be enjoyed from this San Francisco bayfront classic Tuscan home. It has been totally remodeled with 4 en-suite bedrooms, exquisite finishes, a sunny waterside terrace, pier, floating dock and boat lift. $16,500,000
Alone In It's Class
This world-class waterfront contemporary is set on 1.2± incomparable water-level acres with up-close views of the Golden Gate Bridge and the San Francisco skyline. It contains 5 bedrooms and 5.5 baths in the main residence plus a separate 2 BR, 1 bath guesthouse. $18,950,000
Casual Elegance
This estate combines casual elegance with stunning views of the Golden Gate Bridge and the San Francisco skyline. It features 10,000+ square feet of interior space, including 5 bedrooms and 7 full and 2 half baths in the main residence plus a separate 1 bedroom, 1 bath guest apartment. The property also offers terraces, gardens, a sparkling pool and gated privacy. $18,890,000
Decker Bullock Sotheby's International Realty
GlobalEstates.com
Bill Bullock
[email protected] • (415) 384-4000
Lydia Sarkissian
[email protected] • (415) 517-7720
Pennsylvania Country Manor
Nestled on 3.5 acres just north of Harrisburg in Central Pennsylvania's Blue Mountains, this exquisitely designed and built manor home offers the modern amenities of a five-star resort coupled with old-world charm, comfort and style. You'll thrill to this hillside retreat's panoramic views of the Susquehanna River and the Harrisburg County Club. Inside, you'll discover impeccable, world-renowned craftsmanship, quality and attention to detail.
Constructed of gorgeous stone masonry, the house has a slate roof with copper accents and intriguing roof lines. The grounds include more than 10,000 planted landscape items including trees, shrubbery and perennials. A large heated outdoor swimming pool offers abundant hardscapes adjacent to the lower level kitchen and cabana bath. A tennis court completes the outdoor package. Multiple patios and verandas offer sweeping views of the Susquehanna River Valley. The year-round carriage house not only has five auto bays, but also includes an elegant one-bedroom apartment.
Access this showcase home through a secure gated entrance and wind through the majestic scenery to enter the home through a grand entry hall complete with antique chandelier and a massive handcrafted curved staircase.
The house's heart is its chef-inspired kitchen, which boasts hand-hewn and custom-finished wooden cabinetry, granite counter tops, custom ceramic tile back splashes imported from Italy, a hearth, ample food and equipment storage with Gaggenau, Miele, Wolf and Sub-Zero appliances. The butler's pantry, with its gracious amenities, has easy access to both the kitchen and formal dining room. From the dining room and formal living space, family and friends can enjoy the beauty of the surrounding mountains and river views via the multiple French doors.
Pass through the gallery and you will find the perfect master suite where you will enjoy relaxation and solitude. This home is complete with four additional bedrooms and en-suite baths, each with attention to detail.
Offering captivating views coupled with world-class luxury, this one-of-a-kind home awaits you. Come home to Central Pennsylvania.
Jack Gaughen Realty
Dick Tucker
[email protected] • (717) 943-2563
JGR.com • CentralPAManor.com
California Central Coast Wine Country
Rancho Arroyo Grande Vineyards
Critically-acclaimed wines came from this stunning vineyard estate! An extraordinary setting with a 9,800 sq. ft. hacienda, pool, pool house, guest houses, sound studio, ponds, large equine complex and event center, unfinished winery (with permits), tasting room and more! Gorgeous open valleys offer any number of possibilities.
Only five minutes from Lake Lopez with fabulous boating and sailing. Approx. 3,400 acres at $21,850,000.
Rancho Encantado
Old world craftsmanship and charm define this Mission Style hacienda with a 7,000 sq. ft. residence and enchanting casita. Verandas with panoramic views, gourmet kitchen, large wine cellar, French doors, patios, pool, gardens, massive sandstone fireplaces and handcrafted chandeliers.
A highly-profitable walnut orchard and river frontage also make for investment opportunity. Approx. 122 acres at $7,950,000.
Sotheby's International Realty
Patty Murphy
[email protected] • (805) 680-8571
SantaYNezValleyHomesAndLand.com