When Alan Trent was told that he couldn't have curved interior walls, he took it as a challenge. "I was told it was impossible and I thought 'we'll do it then'. Nothing is impossible", Alan says. "We wanted to make it special and different, to push the design envelope."
This US-born entrepreneur has a lifetime of invention behind him, including 20 patents, and associated business success.
"We wanted a house that would reflect the ocean at its front doorstep," he says. The result is a spectacular US$6M, 10,000-square ft. mansion akin to the interior of a superyacht — a home that's intended to be a decadent and playful space, much like those floating mansions of the rich and famous. During the day the home is conservative, with long, lean lines that are subtle against the golden landscape of the coastline. A wide deck leads to a saltwater infinity pool and stunning 180-degree views over Tasman Bay. "When you're in the pool you definitely feel like you're in the ocean," says Alan.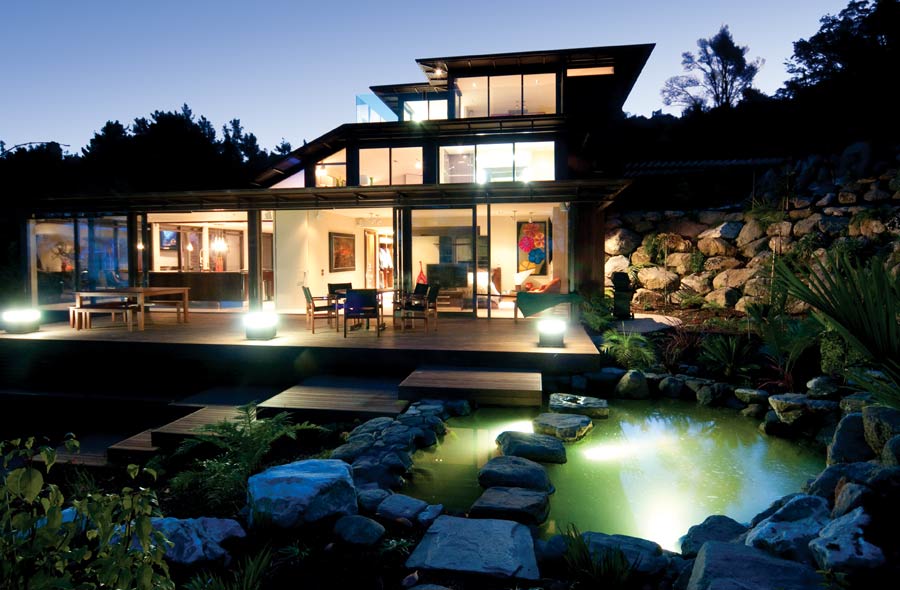 The house is less subtle when twilight hits, the lights are lit and it's submerged in an icy blue glow, looking like a spaceship from a distance. Inside, the same light casts a cool glow on the gleaming woodwork of $1M worth of joinery made from silky oak from Tasmania. The wood took two-and-a-half years to collect because that particular cut is available in only five percent of each tree. "New Zealand has a history of superb builders, craftsmen and innovative thinking. We've just harnessed their talents," Alan says.
This experience led to his second project: Split Apple Hideaway, a stunning lodge at the water's edge near the Abel Tasman national park. Using the same pool of talent, he has created a luxurious, private resort that has welcomed many famous guests over the past two years. The cliff-top house and adjoining sections are a part of a master-planned community being developed on these 600 acres of ocean frontage.
"New Zealand is one of the most beautiful countries on Earth. And not just that, it welcomes investment, entrepreneurship and creativity. We came to Ruby Bay [at the top of New Zealand's South Island, near Nelson] and fell in love with the area. Where else in the world can you be on the cliff top looking out over an amazing bay and snow-capped mountains, surrounded by vineyards and orchards, and be near a beautiful city and airport?"
Alan has also created similar sections to that of the spectacular home. "The sections that are designed for fun, privacy and practicality, whether as a full time home or vacation," says the entrepreneur. "We want to create a unique ocean community."
More Information
For details about these homes and sections, please contact:
New Zealand Sotheby's International Realty
John Bampfylde . +64 27 325 1325 . [email protected]
Simone Henbrey . +64 21 135 7339 . [email protected]