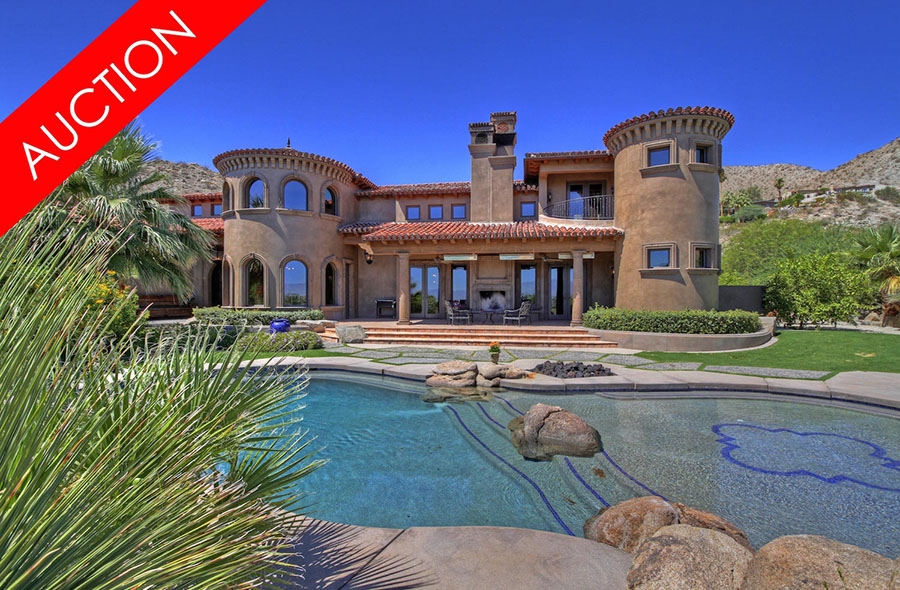 Nestled in the Palm Springs resort area, long recognized as a playground for the stars, the mesmerizing hillside villa, Cholla Palms, seamlessly marries the natural landscape with stunning Spanish architecture to create a private sanctuary perfect for even the most discerning taste, where old world charm meets luxury living.
Your opportunity to own this piece of paradise, including its entire inventory of custom-designed furniture is available on April 30, 2015.
Located on 2.39 acres in Cahuilla Hills, this magnificent estate boasts room for everyone across 6,254 square feet encompassing four bedrooms, all with en suite baths. The home itself is secluded and removed from neighbors, accessible through a private gate and drive into a circular motor court.
Richly upholstered furniture perfectly complements the home's architecture and supports the elegant feel as one room flows seamlessly to the next. The residence is being auctioned as a complete package, with all of the furniture remaining for the new owner. This is turnkey living in a whole new light!
With four bedroom suites, chef's kitchen, elevator, wine cellar, resort-style pool, separate spa, and amazing views from every angle, this home was made for entertaining. Guests will be amazed at everything there is to do both on the property and in the surrounding Palm Desert community.
Cholla Palms is located in Palm Desert, part of the Palm Desert / Palm Springs resort area. With 350 days of sunshine each year and more than 125 golf courses, this is a popular destination for snowbirds and celebrities alike who are looking for a break from the hustle and bustle.
The home is just minutes away from El Paseo, akin to Rodeo Drive, which boasts high-end boutique shopping as well as renowned luxury stores. Don't be surprised if you see a celebrity who is away from the Hollywood Hills for the weekend while meandering along the drive. Activities abound in the desert, including many world-class sporting events, multiple casinos and entertainment venues,
Paradise Awaits
Act now to gain your opportunity to live under the open sky at Cholla Palms. Contact: Supreme Auctions at 866-929-2243 or visit Supreme-Auctions.com to reserve your place at the no-reserve auction April 30, 2015.