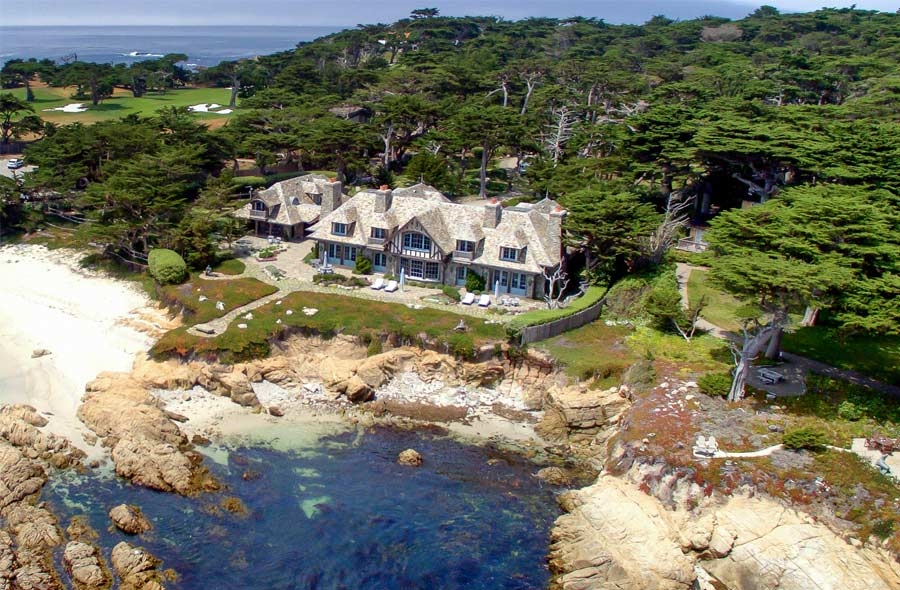 One of just 31 homes on the oceanfront of the fabled 17 Mile Drive in Pebble Beach, California, Otter Cove is the BEST Pebble Beach has to offer.
Like living in a romance novel, secluded and surrounded by Cypress trees, coastal rock formations and the sea, creating your own private sanctuary, you will gaze out through your picture framed windows at otters and harbor seals while catching sight of whales breeching as they feed on the bounty Monterey Bay offers them. Nature's cinema truly plays out in your backyard every moment of the day, and every evening you are calmed by the Pacific Ocean's rhythmic movements as the sun sets creating an artistic display across sky and sea for you to enjoy.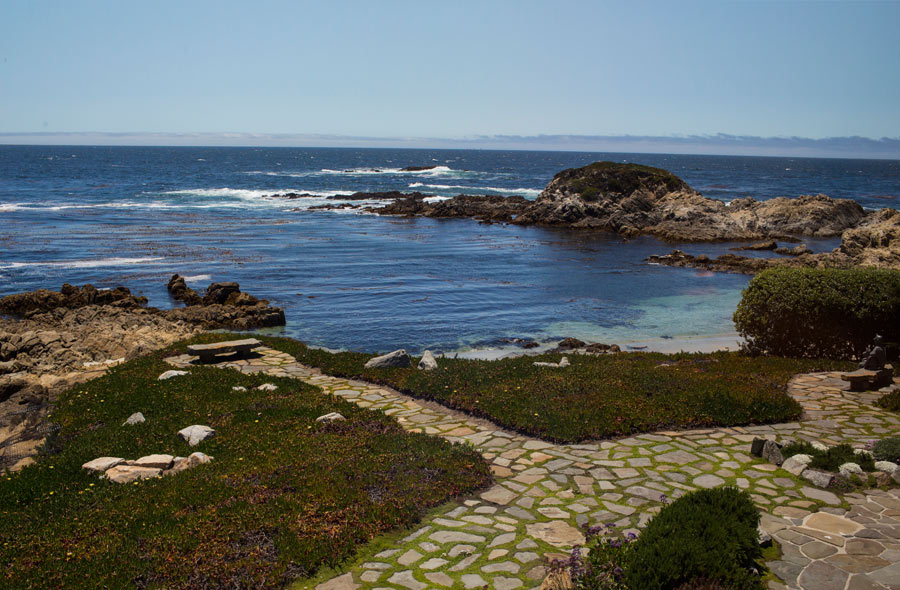 This section of California coastline stretching through to Big Sur has a history of artistic inspiration, the rocky shores were loved by Ansel Adams and the Weston's who documented it in extraordinary black and white photography of world renowned fame. Otter Cove is truly one of of a kind. Almost two and one half acres of this coveted coastline, it boasts a rare natural pebble beach marine sanctuary. The buildings bring an immediate sense of belonging as if they grew from the ground on which they sit. This timeless oceanfront French Normandy Estate is a monument to pure exceptional craftsmanship and shared vision—a true work of art and a tribute to the family and the craftsmen who designed and built it.
No corner was cut in the creation of this home, a timeless estate built to last for generations to follow. The six bedroom, seven full and three half bathroom main estate with it's one bedroom and one bathroom guest home, gives the feeling of living in a fine chateaux in France. Granite walls keep you warm from the sea breeze and radiant heat rises up through the limestone floors brought in from Burgundy. Every door, every window is custom-made while the banisters are hand-carved, beams are hand-hewned and metal is hand-forged. Every detail was thought through and meticulously addressed. The roof is made of multicolored slate and all intersections are done in the french tradition of tile weaving to create unbroken lines.
Interiors surround you with french panelling imported from an estate in France, deconstructed lumber, first growth redwood, kitchen cabinets handmade in Paris, Tremeau and limestone cast fireplaces, and an antique Dutch candle chandelier. Although you are surrounded in a truly authentic French Normandy tradition, no modern amenities went overlooked. Discreetly tucked away, you can rely on the state of the art security system, integrated electronics, Lutron automated lighting system with 31 miles of fiber optics, and every room has touchscreen automated AMX technology to control and monitor the entire home.
Stepping through the authentic french doors onto the limestone patio edging the Pacific Ocean, you immediately feel a sense of purity. The air is crisp, the sea is clear and endless blue stretches until you see where the ocean meets the sky. The environment affords you the benefits of a healthy lifestyle whether relaxing by reading a book seaside, or choosing from any of the active lifestyle pursuits easily reached between Pebble Beach and Big Sur.
Tucked between The Lone Cypress Tree and Cypress Point, this is a property to experience with all of your senses. This exquisite estate is offered at $35,000,000. Private viewings are available.