Turnberry Associates is one of America's leading companies in real estate development and property management. During its fifty-year history as a premier company, Turnberry Associates continues to pioneer the path for other developers.
The company's diverse residential, hospitality, retail and commercial projects valued at more than $10 billion, have received accolades for revolutionizing the living, working, leisure and shopping habits of millions of people across the country. From Turnberry Ocean Colony, Porto Vita, Aventura Mall, Fontainebleau Hotel in Miami Beach and Turnberry Isle Resort in Aventura to signature properties in Las Vegas, Washington D.C. and the Bahamas, Turnberry Associates has always been known for superb quality, impeccable service, and offering a great deal of unique amenities to their buyers. According to the most recent results in the 2015 Knight Frank Wealth Report – Global Cities Survey, Miami is now ranked number 6 amongst the cities that matter most to the world's wealthy. Turnberry Associates believe Miami has raised the bar on luxury lifestyle standards and they continue to transform themselves into a worldwide destination and a global city, especially for the wealthy. Today Miami offers the best of all worlds including- world class dining and fashion, beautiful year round weather, breathtaking beaches and we are now the center for the global banking and business powerhouses.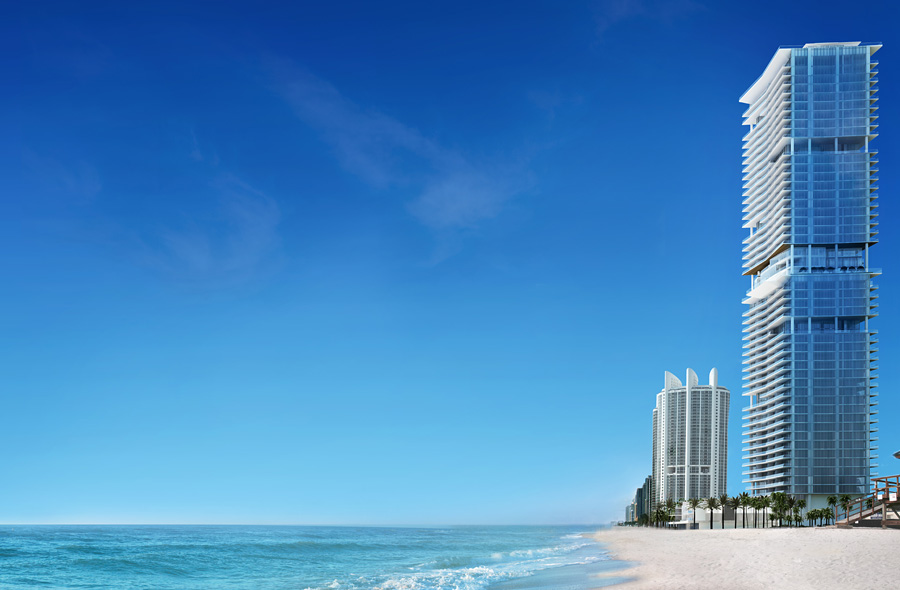 Today, Turnberry Associates have set their sights on their latest development in the heart of Sunny Isles Beach, Florida. Nestled on a two mile stretch of the world famous "Millionaire's Row", Turnberry Ocean Club is the Soffer Family's latest residential development. The two mile stretch known as Sunny Isles Beach is the perfect location for Turnberry Ocean Club because not only is it an emerging area, but it is nestled just minutes between two metropolitan zones, Aventura and Bal Harbour which are two of the most well-known shopping and fine dining destinations in the world. It is also centrally located between the Miami and Fort Lauderdale international airports. The tranquil community of Sunny Isles Beach is coined as a culturally diverse destination offering an amplitude of outdoor activities, oceanfront views and a myriad of shops and restaurants lining the main street of Collins Avenue, a perfect place for Turnberry Ocean Club to call home. Located at 18501 Collins Avenue, Turnberry Ocean Club will rise 649 feet into the crystal blue sky. This 54- story modern glass tower will be comprised of 154- grand three, four, five, and six bedroom ultra-luxury residents starting at $4 million. Known for raising the bar and pushing the limits, internationally acclaimed architects Carlos Zapata and Robert Swedroe have come together in a one-of-a kind collaboration to bring to life this breathing tower. The innovative design, personalized service, and unwavering focus on luxury amenities will make Turnberry Ocean Club South Florida's most coveted residential address. Upon entering the preconstruction sales market in late 2014, this exclusive residential development immediately welcomed an influx of global demand from buyers. Consisting of prominent South American families, New Yorkers, Canadians and most recently Europeans; Turnberry Ocean Club's appeal to wealthy investors are drawn to the architecture of the building and strong withstanding of the brand, Turnberry. Positioned as an exclusive lavish first-rate development in Sunny Isles Beach, Turnberry Ocean Club offers spacious flow through residences with direct ocean views.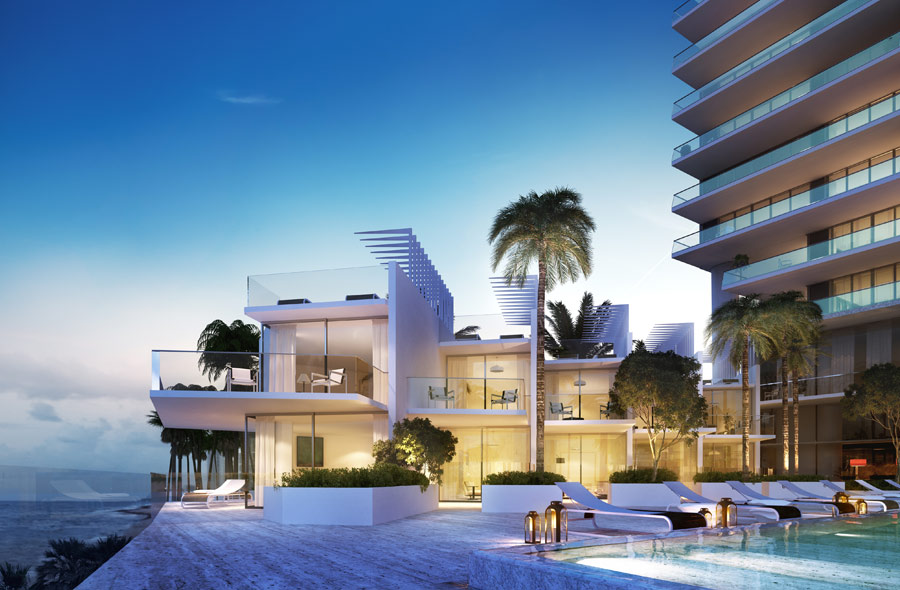 With design unmatched by any other, Zapata and Swedroe have incorporated exclusive duplex and triplex penthouses for buyers. Five duplex residences also known as the "Collection Residences" are starting at $19.5 million. The five-bedroom residences boast 6,935 square feet of indoor living area and each duplex includes an outdoor resistance swimming pool, hydrotherapy spa and summer kitchen with barbeque grill. The private elevator opens into the duplex's two-story elevator lobby followed by the flow-through two-story foyer, grand salon and terrace. The open-floor space continues on the first floor with an adjacent family room, gourmet kitchen and dining room. Opposite side, two bedrooms directly access the sunset terrace. On the second floor, the master bedroom overlooks the grand salon and boasts its own sunrise balcony, his and hers walk-in closets and master bathrooms. The foyer gallery connects the master area to the den and the additional two bedrooms which also open up to a private sunset balcony. The outdoor living space totals 4,340 square feet and wraps around three sides of the building allowing for exceptional views, ample natural light with 20-foot high ceilings inside and out, as well as unobstructed spaces.
In addition, two elite triplex penthouses priced at $35 million are positioned at the very top of this stunning luxurious residential development. The three story six-bedroom and nine-and-a-half bathroom floor plan boasts sunset and sunrise balconies on two stories edging five of the bedrooms and a total of 19,160 square feet of living space of which 8,410 square feet are of outdoor living. The rooftop was designed for optimal entertaining providing a summer kitchen by the private concrete rooftop pool and a party room also equipped with a full kitchen, all surrounded by breathtaking ocean views. Penthouses are equipped with the utmost lavish home elements such as a wine room, master bedroom gym, steam shower, formal & informal dining rooms, ironing room and the ultimate touch – a private in home glass elevator leading to the rooftop.
Luxury Amenities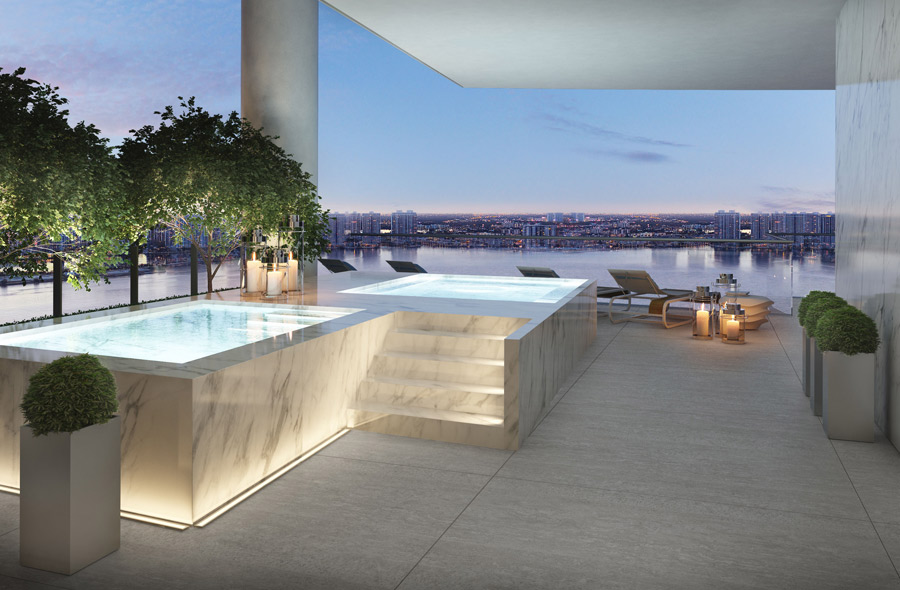 When it comes to amenities, Turnberry Associates leave no stone unturned. Turnberry Ocean Club's concept and groundbreaking design showcase the ultimate in luxury resort experience. The moment residents arrive at the dramatic porte cochere, the focus is on water, natural light and open spaces, from the fountain features to the opulent three-story lobby windows and the breathtaking ocean views. The $100 million Sky Club offers unparalleled amenities located on the 30th through the 32nd floor, including the cantilevered sunset and sunrise infinity-edge swimming pools suspended 333 feet above sea level, indoor and outdoor fitness centers, blow-dry and nail salon, yoga and pilates studios, pet retreat, pool bar, dining area and lounge. Furthermore, Turnberry Associates is offering a unique incentive to buyers by paying the initiation fee and the first 12 months of dues for an elite club membership at Turnberry Isle Miami. With this new incentive, buyers can choose to activate their new membership at the time of their first deposit and begin enjoying all of the resort's numerous amenities right away. Turnberry is a brand known for their amenity enriched and resort style lifestyle and are confident they are meeting the expectations and demands of their buyers.
At the lobby level, residents may enjoy an infinity pool with poolside service and bar and private ocean view cabanas, coffee bar, several dining areas, an indoor theater and a kid's room. In addition, as part of the Turnberry Associates organization, residents will have membership privileges with exclusive access to Turnberry Isle Resort's two Raymond Floyd designed championship golf courses, spas, restaurants, racquetball courts and deep water marina.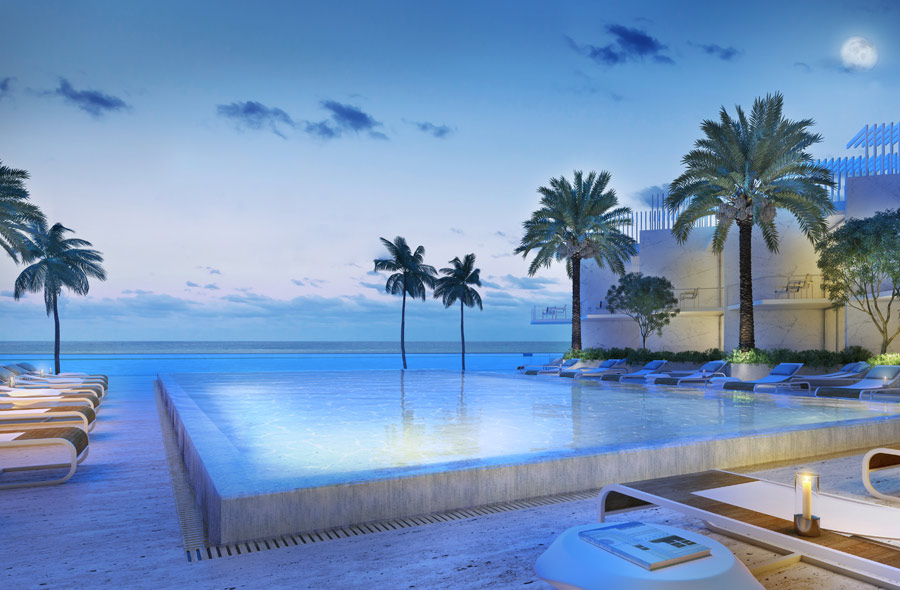 In addition, buyers of Turnberry Ocean Club will have complimentary access to their prestigious Turnberry Isle Resort & Golf Club, located less than a mile away from the residential tower. Turnberry will be paying for the initiation fee as well as the first year's dues at this celebrated country club. With this new incentive, buyers can choose to activate their new membership at the time of their first deposit and begin enjoying all of the resort's numerous amenities right away. Prospective buyers will select between a Golf Club or a Social Club Membership. In addition to the privileges all members enjoy, the Golf Membership includes unlimited play for cart fees, caddie program, complimentary access to practice and driving range facilities, complimentary locker and bag storage, 12 complimentary annual golf guest passes, 7 day advance priority golf course tee times and member golf tournaments and weekly clinics. The Social Club Membership includes unlimited summer golf between June and September and complimentary court fees and unlimited play at the tennis club in addition to regular privileges. Turnberry Associates have offered to pay the initiation fee and the first 12 months of dues for either club membership selected starting from the date the Buyer chooses to initiate.
Turnberry Ocean Club recently opened its innovative and high tech sales gallery located in the heart of Sunny Isles Beach at 215 185th Street, Sunny Isles Beach, FL 33160. Encompassing over 9,000 sq.ft, the expansive space truly reflects the style, elegance and sophistication of what buyers may expect living at Turnberry Ocean Club. The sales gallery showcases a luxurious 10-foot scale model that allows guests to fully appreciate the modern architecture of the Carlos Zapata-designed blue glass masterpiece. Within the space is a fully furnished three bedroom model unit where buyers can envision themselves in their prospective future home, as well as experience the aesthetic and ambiance of the interiors and the amazing flow through skyline views to the ocean and to the bay.
For more information, visit www.turnberryoceanclub.com or call 305.933.3000.