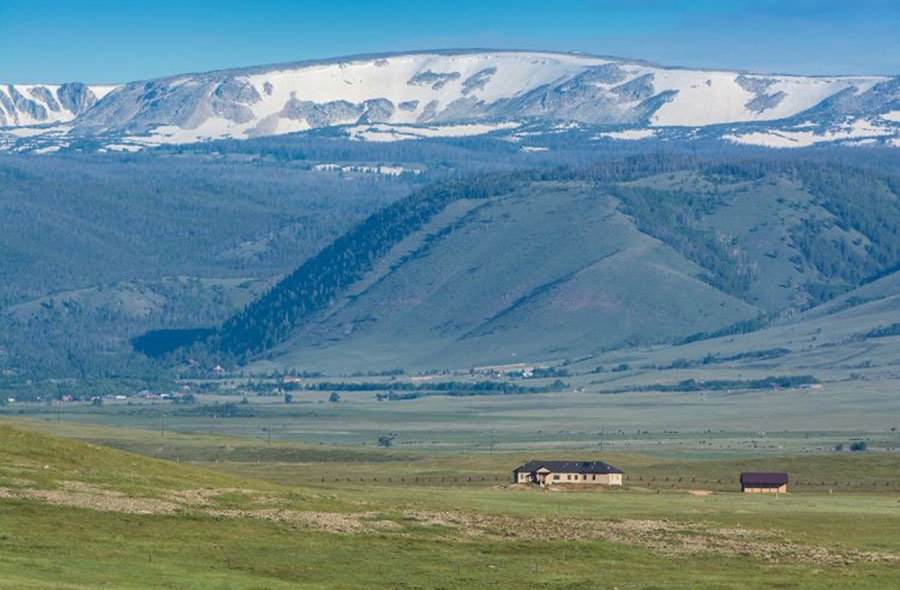 There is no place like Wild Horse Ranch! All of our Wyoming ranches for sale near Laramie border or are near the shores of Lake Hattie and the spectacular Medicine Bow National Forest, this privileged piece of land is sure to appreciate.
Wild Horse Ranch lies in the shadow of Sheep Mountain whose steep, tree-lined foothills are a home to hundreds of deer, elk, antelope and other wildlife. The cool pines make their way to grassy, rolling hills and dramatic panoramic vistas.
Wild Horse Ranch is a vast and picturesque ranch outside Laramie, Wyoming. In all its splendor, it stretches for miles and miles with rolling hills of lush, green grass that lead to the base of the Medicine Bow Mountain Range creating a majestic backdrop. At Wild Horse Ranch, property owners enjoy many conveniences and amenities. These conveniences and amenities include:
2,200 acre Lake Hattie well known for waterskiing, windsurfing, fishing and other water activities
Wildlife like elk, antelope, deer and many more roaming this vast stretch of Wyoming land
Community recreational areas adjoining Lake Hattie and National Forest with authentic shelters covered with natural tree-branch canopies as well as a boat launch, picturesque views and grilling areas for property owners to have the benefit of Wyoming ranch living
A 20-minute drive from Downtown Laramie and 15 minutes from Laramie Airport
Being only 2.5 hours from Denver, Colorado
Being at the Snowy Range Ski Resort in just 15 minutes and Steamboat Springs within 2 hours
Living on one of the West's last wild horse sanctuaries
Owning ranch land at Wild Horse Ranch affords property owners the rural lifestyle while living minutes away from the conveniences of the city of Laramie. Voted as one of the best cities to retire by Money Magazine in 2011, Laramie is a prosperous city located in the southeastern portion of the state that offers low property taxes, no personal income taxes, a great climate and with so many other benefits for its residents and property owners. Laramie is home to the University of Wyoming and hosts some of the West's favorite festivals including the Jubilee Days Rodeo and the Snowy Range Music Festival. There is no better place to settle down and live an ideal life with lots of land and clean, fresh air.
At The Brooks Companies, we are proud of our reputation and the integrity of our ranch developments. Our past customers are our best referrals. Folks come back time and time again to purchase land in our unique ranch developments of residential, recreational and investment properties. We feel we are truly the best at what we do and how we do it. We make dreams of land ownership come true!