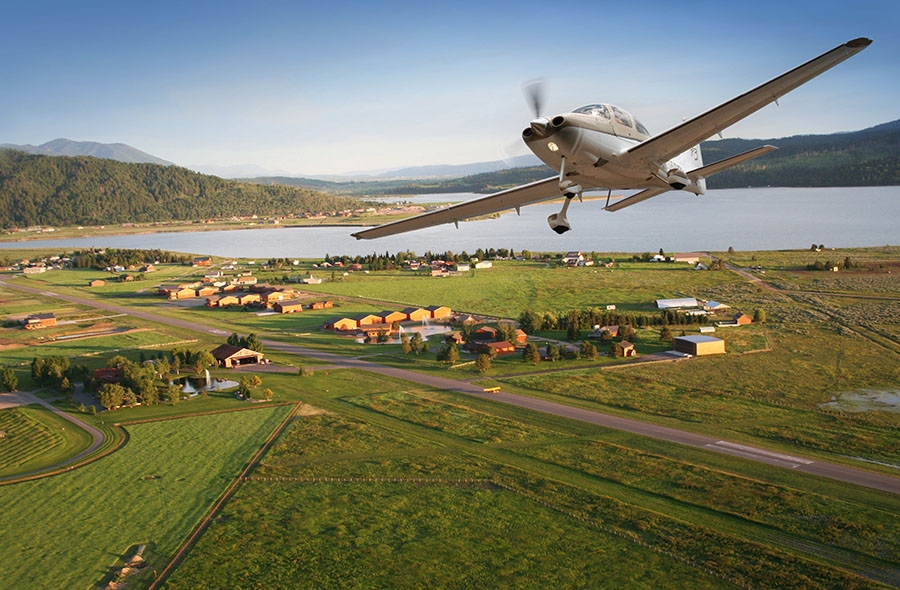 The Refuge in Alpine is very likely the fly-in residential community with the greatest breadth and depth of opportunities for the true sportsman.
Nestled among rugged mountains and the Palisades Reservoir, this fly-in, fly-out community is extremely unique – likely the most beautiful majestic, airport-based community in the world.
The Refuge is a private community within the Alpine Airpark, a spectacular and user friendly airport with inexpensive fuel and no landing fees. The runway, at 5,664' elevation, is 6,000 ft long and is situated in a convenient east-west orientation, ideal for the prevailing winds. The approach and departure is generally across a flat, wide-open dry BLM land. Thoughtful landscaping includes fish ponds and an abundance of native flora. An entire tree farm was purchased to aid in the landscape design. In the summer months, a bike pathway will connect The Refuge from north to south and extend beyond the airpark; in winter months, you can snowmobile or Nordic ski out your front door on the groomed cross-country trails.
From the 65 acres available at an average of 2+ acres per lot, these home and hangar locations represent a recreational-rich opportunity. Your garage is your hanger, and out your front door is world class skiing (snow and water), hiking, golfing, fly fishing, hunting, backcountry flying, gliding, snowmobiling, climbing, restaurants, and so much more. You can fly clients, cohorts, and industry experts into your Refuge for a week of world-class fishing, hunting, or skiing, and more. The nearby Jackson Hole Mountain resort was rated the #1 ski resort in America in 2013 ( Ski Magazine). SnowWest has consistently rated Alpine, Wyoming, as one of the top 10 snowmobile destinations, with an incredible amount of terrain and trails thanks to the opportunities afforded by the surrounding BLM and national forest lands. There are 3 majestic Blue Ribbon rivers that flow nearby and white water adventures on the Snake River flow into Palisades Lake, which is open to power boating and jet skis. Access to the world's top National Parks is just around the corner as well.
This is a unique ownership opportunity represents a truly unique, ultra-tax friendly chance to own a piece of easy fly-in, fly-out hanger & residential real estate that cannot be matched in terms of real fact-based windfalls of ownership.