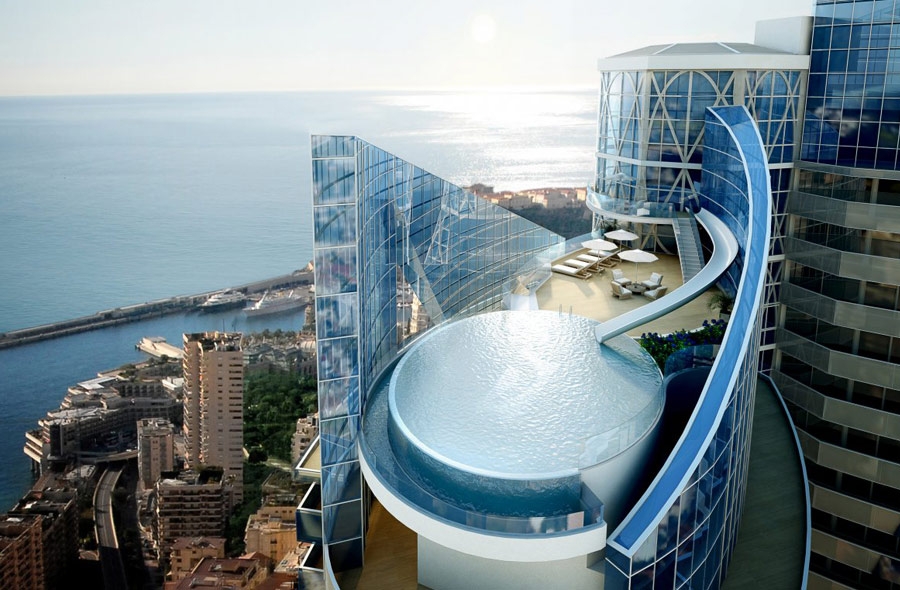 When prominent Monaco developer Groupe Marzocco collaborated with the legendary Monégasque architect Alexandre Giraldi to create a new high-rise on the principality's magnificent coastline, it was easy to believe that the result would be nothing short of spectacular.
And spectacular it is.
Tour Odeon, Monaco's newest and tallest residential skyscraper, takes luxury living to new heights – literally. When completed, the building's double towers will soar 49 stories, making them some of the tallest residential towers in Europe.
The complex will feature 70 exceptional apartments with floor-to-ceiling windows and sophisticated interiors by leading interior designer Alberto Pinto. His design incorporates the finest in natural materials, and makes the most of each apartment's panoramic views. Residents will enjoy all of the luxury amenities one would expect at such an exclusive address, including a caterer, concierge, wellness center, hammam, sauna, Russian bath, gym and multiple pools.
But the architect saved the very best for last (or for the top, we should say). The crowning touch of Tour Odeon will be a dazzling, five-floor, 35,000 square foot Sky Penthouse, complete with a waterslide and infinity pool offering stunning views of the Mediterranean and the Principality of Monaco below. The developers say it's "the ultimate home between the sea and the sky." It's easy to see why.