Aspen Grove Ranch is a spectacular 24,000 square foot family lodge in the Rocky Mountain High Country in Colorado's beautiful Middle Park.  It is just a two-hour drive from Denver and minutes from the jet accessible airport in Kremmling.
This magnificent 350 acre ranch is part of the Grand River Ranch community of 18,000 acres in Grand County, Colorado.  There are 17 ranches within the community.  Each has its own unique character and each ranch has unobstructed views.  The views from the Aspen Grove Ranch overlook the Gore and Williams Fork Mountain Ranges which are quite simply, breathtaking.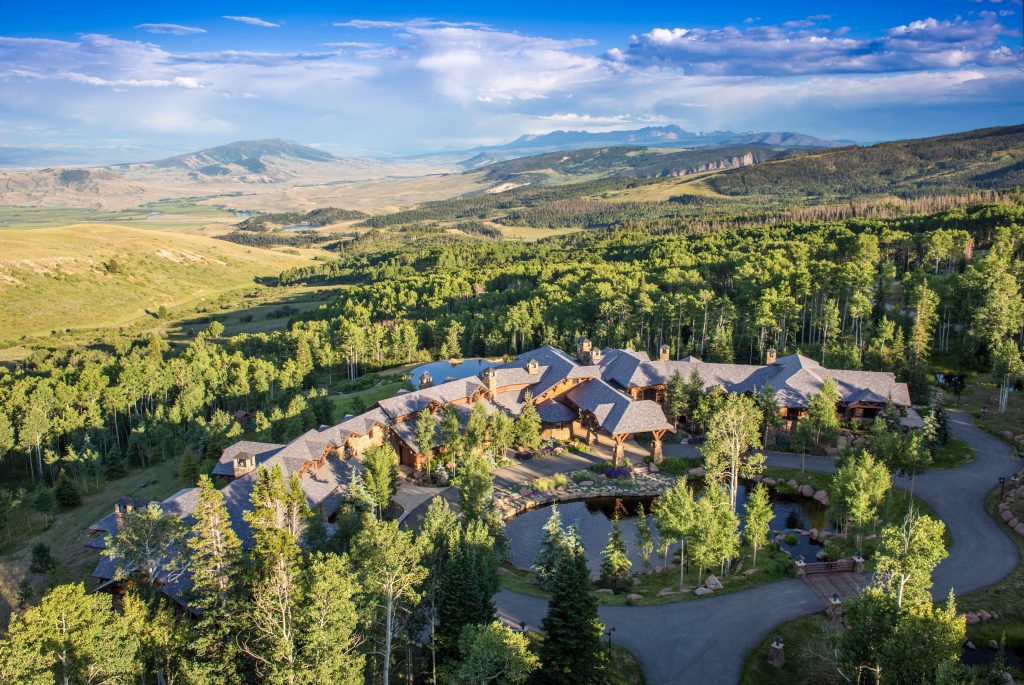 The family ranch was designed to conform to the land's topography.  It features a private wing for the owners, a spacious and dramatic gathering, dining and activity area and a covered bridge connected guest house.  Altogether there are 10 bedrooms and 17 bathrooms.  It also includes a gourmet kitchen, a catering kitchen, a semi-circular bar, library/study/observatory, a game room with two fully automated bowling lanes, a performance stage with a kid's green room, an exercise room and a sauna.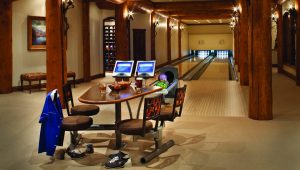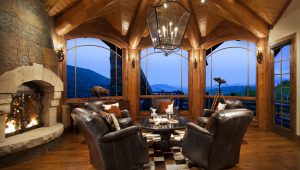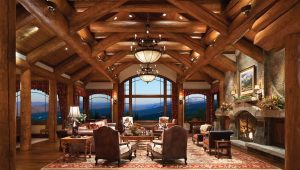 The landscape plan surrounding the home is as beautiful as the home's interior, artfully designed with a covered bridge, cascading waterfalls, ponds and stone decks.  From these outdoor living areas, the splendor of the Rocky Mountains can be enjoyed – dramatic sunrises and sunsets, wildlife, rainbows and a sky full of stars.
As a part of the Grand River Ranch community, owners and their guests have access to hiking, horseback riding, hunting, fly fishing, clay and target shooting, cross country skiing and snowmobiling.  There is a central Grand River Ranch Lodge featuring a bar, dining areas, and guest suites.  This ranch is also close to several world-class ski resorts.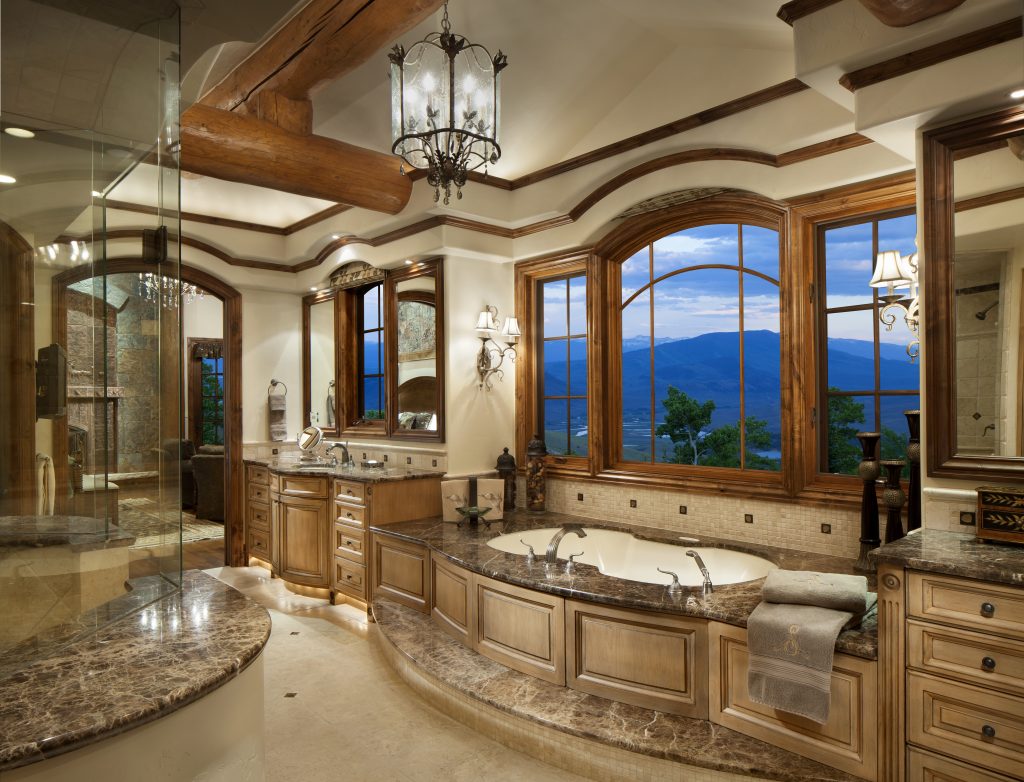 Aspen Grove Ranch was designed by renowned architect Jon Gunson who brought the owner's vision to reality.  The ranch was completed in 2008.  Only the highest quality timeless finishes, art and furnishings were used throughout the lodge making it a home of refinement, elegance and comfort.  Also noteworthy in the design are some of the structural logs that were dead standing trees.  They were brought in for certain design and structural elements lowering the environmental impact of construction.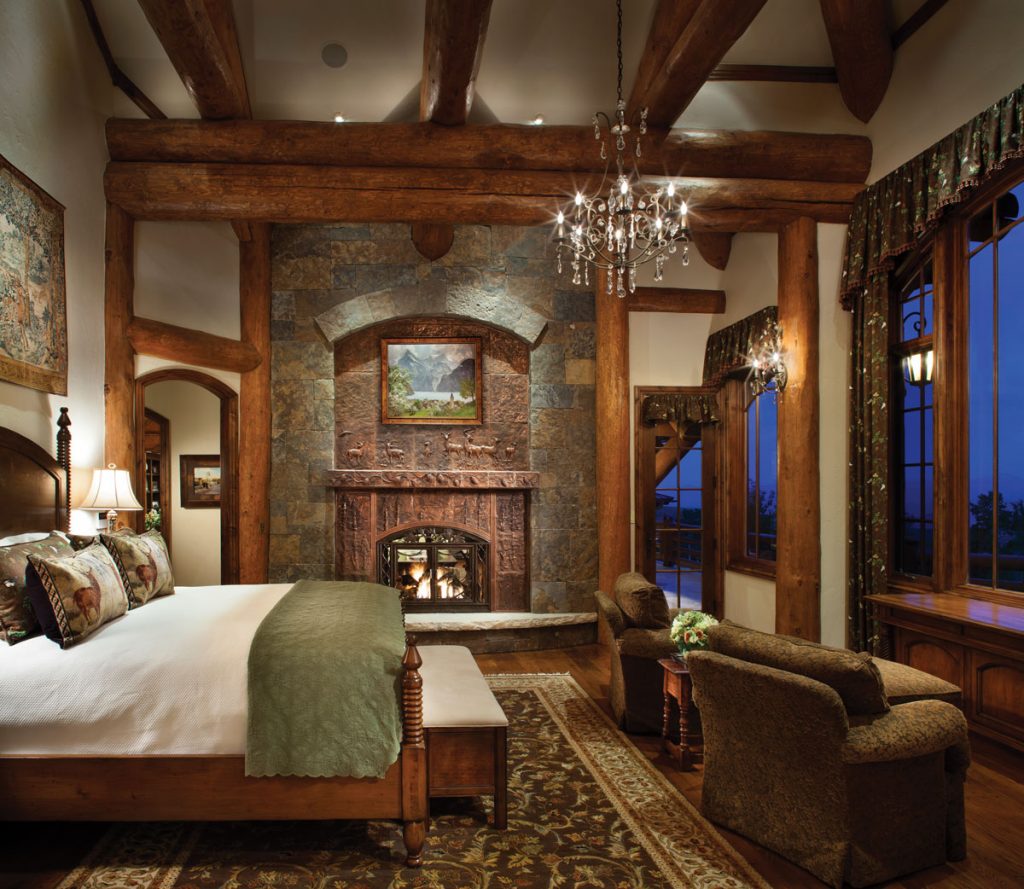 Aspen Grove Ranch is a year-round family gathering place long on views, long on memories and a rare opportunity.  It is offered at $28,500,000 by Jack Wolfe, MBA Broker Associate, LIV Sotheby's International Realty. View this entire listing.