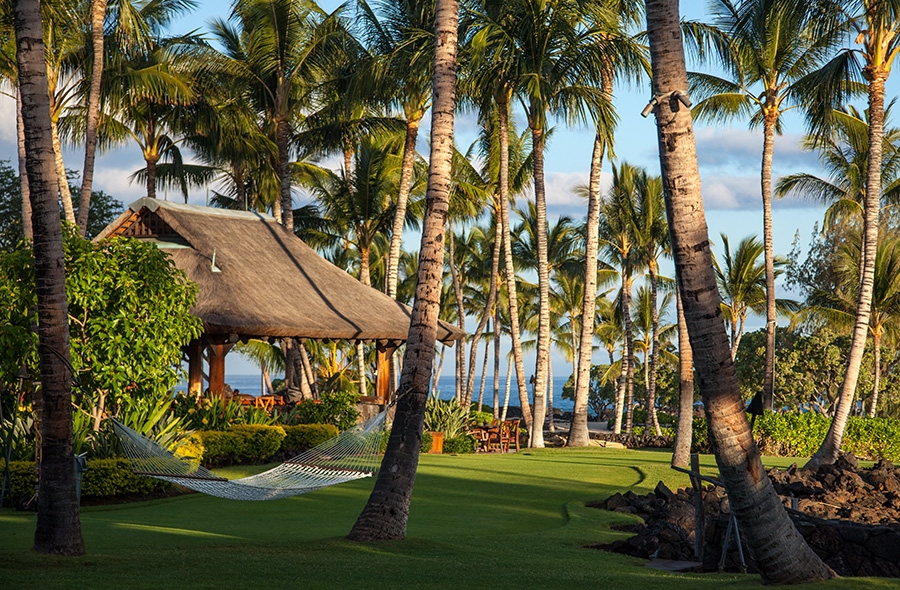 Kūkiʻo Golf and Beach Club is a private, residential equity club located adjacent to the Four Seasons Hotel on the Kona-Kohala coast on the Big Island of Hawaii.
Club membership is exclusive only to residents of Kūkiʻo, Maniniʻōwali, and our sister property Kaʻūpūlehu. In addition to some of the finest luxury real estate in the State of Hawaii, The Kūkiʻo Golf and Beach Club includes a full service clubhouse, spa and fitness facility, dining pavilion, beach bar, 10-hole Tom Fazio-designed Short Course, and Outdoor Pursuits Ocean Sports Program. Up mauka (mountain), nestled into the slopes of Hualalai Mountain, sits the Kūkiʻo 18-Hole Tom Fazio-designed Championship Golf Course. The Kūkiʻo Golf Clubhouse includes an open air bar, dining pavilion, full men's and women's locker rooms and golf shop.
Beach Club
The Kūkiʻo Beach Club is the heart of this private community. An emerald green lawn anchors the club with sights of historic Hawaiian fish ponds, archaeological preserves and breaking surf. Upon arrival, met by Club Concierge, The Clubhouse overlooks views of Maui, the Kūkiʻo dining pavilion, beach bar, fitness facility and spa, Outdoor Pursuits hale, and swimming pools. The Club's Library has been collected for members to read and enjoy, while the Games Room provides a viewing area for sporting events. The Kūkiʻo 10-hole short course is located near the Beach Club and includes a variety of practice areas and challenging shorter holes.
Outdoor Pursuits
Kūkiʻo Outdoor Pursuits was created to provide our members with a unique Hawaiian experience, while sharing our cultural history and traditions as practiced in modern Hawaiʻi. Outdoor Pursuits and Mauka Fitness programs explore the hidden treasures of Big Island of Hawaiʻi. Favorites include outrigger canoe paddling, outrigger canoe sailing, surfing, ocean and land fitness training, swimming with dolphins, hikes to a black-sand beach, bike expeditions and customized tours.
Spa & Fitness
The Kūkiʻo Spa was designed to instill and facilitate a lifestyle of health and wellness. Through our elite staff, professional treatment programs, and state of the art facilities, the Kūkiʻo Spa will ensure members have a first class experience.
Kukio Beach Club Dining
Experience casual elegance with Chef Nick Mastrascusa. Overlooking Uluweuweu Bay, the open-air Dining Pavilion and bar is a distinctive gathering place to unwind while enjoying fresh meals, cocktails or poolside service.
Blending modern trends with classic preparations, the menus at Kūkiʻo reflect Hawaiʻi, fused with Pacific Rim influence. Members who travel the world can sample items that are both unique and familiar while at Kūkiʻo. From fresh sashimi to a Kobe New York steak, our chefs take great pride in using the freshest ingredients available; frequently from the island's farmers and fishermen.
Ka'ūpūlehu
As one the most historic areas along the Kona Coast, located just North of Kūkiʻo, adjacent to Hualālai and Kona Village Resort, Kaʻūpūlehu's first phase offers 80 one-acre homesites. Kaʻūpūlehu Beach Club features a dining lanai, bar area, swimming pool, and expansive event lawn. With select Kaʻūpūlehu homesites, memberships to Kūkiʻo Golf and Beach Club are included.
The spirit of Kaʻūpūlehu resides in its Cultural Reserve and Interpretive Center at Kalaemanō. The Reserve is an expansive 214-acre recreational area sponsored and maintained by Kaʻūpūlehu, in an effort to share its culturally significant history, artifacts and interpretive areas with visitors and locals.
Kūkiʻo Golf Clubhouse
The Kūkiʻo Golf Clubhouse is surrounded by the only Tom Fazio-designed golf course in the state of Hawaiʻi, The Kūkiʻo Championship 18-Hole Golf Course. Complementing the course are panoramic coastline views of the Pacific Ocean, Maui and the Kohala Mountains. From December to May, you can catch glimpses of the majestic humpback whales breaching off Hawaiʻi Island's shoreline. The Golf Clubhouse includes an open-air restaurant and bar, pro shop, and full size men's and women's locker rooms.
18-Hole Course
The Kūkiʻo Championship Golf Course, designed by Tom Fazio, hosts eighteen holes with views of the Kona and Kohala Coast. The course offers players a challenging and thrilling experience as it winds through several diverse natural zones and changes in elevation of approximately 400 feet.
10-Hole Course
The 10-Hole Short Course, located near the Beach Club, includes a variety of practice areas and challenging short holes. Created by famed golf course designer Tom Fazio, this short course includes seven par three and four par four holes.