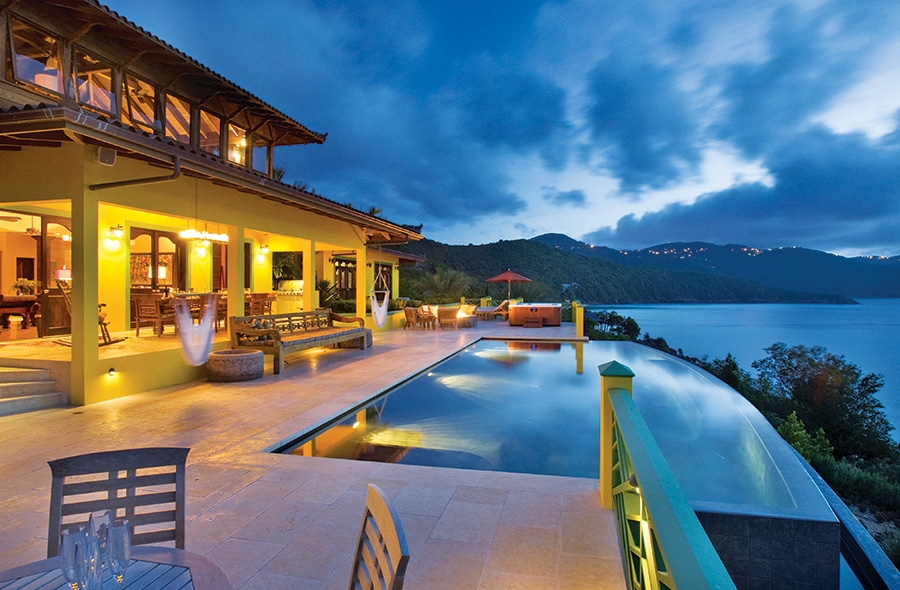 Anguilla is one of the northern Leeward Islands measuring just 35 square miles and home to 15,000 people. It is casual and easy, a unique blend of high style and low-key elegance, and the best of the good life set to a slow and casual island tempo.
Golden Pavilion Villa, a grandiose residence which creates a world of its own within the Caribbean beauty of the British Virgin Islands, was designed to satisfy every desire for secluded, serene island living.
Renowned for its Balinese architectural influence, the property is situated within a private residential estate in the north of Tortola and commands a distinctive waterfront location. The hillside retreat is positioned on 4.214 acres and reveals impeccable attention to detail, combining Caribbean culture with Balinese ideals and an injection of British colonial elegance.
Completed in 2007, the residence encompasses over 6,000 square feet of magnificent living space. The interior features an extraordinary great room, airy library, refreshing media/family room, state-of-the-art kitchen, master bedroom suite and three guest suites located on the ground floor, all opening onto enchanting covered verandas.
The extensive terrace, equipped with a hot tub and fire pit, is perfect for social occasions. The residence also includes a fully-fitted indoor gym and the heated, infinity-edge pool offers a modern contrast to the villa's traditional feel.
An independent one-bedroom guest cottage, finished to the magnificent standard that the entire villa breathes, is privately located at a slightly higher elevation off the access driveway. It's ideal for guests or managerial staff if the villa is to function as a rental.
Interior flooring and exterior terracing are fashioned from Jerusalem Gold limestone; the entry gate doors, decorative roof tiles, statuary furniture and artwork are from Bali; and the doors, windows and kitchen cabinets were custom-fabricated on Tortola from Brazilian mahogany.
Striking, immaculately-maintained landscaped grounds grant passage to gardens and paths leading through sunken stone retreats and sitting areas that escort residents to sea access. Secluded Little Bay Beach lies just a short distance away.
The attractive alternative of annual residency grants year round sunshine, calming breezes, scenic views and an atmosphere that bestows Zen qualities on mind, body and soul.
IMI Design Studio
Travel In Luxury
Living well is especially true when we fully experience travel and leisure with family and friends in a luxurious, impactful environment. When designing for vehicles and other modes of travel — from coaches to yachts to planes — it is especially a time to create an exceptional design for a luxurious and memorable experience. Function in these more intimate environments requires clever space planning and multipurpose custom furnishings. Furniture may be designed to function as an office during the day and dining in the evening and transition once again at night as extra bunks. Clever use of the nooks and crannies maximize the storage to keep a space uncluttered, serene and beautiful. Durability and ease of care is another consideration for these well-used spaces. Vacation life is harder on finishes than the day-to-day, so everything must be appropriately durable.
Besides maximizing function, an interior designer's greatest gift to a project such as this is the way it impacts the human spirit. Understanding our client's wishes and preferences allows for a design that will speak just to them. It will evoke the mood and emotions desired for the space. Do you need a serene Zen-like jet interior to relax between tarmacs? Or do you need a playful converted bus to live your rock-star life with colorful fuchsia cabinets and crocodile leather interiors . . . like one of our current projects. The options are as endless as the unique individuals we serve. I love the opportunity to understand their unique dynamics of personal history and future ambition.
What I love about this craft is how intention drives design. What we do as interior designers allows our clients to live their lives to the fullest and create a luxurious space as the background to their life's memories.
IMI Design Studio in Scottsdale
8355 E. Hartford Drive, Suite 100
Scottsdale, AZ 85255
IMIDesignStudio.com
Allied Member ASID,
LEED AP Certified,
NCIDQ Certified,
Certified Interior Designer California CID#6539
A Timeless Masterpiece
Unsurpassed California Coastal Living
The search for your timeless coastal masterpiece just might begin and end with this incomparable 8,387 square foot California estate on Carmel Highland's coast. Situated a few steps from a private beach pathway and set above a scenic cove overlooking Yankee Point, this grand estate reveals European elegance with Jacobean influences at every turn. With dramatic ocean views as its backdrop, this home tells a story in exquisite detail with a two-story great room with soaring domed ceiling and hand-hewn beams, gleaming wood flooring, beautiful staircases and railings, decorative iron chandeliers, 12 fireplaces and 14 one-of-a-kind decorative tile murals. The interior offers a flexible arrangement of rooms, including a gourmet kitchen and breakfast area, formal dining room, a library, several offices, 10 bedrooms, eight full baths and one guest bath, and a fully-contained caretaker's wing with private entrance.
The 1,920 square foot finished basement, accessible from both indoors and out, is where you'll find the wine cellar, a bedroom suite, children's play area and game room. The outdoor space is equally impressive with its meticulously-kept gardens, playful statues and fountains, cascading waterfall and pond, meandering pathways, quaint sitting areas and sprawling back lawn that leads to a charming artist's studio.
And what could be said of thoughtful considerations such as an elevator, garages for five cars, a backup generator capable of running the entire compound and two cisterns with pump and filtration system? The estate also features wireless Internet throughout, a specially-woven slate tile roof, two automatic gates and a beautiful cobblestone driveway with a centerpiece featuring a craftsman's version of Verrocchio's tomb slab for Cosimo de' Medici in 1463.
This is an incomparable estate shaded by mature cypress trees and offering unsurpassed beauty, privacy and California coastal living.
Coldwell Banker Del Monte Realty
William L. Smith Broker Associate, BRE # 01064866
831.626.2400
$12,988,000
Property location: 174 Spindrift Rd, Carmel Highlands
The Ideal Beach Getaway
A Peacful Coveted Corner Of Carmel
At the corner of two of Carmel's most coveted streets you will find your ideal beach getaway.
The unobstructed view reaches beyond the white sand dunes to the waves of the jade Pacific Ocean. Whether sipping wine by the fireplace in the great room or spending quiet time reading on the deck, you will feel the sense of peace that is Carmel.
Stroll just a few short blocks into town and enjoy shopping in the boutiques and art galleries, finding a new favorite wine in the tasting rooms and savoring dinner at a fine selection of gourmet restaurants. Spend an afternoon on the links at Pebble Beach, ten minutes away along beautiful 17 Mile Drive or explore the sunny valley that is home to the central coast wine country.
This 1930s beach home has a laid-back casual feel with vaulted painted wood ceilings and tile floors against a linen-white canvas backdrop. The great room greets you with a water view and is the heart of the home for both relaxing and dining. Through the glass doors you will find a covered brick porch where you can host many dinner parties for family and friends.
With six bedrooms and five baths, including a separate guest house and private stone fenced yard, the property is perfect for a weekend retreat or a place to call home.
This special home truly is reminiscent of the best that Carmel has to offer.
Alain Pinel Realtors
Marla Rea
831.620.6104
$4,995,000
Forked Lightning Ranch
Jane Fonda's New Mexico Hideaway
The 2,300± deeded acres of Jane Fonda's Forked Lightning Ranch provide a diverse ecosystem of placid beauty. New Mexico's famed Pecos River, one of the finest trout fisheries in the state, circuitously flows for about 3½ miles through the ranch, creating an oasis for a variety of wildlife and a haven for healthy rainbow and brown trout. Consisting of willows and cottonwoods along the riparian corridor, craggy rock outcroppings and rolling foothills with lush stands of native grasses and piñon pines, Fonda's ranch encompasses all of the extraordinary and distinctive elements of the American Southwest.
The enchantment of Forked Lightning led Fonda to meticulously analyze every nuance of the ranch to site her personal dwelling. By examining the seasonal sunsets and sunrises, how the spring-rain showers sweep across the high-desert landscape and assimilating the features of the Southwest-style architecture, Fonda ensured that River House was sited and created to provide an elegant refuge with state-of-the-art technologies. The 9,585± square-foot River House brought to reality Fonda's vision as she directed the design of every passage, bedroom, living space and roof line. Fonda has incorporated energy-efficient, sustainable resources, methods and materials into the restoration, building and landscaping throughout the ranch.
Adjacent to the Santa Fe National Forest and the Pecos National Historical Park, the idyllic setting provides numerous opportunities for riding and hiking on the vast trail network. Located within 25 minutes of Santa Fe, Forked Lightning Ranch offers the opportunity to own an exquisite equestrian property to relish as your own private sanctuary or family retreat.
Swan Land Company
Mike Swan — Listing Broker
866.999.7342
Property location: Santa Fe, New Mexico
$19,500,000