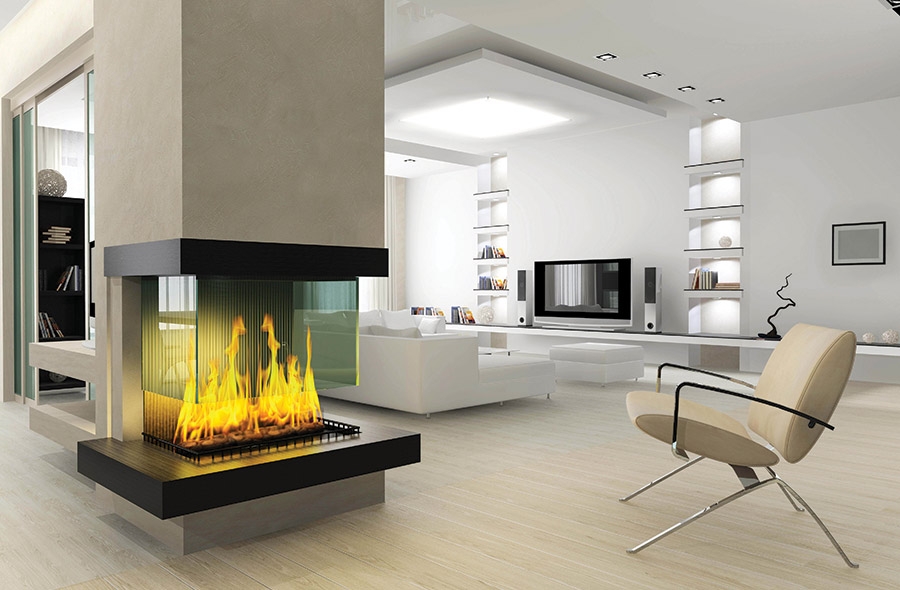 One of the great things about luxury estates is that they are as individual as their owners.
And the process of narrowing down your choices can be an enjoyable adventure. Since the possibilities are virtually endless, we've put together a collection of prime properties for you to consider.
Maybe you're seeking a secluded lakefront getaway, or you've always dreamed of owning a vacation home with the convenience of a private runway. Or maybe it's finally time to acquire that oceanfront estate you've always dreamed about, or a luxuriously-appointed log home that captures the spirit of the Old West. This is a great place to begin your search, because you'll find plenty of properties in to inspire you.
Faber Point Lakefront Estate
Freshwater Trophy Property
Faber Point on Sproat Lake in Port Alberni is a peninsula property giving all the advantages of a private island, but with normal road access. At 4.5 acres and an exceptional water frontage of 2100 feet this is a difficult to duplicate offering.

Access to the property is easy, paved road up to the gate, and the lot has been serviced with hydro. The property is level and flat with a good west facing building site. The shoreline is a mixture of rock and gravel beaches and the water is crystal clear and ready for swimming.
Sproat Lake is widely regarded as one of the warmest freshwater lakes in British Columbia, and is a favorite among Vancouver Islanders for swimming, fishing and water sports.
Sotheby's International Realty Canada
Brian Danyliw, Senior Vice President of Sales
$2,200,000 • 1.844.710.8779 • [email protected]
LuxuryHomesinBC.com • SothebysRealty.ca
IMI Design Studio
Outdoor Living
Living well includes making the most of nature's beauty; fantastic panoramas, fresh breezes and chirping birds are the best decorations to be had. To ensure a client has this ability, it is part of their interior designer's scope of work to expand the indoor spaces to seamlessly extend to the outdoors. The first consideration goes to the architectural details and use of materials. Through the appropriate combinations, the materials of the structure will evoke the connection with the environment of the home. We then turn our attention to the human needs. Luxury and function are considered in the appointment of furniture for seating and dining. With the recent advancement in technologies used to create textiles, the outdoor space can have the same luxurious feel as your interior. Velvets, linens and even soft area rugs all surprisingly weather the elements while providing a sensual and comfortable tactile experience.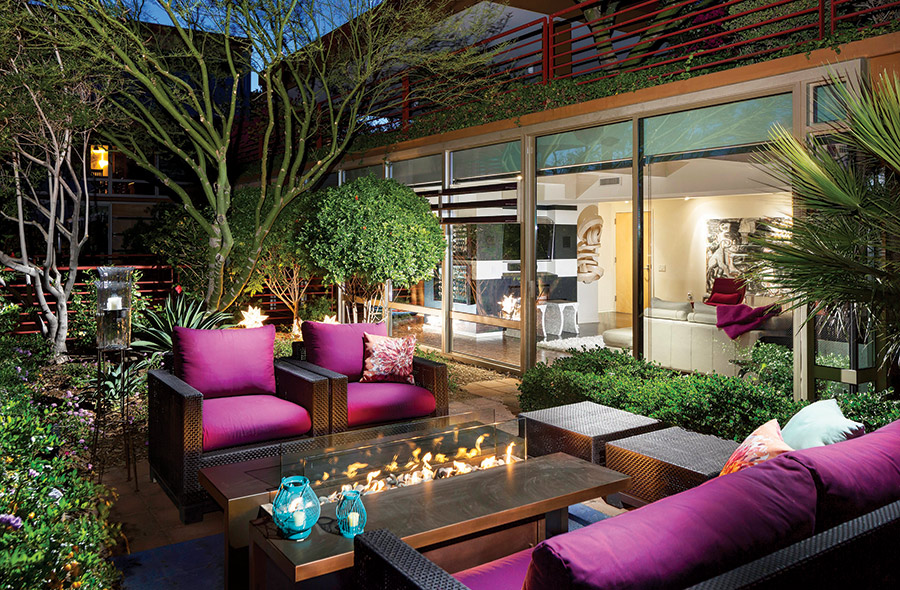 Outdoor spaces have become gathering spaces for the family; from games and dining to movies and music, they are functional extensions of the family room. In addition to living areas, outdoor kitchens can be as well-equipped as the main cooking area. From grills, full-service bars and pizza ovens to ice cream stations, there is much that can be accomplished through planning and design, leaving the outdoor kitchen a culinary experience. Comfort comes from correct temperature control. This can be accomplished with heaters, fire pits and misting systems that can all be incorporated into the layout of the design.
As the place where the interior and exterior meet good design, outdoor spaces offer many options to enhance a person's daily experience, allowing the connection to the beauty of the outdoors to be made in luxurious style.
IMI Design Studio's Scottsdale Studio
IMIDesignStudio.com
Allied Member ASID, LEED AP Certified, NCIDQ Certified,
Certified Interior Designer California CID#6539
Creatively Inspired
Handcrafted Homes in the Old West Spirit
Inspired by their location in Western Montana's beautiful Flathead Valley, James Bachofner and Brad Neu, owners of Kalispell Montana Log Homes, have been building log homes of just about every size and shape imaginable since 1975. Their craftsmen preserve the spirit of the Old West by using handcrafting techniques handed down from generation to generation to create homes that are as unique and beautiful as the Rocky Mountains from which they come.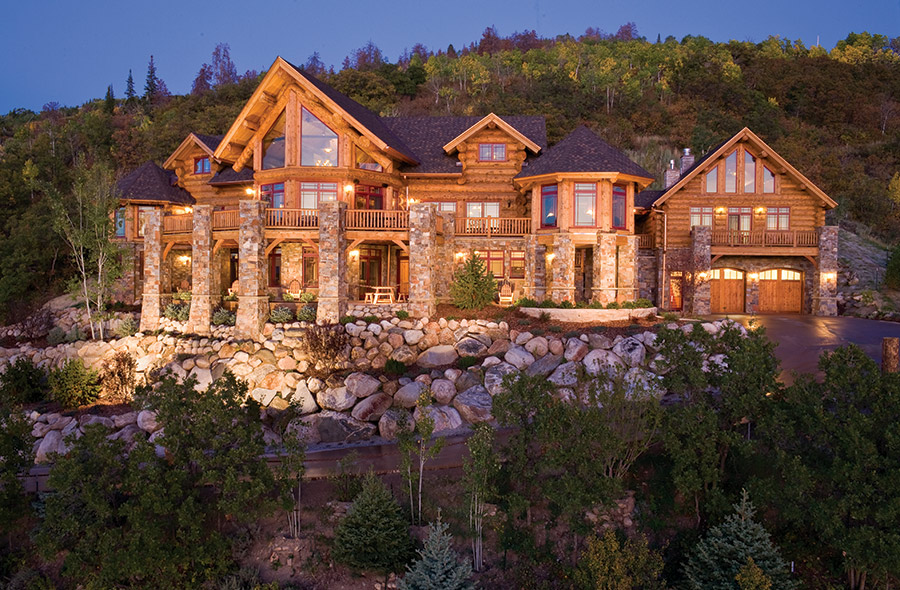 General Contractor Dennis Cozzetti summed up the craftsmanship of Kalispell Montana Log Homes: "… impressed is an understatement. While I have done a number of log cabins with different companies, none even come close to the outstanding product that Kalispell Montana Log Homes delivers. It's like comparing a Ferrari to a Volkswagen…" These amazing log structures have been delivered from Presque Isle, Maine to Heaven's Landing in Georgia and from Big Bear Lake, California to Valdez, Alaska, and all points in between.
One of the most exciting aspects of any project is when your one-of-a-kind log home enters the design phase! Kalispell Montana Log Homes offers in-house 3D design but is just as comfortable working with your local designer or architect to assist in developing your dream home. Upon approval of your design, talented log smiths will begin hand peeling, scribing, notching and precisely fitting the large-diameter, naturally-dried logs at their Kalispell, Montana construction yard. Your log package is then disassembled, loaded for transport and re-assembled at your site by these same craftsmen.
Whether you are looking for a rustic "log cabin" or an impressive "log estate," the professionals at Kalispell Montana Log Homes have the experience and knowledge to assist you in making your dream home a reality!
Montana Log Homes
406.752.2992 • [email protected]
MontanaLogHomes.com
A Timeless Masterpiece
Unsurpassed California Coastal Living
The search for your timeless coastal masterpiece just might begin and end with this incomparable 8,387 square foot California estate on Carmel Highland's coast. Situated a few steps from a private beach pathway and set above a scenic cove overlooking Yankee Point, this grand estate reveals European elegance with Jacobean influences at every turn. With dramatic ocean views as its backdrop, this home tells a story in exquisite detail with a two-story great room with soaring domed ceiling and hand-hewn beams, gleaming wood flooring, beautiful staircases and railings, decorative iron chandeliers, 12 fireplaces and 14 one-of-a-kind decorative tile murals. The interior offers a flexible arrangement of rooms, including a gourmet kitchen and breakfast area, formal dining room, a library, several offices, 10 bedrooms, eight full baths and one guest bath, and a fully-contained caretaker's wing with private entrance.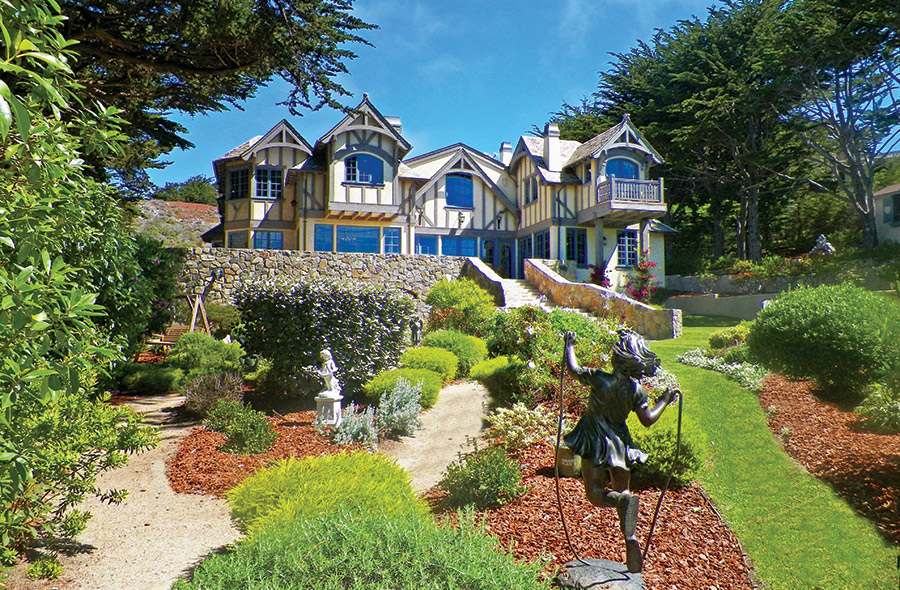 The 1,920 square foot finished basement, accessible from both indoors and out, is where you'll find the wine cellar, a bedroom suite, children's play area and game room. The outdoor space is equally impressive with its meticulously-kept gardens, playful statues and fountains, cascading waterfall and pond, meandering pathways, quaint sitting areas and sprawling back lawn that leads to a charming artist's studio.
And what could be said of thoughtful considerations such as an elevator, garages for five cars, a backup generator capable of running the entire compound and two cisterns with pump and filtration system? The estate also features wireless Internet throughout, a specially-woven slate tile roof, two automatic gates and a beautiful cobblestone driveway with a centerpiece featuring a craftsman's version of Verrocchio's tomb slab for Cosimo de' Medici in 1463.
This is an incomparable estate shaded by mature cypress trees and offering unsurpassed beauty, privacy and California coastal living.
Coldwell Banker Del Monte Realty
William L. Smith, Broker Associate, BRE # 01064866
[email protected] • 831.626.2400 • WilliamSmith.com
$12,988,000 • Property location: 174 Spindrift Rd, Carmel Highlands
Handcrafted Luxury
Artistic by Nature
In 2003, after more than 40 years of collective experience building custom homes, Robert Lockerby and Tim Miller set out to create a world-class handcrafted log and timber frame company. They hired the industry's best architects, designers, engineers, builders and log crafters. Today, their exceptional work stands as a testament to their success. Their luxurious homes can be found in exclusive locales all over the globe and have earned them many prestigious industry awards, as well as international recognition.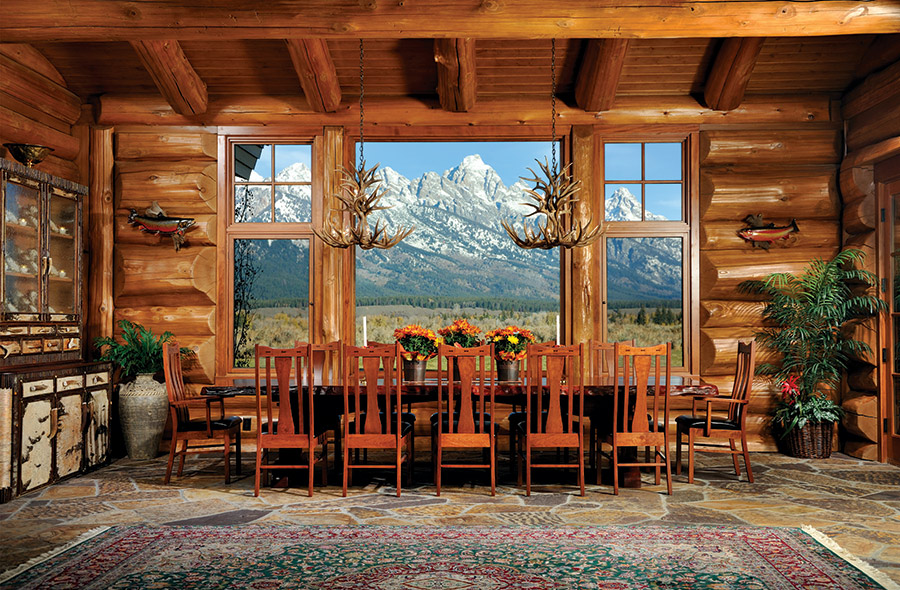 Summit Log & Timber Homes, LLC builds incredible homes that showcase the natural splendor of the logs and timbers they use — elevating them to stunning works of art. Robert and Tim believe in exceeding expectations and provide only the finest quality materials and craftsmanship. They have earned the reputation of delivering unsurpassed customer service.
If you are looking to build a spectacular custom home, discover the possibilities by contacting Robert or Tim at Summit Log & Timber Homes, LLC. You will truly be amazed at how elegant and extraordinary their handcrafted log and timber frame homes can be!
Summit Log & Timber Homes, LLC
208.468.4327 • [email protected]
SummitHandcrafted.com
Majestic Peaks
New modern home designs compliment our vast library of classic designs to offer the best pre-engineered high performance post and beam homes in the industry for 70 years. Distance is not a problem with today's modern technology; and the majority of our clients are across the country. Our beautiful homes range from small residences to large estates. Services range from design and materials packages to construction consulting.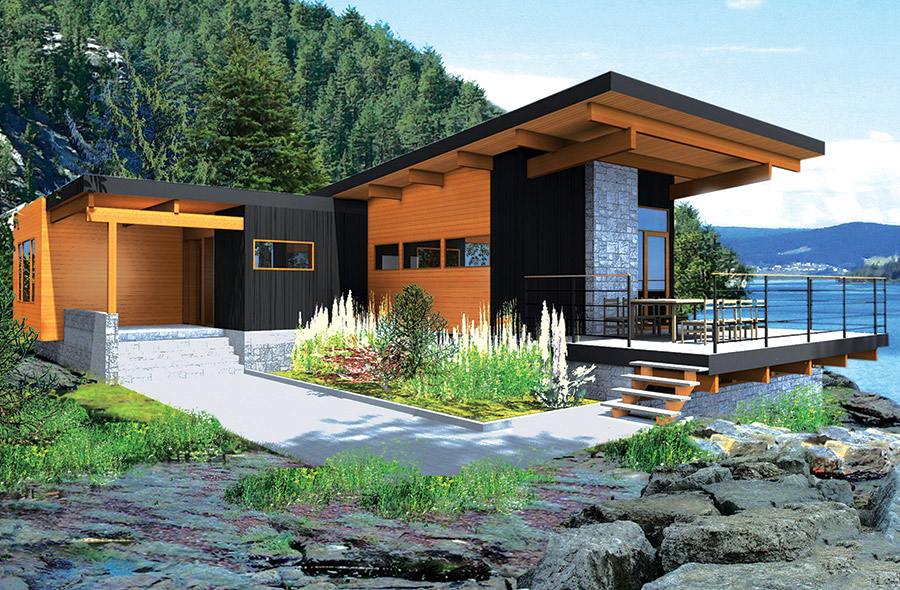 Majestic Peaks Custom Homes, LLC
[email protected] • 970-240-9250
MajesticPeaks.com
Lindal.com/MajesticPeaks/
Indian Creek Island
The cutting-edge design of the award-winning Indian Creek Island estate, near Miami Beach, was to extend upon the idea of a luxury vacation home resort.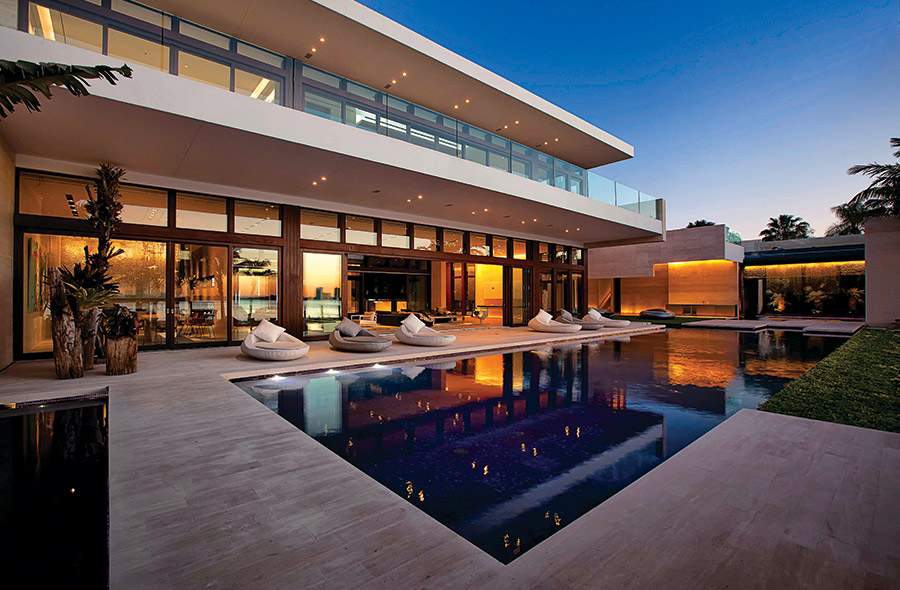 With 30,000 square feet of living space spread through multiple pavilions on 2 acres, some of its many features include: 10 bedrooms, 14 bathrooms, five kitchens, two swimming pools, a rooftop terrace, waterfront gym, and so much more. Its not a typical vacation home … its ultra-luxury for the new century.