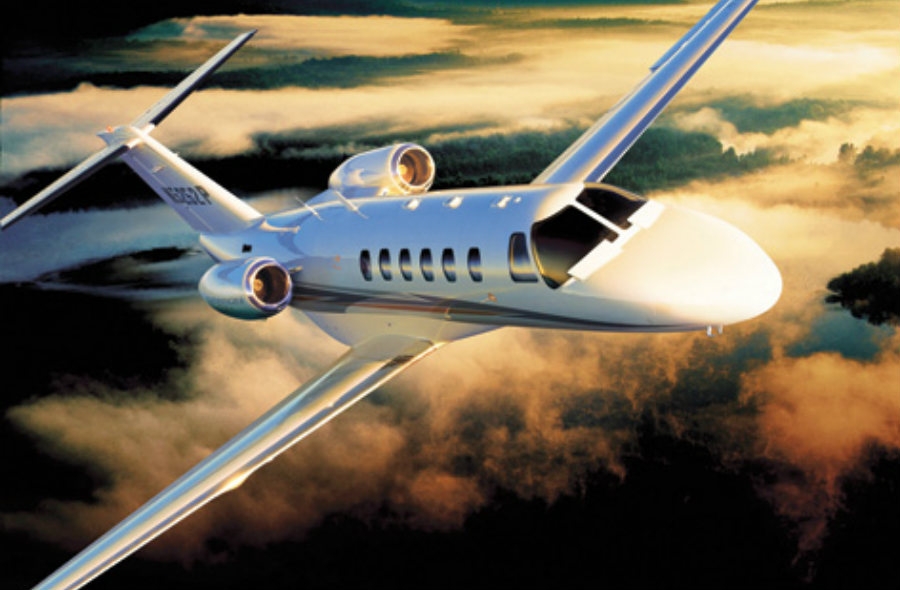 "Time is money." Originally uttered by Benjamin Franklin, this phrase has grown in practicality over the years, especially for those who are driving the majority of the world's wealth and controlling the world's most successful companies. To these influential few, time is invaluable, a commodity coveted with each passing day. It was the idea of diminishing time that first led us to take a closer look at private jet travel, one of the most important verticals to the ultra-affluent. The market for this type of service is extremely competitive with hundreds of possible solutions.
Our focus remained on time, its use and its creation. We were originally drawn to the bright glow of major brands and then to the boutique regional charter companies that pop up everywhere. Yet we kept coming back to the idea of fractional ownership and the many benefits this type of arrangement can create. Our readers kept telling us that maximizing the use of time was the result of surrounding yourself with the right partners and relationships. It was this paradigm that led us to the Scottsdale-based fractional jet company AirSprint and its two bright leaders – Founder & CEO Judson Macor and President Chris Richer.
We first met with Chris Richer on a bright February morning in Scottsdale, Arizona on the stunning VIP Clubhouse Lawn area overlooking the 18th green at the Waste Management Phoenix Open (it turns out, AirSprint knows how to take care of its owners when they actually do have spare time). Richer, an MBA from the University of Calgary who has been with AirSprint since 2008, met us with a smile in a bright green AirSprint shirt. Immediately, Chris' enthusiasm for fractional ownership bubbled to the surface. "They expect a lot of us and we expect a lot of ourselves," he says, speaking of his book of highly sought-after clients. "We have a culture that demands of us that safety is the first and last question we ask," he adds, shifting gears quickly, anticipating our need to dig a little deeper.
In our research on private jet travel, the concept of boutique companies kept coming up. We asked Chris to explain this concept and why AirSprint is widely considered the foremost boutique fractional ownership company. "We use the word boutique to define ourselves and it's important to us. We want to find the right clients that have missions that suit our equipment and our expertise. Our average client has been with us 8 to 10 years, giving a good indication of how relational the fractional experience can be."
The very next day, we had the great privilege to see AirSprint's relationship skills in action as we sat down with CEO Judson Macor and AirSprint's first US client, business mogul and basketball legend, Jerry Colangelo. Colangelo's story is a good one. He's most well known as being the former owner of the NBA franchise, the Phoenix Suns, and he brought Major League Baseball to the Phoenix area with the expansion Arizona Diamondbacks. Recently, Colangelo brought USA Basketball back to international prominence, winning the Gold medal at the 2008 Olympics in Beijing. Colangelo isn't shy about why he chose AirSprint, a decision that took him very little time to make. "I've enjoyed the experience immensely because AirSprint is so reliable. They have been on time, on target and it just doesn't get any better than that for me. Time is money and my time is valuable. You have to have the right equipment and partner to get you where you need to be on time safely." Colangelo is a perfect example of the innovators, moguls and influencers that make up the private jet demographic. His sentiments are echoed often and resonated with us dramatically.
"They have been on time, on target and it just doesn't get any better than that for me. Time is money and my time is valuable."
– Jerry Colangelo, business mogul and basketball legend
Next, we boarded a brand new Citation CJ2+ for a meeting with CEO Judson Macor. The new jet is one of seven purchased this year by AirSprint, a timely move that accelerates travel times, efficiencies and elegance for AirSprint owners. The smell of brand new leather still permeated the cabin. Judson, a former pilot turned entrepreneur, seemed right at home in the brand new jet. "I just love the new Citation CJ2+," he says. "It's a light jet that will climb above 40,000 feet and will replace our current fleet of PC12s in the next 24-30 months. All the new jets are fully equipped with Wi-Fi so our clients have an office in the sky."
Judson spoke in great depth about the core values of AirSprint, values that are applied each and every day at his company. "Our core values start with safety. Safety is absolutely paramount." We were pleased to hear that AirSprint has a sterling 14-year safety record. "After safety, we most value people," he adds. "Being fair and balanced is a fundamental part of our relationship with our stakeholders and clients. I also take great pride in service and have direct relationships with every one of our owners. In fact, each one has my cell number and can call at any time," Judson says with a laugh. His passion grew when speaking about his company's remaining values: community and integrity.
We departed the newly unwrapped Citation to smiles and handshakes with some of AirSprint's other clients, all of whom are well known and well respected influencers in their respective businesses. It became clear immediately that these moguls, all of whom could be anywhere else at this moment, chose to spend their time with AirSprint and Jetset on this day. To us, this speaks volumes about how important AirSprint is to its clients and vice versa. Time is money, yes, but it's relationships that drive business.