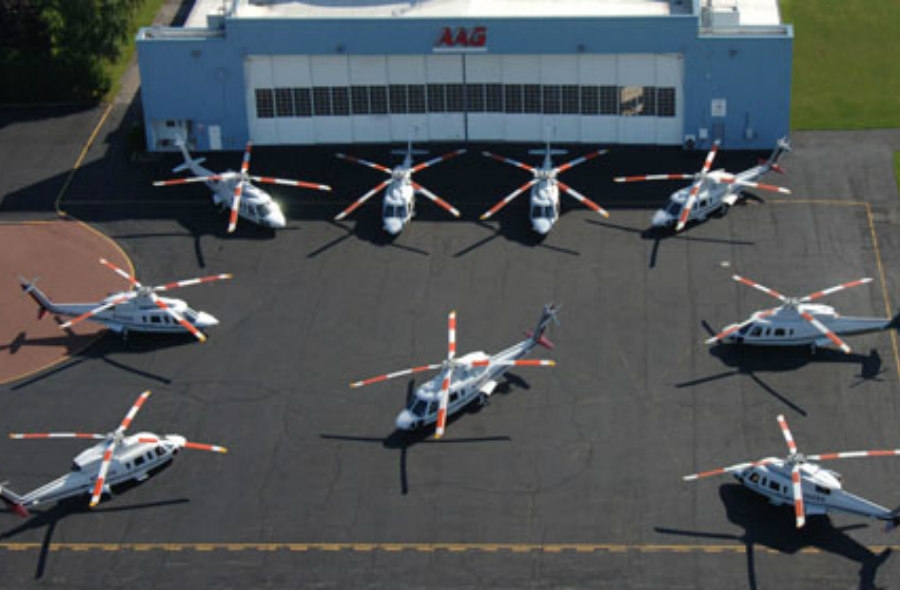 Associated Aircraft Group (AAG®) is the premier executive helicopter company serving the Northeastern United States and has been providing executive travel for more than 25 years.
AAG® is owned by Sikorsky Aircraft Company, the leader in rotor wing aviation for over 90 years. Helicopters are our business. We have the largest fleet of S-76® aircraft in the northeast. We exclusively operate, maintain, and manage the most popular VIP helicopter in the industry, the Sikorsky S-76® helicopter.
We are not a fractional company. We are not a card company. We are not a managed company. We provide aviation solutions. No other company can deliver the efficient combination of these products under one roof, equating to reduced costs and a better value.
Associated Aircraft Group is fundamentally different and it is these differences that make it possible for us to deliver safety, reliability, and VIP Platinum Solutions like no one else. We provide personalized aviation solutions from our full range of services.
Come experience the difference.
On Demand Charter
AAG Charter is the ideal way to meet your travel needs our incomparable service assures your business and personal travel will be efficient and effortless. Weekend getaways are truly enjoyable when you arrive at your vacation destination relaxed. Wherever your destination, there is always plenty of room for family, friends, golf clubs and your beach bag.
When you have a bit of flexibility in scheduling, the AAG® Excalibur Card™ provides pre-purchase of incremental units of flight time. You receive guaranteed scheduling with 48 hours notice during off-peak flight periods. The AAG Excalibur Card is the ideal intermediate option between on demand charter and fractional ownership.
Corporate Supplemental Lift
AAG is able to provide innovative solutions for flight departments and corporations looking to reduce capital expenditures and operating costs while still maintaining the responsiveness and flexibility to satisfy the needs of their executives. Our Supplemental Lift program provides access to our entire fleet of Sikorsky S-76® helicopters without the financial commitment of traditional programs. Complement your existing fleet while guaranteeing executives thesafety, convenience and privacy they require.
Access to the largest fleet of Sikorsky S-76C® helicopters in the region
Guaranteed availability 24 hours a day, 365 days a year
Dual piloted & twin turbine engine reliability
Simultaneous usage of multiple aircraft
Dedicated customer service team
Sikorsky Shares
Through our fractional shares program, Sikorsky Shares™, you enjoy all the benefits of aircraft ownership at a fraction of the cost.
You get the same great S-76® aircraft, with no hidden costs. The aircraft, fuel, maintenance, scheduling and dispatching are part of the package. Best of all: Your aircraft is available when you need it, where you need it. Guaranteed.
Sikorsky Shares is the only helicopter fractional program backed by the aircraft manufacturer. Sikorsky's fractional ownership program is clearly the most economical way to own a Sikorsky S-76® helicopter.
Aircraft Management Program
You purchased a helicopter for its unique capabilities, so you also know that managing a helicopter requires unique expertise. AAG is the industry's most experienced and trusted aircraft management team.
Owning an executive helicopter is a complex business decision involving a unique asset. Trusting the management of that asset to AAG ensures the best possible return on your investment. Including your aircraft in the AAG Charter fleet can enhance your financial return. Your balance sheet is just one benefit of AAG Aircraft Management. It's good to know your aircraft is in the care of the industry's leading maintenance technicians and flown by the industry's most experienced pilots.
AAG Aircraft Management: The most experience, the best experience, and the best return on your investment.
Our Commitment To Safety
Time and time again our clients and their families choose AAG because the decision is an easy one.
Associated Aircraft Group gives you peace of mind and confidence in knowing that the safety of you and your family are our #1 priority. We only fly twin-engine Sikorsky S-76 aircraft and always with two pilots. There is no compromise when it comes to your safety. The financial backing of Sikorsky Aircraft Corporation gives Associated Aircraft Group an unmatched ability to pursue the best in safety, and security.
We've been awarded the industry's highest recognition for our record and our commitment. ARG/US Platinum. ISBAO Certified. Wyvern Approved. There is no higher standard.
Contact Information
Corporate Headquarters:
Associated Aircraft Group, Inc.
Dutchess County Airport
32 Griffith Way
Wappingers Falls, NY 12590
Teterboro Office:
Teterboro Airport
101 Charles Lindbergh Drive, Suite 305
Teterboro, NJ 07608
Pennsylvania Office:
4 Lindberg Blvd.
Coatesville, PA 19320
Phone: 845.463.6500
Toll Free: 1.877.SIK.7676
Fax: 845.463.5687
Email: [email protected]
For more information please visit: