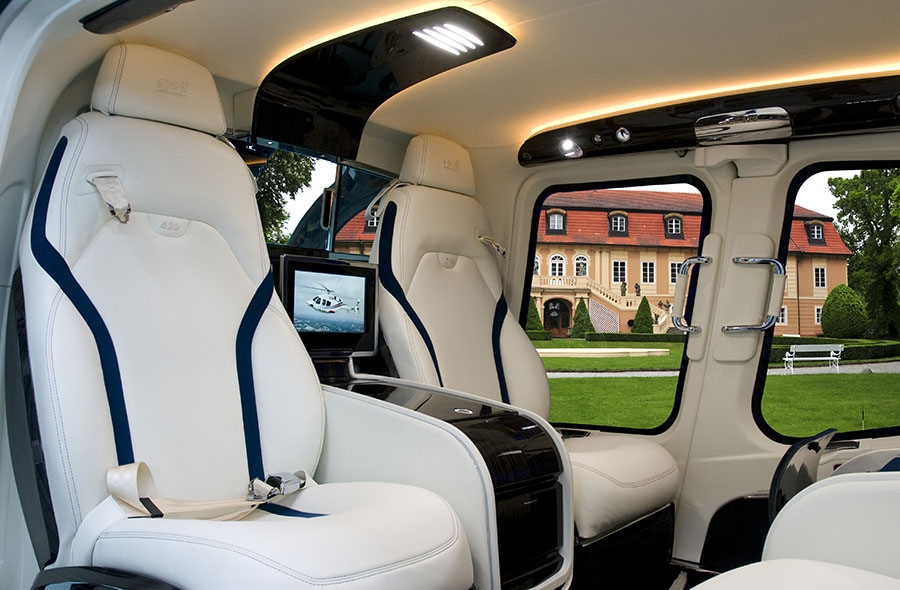 When it comes to choosing a helicopter with the look, feel and technology ideally suited for the VIP market, the Bell 429 has proven itself to be the best choice in the market.
One of the most advanced light twin helicopters ever developed, is an aircraft well appointed to meet the needs of VIP customers worldwide. That's why over 200 of them have been delivered since the helicopter was first introduced a few years ago.
The Bell 429 delivers exceptional speed, range and hover performance, while its spacious cabin is the largest in its class and can seat up to eight passengers comfortably. Its fully integrated glass cockpit was designed with safety top of mind and offers flight crew and passengers increased visibility and enhanced situational awareness.
"Our corporate and VIP customers have often praised the Bell 429 for providing a smooth, quiet ride in the one of the most spacious and luxurious cabins available in this category," said Patrick Moulay, vice president of global sales and marketing at Bell Helicopter. "Customers throughout the world are choosing the Bell 429 to help them not only get to where they need to go, but also make sure they are always traveling in luxury and style."
Several features of the aircraft are focused on increasing pilot safety and performance, including the fully integrated glass cockpit, advanced drive system and best-in-class GPS/WAAS navigation and IFR capability for single or dual pilot operations. The glass cockpit features the Bell BasiX-Pro™ Avionics System that has been specifically designed to meet the requirements of twin engine helicopters and is optimized for IFR, Category A, and JAROPS-3 compliant operations. The system takes advantage of the latest in display, computer processing, and digital data bus technology to provide a high degree of redundancy, reliability and flexibility. Additional safety features include a collective mounted throttle, damage tolerant hub and rotor system, and energy attenuating seats. The 429's Pratt & Whitney PW207D1 turbine engines offer digital fuel controls to assure maximum fuel efficiency and Category "A" performance in all conditions.
The Bell 429 delivers a range of more than 400 nautical miles and a speed of 155 knots and is available in a retractable wheeled landing gear option (Bell 429WLG) for better taxi and repositioning capabilities in space-limited operations. The result is an aircraft capable of flying farther, faster and with greater flexibility. The Bell 429 is also the first helicopter certified through the Maintenance Steering Group (MSG-3) process. The MSG-3 practitioners, specialists in aircraft systems, worked to determine maintenance tasks and the timing for each. As a result, the Bell 429 is optimized for streamlining maintenance efficiency and safety.
Bell Helicopter is also focused on bringing two new aircraft to the market in the coming years – the Bell 505 Jet Ranger X and the Bell 525 Relentless. Both were designed with extensive input from customers and operators throughout the world to make sure they can offer a new level of comfort and performance. The Bell 505 Jet Ranger X is a short light single, five passenger aircraft that blends proven systems with a sleek, modern design with the latest advancements to enhance safety. It is also the only aircraft in its class that offers a fully integrated glass cockpit and a dual channel FADEC, all at a price point competitive with the class leader. The Bell 525 Relentless is a super medium twin aircraft that features the world's first fly-by-wire control system used in a commercial helicopter. It can comfortably accommodate 16 passengers and two crew members and has a cruise speed of 155 knots and a range of 500 nautical miles.
In addition to offering outstanding product features, all Bell Helicopter products are backed by the company's renowned in-service support, voted #1 by our customers for 20 years running. This combination of cutting-edge features and benefits is why the Bell 429 remains the first choice aircraft for VIP travel throughout the world.
For more information please contact Kevin Rutledge at (817) 280-2270, or visit http://www.bellhelicopter.com/jetset/