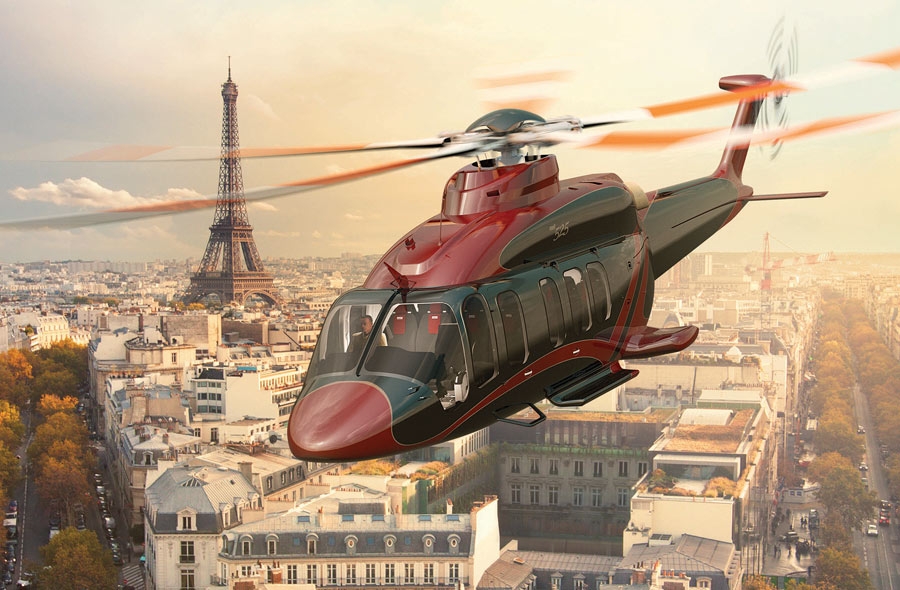 For those who are looking for a luxurious helicopter that can accommodate a larger number of passengers, the Bell 525 Relentless is the ideal choice.
The Bell 525's spacious 88-square-foot and 54-inch height cabin, provides a variety of seating designs that can hold up to 16 passengers and two pilots, but can be expanded to carry 20 passengers. Within its open cabin, there is also the option for a variety of lavish cabin interiors that can be equipped with technology and entertainment amenities more commonly found aboard private jets. Some of these options include oversized swivel seating, conference layouts, and a mini galley. The Bell 525 also provides a VIP or corporate traveler with a helicopter not constrained by distance with its ability to fly nonstop for 575 miles at speeds of up to 178 mph.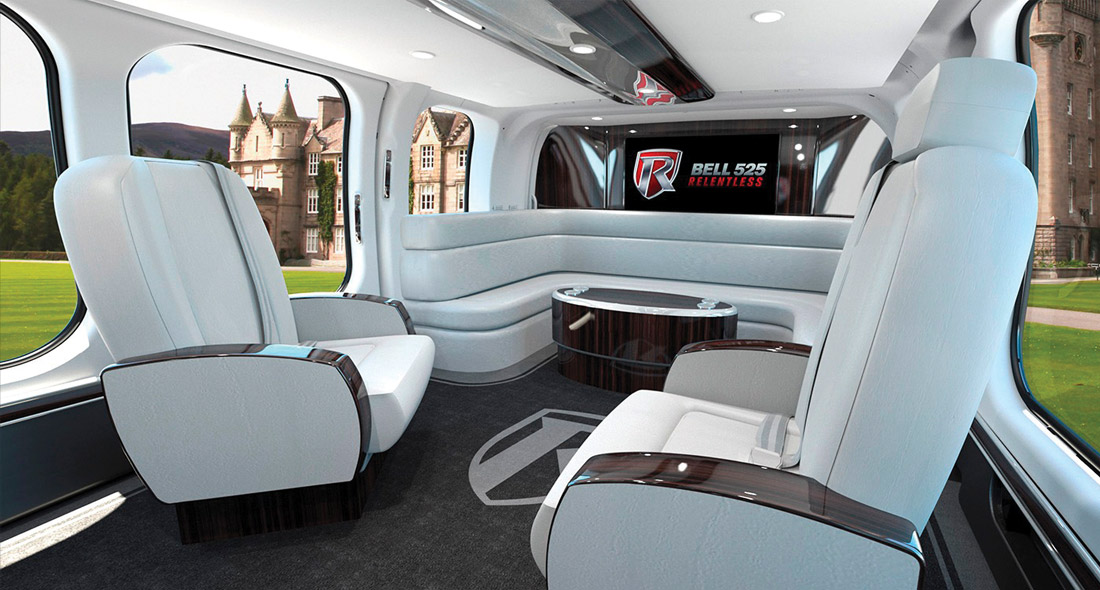 Along with its well-appointed interiors, the Bell 525 is unlike any other commercial helicopter by being the world's first fly-by-wire commercial helicopter. With its triple-redundant flight control system, the helicopter is able to automatically adjust to harsh environments safely and reliably resulting in a controlled, predictable ride.
"When we set out to create the first commercial fly-by-wire helicopter, we made sure that the aircraft was designed with the customer in mind by creating a diverse panel of customer advisors," said Patrick Moulay, vice president of global sales and marketing at Bell Helicopter. "Bell 525 customers can be assured that every piece of this helicopter has been heavily scrutinized from its capabilities to its overall look."
The safety and reliability of this aircraft are also enhanced by the cockpit design that includes two cyclic and collective side sticks along with a fully integrated touch screen Garmin G5000H flight deck. The Garmin G5000H flight deck keeps the pilot workload down by giving the aircraft data points or obstacle hazards using safety of flight enhancements that minimize the hand and eye movements a pilot must use to control the helicopter.
While also being focused on increasing pilot safety and performance, the Bell 525 is built for maintainability. Being a fly-by-wire helicopter, it already requires fewer parts and fewer mechanical repairs by eliminating a significant amount of rigging. Additionally, the helicopter has some of the most robust design requirements for maintainability, beginning with line replaceable units (LRUs). No matter if the part in question is a radio or other auxiliary equipment, all LRUs are replaceable within 30 minutes or less, meaning the aircraft can be back in the air within a matter of minutes.
The aircraft plans to hit the market in 2016 and demand for the Bell 525 is intensifying with more than 40 letters of intent received from customers around the world.
In addition to offering outstanding product features, all Bell Helicopter products are backed by the company's renowned in-service support, voted #1 by its customers for 21 years and running. This reliability and assurance along with the VIP interior options provide a businessperson a reliable and one-of-a-kind luxurious helicopter.
For more information or to reach a local sales manager, visit http://www.bellhelicopter.com/jetset/