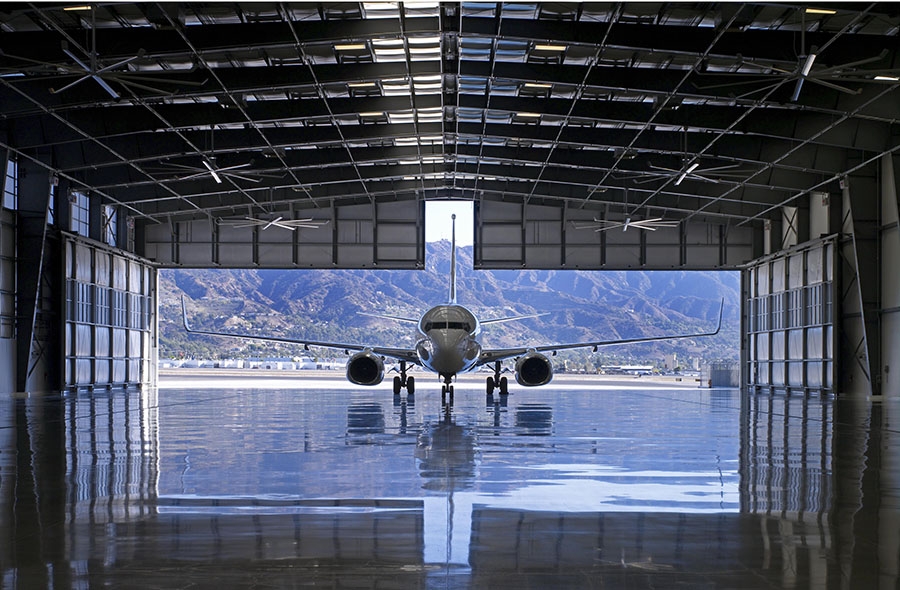 In this era of international commerce, business leaders need to fly farther in comfort. Personal comfort en route is imperative for reaching destinations relaxed and refreshed.
With nearly three times the interior space of the competition at a comparable price, and a range of more than 6,000 nautical miles, Avjet's Boeing Business Jet (BBJ) for charter meets these demands.
This BBJ features a large living room, master bedroom, second bedroom/meeting room, three lavatories and a spacious galley. In addition, it has over 500 cubic feet of baggage space. Having all the comforts of home ensures passengers can enjoy elegant relaxation and productivity even when flying eleven hours. A spacious executive suite with a queen-size bed allows travelers to get a good night's sleep during red-eye flights. The dining area is perfect for conferences or gracious meals and its private offices are ideal for serious work or quiet reflection.
With all the amenities of home, travelers can meet, dine and sleep in luxurious comfort, all while remaining confident they will arrive at their destination refreshed and ready for business or pleasure.
Avjet is the only Boeing Business Jet operator in the United States approved by the DOT and FAA for Part 135 global charter. This certification as well as Avjet's unmatched understanding of Boeing Business Jet charter operations makes them the undisputed leader for BBJ private charter. Leveraging over three decades of BBJ charter expertise and a longstanding relationship with Boeing, our charter specialists provide clients with valuable insights and counsel for a worry-free aircraft charter experience.
To speak with an Avjet concierge, call 818-841-6190 or visit bbj-charter.com to inquire about chartering this aircraft.
About Avjet Corporation
Specializing in the sale, acquisition, charter and operational management of large cabin, long-range private aircraft, Avjet offers a complete spectrum of executive aviation services. As the leader in meeting the needs of elite travelers around the globe, Avjet serves large multinational corporations, heads of state and discriminating VIPs and entrepreneurs. Avjet's culture of responsiveness and resourcefulness sets a standard unsurpassed in private aviation. Avjet is headquartered in Burbank, California and has other locations around the globe.
Avjet has earned and maintains the highest safety ratings from all major charter-auditing firms, including Wyvern Wingman, AR/GUS Platinum, IS-BAO and is a member of the Air Charter Safety Foundation (ACSF). Our management and charter practices have awarded us the rare distinction of being the only Boeing Business Jet operator in the United States approved for Part 135 global charter. With over 36 years of expertise in operating ultra-long-range private jets around the globe, you are guaranteed the ability to partner with the most knowledgeable experts in the industry.