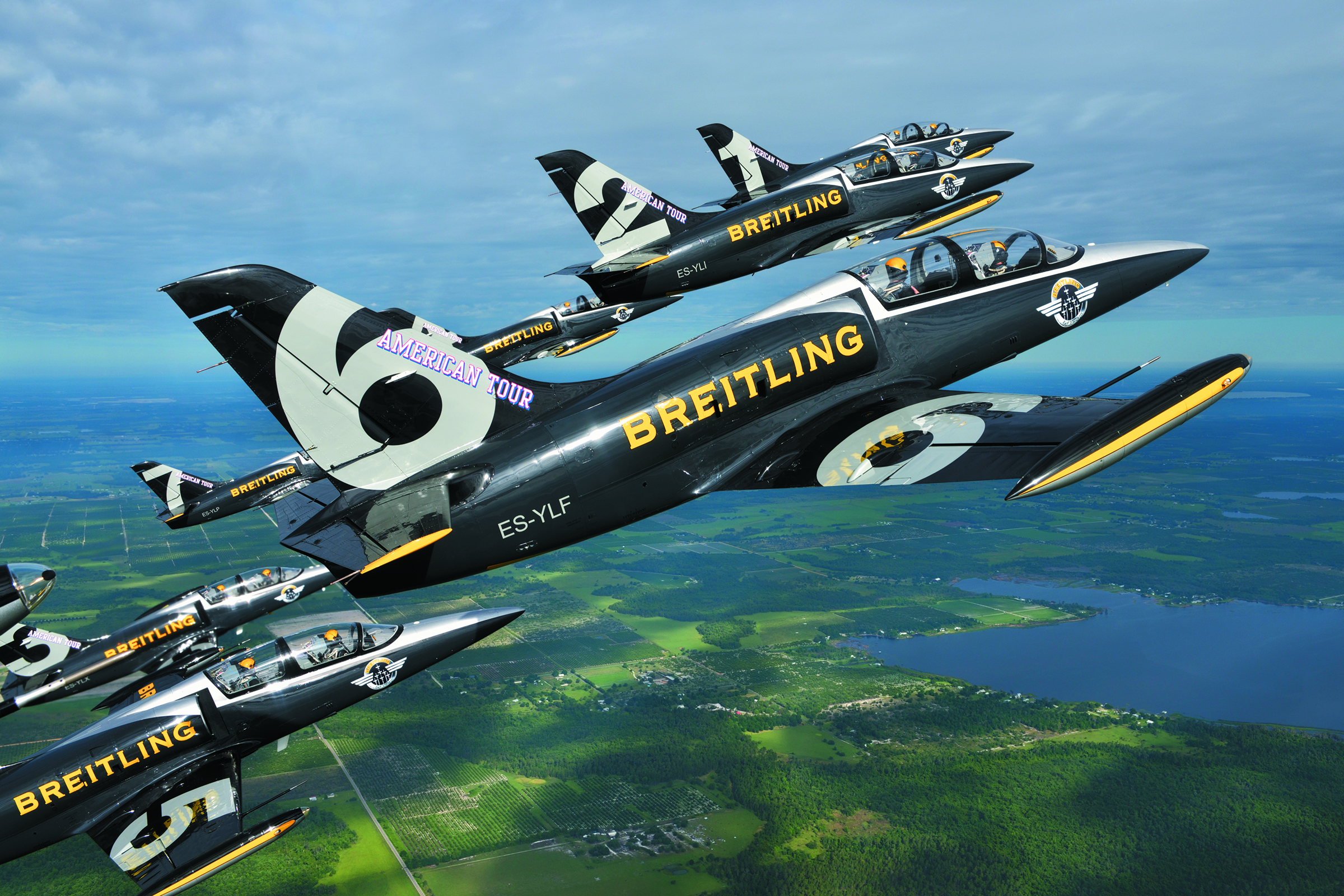 I am 10,000 feet above the ground, upside down, and every part of my body is feeling the legendary effects of G-force. They told me I was going to experience up to eight Gs — which essentially means I am going to feel eight times my body weight — and they weren't lying. They also told me to tighten up all my muscles as they perform these astonishing aerobatic maneuvers in an attempt to prevent blood from rushing to my head, and I am trying to do that but I am also overcome by a sensation that feels like a roller coaster times 10. Maybe that isn't the best analogy, as I cling to the cockpit for dear life and learn that we are going nearly 500 miles per hour, I can't help but think that this is the most incredible sensation I have ever felt in my life.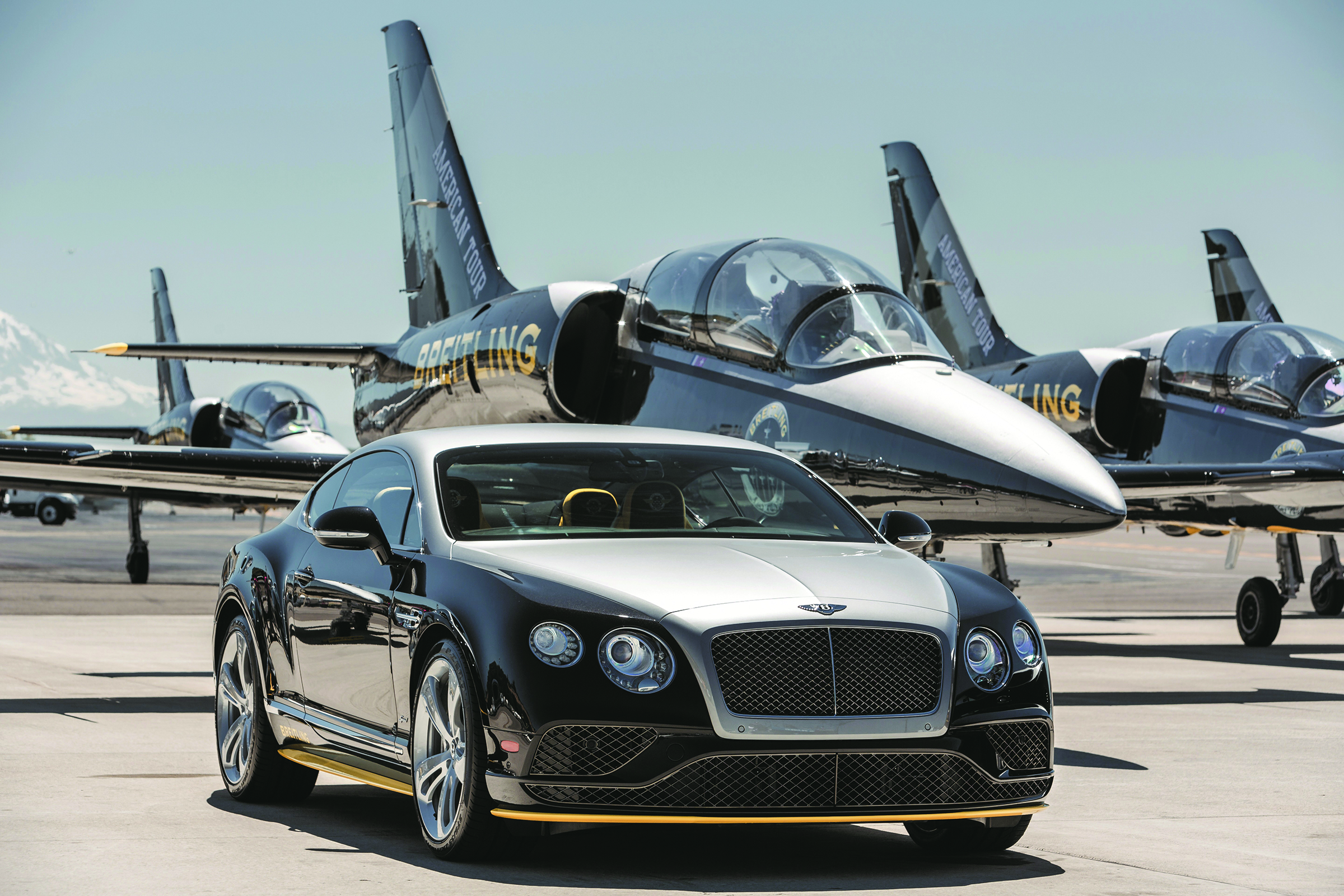 As the CEO and founder of Jetset, I have been fortunate enough to do some pretty unbelievable things over the last seven-plus years — things the average person (or even the average affluent person) rarely gets to do. I have had dinners with celebrities and flown on private planes with business and political icons. I have been to some of the most unbelievable resorts, restaurants, and destinations. I have eaten the best food, driven the fastest cars, and been to the most exclusive parties. But nothing in my tenure has ever compared to this.
I am a special guest of Breitling, the legendary Swiss watchmaker, at their Breitling Experience — a special, invitation-only event in Florida earlier this year. The event is for the company's most cherished jeweler clients and buyers of the Bentley Continental GT Speed Breitling Jet Team Series automobiles. I am proud to say that my wife (Jetset Editor-in-Chief Tami Austin) and I were privileged enough to be the only media partners invited to the event. We figured it would be a great party. But we really had no idea what we were in for.
Precision. Speed. Audacity. These are the words Breitling uses to describe its Jet Team — the largest professional civilian aerobatic jet team in the world. The Dijon, France-based team is made up of former fighter pilots and other aviation aces who perform daring aerial feats while flying in formation in a fleet of seven sleek L-39C Albatros jets. The team is currently dazzling audiences in air shows across the country for its 2016 North American Tour.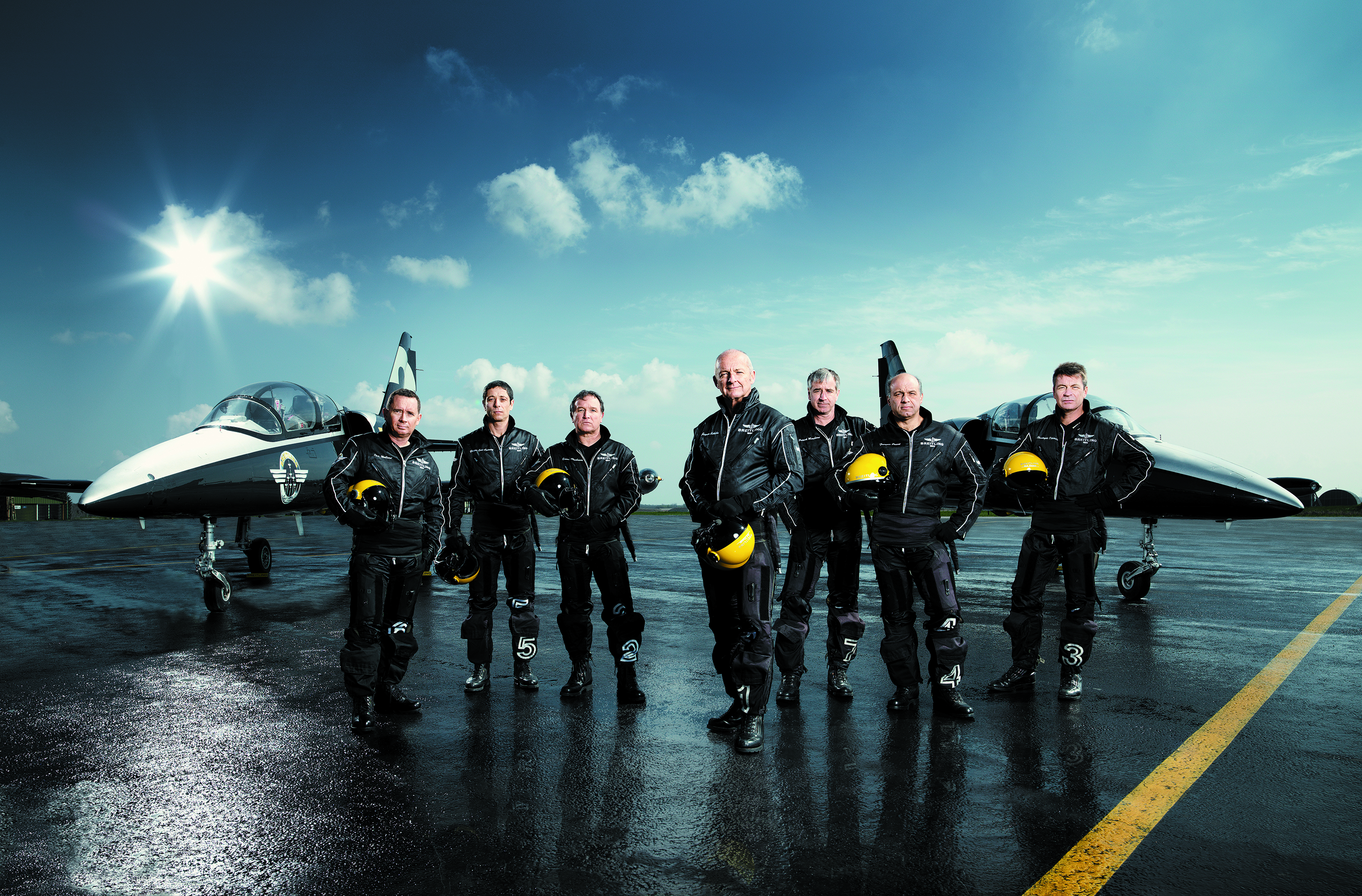 It's natural that Breitling would sponsor this precision team, since the watchmaker has a long history in aviation dating back to 1931 when they developed the first onboard chronographs for use in aircraft cockpits. Breitling is also famous for creating the chronomat: a precision instrument that has become the benchmark for chronographs worn by pilots. In 2002, Breitling also began partnering with Bentley to provide technical instruments and onboard clocks for the aforementioned Continental GT — the most powerful Bentley ever built. (I used to have one, and I can attest to its deceptively smooth power.)
Upon arrival in Florida, Tami and I settle into our luxurious ocean view accommodations at the Boca Beach Club: a Waldorf Astoria Resort located in Palm Beach County the Gold Coast. After checking into our lavish room, we arrive in the lobby for a brief introduction to members of the Breitling staff. After a drink, we board the resort's water taxi, Mizner's Dream, for a scenic trip to Lucca Trattoria for a dinner of fine Tuscan cuisine where we met the elite pilots of the team ameflying with the next day. These guys are going to have my life in their hands. I hang on their every word.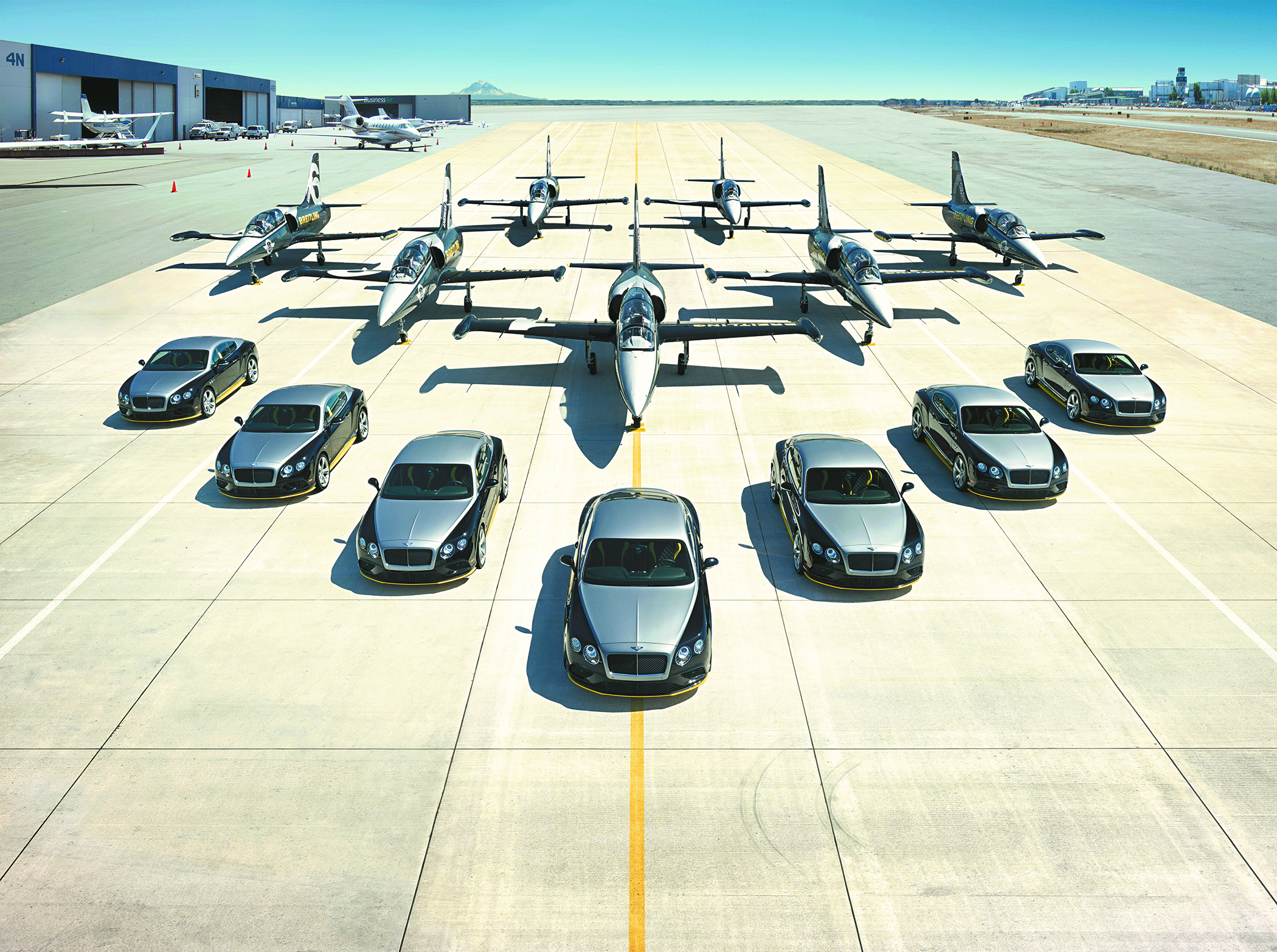 In the morning, we enjoy a hearty breakfast at the resort's SeaGrille restaurant. (Breitling recommended we have a good breakfast to help maintain our blood sugar levels in preparation for the flight.) Then we are transported to the Sheltair hangar in Pompano Beach where we don authentic Breitling flight suits and are given a pre-flight orientation that includes a demonstration on how to use the ejection seat should it become necessary. (Side note, I really hope it wouldn't become necessary.) After a few more refreshments, we are ready to take off.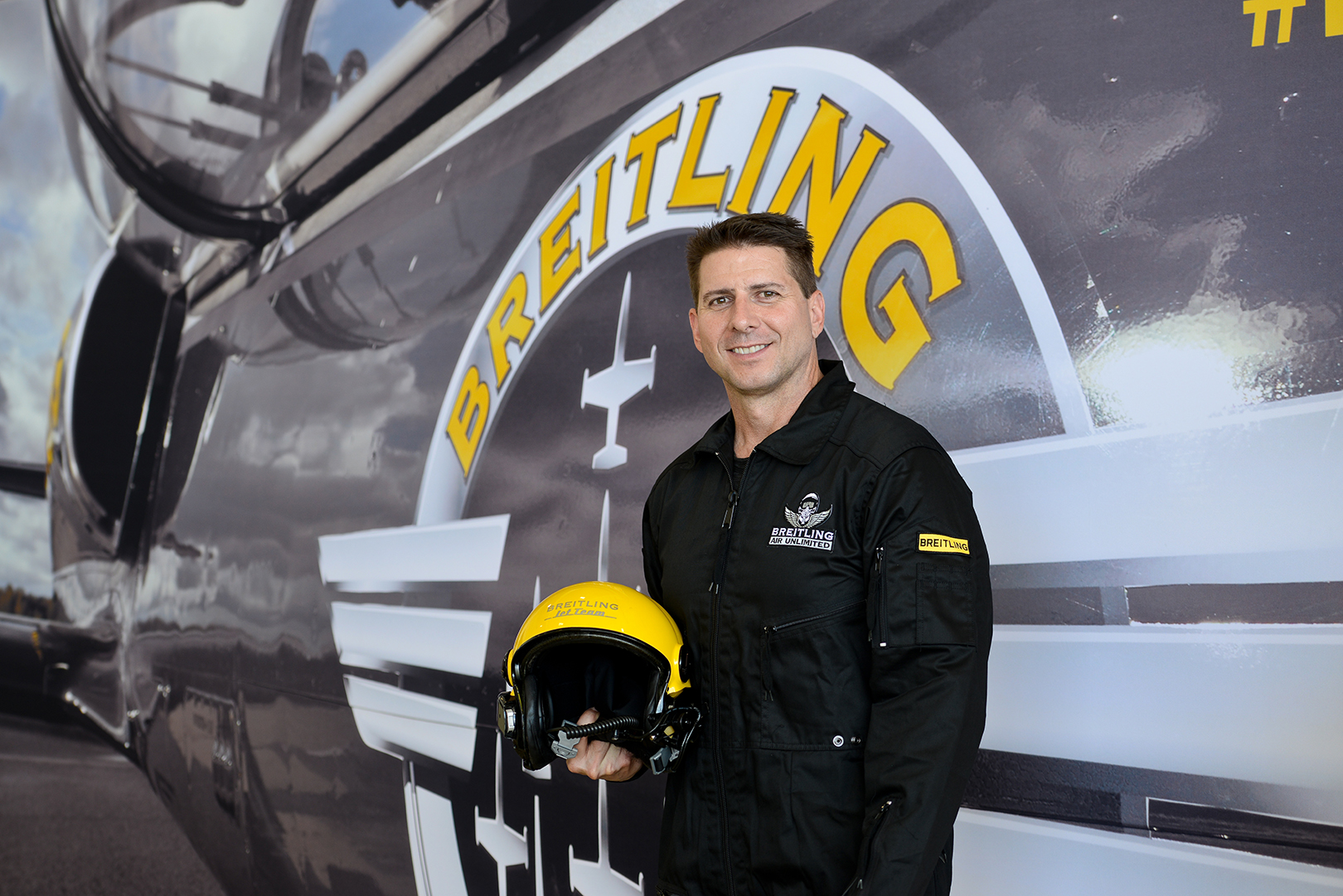 Tami — either less adventurous or way smarter than me, depending upon how you look at it — elects to safely enjoy the show from the ground. So I kiss her farewell and board the jet with former fighter pilot Bernard Charbonnel. Doing so, I can't help but feel like Maverick from Top Gun. As a lover of aviation since childhood, this truly was a dream come true. And while I am a student pilot and a pretty experienced skydiver, I have certainly never had the opportunity to do anything like this before. Am I scared? Do I have second thoughts? Ugh….
Too late. Soon those unbelievable engines fire up and we are off in formation. This alone is an amazing experience, because the jets come as close as 10 feet apart. You're normally never in a plane and another plane is right there on your wing, let alone being surrounded by them. After flying out over the ocean, the pilots turn back toward land and start doing barrel rolls in formation. These maneuvers give me an even greater respect for these expert aviators. I wonder how on earth they manage to keep their composure while doing barrel rolls.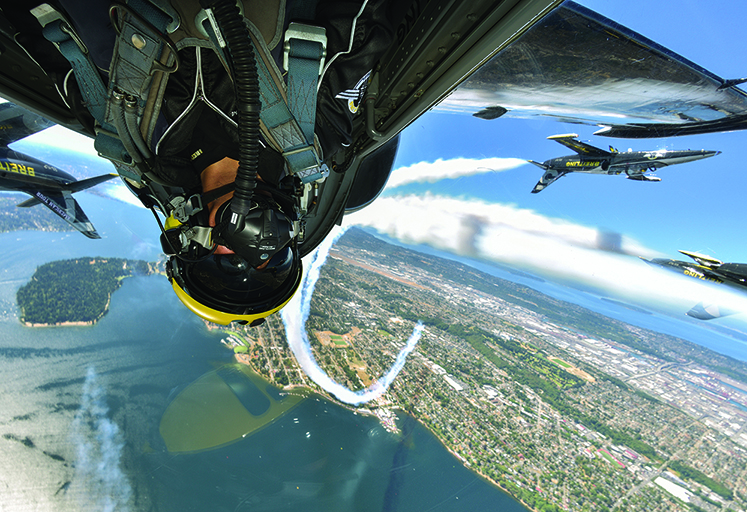 Soon I have lost all sense of reality. I can't tell up from down. It is absolutely surreal, and I am laughing like a little kid the entire time. When the flight of my life finally comes to an end my whole body is numb. My senses are shot. I am in shock, yet still elated, my heart beating a million miles a minute. It was 20 minutes that I will be replaying for the rest of my life. I let out a little "Woo!" and run over and hug Tami. "Was it everything you thought it would be?" She asks. "No," I reply. "It was so much more."
I fly in private jets all the time, but I've never done anything like the aerobatics that I was a part of that day. It was the most amazing, crazy, surreal, over-the-top experience, and months later I can't seem to shake the feeling I had up above those clouds. After reading about it and watching the videos on Youtube for years, I can finally say that I've done it and unless I get to go in space (call me, Sir Richard!), there is probably nothing that will ever top it. My bucket just received a major revision. Thank you, Breitling.
For more information about the Breitling Jet Team and its North American Tour, visit Breitling-Jet-Team.com.