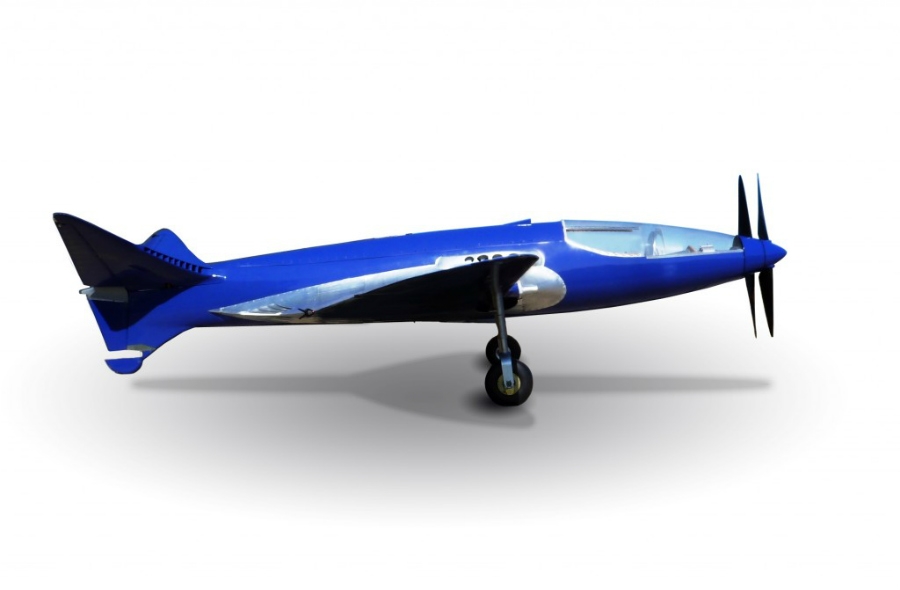 The Mullin Automotive Museum, a Southern California institution devoted to the preservation of French art and automobiles from the Art Deco era, today announced it will debut the completed recreation of the Bugatti 100P airplane as part of its Art of Bugatti exhibition, a tribute to the Bugatti family's enduring genius, opening March 25, 2014.
Originally designed in collaboration with Ettore Bugatti and Belgian engineer Louis de Monge, the original 1937 Bugatti 100P airplane is considered by many to be one of the most technologically-advanced airplanes of the era. The 100P featured cutting-edge aerodynamics with forward pitched wings, a zero-drag cooling system, and computer-directed flight controls, all predating the development of the best Allied fighters of World War II. Powered by twin 450-hp engines, the plane was designed to reach speeds approaching 500mph, a feat previously only achieved by aircraft with twice the horsepower. The Bugatti 100P airplane was also much more compact than most aircraft of the era, with a wingspan of nearly 27-feet and an overall length of approximately 25.25-feet. In June 1940, Bugatti stopped work on the 100P and concealed the plane to prevent its discovery by the German military. Though the plane survived the war, it was left in a condition unfit for flight.
Bugatti 100P Airplane Beginning
In 2009, Scott Wilson, John Lawson and Simon Birney of Le Reve Blue began construction on the first ever recreation of the Bugatti 100P airplane. Handcrafted using largely the same materials and processes as the original, the recreation is dimensionally and aerodynamically identical to the original plane and includes elements of the five patents that Bugatti was originally awarded for the Bugatti 100P airplane. The recreation was teased as under construction at AirVenture in Oshkosh, Wis. in 2011, but will be seen as completed for the first time at the Mullin Automotive Museum, beginning in March 2014.
"We've searched for years to gather the best examples of the Bugatti family's work and couldn't be more thrilled to host the Bugatti 100P airplane at our museum," said Peter Mullin, Founder and Chairman of the Mullin Automotive Museum. "Bugatti has always been known for their remarkable automobiles, but the 100P is one of the missing pieces that truly shows the breadth and depth of the family's work."
"There isn't a better way to finish this project than to have the 100P be a part of the Art of Bugatti before it takes to the skies," said Scott Wilson, Le Reve Blue Managing Director. "For the first time, this incredible piece of engineering and design will receive the broad recognition it deserves, 77 years later."
The Bugatti 100P airplane will be on display among the largest assembled collection of Bugatti artifacts and automobiles at the Art of Bugatti exhibition, opening March 2014. For further information on the Art of Bugatti at the Mullin Automotive Museum, please log onto www.mullinautomotivemuseum.com.