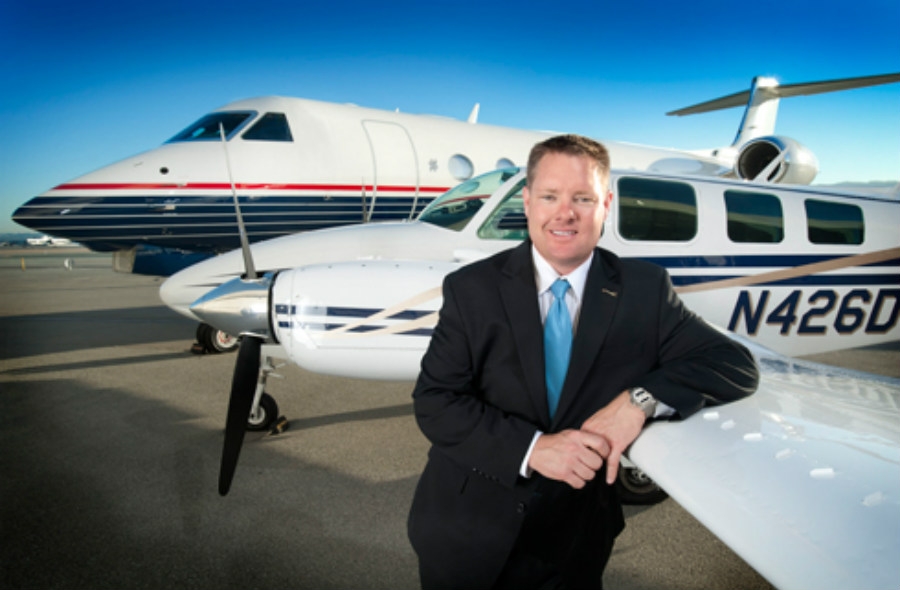 Solairus Aviation Chairman and CEO Dan Drohan Knows Exactly What Fuels His Company's Success: Its People
Dan Drohan was lucky enough to have discovered his life's passion at a very young age. "I started flying when I was 12 or 13," he explains. Today, he is Chairman and CEO of Solairus Aviation, an aviation asset management and private jet charter company headquartered in San Francisco with aircraft and regional offices nationwide. Solairus currently manages more than 50 aircraft and has revenues approaching $100 million. But it all started with a single plane.
When Dan was in high school, he worked at an airport and earned his private pilot's license. He eventually went off to college, but his college career was short lived. "I came back in December of my freshman year for the break," he explains. "My mother wondered why there was a steamer trunk behind me. At that point, I had decided that aviation was where I wanted to be."
Within a year and a half, Dan started Sunset Aviation, a one-man operation that offered air tours over the San Francisco Bay and the wine country. He then eventually moved into the world of charters. Over the next fifteen years, he grew the operation into a company with 100 employees and 25 planes. Then, unknown to him at the time, he was about to be in for a turbulent ride.
In 2005 he was approached by a private equity-backed roll-up named Jet Direct that was putting together charter and management companies with the goal of building what Dan describes as "one mega management company." Dan decided to accept the investors' offer and sell his company to Jet Direct. "It ended up being a huge debacle in the aviation industry," he recalls. "They put together 12 companies in three years, which is insane when you think about it. These businesses are very, very relationship-based. You can't remove the key players out of relationship-based businesses and expect it to work. That's what they did, and it failed miserably."
The fact that Sunset Aviation lost millions of dollars in the deal was bad enough, but that wasn't all that happened. As Dan explains, "They obliterated any good will we had with our clients." Despite an investment of many months of time and legal expenses, Dan was unable to strike a deal with Jet Direct to buy back the assets of his old company. It was time to start all over. Dan partnered with Jake Cartwright who had been CEO of TAG Aviation USA, another Jet Direct acquisition. Together they started a new company which they rebranded as Solairus Aviation. "Sol" stands for sun, as a nod to Sunset Aviation. "Air" is for airplanes, and, as Dan explains, "Us" is the most important part of the name – it's about the folks who keep the company rolling day in and day out." Most of them are former TAG and Sunset Aviation employees who had been let go by Jet Direct.
"We have a philosophy around here we call 'people, not planes,' he continues. "There is a ton of other aircraft management and charter companies out there – and many of them are very good at what they do. But I think what differentiates Solairus is that by humanizing the aircraft management business more than most aviation companies choose to, we get to the very root of what the business is all about, and, in fact, what every business is about: people."
"Overall, I would have to say that one of my biggest takeaways has been that success can only be achieved in an organization when, as a leader, you have surrounded yourself with people better at what they do than you are – and then only after you've stepped aside and allowed them to do their job."
As a pilot himself, Dan is passionate about aviation and fully understands that for many owners, their plane is one of their most prized possessions. He reflected back on his career choice. "I'm sort of the classic airport kid who was lucky enough to stay in the business. I think some of the best advice I was ever given was to find something you are passionate about and then figure out how to make money doing it. I cannot think of a better profession than aviation to exemplify that ideology."
So what's on the horizon for the company? "I want Solairus to grow, of course, but not simply for the sake of being bigger," Dan explains. "I want us to grow as a result of being great at what we do, every single day."