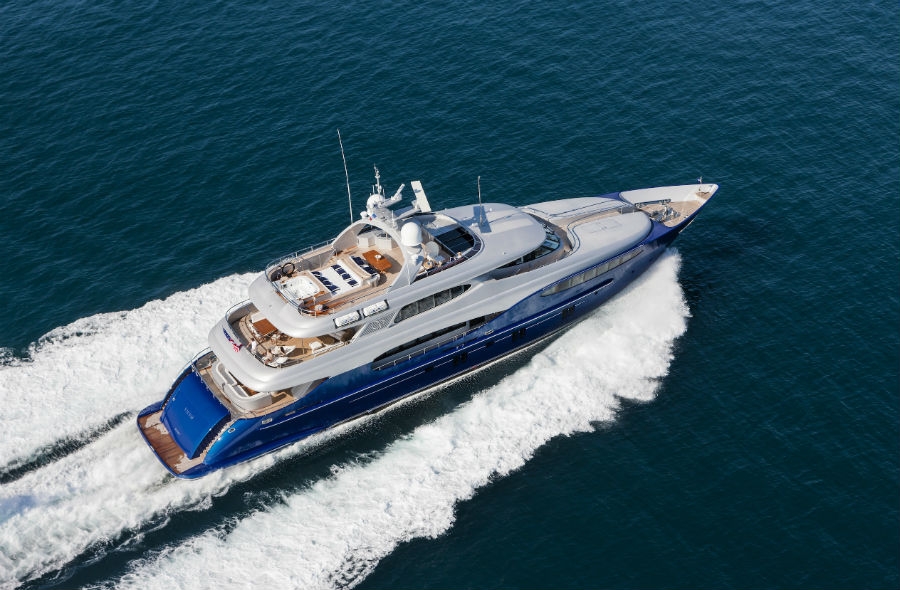 Vicem Yachts, Turkish builder of luxury classic motoryachts and mega-yachts, will feature two US Premieres at the next Fort Lauderdale International Boat Show from 31 October – 4 November 2013.
The two yachts, the top models of the two major lines in production, are the Vicem Vulcan 46m and the 107 Cruiser. Vicem Yachts has added an important step to its strategic business expansion with the launch of the said models. The Vulcan 46m is the most evident result of the new strategy adopted by Vicem aimed at enlarging its horizons beyond mahogany construction into high-tech composite construction. The Vicem 107 Cruiser, which will also cross the Atlantic Ocean for the first time in oder to be presented to the North American audience, is a yacht specially designed for long distance cruising, gifted with extremely generous internal volumes and external entertainment areas. Alongside these two premieres, Vicem Yachts will be also displaying at FLIBS13 the traditional Windsor Craft models WC36 and WC40.
THE VICEM VULCAN 46m
The VULCAN 46m is a yacht that features the best materials and absolutely no compromises. With world class, fast and light yachts for charter or private use, the Vulcan Series – with three model in production, spanning 32 to 46 metres in length – adds long range capabilities for ocean voyages together with an outstanding and durable low maintenance exterior. Due to the latest design and construction techniques, interior volume has been increased when compared to many other yachts in the same size range. Interiors are tailored to client requests and can be fully integrated with exterior colors, styling and finishes due to Vicem's "total customization" attitude and superior nconstruction techniques which allow finishing in dark colors and/or metallic painting. The Vulcan Line yachts are built in a state-of-the-art facility in Antalya, Turkey. Composite materials, applied with resin and sandwich techniques, are chosen to achieve the best possible strength-to-weight ratios.
THE VICEM 107 CRUISER
Vicem envisioned the Cruiser Series – whose models span 68 to 107 feet in length – as a step towards another level of style, luxury and spaciousness. These higher-volume, longer range motor yachts are the perfect bridge from classic, traditional full displacement yachts towards modern, semi-displacement performance specs. They are capable of undertaking demanding voyages with low fuel needs and ultimate comfort. The 107 Cruiser, which breaks away from the traditional Vicem mahogany interiors, epitomizes the three hallmarks of every Vicem yacht: exuding a classic look of timeless design, exemplifying the Vicem ideals for unmatched craftsmanship with a commitment to total customization, and the cold-molded method of construction. But this timeless 32,50m Vicem classic design has undergone a sophisticated makeover with a number of new refinements, thanks to the in-house design team of Vicem.