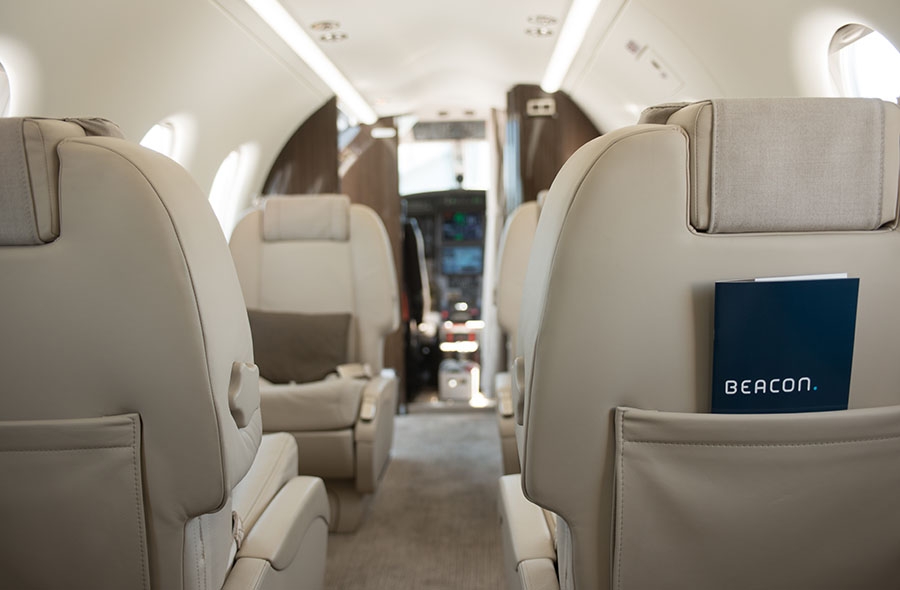 Imagine a typical day at the office when it becomes necessary for you to meet with a client. In-person is best. Normally this would mean booking your trip days in advance, a frenzied rush to a crowded airport, waiting in long lines, and getting gouged by last-minute fare hikes. But not today.
Not if you're a member of Beacon, the private aviation service revolutionizing the travel industry. Instead, you collect your things, step into the company car and head to the airport. While en route, you pull out your phone and book your flight within seconds on the Beacon app. You drive right past the clogged commercial terminals and arrive at the private aviation lounge 15 minutes later and are greeted by a concierge who knows your name and favorite snack. Check-in is instant, and within moments you are in the air. You meet with the client who is thrilled at your efficiency, and you return home in time for your daughter's soccer game.
Beacon saw that business travel along the East coast is every bit as inconvenient as it is necessary, so they decided to do something about it. They've developed a travel solution to match the speed and power of today's big business. Private jet not required.
Beacon meets the previously unanswered needs of the market between those flying the commercial airline cattle drive and those that land their own jet in their backyard. The simple answer comes in a subscription-model membership, where members pay a monthly fee of $2,000 a month, and receive the value of convenient booking and flying whenever they want. Beacon offers unlimited flights between New York and Boston, as well as two vacation destinations — Nantucket and the Hamptons. Washington, DC will also be an option, come Winter 2015.
CEO and founder of Beacon, Wade Eyerly, is the inventor of the subscription airline model. He and two other Beacon founders are industry vets. Beacon partners with independent operators who own the aircraft and employ the pilots. This removes the operational burden from Beacon, freeing them up to focus on the service. The value of the business isn't the luxury planes, the founders realized — even though the executive aircraft are as posh as you think. The value to fliers is flexibility, a frictionless travel experience, and an incredible amount of time saved.
Beacon began business in February 2015, with Romulus Capital leading investment. They have several million in pre-sales, and will begin flying in late summer for an exclusive inaugural membership they are currently building. The service will operate 15 to 20 flights a day for travelers' convenience; this will take the sting out of missing a flight, as another one is available to you shortly thereafter.
The Beacon member will most likely fall into one of two categories: frequent flying execs who want more time with their family, and companies that travel regularly amid the Northeastern corridor. Beacon corporate memberships are made-to-order, ensured to include everything your organization needs and nothing it doesn't, for companies of any size. Corporations find enormous value in unlimited flying for their travel needs, and since members can include their personal vacation travel in their bookings, companies are providing an employee perk at no additional cost. The value of unlimited travel with executive-level service is obvious to both individuals and corporations. "For people who are commuting with great frequency, it's life-altering," said Eyerly.
Upon reaching East Coast success, the Beacon team will expand to other markets they've identified as fertile ground for their model. When Eyerly says he wants to revolutionize the industry, he means on a global level. And given their industry expertise and success thus far, the revolution is well underway.