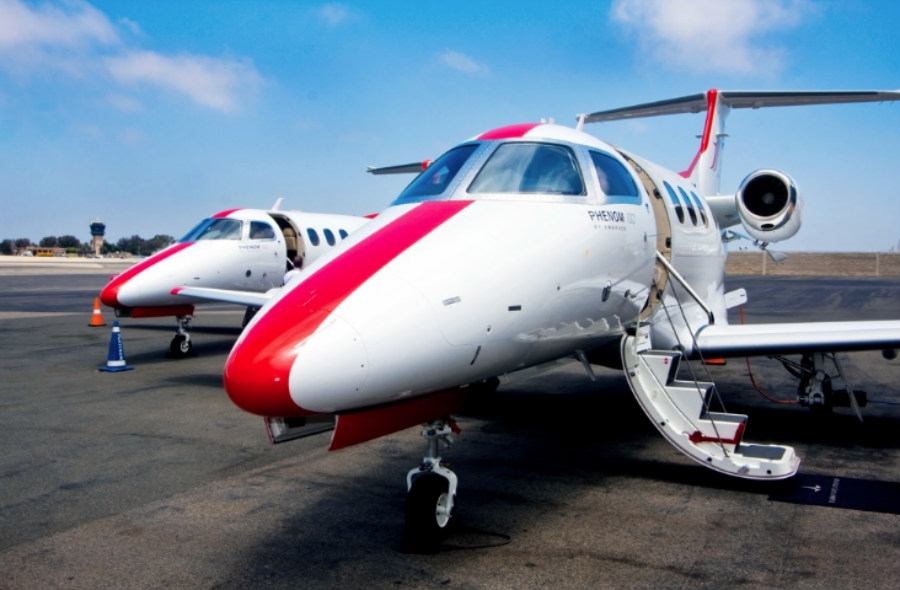 There's no doubt about it, buying a yacht or a private jet is an expensive proposition, even when just looked at on the surface.
But once you delve deeper, there are other costs, such as the crew, maintenance, storage fees and everything else that comes with owning a piece of machinery for upwards of $3 million. Even more troublesome, if you don't use it very often, those maintenance bills start to grow, as these machines need to be used to stay in tip-top shape. So what are you supposed to do if you want a private jet or yacht, but don't necessarily need it every day?
The answer lies in fractional ownership, a concept that allows you to buy into a single vehicle or a fleet, for just a fraction of the original price. Although there are some people who think that this is just a way for the less fortunate to seem richer than they actually are, it can be a very smart decision both in the long term and on the financial front.
Here's how it works: You go to a company that offers a fractional ownership plan, and see what kind of vehicles or fleets they offer. Then you buy into one of these fleets, yachts or planes, for just a portion of the purchase price of the vehicle. This cost now covers a specified number of days of usage per year, all maintenance required, as well as the crew's salaries, all in one lump sum. After a few years, you either re-up with the company to continue using your vehicle, or you exit your contract and either move to another company or do whatever you like.
Take, for example, what SeaNet is doing with their fleet of Delfino Benetti yachts. One of their offerings involves buying into a fleet of yachts, which gives you access to boats in the Mediterranean, or across the East Coast or West Coast of the U.S. So how do they handle the logistics of it all? "It's pretty straightforward," explains Michael Costa of SeaNet Yachts.
"What you'll end up doing is interest purchase into the LLC that all the assets reside in. So basically, each boat is in its own LLC, which is collectively owned by a master LLC. You would own basically 25 percent of that LLC of maybe the boat that's closest to you."
So that's one option, but with SeaNet you can also buy into the entire fleet as well. "You can take the majority of the time that's in that boat that's on the West Coast region for example, or you can take the fleet version, which is what pretty much everyone is doing," Costa explains. "You get an X-amount of weeks on each of those boats throughout the year. Now you get to split your time amongst all four boats and your ownership amongst four boats so you have that raw experience so you are able to enjoy the best of basically all worlds."
This has wide-ranging implications, and it's quite practical as well. Say you live in California, and you like to tour a few areas in the world on a private yacht at least once a year. If you own that yacht, not only are you paying for it to be stored and maintained all year, but you've got a crew on retainer that's ready at a moment's notice. These costs can go upwards of 10 percent of the purchase price of the vehicle, which in some cases, can go past $1 million per year. Even if you've got money to burn, that's not necessarily the best way to burn it.
In addition, moving a private jet from city to city isn't very difficult, but it does involve some planning to do correctly. You can't just call up your pilot while you're sitting at an airport in New York if the plane is in Atlanta and expect him to drop everything and pick you up. And if you have a private yacht, moving it around is a potentially very expensive affair, and very time-consuming — traveling from California to the Bahamas on a boat takes lots of time and money.
Even if you don't want to plunk down the cash to buy a private jet or yacht, there are still more options to still live the high life but not have the hassles of ownership. JetSuite, for example, offers trips on private jets that you can book just like you would a flight on a commercial airline. "We have tier pricing like the airlines use," says Gary Waldman, the chief commercial officer for JetSuite. "If you called in advance and you called us on a non-peak day, we can take you from LA to Vegas in as little as $999 and that would be for the entire airplane."
These aren't the only options available, and they have lots more in the works. But what's interesting about what they do is that even people who own their own private jets use their services because it's cheaper and easier. Waldman explains: "We have one customer that owns a Global and he's a billionaire. When he's flying from LA to San Francisco, for him, there really is no point for taking out his Global to go on a 15-minute flight when he can do it on JetSuite for a few thousand dollars."
To figure out if you should own or purchase a stake in a fractional ownership program on a private yacht or jet, you first need to assess your situation. How often will you use the vehicle? What kind of access will you have to it when you need it? How close are you to the dock or airport that the vehicle will be stored? How long will it be before you want to upgrade or buy a new private jet or yacht? By answering these questions, most people will realize that owning their own vehicle really isn't the best way to go, and maybe considering fractional ownership or one of the other alternatives makes more financial sense.