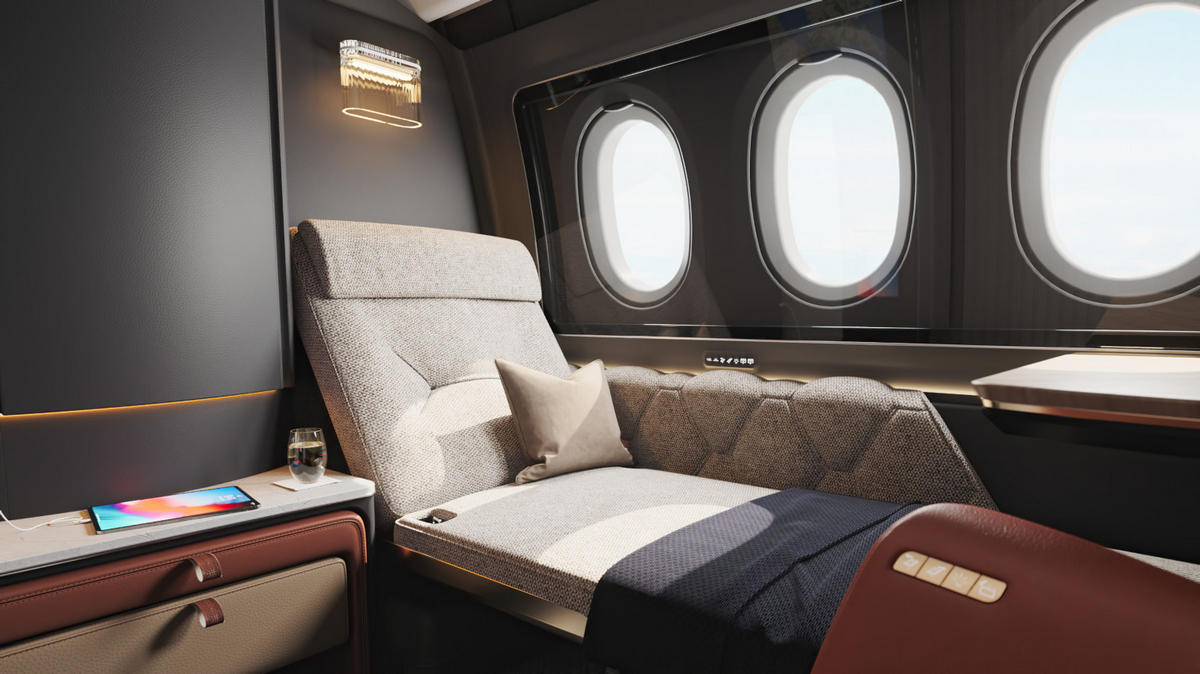 Any sumptuous, in-flight experience is better when it reminds us of our personal dwelling. Although foot room and a soft seat are important must-haves, flight designers have found there's more to bring to the (tray) table than these foreseeable business class inclusions. Hours of air travel can often exacerbate our discomfort, so why not trade in the mini monitor for a family-style LCD flat screen? London-based design studio, Acumen has already rendered a concept for those with a finer taste in all things aviation. Let your imagination soar with the recently-revealed details below.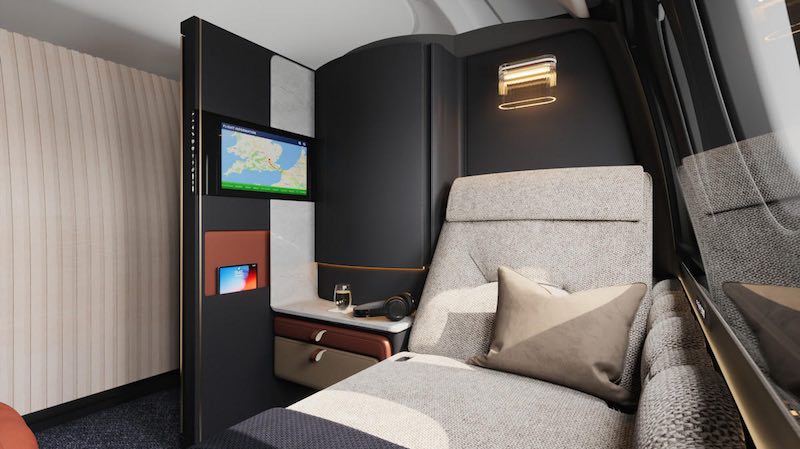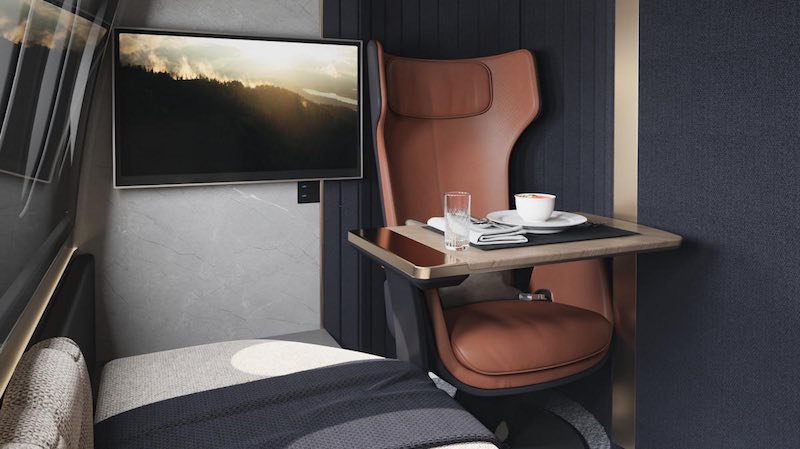 Acumen's "The First Place" offers flyers the opportunity to feel at home in the air —to incorporate all the familiar aspects of a restful space into a flight. The new first-class suite is in the simulation phase where previewers can catch a glimpse of the superior renderings. The concept has flyers rethinking the quality of their first-class ticket abroad. If owning a private jet isn't in your itinerary, but luxury is always at the forefront of your mind, then this suite is likely for you. The concept integrates a comfortable, customizable atmosphere without the commitment.
The undeniably soft chaise lounge has a sharp and minimal design that will most certainly appeal to you (especially when it's converted into a 6-foot bed). It's nestled beside a reclining leather armchair that's ideal for upright and awake moments. But all of this can be done in privacy with your choice of concealment options – a rotating wall or a whisper-quiet sliding door. Once cozy and private, flip on one of two monitors to preview a show. We suggest the 32-inch LED screen for better cinematic quality, but the 18-inch version (located in perfect viewing distance from the chair) is more than suitable as well for checking your flight status or catching a glimpse of the terrain below.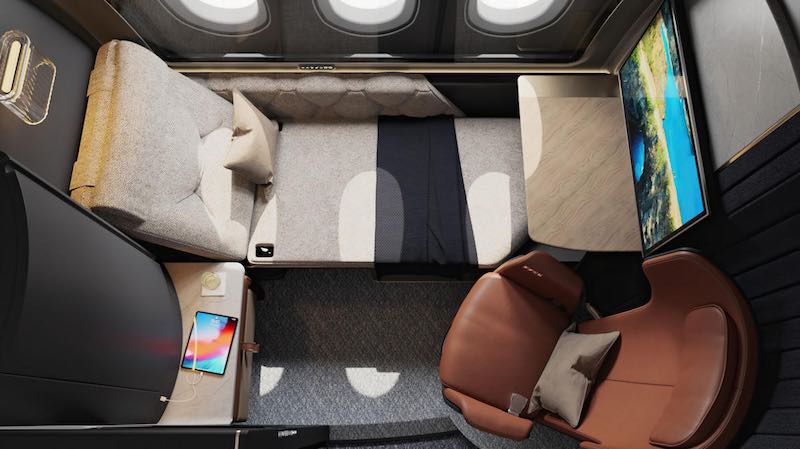 Technologically sound in every way, The First Place has met the mark. The armchair is equipped with noise-canceling tech for a smoother and more seamless experience. The chaise has temperature control while the table has induction power charging for your laptop or phone, so you'll have peace of mind that your favorites won't be neglected. All of these rather complex features are easily accessible from the included touch-screen tablet.
The thoughtfully-designed storage solution is somewhat similar to your conveniences at home. The bedside table opens to reveal a leather-lined interior for storing reading material, tech, or toiletries. The table for two has a marbled effect and can be used for delectable bites or simple sips while partaking in intimate conversations.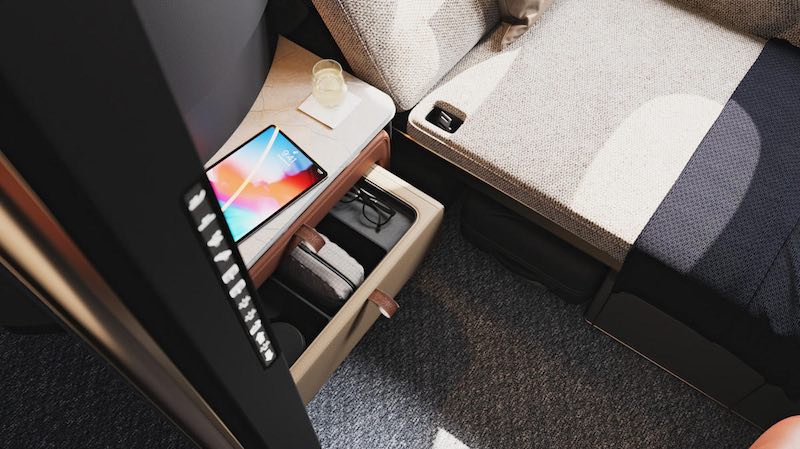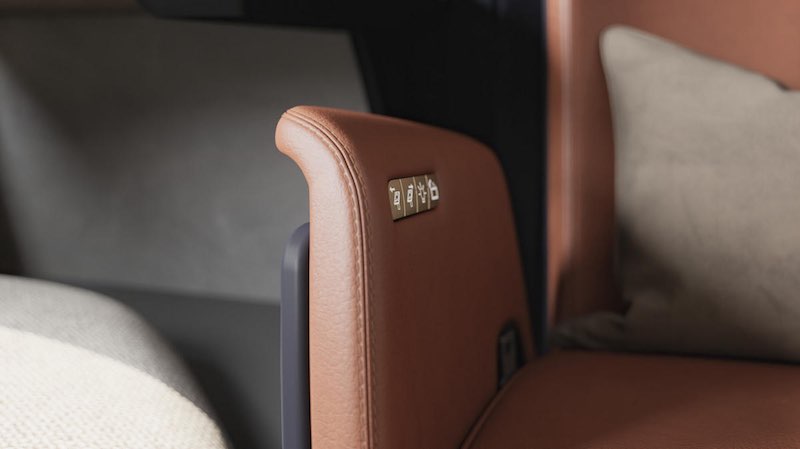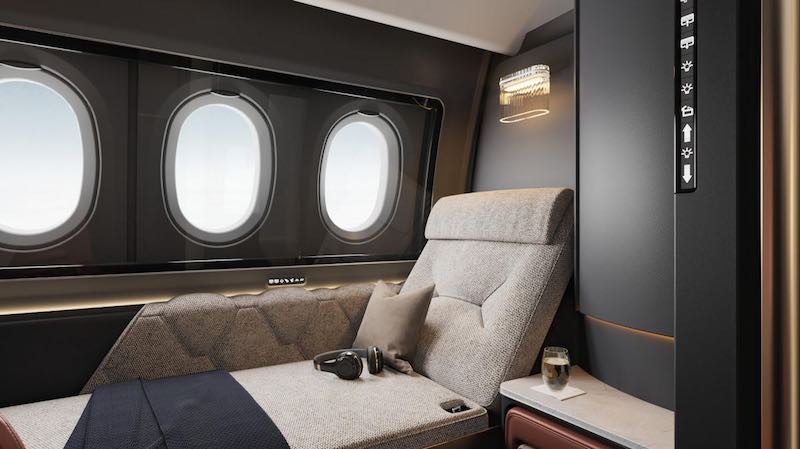 This type of in-flight venture isn't new for Acumen. The brand launched the world's first 'flying bed' in 1995 for British Airways. Although we're impressed by these never-before-seen accommodations, it's evident that Acumen knows a thing or two about creating the right atmosphere at high altitude. It proves we're one step closer to feeling at home in the sky.