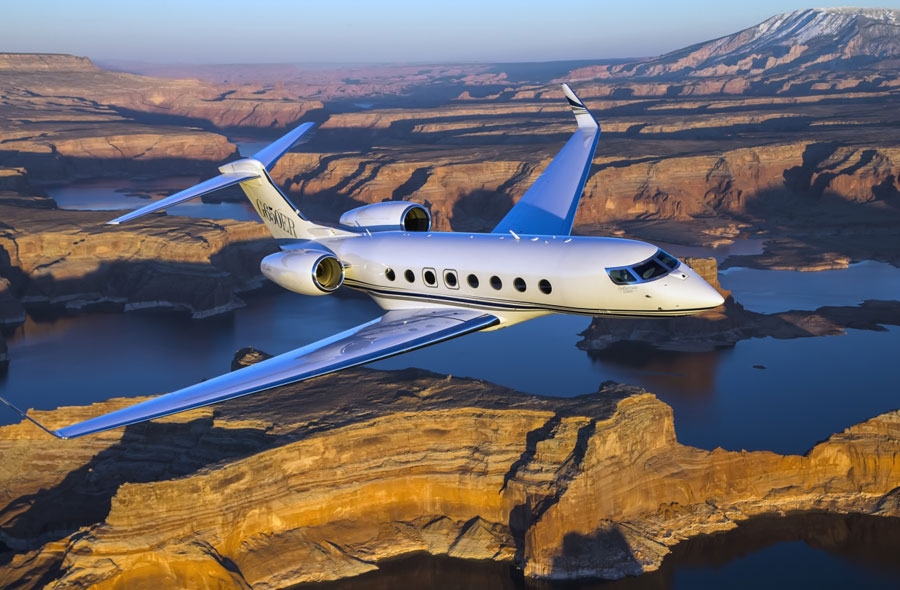 Getting somewhere at near-supersonic speed shouldn't be the only consideration for luxury travel.
Gulfstream certainly doesn't think so. The flagship Gulfstream G650ER and the Gulfstream G650 are designed for the needs of the most sophisticated traveler.
Start with a cabin that is the quietest in business aviation, circulates only 100 percent fresh air and is pressurized to an industry-leading low altitude of 3,700 feet/1,128 meters at a cruise altitude of 45,000 feet/13,716 meters. It's a triple combination that reduces passenger fatigue and stress on the body and helps a traveler arrive fresh and alert at any destination.
As you fly, stay connected via multiple-channel satellite communications, or, for the best connectivity, upgrade to Gulfstream's optional high-speed data Broadband Multilink. Relax in wide, handcrafted leather seats and divans. Choose your entertainment, and control temperature and lighting with touch-screen devices from an Apple or Google Android device, then save those preferences to your smartphone for your next flight.
Sleep peacefully in a berthable seat or divan or work with a Gulfstream designer to create a cabin with a private stateroom. Wake to a meal prepared in a full-service kitchen, complete with a refrigerator, convection oven and water sterilization system.
But know this: These are aircraft built to perform. The exquisite comforts of the G650ER and G650 are matched with a maximum Mach of 0.925. The G650 offers a nonstop range of 7,000 nautical miles/12,964 kilometers, and the G650ER offers the longest business jet range available―7,500 nautical miles/13,890 kilometers.
At Gulfstream, providing ultimate comfort with amazing performance is all part of creating and delivering the world's finest aviation experience.