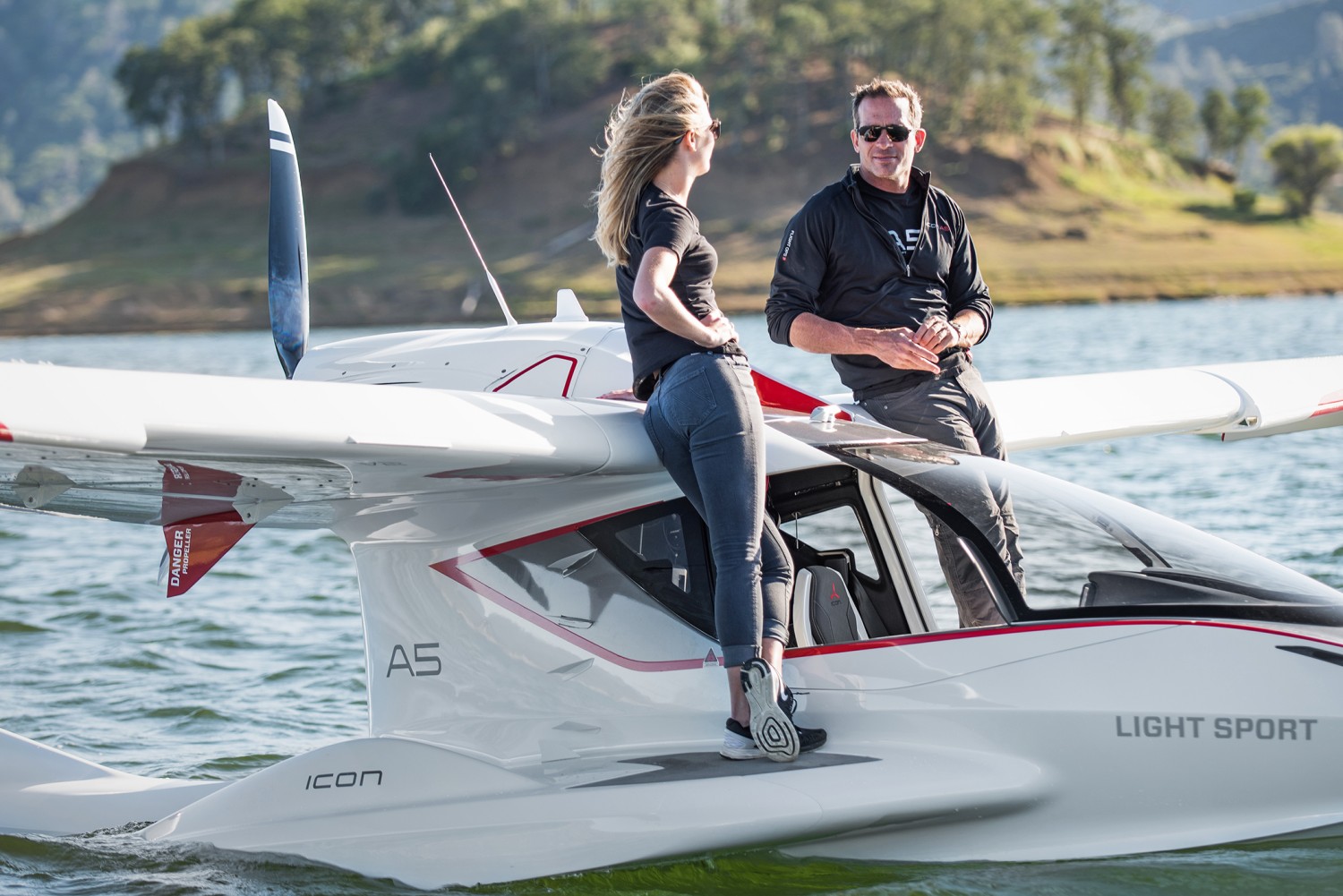 The ICON A5 marks a ravishing return to the original spirit of aviation. Think unbridled flying and the sheer thrill of feeling airborne. Powersports have a new champion in ICON CEO Kirk Hawkins, as he's bringing sensual hedonism back to the world of private pleasure craft.
I arrive at the launch in Napa Valley with healthy journalistic skepticism, ready to be underwhelmed. The hyperbolic pomp heralding the ICON A5 is rarely seen in this notoriously jaded industry. Talking points like "light sport" and "folding-wing amphibian" tend to incite eye rolls among aeronautic insiders. Until now. It's truly hard to remain stoic in the face of such intoxicating aerial thrills. First of all, sitting in the two-seater cockpit is not unlike kicking back in a sporty convertible — the dashboard and interior bears more in common with a luxury sedan than a utilitarian transport.

In keeping with the laid-back Silicon Valley sensibility, this gathering of top aviation and lifestyle media on Lake Berryessa feels like summer camp. Two fully-stocked houseboats flank a sandbar where the barbecue pit is abuzz. Camera crews capture three A5 planes in tight formation worthy of a Fourth of July airshow. The vibe is spot-on, as ultimately, this launch is all about lifestyle. The A5 is that next-level aspirational trophy, provoking envy in both your private plane and bespoke boat cohort.
Anchoring this air of conviviality is the dashing Hawkins, the man of the hour. The Stanford Business School alumnus and former Air Force F-16 pilot flies his modern marvel of engineering while sporting a t-shirt and sandals, illustrating his ethos rather perfectly. Like most visionaries, he's invested in sparking a broader cultural and philosophical shift. "Flying can be wondrous in and of itself, not merely a way to get from point A to B," Hawkins muses. "It's thrilling, the potential for a sporting community to rise and rally around the A5…social flying clubs inspiring a new generation of aviation and design enthusiasts."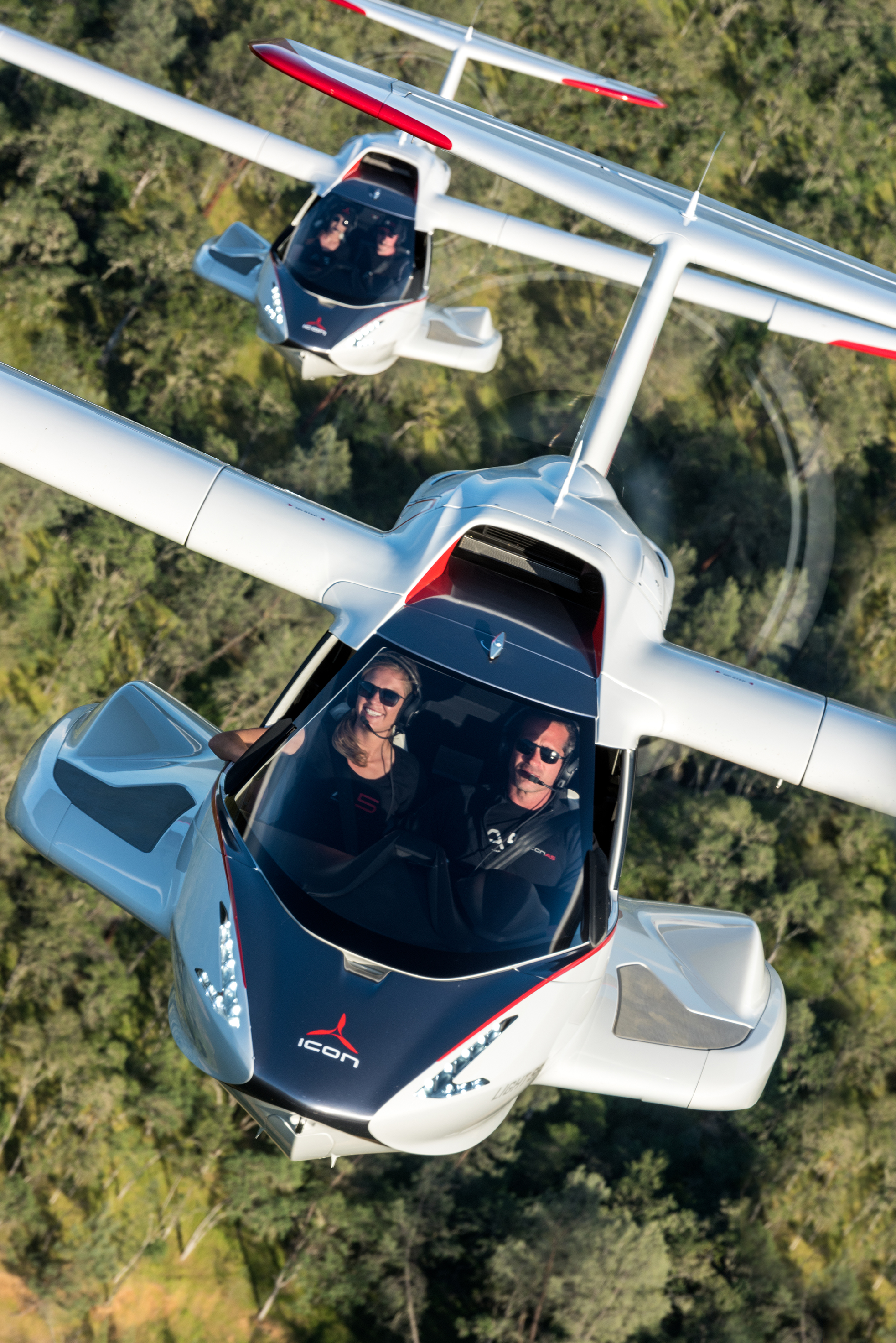 At the top of the morning, instructor Greg Zackney tells me to hop into the pilot's seat. I must admit, it's a rush to take the main yoke, a testament to how refreshingly un-intimidating this plane really is. The most smashing achievement? Earning its nickname as the "Tesla of planes," this all-composite amphibious light-sport aircraft weighs just 1,000 pounds, with an impressive range of 450 miles. I've held posh steak knives that weigh more than the A5's removable side panels. Such innovations allow for a casual effervescence, and soon I find myself winging my elbow out the window, channeling Steve McQueen in Bullet.
After relishing an unparalleled experience landing on both aquatic and terrestrial runways in the first fully-conforming ICON A5, I can attest that this game-changer exceeds its high expectations. In fact, this revolutionary craft redefines the very notion of "runway." The world is a catwalk for the A5, boasting the stamina of Heidi Klum with its range, and the gravitas of Gisele Bündchen with its flawless aerial lines.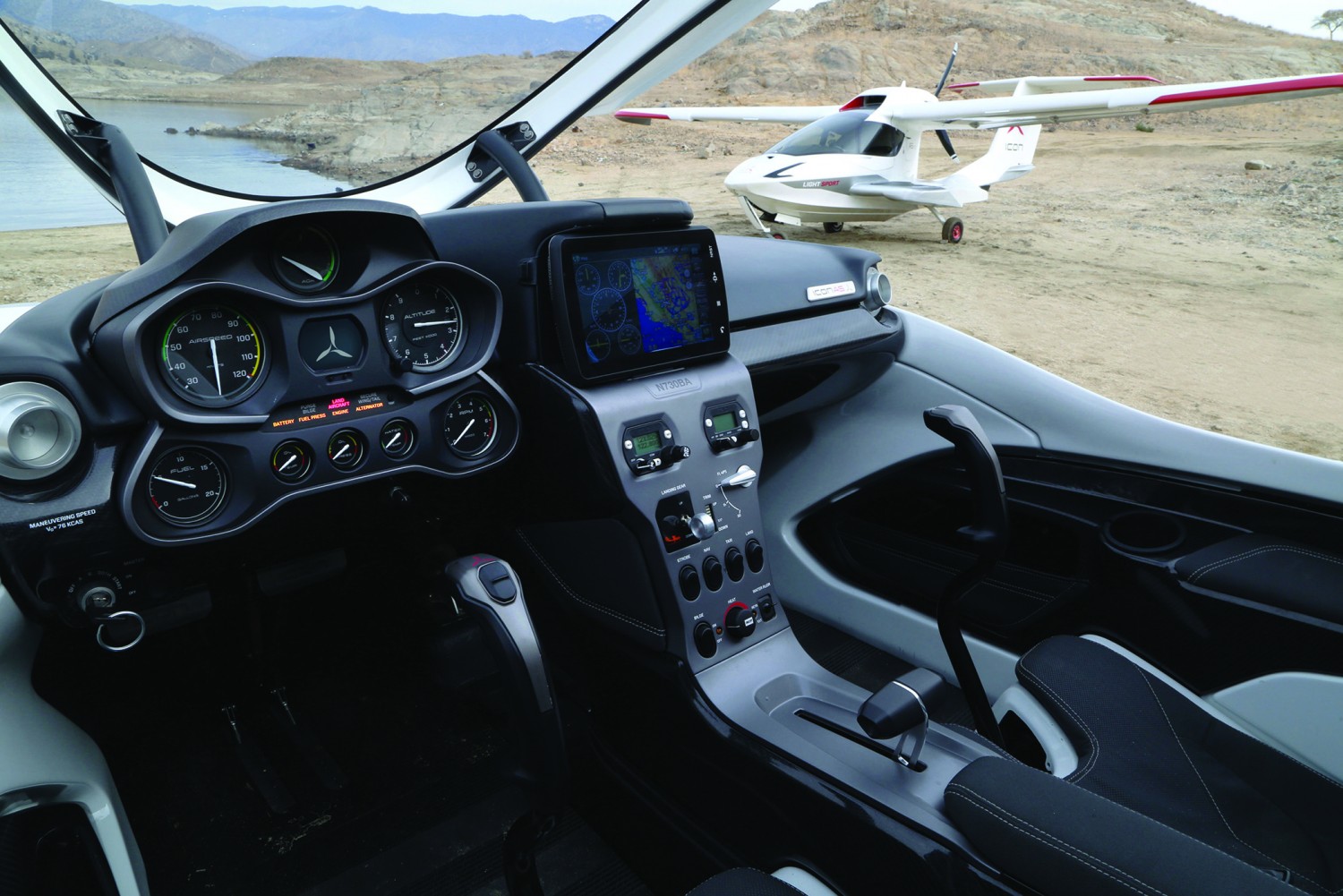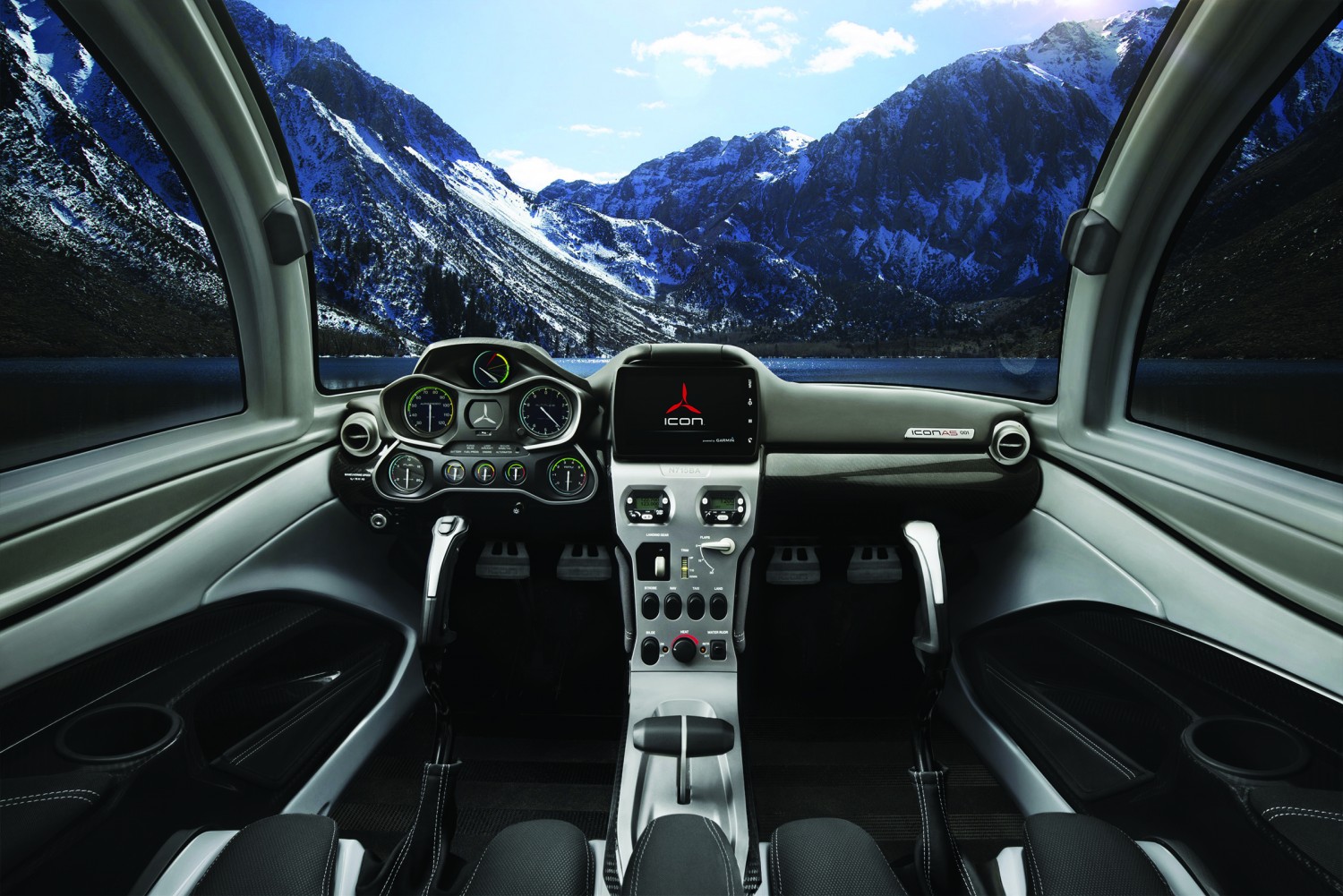 Even prior to the final design phase, ICON made aviation history with the A5's Angle of Attack system. The California-based company's aeronautical engineers built the world's first production aircraft to comply completely with the FAA's 23 spin-resistance standards, benefitting from decades of NASA research. Firing up the 100-horsepower Rotax 912 iS engine, I'm pumped to put this to the test. The A5 shut us down when we tried to provoke it into a spin; it simply won't be goaded into stalling, even on a dramatic ascent. Smart interior design coupled with the stellar responsiveness of the yoke encourages a surprisingly relaxed body position. I feel like Jordan Spieth on the Masters putting green rather than a complete novice piloting a $250,000 plane. And the adrenaline junkie in me couldn't resist a round of high-G donuts on water, proving this plane is also one of the best maneuvering boats to boot.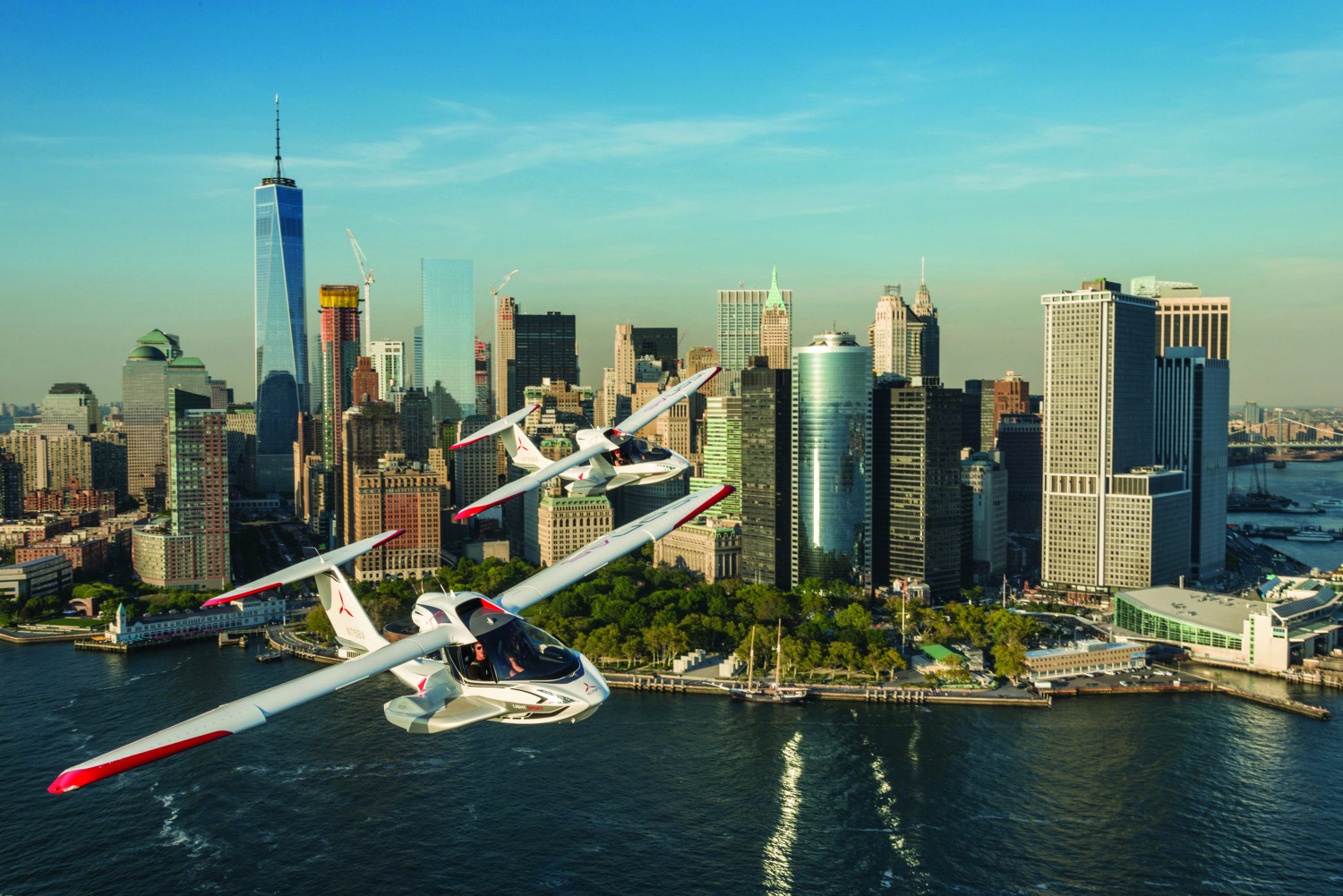 Hotly anticipated since 2008 — to the tune of $450 million worth of pre-orders — this summer's delivery of the ICON A5 marks the beginning of a new era in both aviation and transportation. Early adopters are drawn to its safety and ease, and the LSA license necessary to operate it requires about half as much in-flight training as a regular pilot's license (about 20 hours). Suddenly, a romantic escape to the mountains, or a retreat to a remote island for an impromptu bonfire picnic seems as easy as driving to the store for milk. Consider me impressed.