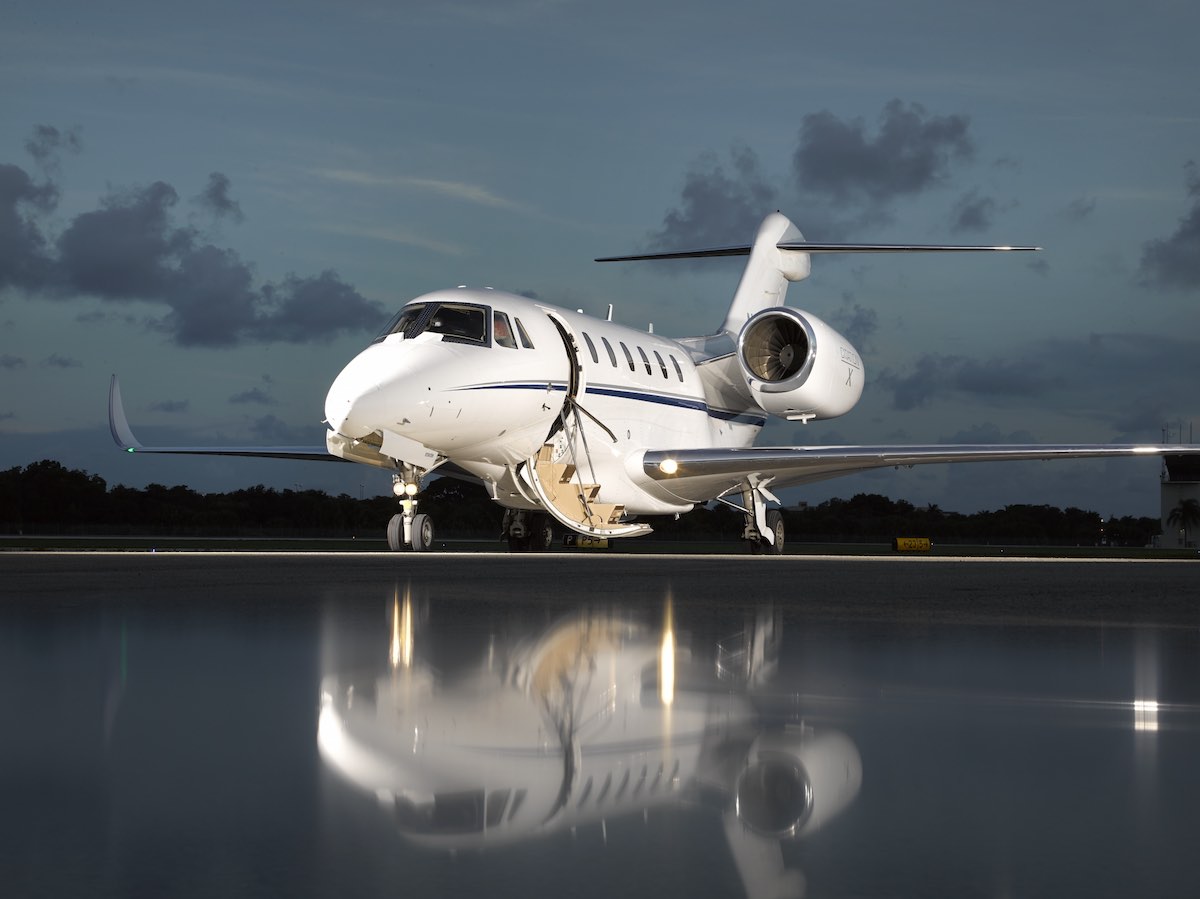 Flying privately was once considered to be the ultimate expression of wealth. Now chartering private aircraft has gone from an exclusive privilege to a necessity embraced not only by the ultra-wealthy, but by a growing number of flyers as well who might have only flown commercially in the past. Indeed, the large majority of recent charter customers are first-time private flyers who find both value and safety in using private aircraft when traveling, and especially when traveling with their families.
Veteran charter users know the best ways of sourcing and booking private air travel, which typically involves either using a broker, a membership or jet card service or searching for and contacting multiple charter operators directly. While each has advantages and disadvantages, for those looking to efficiently source and book travel on their own, there was no true DIY option that also made the process much faster and easier without a large upfront financial commitment. However, a new service wants to change that.

Enter JetASAP, a subscription-based service that connects flyers to a live charter marketplace through a host of powerful features, making every step of the charter sourcing and booking process a snap to do it yourself. Everything starts with a trip request, which leads to a screen that provides immediate cost estimates for different aircraft sizes. Dubbed JetRATE, the feature uses advanced A.I. algorithms that process both current and historical data to provide what seem to be accurate cost estimates for any itinerary. According to the company, JetRATE was created to help flyers get a sense of pricing based on current market conditions to gain a better understanding of average pricing fluctuations due to shifting supply and demand. Such guidance allows flyers to book more confidently knowing that a given price is in line with what others may be paying and helps manage their expectations.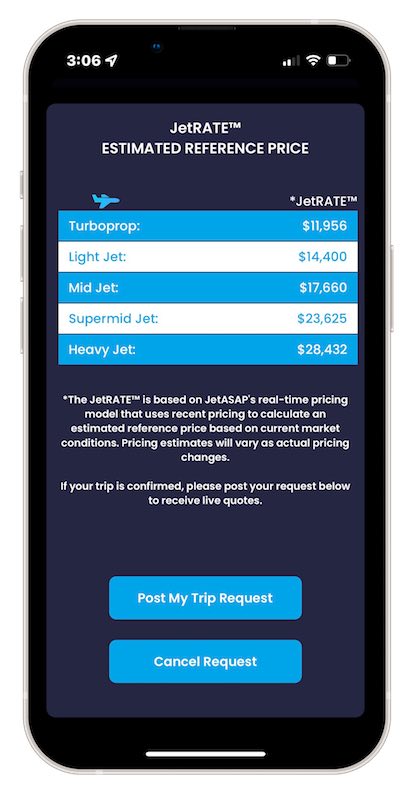 Once JetRATE pricing has been reviewed, flyers are then able to post their request, which is immediately sent to over 700 charter operators, at last count, who respond with quotes created by live human beings. That last part is important, as, according to the company, most app and web-based charter marketplace services rely on automated quoting from a variety of data aggregating sources that are not necessarily updated when it comes to price or availability. Conversely, all quotes received by flyers through JetASAP may be immediately booked directly with the operator who sent it at the price provided. On average each trip request receives four quotes, however, during peak travel times, flyers may receive fewer quotes than expected. All quotes will provide the details needed to make an informed decision, including the operator's name, FAA air taxi certificate number, aircraft pictures and description, and safety information. The company has integrated safety rating data on each charter operator submitting a quote via direct connections to both ARGUS and Wyvern, the industry's two primary safety auditing companies. If something looks interesting, every quote includes prominent buttons to call or email the operator so that flyers can take it from there directly. According to the company, it's all about transparency, and bringing flyers and operators together via direct communication making the process of booking a trip as easy as ordering food.
Beyond JetRATE and direct booking, JetASAP offers a number of other interesting tools that add significant value to the service. First up is an exclusive partnership with Charter Flight Support (CFS) , which provides aircraft mechanical coverage and support (think airline trip interruption insurance for private jets). For a small percentage of the charter cost, CFS will cover 100% of the price difference between what was originally booked and the replacement aircraft. Their service is available starting at ten days out from the departure date in the event that the charter aircraft becomes unavailable due to a mechanical issue. As an example provided by the company, if you book a trip for $15,000, CFS will find a new flight for you, and if the replacement flight costs $30,000, CFS will cover the additional $15,000 cost, normally the responsibility of the flyer. And the fee? In this case, a paltry $450, which is a small price to pay for the security of having your flight covered in our opinion. But the true value of using this service through JetASAP is the 20% discount off standard rates that flyers receive, making such coverage a must-have on every trip. In the example above, the rate would drop to $360. The kicker is that JetASAP subscribers can take advantage of the discount no matter where they book their trip, through the app, their charter broker or elsewhere.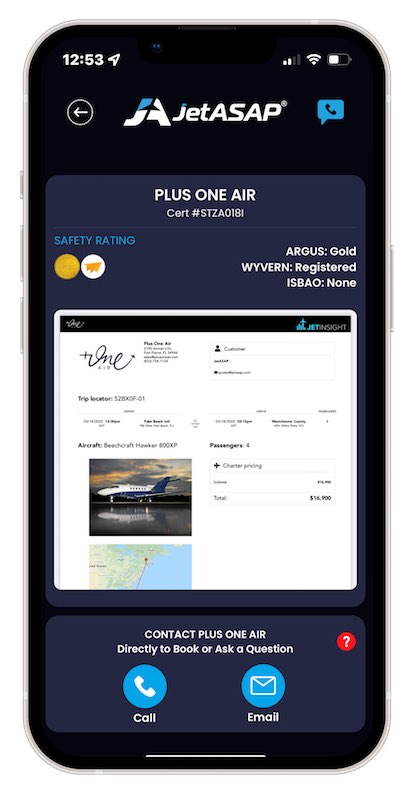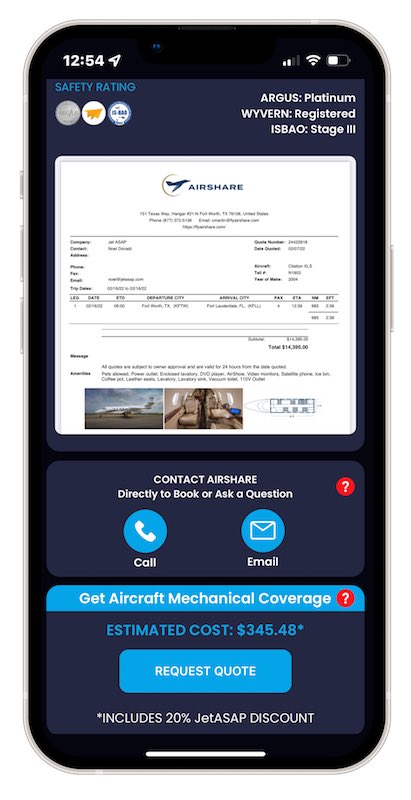 While you can always post a trip request to receive live quotes when needed, sometimes you may be looking for a deal, and JetASAP doesn't disappoint in this department either. The company offers direct access to live operator aircraft availability information, including wholesale priced one way and empty leg flights. Such insider information is typically not directly available to retail flyers. JetASAP allows subscribers to quickly scroll through this availability as it is published, and then reach out directly to operators for anything that looks interesting using the same contact buttons found alongside trip quotes. In the coming days, the company said that it plans to release TripMATCH, a feature that will automatically match availability with subscriber travel preferences with no searching required. Available matches will be displayed alongside flight requests and quotes to make them easy to find and view.
Finally, for those who prefer to do the legwork for themselves, there's JetSEARCH, a comprehensive operator guide that allows subscribers to search by name, location, aircraft size, and even safety rating. Every listing includes full contact, safety and fleet information, which also includes aircraft photos and cabin descriptions when available.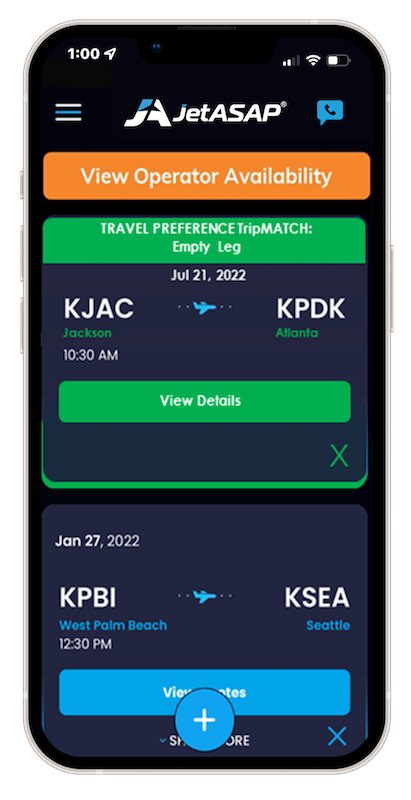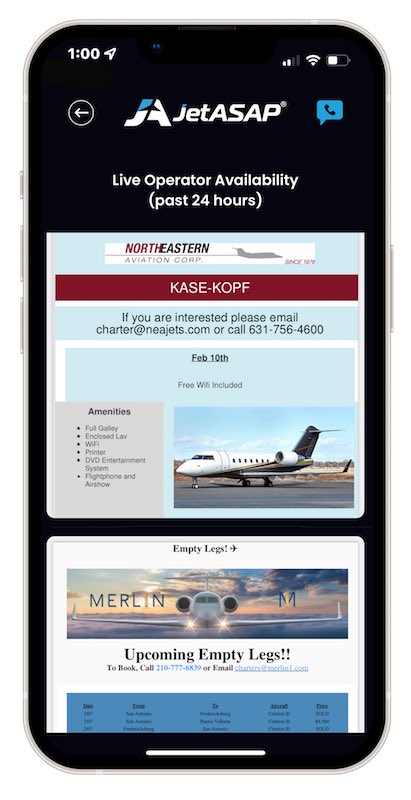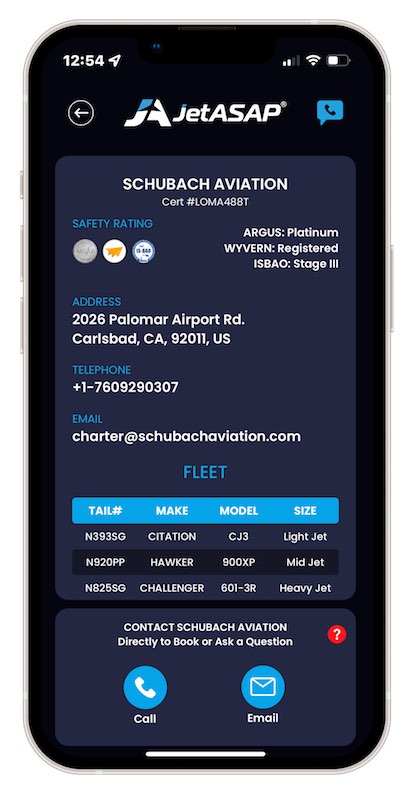 With so many useful features, you'd be forgiven for thinking that JetASAP might charge the equivalent of a charter flight for access, but the company doesn't disappoint here either. A monthly subscription is just $79.99, and an annual subscription is only $799.99 (a savings of $160). There is also a free unrestricted 7 day trial so that prospective subscribers can experience everything before deciding to take the next step.
While there are many ways to skin the cat when it comes to sourcing and booking a charter, JetASAP is definitely one of the best we've seen.
You can download the app in the Apple App Store or for more information, visit www.jetasap.com