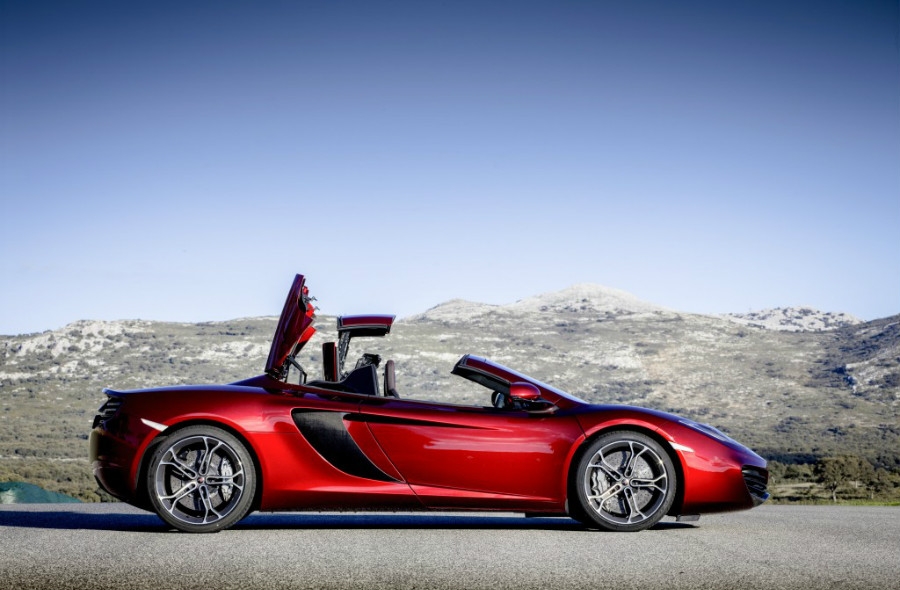 McLaren Automotive today announces the launch of its second model in the MP4-12C family: the stunning new 12C Spider.
With a lightweight, high powered engine developing an incredible 625 PS (616 bhp), unique RHT folding roof system that may be operated while on the move, and carbon 'MonoCell' chassis identical to that of the groundbreaking 12C, the 12C Spider is a luxury convertible sports car that offers prospective owners a unique combination of spectacular performance with remarkable usability.
While the 12C is the technological essence of a race car, the 12C Spider incorporates an additional dimension. 12C Spider owners will love the opportunity to lower the roof and hear the unhindered howl of a V8 twin turbo engine at full throttle. It undoubtedly enhances an already euphoric 12C driving experience.
The 12C Spider delivers all the thrills characteristic of a high performance roadster, and yet transforms into a raucous track beast at the flick of a switch. I can't wait to see it on road and track with customers later this year.
The 12C Spider's impressive 625 PS output from its bespoke 3.8-litre V8 twin turbo engine is transmitted to the car's rear driven wheels through a 7 Speed SSG dual-clutch transmission, which itself provides lightning-fast gear changes through rocker-mounted shift paddles affixed to the rear of the steering wheel. A clear view of the 12C Spider's lightweight M838T power plant is available through a glass screen positioned behind the tonneau cover.
Behind driver and passenger sits a rear windscreen which may also be electronically lowered and raised. With the roof lowered this acts as wind deflector to minimise disturbance to the 12C Spider's occupants. With the roof raised the area under the tonneau can be used as an additional luggage area which provides 52 litres of useful storage space. Bespoke luggage has been designed specifically to fit this space and is supplied as standard with every 12C Spider.
The 12C Spider also features a passive Roll Over Protection System to maximise occupant safety. Each buttress contains a steel structure designed to absorb impact energy and protect both driver and passenger.
Launched in Volcano Red – one of 17 exterior paint finishes currently available for the 12C and 12C Spider- both 12C derivatives will also be available in optional Volcano Yellow, a striking new high quality paint which features in the 'Elite' range of exterior finishes.
Inside, an exclusive new interior trim has been developed for the 2013 model year 12C and new 12C Spider. High quality semi-aniline perforated leather and Alcantara may be selected in a variety of combinations to suit an owner's personal taste.
Vehicle Lift will be available as an option on 2013 model year vehicles. The system allows the 12C Spider to be raised front and rear for improved ground clearance. This technology permits the vehicle to be raised by up to 40mm at the front and 25mm at the rear of the 12C Spider, and may remain in position at up to 37mph.
The McLaren 12C Spider is now available to order at all of McLaren's 38 retailers in 22 countries worldwide, with deliveries to first customers planned for November 2012.