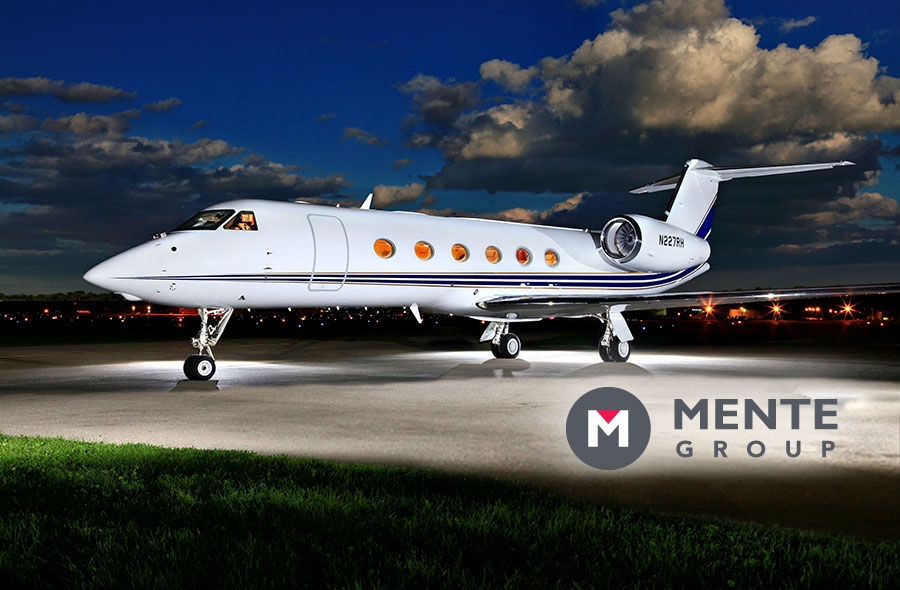 Acquiring a private aircraft is a major milestone for any individual or organization, bringing enhanced freedom, exceptional privacy and unparalleled luxury.
However, with these rewards come significant responsibilities — including maintaining safety, ensuring regulatory compliance, and understanding the nuances of buying and selling aircraft. When you partner with MENTE Group, we make private aviation as simple and enjoyable as it should be. Learn more about our company below, and contact us today to experience private aviation, perfected.
ABOUT US:
MENTE Group is a full-service aviation consulting and brokerage firm that specializes in advising Fortune 500 corporations, growth businesses and private individuals around the world. Our unique team of business and aviation professionals streamline every aspect of private jet ownership for our clients, from navigating regulatory requirements, to conducting feasibility studies, to performing appraisals and audits, to aircraft marketing, sales and acquisitions. Read more about our services* below.
OUR HISTORY:
MENTE Group was founded in 2009, bringing a unique blend of experience in private aviation, business planning, market expertise and operational know-how to aircraft owners. Our knowledge and expertise have helped our clients save tens of millions of dollars when buying and selling aircraft. To date, MENTE Group has managed over $1.5 billion in private jet transactions — and our numbers continue to grow.
OUR SERVICES:
MENTE Group is a fee-based, retained agency with experience in all aspects of private aviation. Whether you need assistance purchasing a private jet, determining aircraft value, or developing an aviation business plan, we can help.
Aviation
When it comes to private aviation, we go above and beyond. From selecting the right jet for your needs, to negotiating the best price, to staffing your aircraft with world-class talent, MENTE Aviation represents your best interests with the benefits of knowledge and experience. Our Aviation services include the following:
Aircraft Appraisals
Pre-Purchase Technical Appraisal
New Aircraft Completion Process Monitoring
Pre-Owned Refurbishment Project Supervision
Operational Start-Up
Outsourced Aircraft Management
Flight Department Audits
Personnel Recruitment
SmartValue Services by Mente
Mente Group's new Aircraft Appraisal program, accredited by the American Society of Appraisers (ASA)
Technology
Sound aircraft management means seeing beyond the horizon. Private jet values change dramatically over time — and long-term forecasting is essential to weather the rises and falls of the aviation market. MENTE Technology provides aviation intelligence to help aircraft owners, accountants and financial advisors clearly understand the value of their aircraft portfolios, and accurately budget for operations today and tomorrow. Our Technology services include the following:
Long-term Forecasting of Business Jet Values

 

Value Analyses for Over 150 Jet Models, with Make, Model and Year of Manufacture-Specific Data
Key Insights Into Statistical Confidence Intervals
Solutions
The luxury of customization is a hallmark of private aviation — and at MENTE Group, we believe your ownership experience should be as personal as your private jet itself. Mente Solutions provides customized aviation solutions based on your specific needs, and grounded in comprehensive financial and operational analytics. From creating fleet plans that address travel requirements, regulations, operations, and residual values, to conducting feasibility studies, to assisting in sales and consulting, we will develop an aviation business plan that meets your goals. Our Solutions include the following:
Fleet Plans
Feasibility Studies
Aircraft Acquisition and Marketing (Sales)
MENTE Advisory Program (MAP)
See how MENTE Group is redefining private aviation. Contact us today.
MENTE Group, LLC
15301 N. Dallas Parkway
Suite 1010
Addison, TX 75001
office: 214.351.9595
fax: 214.350.3276