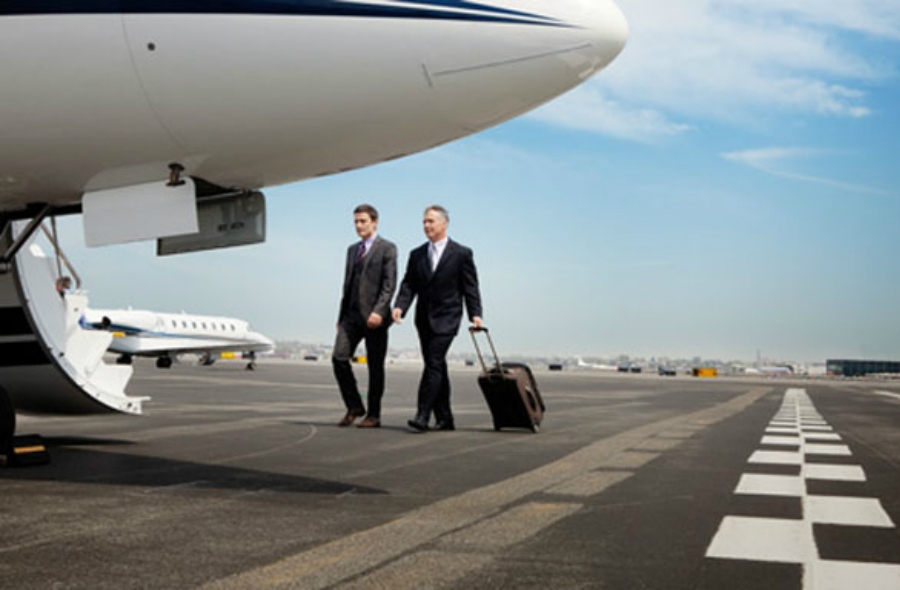 For more than 65 years, the National Business Aviation Association (NBAA) has served as a leader in the business aviation community.
Helping to enhance safety and security, shaping public policy, providing world renowned industry events and advancing the business aviation goals of more than 10,000 Member Companies worldwide.
NBAA provides Members with a comprehensive suite of benefits and services including tools to help you learn about operational, technical and legislative issues, stay on top of regulatory requirements and changes, improve management skills, network with peers, become involved with local, national and international business aviation communities, make yourself heard by government at all levels, advance your career and help your business succeed – or in other words, do your job.
Safety & Aircraft Operations
Our safety and operational resources are aimed at making business aviation as safe as possible. For 50 years, the Association's Annual Flying Safety Awards Program has brought worldwide attention to the outstanding safety records of business aircraft and have been endorsed and approved by the National Safety Council.
The Air Traffic Services (ATS) desk, one of only three non-FAA desks at the FAA Air Traffic Control System Command Center, provides Members with the tools and information they need to enhance trip planning and facilitate issue resolution. The ATS also provides equitable representation of business aviation as a whole in the planning and execution of the daily strategic plan of operations for the National Airspace System.
Looking for answers on technical or operational questions? NBAA's team of industry experts, the Operations Service Group, is on-call to answer your questions on thousands of topics including waiver requests, access protocols, customs regulations, technical questions, FAA regulations and more.
Legislative & Regulatory Advocacy
NBAA is the leading organization advocating for the business aviation community, representing the industry before Congress, government agencies, the courts and international forums to be sure your voice is heard regarding policies affecting your business. NBAA works diligently to protect the interest of its Members and business aviation as a whole, by aggressively educating government officials about the critical importance of business aviation to local communities, and by advocating for policies that recognize the central role business aviation plays in our nation's economy.
With each year, the business aviation industry continues to face new and continued challenges. From public misperceptions and discriminatory access restrictions to the threat of onerous user fees. NBAA's Online Advocacy Center provides the tools and resources you need to stay informed and get involved in the issues that concern you most. NBAA.org/advocacy
Networking & Commerce
The NBAA Member Directory is the single most comprehensive source of business aviation resources in the industry. This online networking tool gives NBAA Members access to thousands of business aviation professionals on a global scale – in real time, 24/7.
NBAA's world-class events provide a variety of professional development, information-sharing and networking opportunities for the business aviation community, including the NBAA Annual Meeting & Convention, the world's largest business aviation trade show; international exhibitions in Europe and Asia; and several Business Aviation Regional Forums each year; can't-miss events for the business aviation industry.
Education & Career Development
NBAA offers a comprehensive program of professional development opportunities for flight department personnel and others involved in business aviation operations. All job functions are covered, including schedulers, dispatchers, flight attendants, maintenance managers, technicians, chief pilots, aviation department managers, accountants and attorneys. These programs are made available through a variety of venues, including in print and online resources, through educational institutions, and in presentations given at NBAA's industry events.
The recently accredited Certified Aviation Manager (CAM) Program seeks to identify qualified professionals to lead flight departments and companies that use business aircraft. By achieving this credential, individuals prepare themselves for career growth and opportunity, prove their knowledge and qualifications as an industry leader, gain the recognition of peers and superiors, and join an elite group of business aviation professionals.
Business Management Resources
The Association also has tools aimed at helping companies manage a successful flight operation. The NBAA Management Guide, an industry standard and a must-have for any size flight department, is designed to assist existing flight departments with their operational, maintenance and administrative requirements. Much of the information contained in the guide is often used as reference materials to educate non-aviation company personnel on accepted practices and norms of the business aviation community, so it's a publication no business aviation manager should be without.
NBAA's Compensation Survey is a secure web-based survey that provides a comprehensive review of aviation department personnel salaries and operational data, and is an excellent tool for industry benchmarking and it's free to participating Member companies.
Over the years, NBAA has worked to meet the needs of our increasingly diverse Membership. Whether its finding an answer to a technical operations question, needing a forum for networking with business aviation buyers or wanting to stay current on the latest industry news and regulations, NBAA provides something for everyone. From flight departments – large and small – to suppliers in the industry, we work to provide the resources needed to help our Member Companies succeed and to represent the interests of the business aviation community at large.