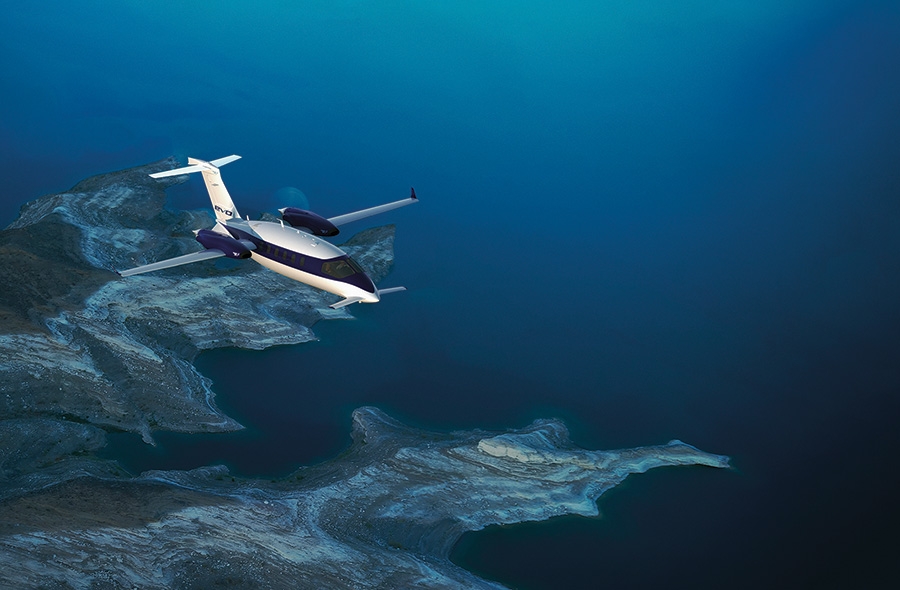 The Piaggio Avanti EVO is the latest chapter in the story of the aircraft which rewrote the rulebook on aviation elegance, versatility and practicality.
Knowing that speed matters in business aviation, the Italian aircraft manufacturer Piaggio Aero has created the Avanti EVO, the fastest twin turboprop in the world. With a cruising speed exceeding 400 KTAS, it's faster than many jets, yet Piaggio boasts that the Avanti EVO operates at a fraction of a jet's direct running costs. That's because turboprop power means less fuel, maintenance and training costs. And, thanks to the aircraft's aerodynamically-designed profile, the emission levels of the Avanti EVO are also significantly lower than other aircraft in the same class. The company's new Increased Range Configuration option allows for transcontinental travel and even coast-to-coast flights in the U.S. with just a single fueling stop.
The Avanti EVO's sleekly-designed airframe brings advantages to its interior, as well. Its stand-up cabin height of five feet, nine inches and aft width of six feet, one inch are the largest in its class. The spacious cabin, which is appointed with the finest Poltrona Frau leather, can carry up to eight passengers (nine when operating with a single pilot). A choice of four floor plans is available, and VIP seating from Iacobucci HF provides flexibility and comfort with seats that move fore and aft, side to side, rotate 180° or recline fully. As another business-friendly option, the cabin features improved connectivity for devices, including an optional Inmarsat satellite link.