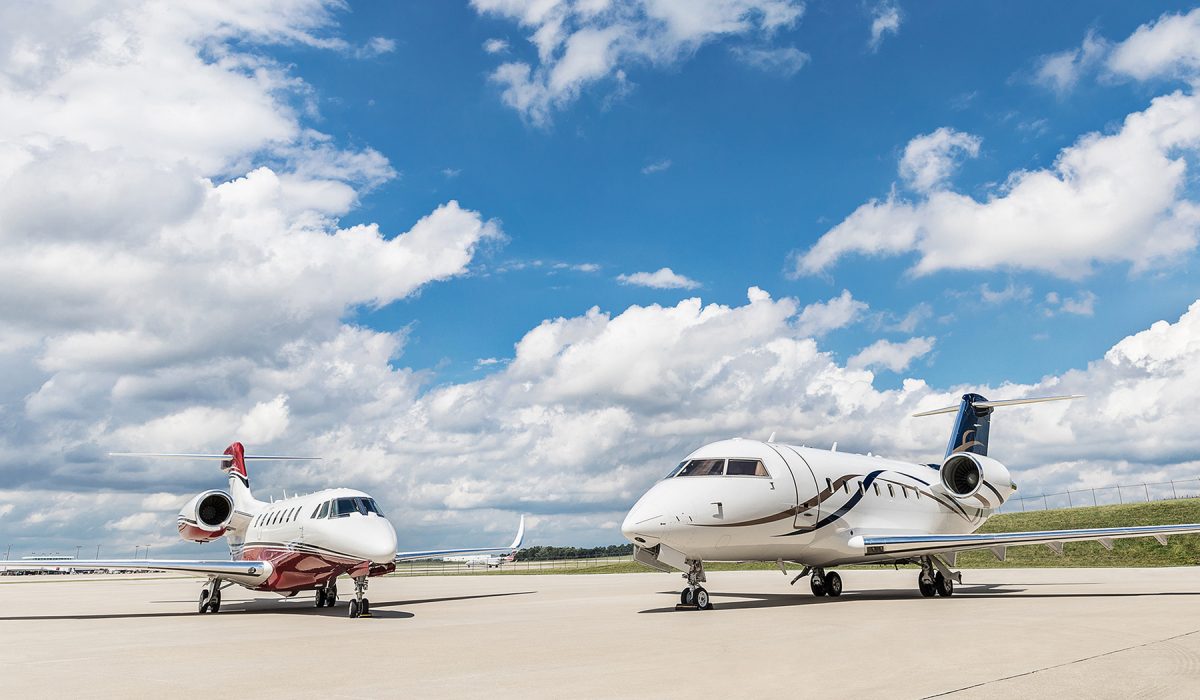 You've been considering private travel and need to find the best solution for you? Delta Private Jets® has a full suite of programs that combines convenience, flexibility, safety and luxury in a way that best fits your lifestyle and your personal and business travel needs, so you can travel without feeling like a traveler.
What kind of traveler are you?
For the spontaneous traveler: Sky Access™ is your gateway to private travel
Want to escape for the weekend? Need a little getaway from your daily life? Feeling adventurous and want to visit a city you've never been to?
Sky Access gives you the ability to book on short notice for spontaneous trips using our empty leg flights. Empty legs are flights scheduled without passengers to ensure an aircraft is positioned for a trip at the right airport at the right time; this repositioning creates empty legs and brings great opportunity for last-minute trips at no fee.
It's a great way to try out private aviation. For an annual fee of $8,500, Sky Access members receive:
Unlimited access to empty leg flights offered by Delta Private Jets Shuttle
No limits on the quantity of empty legs booked
No per-leg cost
Fixed hourly rate for private jet travel
20% discount on published fares on Delta Air Lines® in select fare classes
Access to book the entire aircraft, not just a single seat
Booking is as simple as logging into the Delta Private Jets mobile app or member portal, viewing the list of empty leg flights available and booking the flight that works for you. Everything you need is accessible online – from booking to payment.
Ready to open the door to adventures? Register for a demo today. 
For the time-challenged traveler: On-Demand Charter meets your personal scheduling and bottom-line requirements
Need to make it to your son's baseball game on Sunday, but also be in New York for a meeting on Monday? Want to take your wife on a special getaway to Chicago? How about a boys' trip to TPC Scottsdale?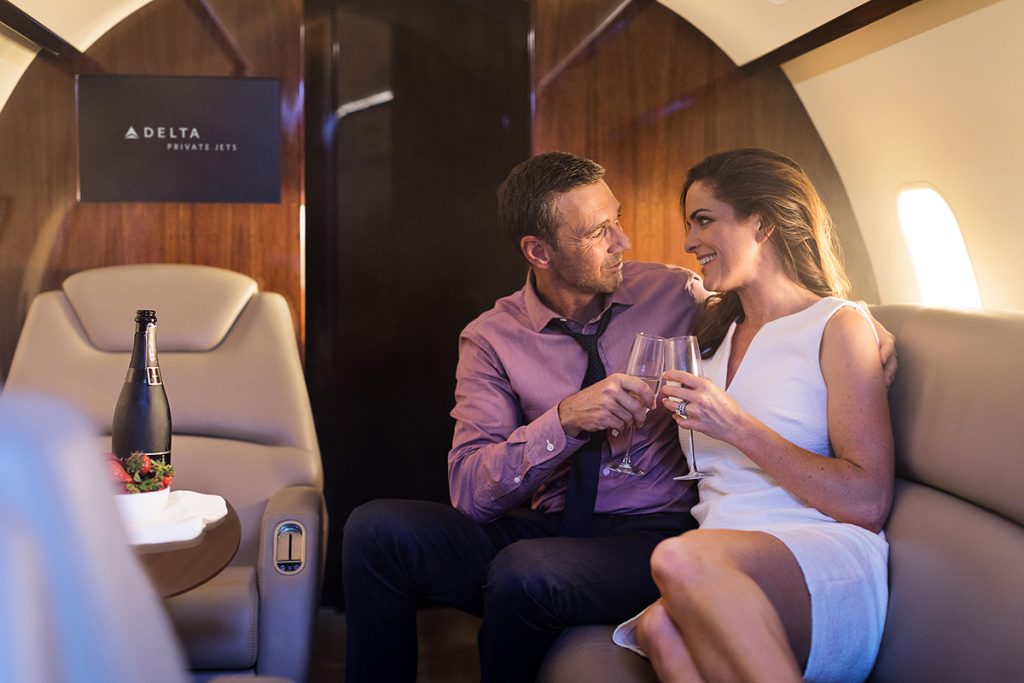 Delta Private Jets knows how important your time is, and On-Demand Charter allows you to schedule travel to get you to where you need to go, making the most out of your time in the air.
With Delta Private Jets On-Demand Charter Service, you can:
Fly to and from over 5,000 airports within the United States
Choose the ideal aircraft for your needs and set up personalized catering and entertainment with one call to Delta Private Jets' Charter Services Team
Pay as you go, with competitive one-way pricing
Get an all-in, simple pricing model
Whether your trip takes you to a major airport or a regional field, you will get there cost effectively, quickly and effortlessly. Get more information from Delta Private Jets' Charter Services team by filling out this form.
For the frequent private and commercial traveler: Jet Cards are the next step up in luxury with more flexibility, convenience and service
Know you'll be making multiple trips to the office in Silicon Valley this year? Need a family getaway to Hilton Head? Want to be able to entertain business guests without any hassle?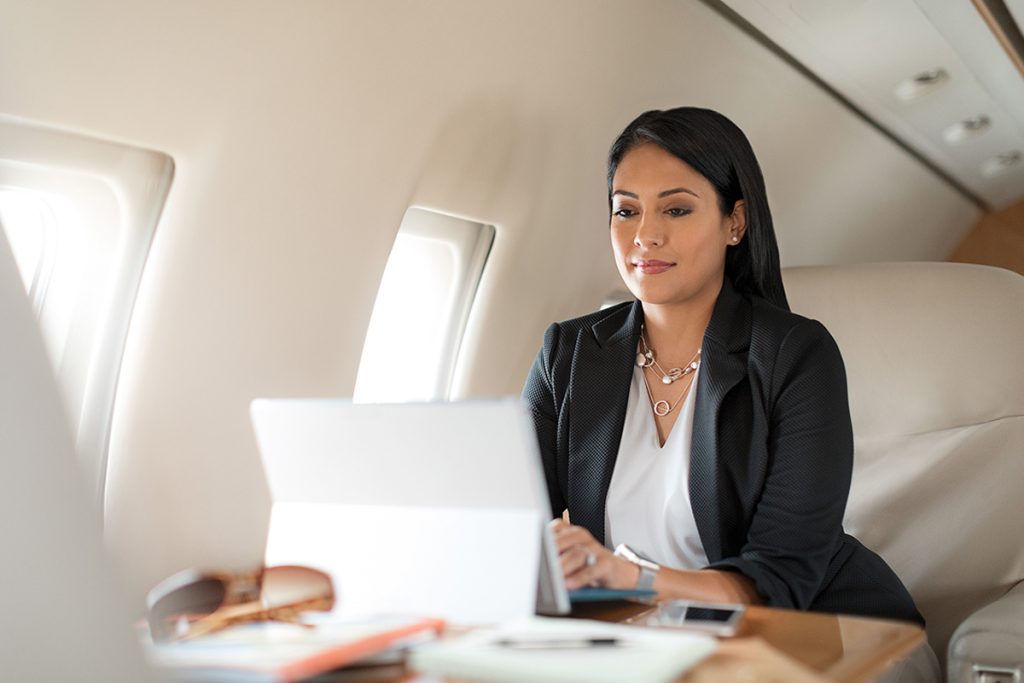 A Jet Card offers the frequent business or pleasure traveler a host of benefits, ranging from your own dedicated team to choosing your jet category on every flight with no interchange fees. This premier program also gives you:
Exclusive SkyMiles® Diamond Medallion® Status (with select Jet Card levels)
Empty leg opportunities with Delta Private Jets Shuttle
Access to unique travel events and experiences
Call-out time for booking guaranteed with 24 hours' notice
No initiation fee / No annual dues
Fixed hourly rate option (depending on your deposit)
Access to book aircraft across four categories with no interchange fees
Travel to countless destinations with one phone call for travel arrangements. Call today at 877-541-3548 or complete a quick form to get started:.
For the private jet owner and traveler: Aircraft Management allows you to get the most out of your investment
Do you own your own private jet and need help keeping up with the ongoing management of it? Want to create revenue while you aren't using your jet? Or maybe both?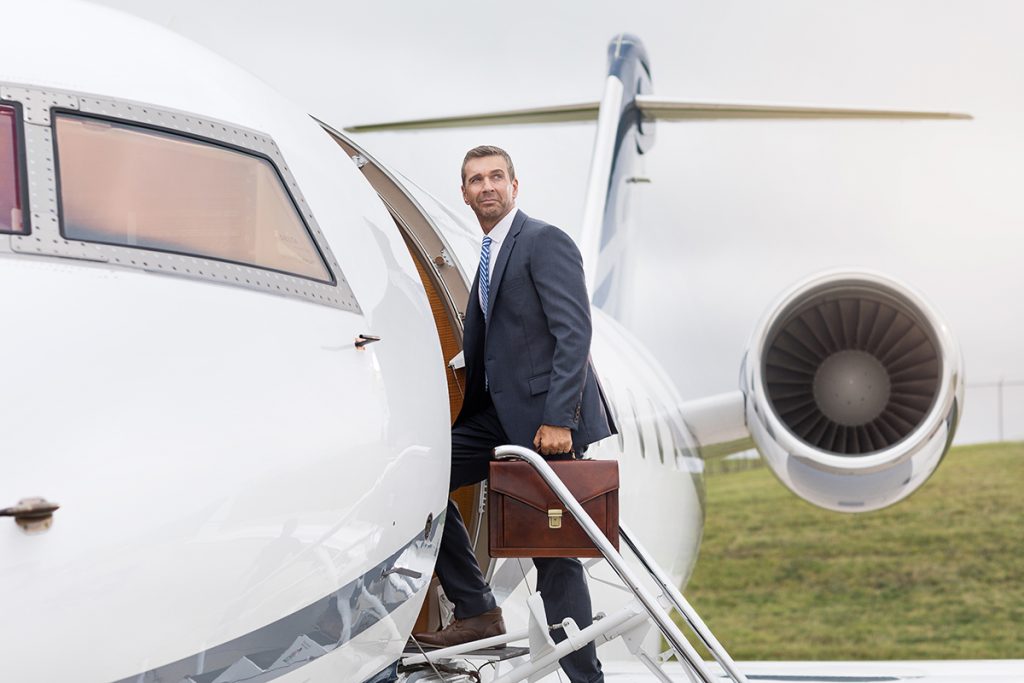 With Delta Private Jets Aircraft Management, you'll be confident your investment is in capable hands. Based on your individual utilization levels and operational needs, there are three ways to help you manage your aircraft:
Aircraft Management: Delta Private Jets can take care of the administrative work that comes with owning an aircraft. You can trust Delta Private Jets' expertise in everything from working with crew members to operate your aircraft, to providing HR services, to ensuring your aircraft meets regulatory compliance.
Charter Management: Turn your aircraft into a significant revenue stream by letting Delta Private Jets use your plane when you're not. You'll receive revenue based on the number of charter hours flown and get access to a savings program for things like fuel, insurance, training and transportation.
Aircraft Deployment: If you own a qualifying aircraft but use it less than 100 hours per year, Aircraft Deployment allows you to capitalize on that limited aircraft use, while completely eliminating fixed costs. Delta Private Jets will staff your aircraft, use it in high-utilized charter programs and cover all fixed and fuel expenses. And when you're ready to use it? Delta Private Jets will reposition it at no cost to you.
Learn more about Aircraft Management by submitting a form here.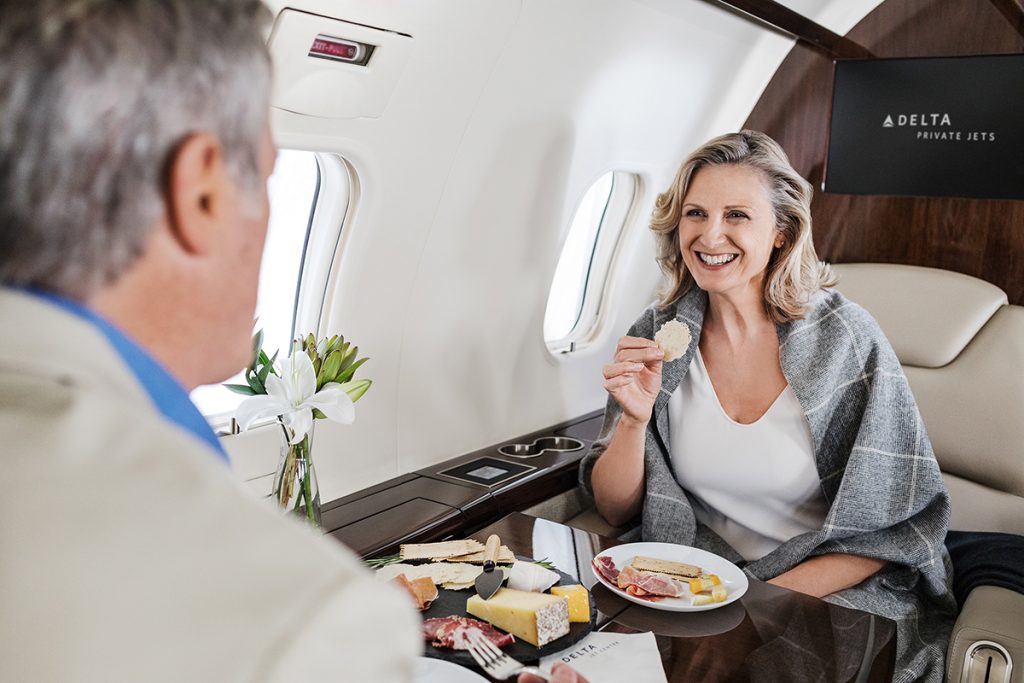 Experience Luxury. Experience Delta Private Jets.
Delta Private Jets affords its customers unmatched levels of service, safety and reliability that set the standard for private aviation. So, no matter your lifestyle or travel needs, Delta Private Jets always gives its customers access to a world of convenience, safety and luxury.
Access: Benefit from Delta Private Jets' more than 30 years of travel experience and its distinction as the only private jet company that is directly affiliated with a commercial airline. You'll have 24/7 access to Delta Private Jets services.
Convenience: Fly on your own time and schedule with access to Delta Private Jets' fleet of more than 70 Wi-Fi equipped aircraft. You get the opportunity to experience different aircraft size categories, with passenger capacities up to 10. And Delta Private Jets can help arrange ground transportation and catering as well. That way, every step of your travel is easy.
Safety: Have peace of mind knowing that Delta Private Jets is the longest continuous holder of any part 135 operator in the world of the coveted ARG/US Platinum safety rating. Delta Private Jets has achieved the highest ratings from the major third-party safety auditing companies.
Luxury: Experience travel that is personalized, luxurious, effortless and in a class by itself. With Delta Private Jets, you don't have security lines. In flight, you and your guests will enjoy premium snacks and beverages. Your furry friend can sit on your lap, as pets are welcomed on all Delta Private Jets aircraft. Other amenities include comfortable seating, your favorite music, access to Wi-Fi, and the perks of personal space and privacy that only come with having an entire aircraft to yourself. Plus, with Delta Private Jets' technological capabilities, the cabins can morph into a mobile conference room, family entertainment area and home theatre.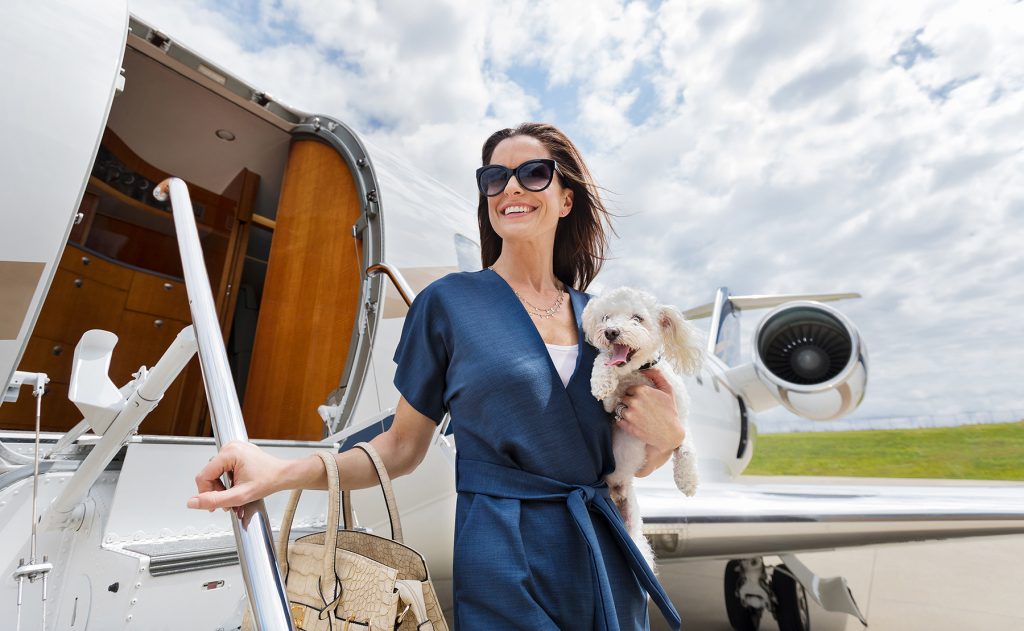 So which program fits your lifestyle? Isn't it time you opened the door to luxury and experienced Delta Private Jets? Call Delta Private Jets today at 859-534-4300 or visit online to learn more.
Disclaimers:

Delta Private Jets® flights are operated by Delta Private Jets, Inc., an FAA-certificated FAR Part 135 air carrier, or by another FAA-certificated Part 135 or Part 121 air carrier.  Offers void where prohibited by law.  Offers, benefits and rules subject to change without notice.  Other restrictions apply.
Benefits require purchase of the Delta Private Jets Card, which is subject to the terms and conditions included in the Delta Private Jets Card Agreement.
Guaranteed reservations with as little as 24 hours' notice. (48 hours for International; 120 hours on a Peak Day)
Sky AccessTM membership requires execution of a Sky Access Agreement with Delta Private Jets, which must be funded at the time of execution. Quantity and availability of empty leg flights is not guaranteed.
PC No. 19-056. This empty leg program and all related flights are offered by Delta Vacations, LLC® dba Delta Private Jets Shuttle™, under Part 380. Each empty leg booking requires execution of an Operator Participant Agreement with Delta Private Jets Shuttle. Members are responsible for return transportation.
Fuel and Federal Excise Taxes included.  Hourly rates are subject to a premium for travel on peak days, for travel involving international locations and for travel requested on a Citation Excel/XLS.  Government taxes and carrier-imposed fees (including, F.B.O. surcharges, incidental expenses and non-refundable administrative and handling fees) may apply.  Additional fees for flights to or from certain fixed-based operators and airports may apply.
For air transportation provided by Delta®, Cardholder 20% is entitled to a 20% discount off published fares for select fare classes in effect when booked.
Select promotional Jet Card products may be eligible for Diamond Medallion® status. Please ask a Delta Private Jets® representative for details.  All SkyMiles® program rules apply to SkyMiles® program membership, miles, offers, mile accrual, mile redemption and travel benefits. To review the rules, please visit delta.com/content/www/en_US/skymiles/program-rules-conditions.html. Taxes and fees for Award Travel are the responsibility of the passenger and must be paid at the time the ticket is booked. Award Travel seats are limited and may not be available on all flights or in all markets. Partner airline benefits subject to change and subject to the terms and conditions of each partner. All Delta Sky Club® rules apply to Delta Sky Club® use. To review the rules visit delta.com/content/www/en_US/traveling-with-us/airports-and-aircraft/delta-sky-club.html.
All charter flights are subject to Delta Private Jets®' charter terms and conditions, which must be executed at the time of booking.