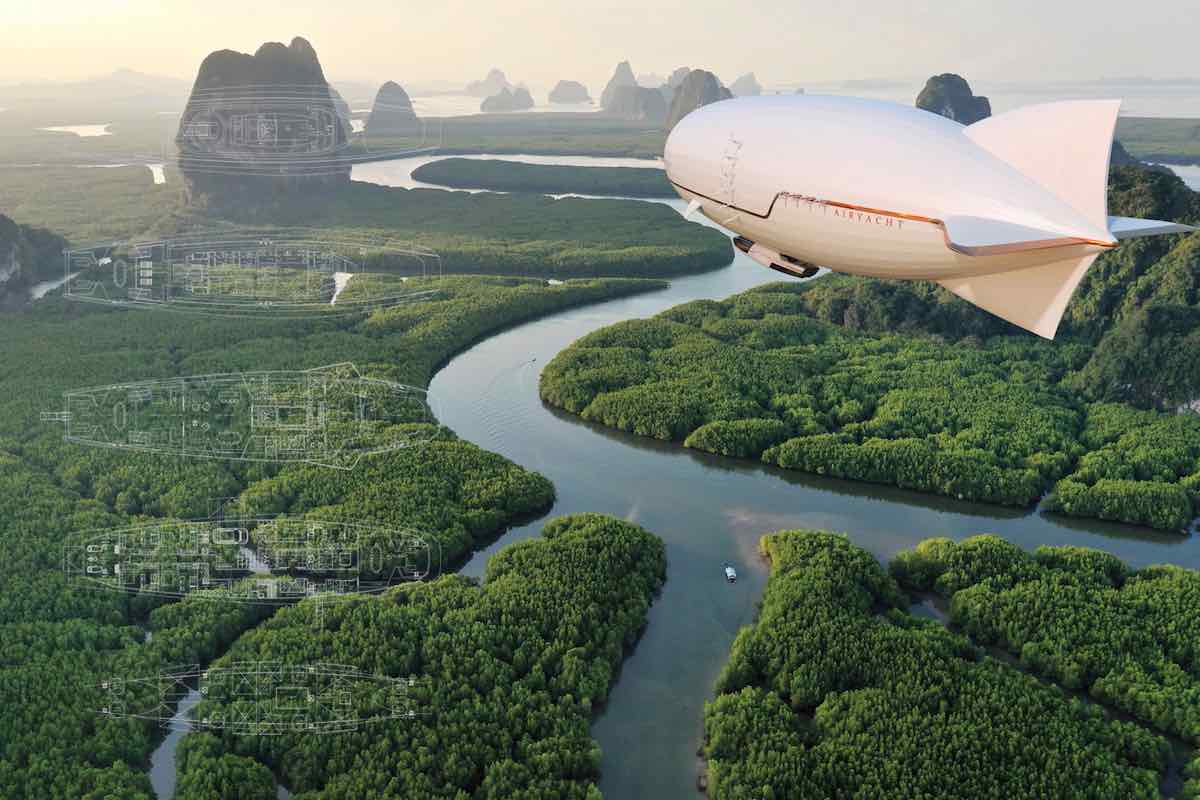 Superyacht builders compete fiercely to create the ultimate luxury cruise ships, equipping them with everything from dual helipads and wine cellars to discos, basketball courts and underwater observation rooms. Swiss entrepreneurs and engineers Guillaume Hoddé and Matthieu Ozanne might have them all trumped with the AirYacht. It comes with a 650-foot blimp. What separates it from other superyachts of the world is its ability to cruise not just on the water, but above the water. It can float over mountains, canyons, rainforests and icebergs, hovering over views you'd otherwise only see fleetingly from the cramped cockpit of a low-flying plane or the side window of a noisy helicopter.
"It's not just a boat; it's a full concept," says Hoddé. The three-level, 200-foot yacht is attached to the underside of an air balloon, or airship, as Hoddé calls it. Conceived in partnership with renowned yacht designer Franck Darnet, the boat element or "living quarters" has everything a status-seeking yacht owner could want: 15 luxury staterooms, quarters for 15 staff, jacuzzi, swimming pool, three sundecks, gym, sauna, helipad (for when guests drop in) and a garage for cars and jet-skis.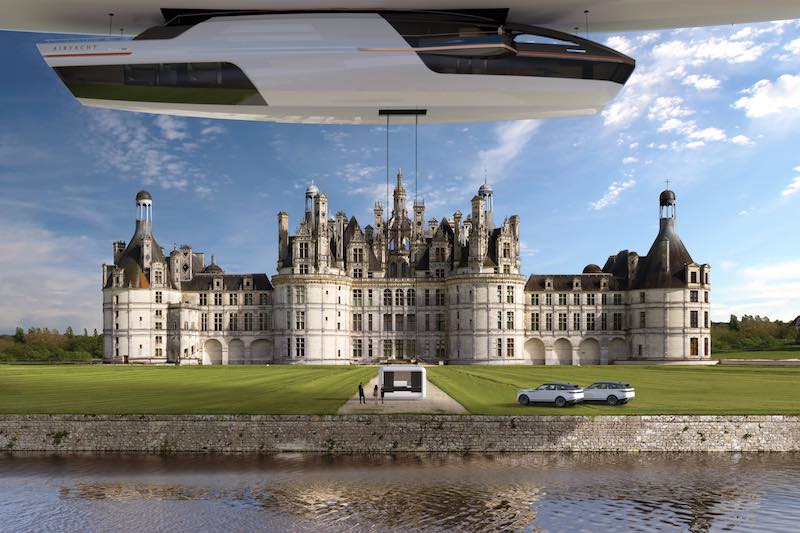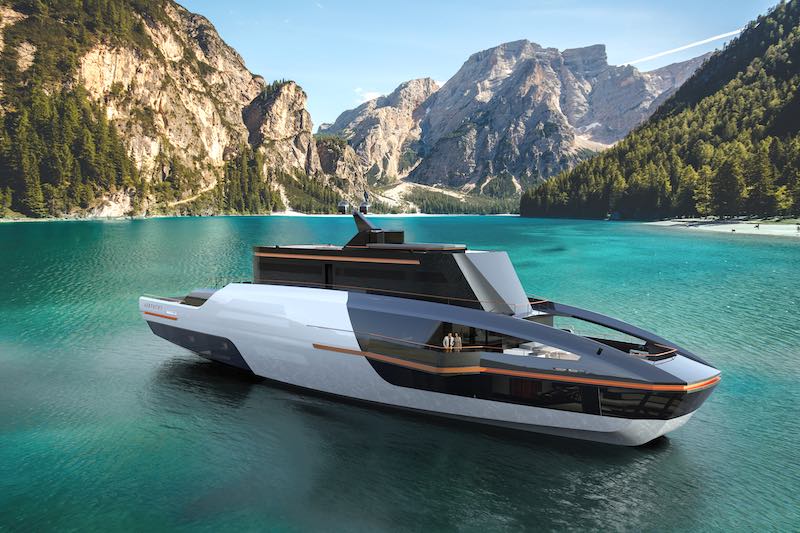 While standard superyachts go from point A to point B by revving up huge engines and churning through the water, imagine, instead, being picked up, ship and all, by a huge blimp that hovers overhead like a mother ship, lowers a system of cables that attach to the yacht, lifts it up and tucks it in. It then carries you off, elegantly and noiselessly, to your next destination, anywhere from 165 feet to 9,000 feet above the water. "It takes less than 30 minutes to raise the vessel," says Hoddé. "About the same amount of time it takes for a yacht to dock in a harbor."
If you feel like staying on land for a while, or you'd like to land on your estate, it can set down just about anywhere with special landing gear that secures and balances it on most terrains, short of the side of a mountain. "It's an airship with a living space that you can detach and put anywhere you want, on water or land. It's a boat, or it's a villa, a chalet, whatever you want it to be," says Hoddé. If you just want to go sightseeing for the day, you can go down, sans yacht, on an elevator attached to cables. It can take you back up later for dinner with a view on one of the three terraces.

The full assembly, including blimp and boat, will set you back 150-million Euros, and requires a permanent crew of anywhere from 10 to 30—as does any superyacht. They will check where you want the yacht to land, to be sure that in terms of security, there is nothing in the way and no people coming. The landing gear compensates and balances the boat on land. No flight plan is required because the airship flies by VFR (visual flight rules), like a helicopter or a small engine plane. "Let's say you are in the west of France, on the Atlantic coast and you were supposed to go Normandy, for example," says Hoddé, "and you want to change because the weather forecast is not good, and you want to go to Monaco or Cannes instead. The only thing you have to do is to check that the weather forecast will be good enough and you will have enough autonomy in terms of fuel (it can cruise for about a week at a time). A private jet has to book a slot and it's more than a flight plan. You have to be sure that control will be able to take you from A to B and they will have space in the air. With the airship, you don't have to stick in a tunnel that the control gives you, as long as you're flying below 10,000 feet (the AirYacht goes to about 9,800 feet)."
When on the water, the yacht basically functions like a luxurious floating dock. It isn't the sort of boat that you'd want to drop in the middle of the ocean. In fact, it doesn't have a motor. "We don't want it to be a traditional ship because a ship has to answer to a lot of certification issues, and if we added an engine, it would be too heavy for the airship—its weight would be multiplied by 10," explains Hoddé. "If you want to go sailing, you can rent a boat. With the AirYacht, you go sailing in the sky. It's a much better view."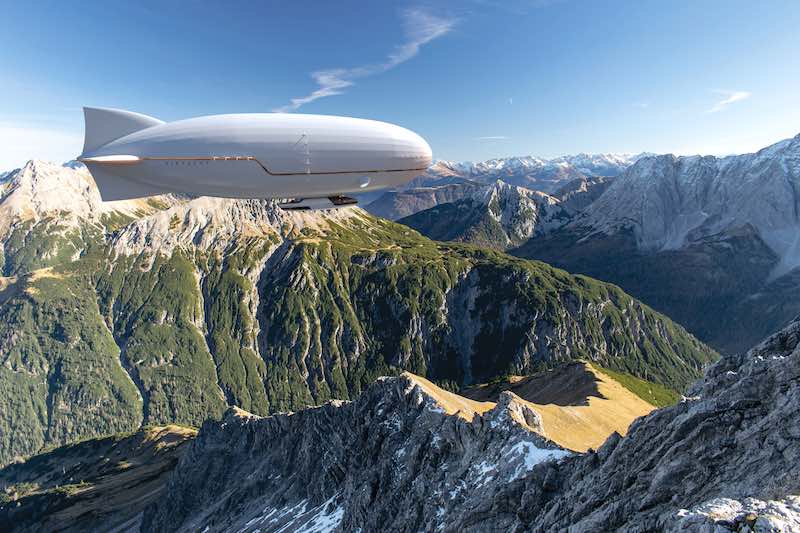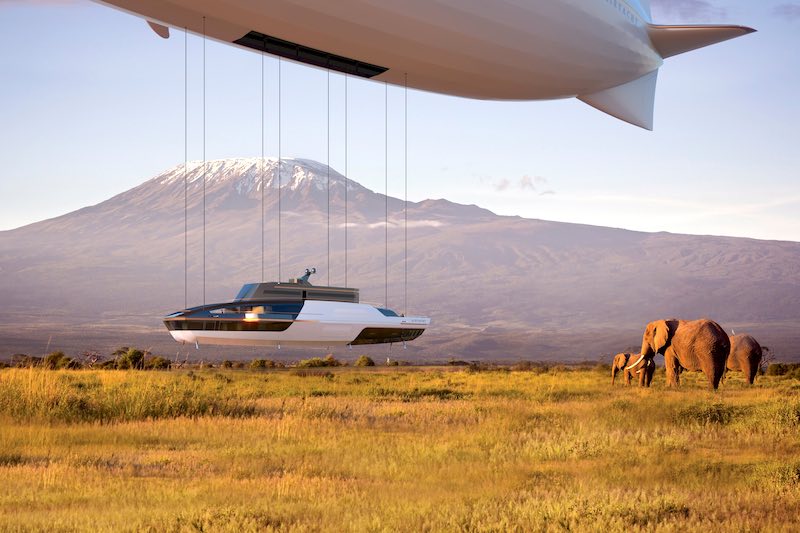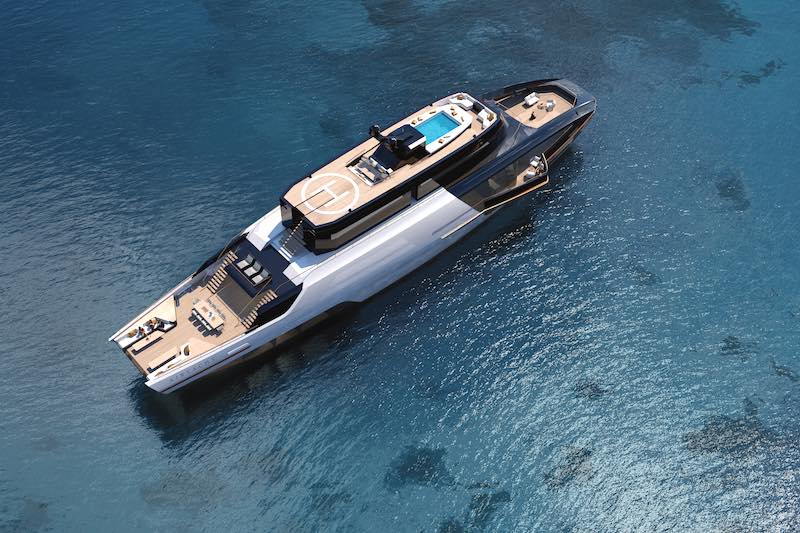 Hoddé conceived the idea for a blimp/boat 20 years ago while he was an engineering student at École Polytechnique in Paris. "I predicted that airships would be necessary in the future to reduce consumption. I put the idea aside and after going to business school and working 10 years in the luxury watch industry, I happened to open a magazine dedicated to superyachts and noticed a company developing airships. It inspired me to continue pursuing the idea that airships could be the future for yachting as well as for cruises. And to do that I could rely on new developments that were being made."
Some of AirYacht's clients will be cruise ship companies who will be able to take luxury cruising literally to the next level. "It will be the world's first air cruise. Clearly a game changer," says Hoddé. "Cruise companies have big issues right now in terms of sustainability. The ships release sulfur dioxide. What we are doing is purely hydrogen-powered airships, so there are no emissions. And because of the elevator, there are no limits to where you can go. You don't have to build a harbor, you don't have to build a big infrastructure. You just hover over the place you want to be and you take the elevator down and disembark."

He adds that with an airship, you can reach parts of the world that have never been accessible to cruise ships. "You can do the French castle cruises in two weeks, except that you're something like 500 feet over the castle and the view is much more magical than being on the ground. If you're at 300 feet, you can even open a window or have dinner on the terrace, and you can see people, animals. You can smell, you can hear things. It'll be a completely crazy experience."