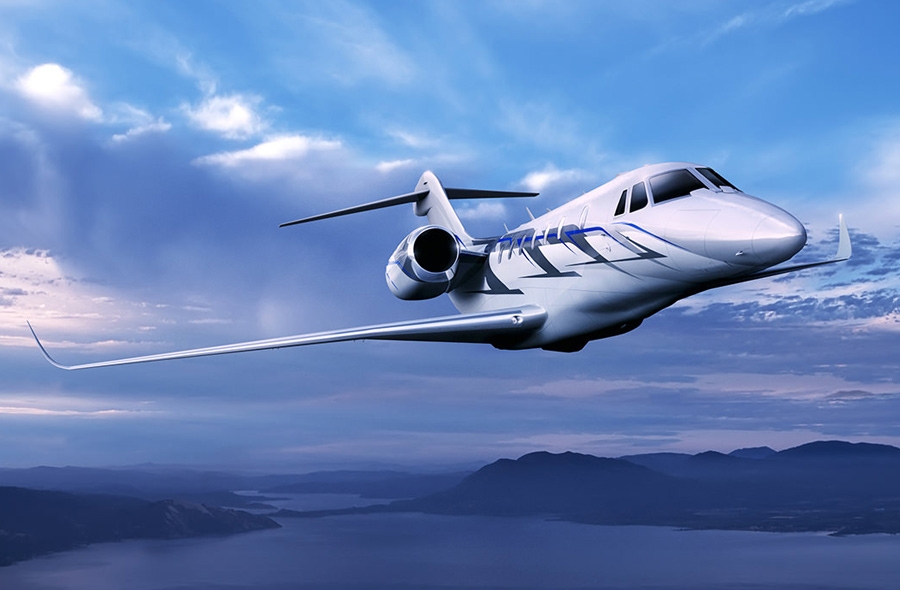 In business, you want to be the company that solves a problem or fulfills a need, and that's exactly what Sentient Jet has been doing since its founding in 1999.
That's also what first attracted Andrew Collins, president of Sentient Jet, to the company nearly 10 years ago. "The discerning private air traveler needed an alternative to either owning an aircraft or owning a fraction of a jet," says Collins. "So Sentient invented an amazing model for private aviation that was both innovative and sensible."
Taking on a complex and fragmented market, Sentient invented the Jet Card, an elegant, simple solution for those with a desire to fly privately. The Sentient Jet Card is a card preloaded with flight time that provides clients with access to a nationwide network of the best aircraft and operators in the industry. It's a highly-attractive alternative to purchasing an aircraft, which involves depreciation and other often-complicated nuances, or to purchasing a portion of an aircraft in a fractional arrangement.
It appears that their Jet Card solution is rapidly gaining popularity. "This has been our biggest flying summer in five years," says Collins. From May through August, Sentient sold about 11,000 hours of flight time, which roughly equates to 450 jet cards, and saw a 10 percent increase in total hours flown over the same period last year. The company is now serving more than 4,000 clients nationwide. "Over the last five years, we've seen the affluent consumer become more value-conscious, whether it's in purchasing homes or automobiles, or deciding how to fly," Collins explains. "Our approach to sensible, intelligent private aviation seems to strike a chord with them."
Providing those thousands of clients with the utmost service and flexibility has become the backbone of Sentient, which has developed a sophisticated service operation, the foundation of which is a seasoned, energetic team of aviation professionals that sees to every detail of every single flight. "Our team is passionate about service… it's in our DNA," says Collins. "We don't manufacture or sell jets, so equipment is not our greatest asset. Our greatest asset is our customer. We're here to provide them with a premium level of national service 24/7/365." Sentient sources from only the top 20 percent of operators in the country.
"The discerning private air traveler needed an alternative to either owning an aircraft or owning a fraction of a jet." – Andrew Collins
With nearly 15 years of proprietary data on operators and flight crews throughout the country, they're able to identify and select the very best in the industry. Not only do operators have to go through a rigorous service and safety certification process to be qualified to fly Sentient clients, the company also requires the crew, aircraft and entire flight plan be certified. Sentient offers a wide range of jet sizes, when and where clients need them, thanks to this comprehensive, far-reaching team of leading aircraft operators.
It's not uncommon for Collins, an MIT graduate, to review service reports late in the evening or at the crack of dawn. "It might be a service issue that we need to address, or, on the opposite end of the spectrum, it could be a client who tells us their flight was the best they've ever had, which means we sit down and figure out what we need to do to replicate that experience for the remaining hours on that client's Jet Card."
While others in the private aviation industry followed suit and created their own jet cards, Sentient remains deeply rooted in providing clients with a strong, tangible value at a national level. Collins has often been asked how it's possible that Sentient can offer a high level of service, confidence and execution that rivals other companies but at such a significantly greater value. "Our goal is to not just match the service and value of other jet card providers, but to exceed them," states Collins. "We have sophisticated clients who, in many cases, have previously owned jet cards with other providers and many have told us they've been thoroughly impressed with all that Sentient provides its clients."
Other private aviation companies have chosen a closed-fleet model that allows them to offer clients a specific aircraft of their choice, but Sentient has an open-fleet model, which means they can provide a client with a handpicked jet from one of the top operators in the country in the class they need. Collins says, "If you don't have a preference for the model of aircraft that you receive in your category, but you want something you know has been certified through Sentient, that's where you can attain real value."
"As an entrepreneur, I was drawn to and inspired by Sentient's passion for their customers. They have a brilliant business model that fits perfectly with the directional family of companies." – Kenneth Ricci
While many private aviation companies will pontificate on their safety records and protocols, Sentient puts its money where its mouth is. "Sentient is an innovator and when it comes to safety, we are one of the best in the industry," Collins shares. The company has invested millions of dollars in safety and was the first to establish an independent safety advisory board made up of former FAA and NTSB professionals as well as other top aviation experts. Additionally, Sentient is the only private aviation company with a Chief Safety Officer on staff who monitors every aspect of the company's safety program.
It's that level of attention to safety, service and value that inspires confidence in Sentient's clients. An added level of confidence comes from Sentient's parent company, Directional Aviation Capital, led by the foremost entrepreneur in the aviation industry, Kenneth Ricci. "As an entrepreneur, I was drawn to and inspired by Sentient's passion for their customers," says Ricci. "They have a brilliant business model that fits in perfectly with the Directional family of companies." It's not only the strong financial foundation that Directional provides, but the ongoing, valuable transfer of knowledge between the two companies that gives them a unique advantage in the industry.
Sentient's jet charter service has also benefitted from the company's relationship with Directional. Its charter business has expanded as a result, offering aircraft ranging from light jets to commercial airliners and custom trips to thousands of destinations inside and outside the U.S. The charter program provides another alternative to fractional or full aircraft ownership or as a supplement when an aircraft is down for maintenance or being used on other trips.
Ten years after joining Sentient, Collins is still energized by the company, which explains the enthusiasm that's evident when he talks about his role as president. "Right from the beginning, it was a classic business case study of a fragmented industry where Sentient had figured out, by inventing the Jet Card, how to refine the offering and capture an underserved population of sophisticated private jet flyers," Collins states. The Sentient Jet Card remains as relevant and desired today as the day it was invented, and its inventor, Sentient Jet, remains the leader in sensible, intelligent, private aviation.