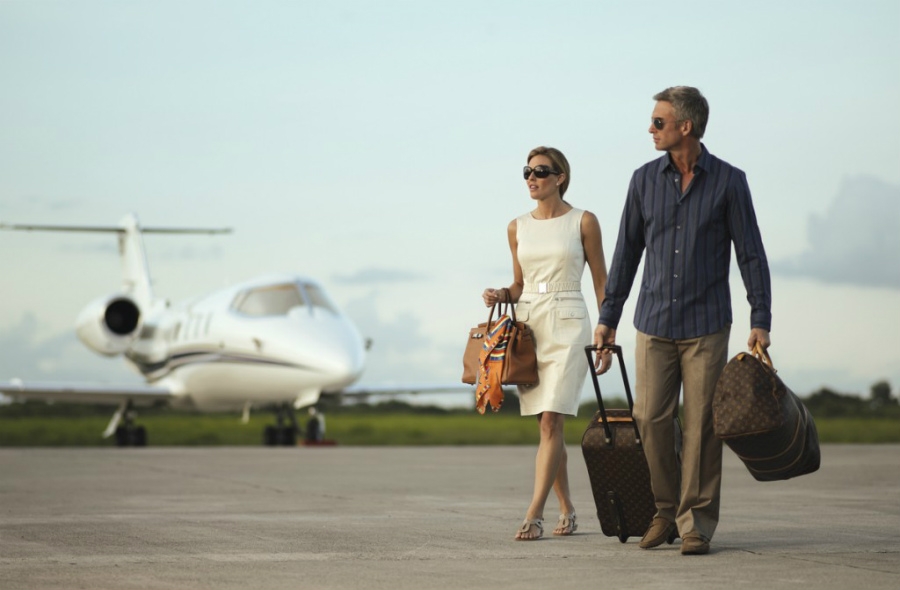 Mike and Marilyn Aaby, owners of the Scottsdale-based worldwide jet charter company Aero Jet Services, are no strangers to the kind of hard work it takes to succeed.
They already had a background in auto racing and ranching and were running a dairy farm in Arizona when a friend asked Mike to manage his Gulfstream aircraft. That proved to be a worthwhile venture, and a few years later, in 1997, the Aabys started Aero Jet Services at Scottsdale Airport. Today, they manage a fleet of 12 aircraft and handle charters for clients all over the world. They also help aircraft owners utilize revenue from charter flights to help offset the cost of ownership.
In its 17 year history, Aero Jet Services has flown clients in many walks of life—rock stars, pro athletes, politicians, celebrities, authors, movie producers, and, of course, business executives and their families. "We have many clients that have been with us for 17 years," Mike explains, "the reason they stay with us is that we are fairly priced and we take care of all their needs."
"We don't just manage one type of aircraft," he explains. "We provide flights that range from a light jet to run back and forth to Los Angeles or to go skiing all the way to a cabin class plane to go all the way to Italy."
Aero Jet Services has ranked as the number one operator in Arizona for the last four consecutive years by Ranking Arizona magazine. The Aabys have achieved this level of success by placing a strong emphasis on personal service.
Safety is also paramount at Aero Jet Services. All of the company's pilots are full-time employees who do their own flight plans. Aero Jet uses a state-of-the-art system, a nonintrusive testing system that actually determines a pilot's fatigue and whether or not they're stressed out. This system is used before every flight. Aero Jet also has a highly-experienced maintenance team and has created a methodology for maintaining flight logs that has been used by the FAA as a benchmark for other operators.
There are many reasons that clients book charters, ranging from worldwide tours to family trips to business travel. "What I tell people is 'time is money,'" Mike says. "A charter becomes inexpensive because you can't buy time, no matter how much money you have." Aero Jet handles IPO road shows, flying business executives to different cities to meet with investors — at times visiting three cities in a single day. The same kind of trip would take months (instead of weeks) if they used a commercial airline.
The Aabys are also deeply committed to serving the community. "We try to help anything to do with children's charity." Mike explains. Aero Jet has provided the use of their hangar as venues for charity fundraising events and they also sponsor and contribute to many charities with their main emphasis to help children.