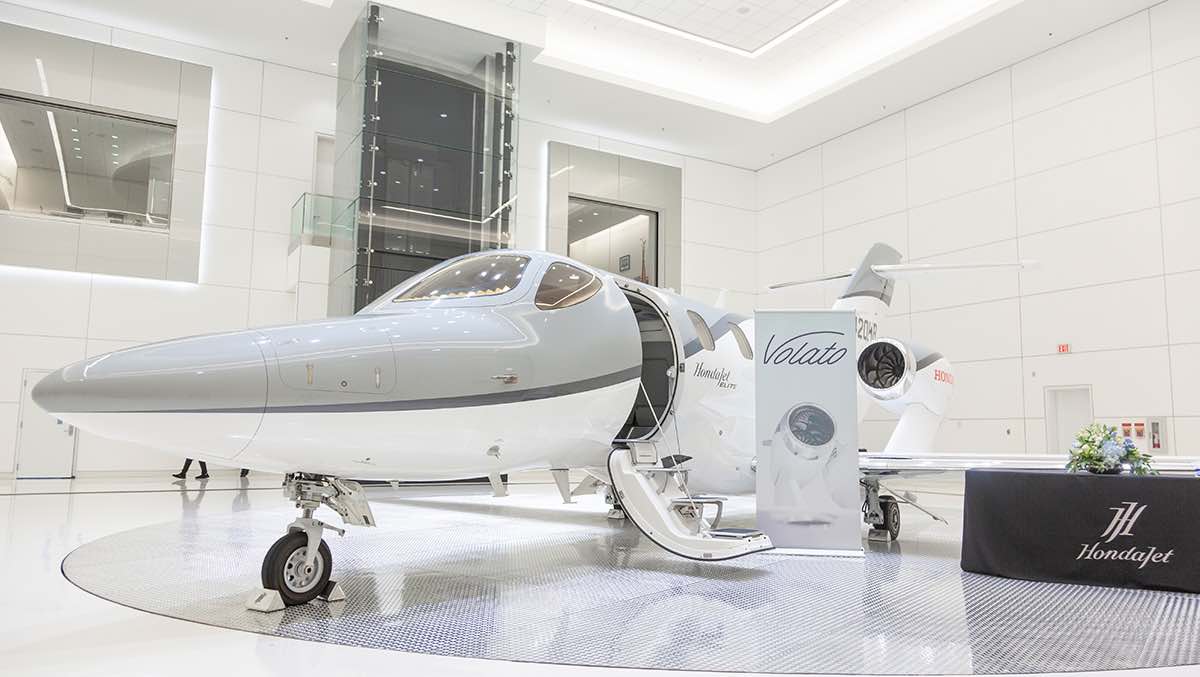 You may not have heard of Volato, but this dynamic full-service private aviation company that offers fresh, innovative solutions to private jet travel is making its mark on the private aviation industry. Volato develops their unique solutions by tuning into evolving customer needs while focusing on core pillars of transparency and flexibility. Its offerings include full and fractional ownership, the Stretch Jet Card, private charter flights and aircraft management. The company prides itself on putting customers first and providing the best experience in market today. No longer is private jet travel seen as simply 'time travel', Volato is injecting genuine, elevated service back into aerospace.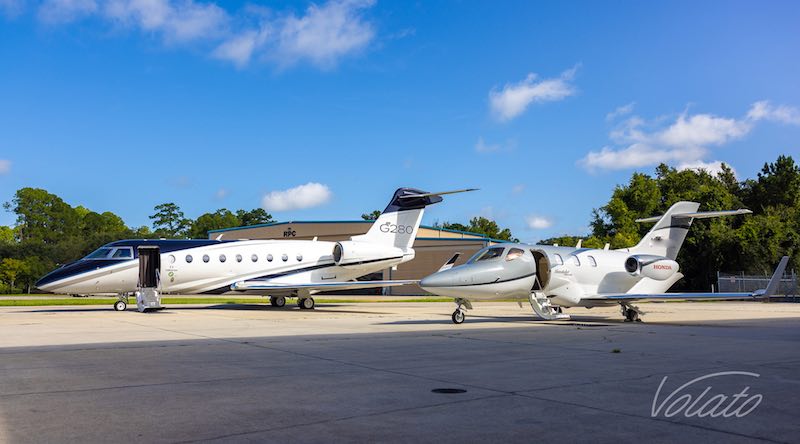 Volato's floating fleet of HondaJets and soon-to-arrive Gulfstream G280 aircraft can transport highflyers in style anywhere across the continental United States or nearby countries. And being future-forward, Volato offsets the CO₂ in every gallon of fuel on its fleet while upholding the highest safety standards, operating with IS-BAO Stage 2 and ARGUS Platinum safety ratings.
Fly the right aircraft for your mission
Volato's mission is to provide the most efficient way to fly luxury private, so choose to fly in their bespoke HondaJets which are ideal for missions of up two hours with four or fewer passengers and their Gulfstream G280 aircraft which are optimal for missions of up to ten passengers flying coast to coast. These modern, fuel-efficient aircraft feature the best cabin experience in class and the latest in aviation technology. No luxury is spared.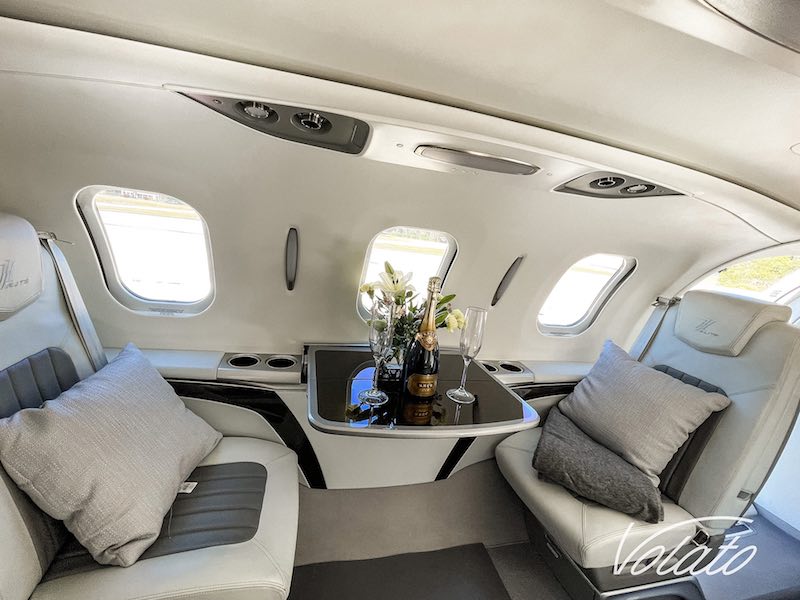 The HondaJet set plane spotters eyes popping when it launched its unique aircraft featuring an on-wing engine mount. This visually stunning configuration isn't all show. The alignment provides a unique laminar flow delivering greater fuel efficiency, a significantly quieter cabin and much more luggage space. The aircraft is thus the highest, farthest, and fastest flying in class, able to soar over weather and air traffic at 43,000 feet. Its luxurious cabin features more than seven feet of space from seat to seat in a four-seat club configuration and a fully enclosed lavatory. Half of Volato's fleet include a full-service, self-serve galley usually reserved for larger aircraft.
The Gulfstream G280 aircraft is an industry favorite which spares no luxury. Its revolutionary wing design and engine technology deliver prime fuel-efficiency, reducing operating costs and environmental impact. It is certified for steep approaches and short runways, high altitude airports and low-visibility conditions, ensuring access to your favorite destinations. Crafted for the quietest, largest in-cabin experience, with the most spacious lavatory and luggage space in category, it delivers your most luxurious, comfortable flight, every time.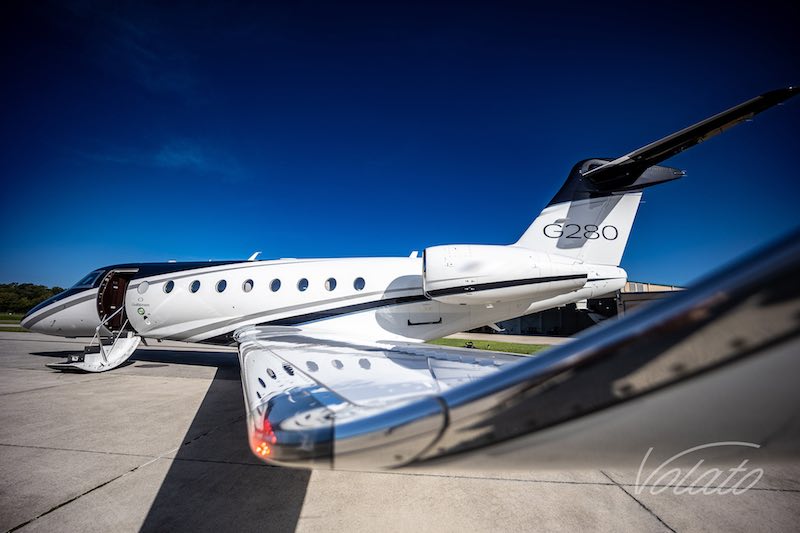 Fractional Ownership with flexible hours and a revenue share
Volato's fractional jet ownership program is like no other in market today. Per traditional fractional programs, it provides customers a convenient and cost-effective way to own a private jet without the hassle and expense of full aircraft ownership, includes pilots, hangars, maintenance and more, while enjoying access to the entire fleet so you are never without an aircraft. However, unlike traditional programs that fix your hours, with Volato you can fly as little or as much as you like over the full duration of your five-year term. What's more, every time your aircraft flies a live mission, even when you fly, receive a revenue share credited to your account at the end of each month. When you want to fly, simply contact the premier concierge team and request your flight with as little as 48 hours' notice from anywhere to anywhere in the lower 48 and nearby countries.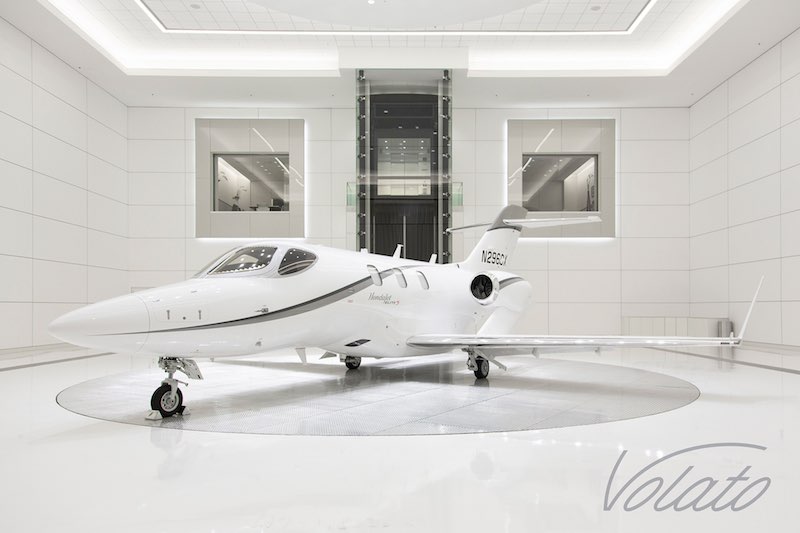 Volato sells the HondaJet in fractions of sixteenths, with the Gulfstream G280 sold in fractions of eighths.
The Innovative 'Stretch Jet Card' rewards your itinerary flexibility
Another innovation is Volato's 'Stretch Jet Card' which is uniquely crafted for the jet setter with a flexible travel schedule. This growing segment of leisure travelers can take advantage of the program which rewards itinerary flexibility with bonus flight time on Volato's HondaJet fleet.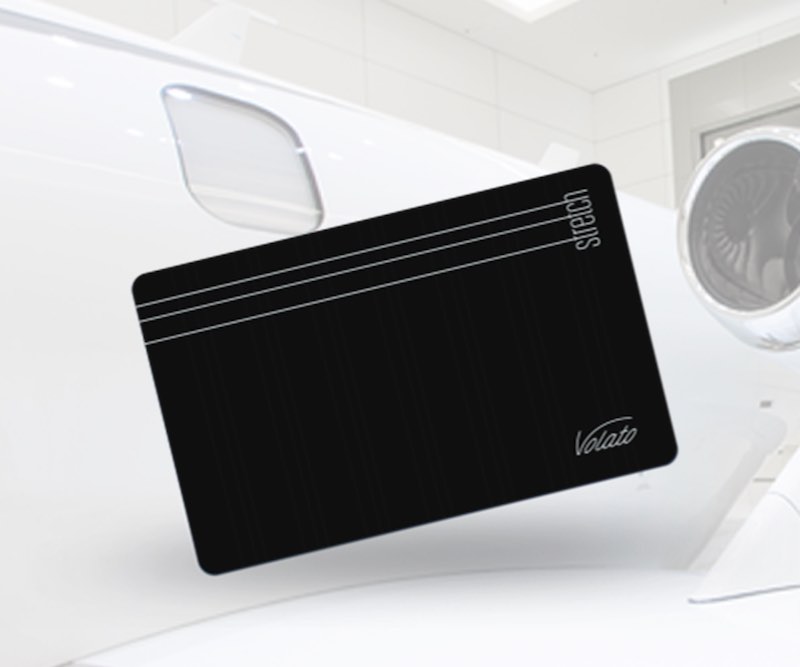 Yes, if you are flexible – which more and more flyers are these days – earn extra time on your Stretch Jet Card to 'stretch your hours further'. This jet card is ideal for the relaxed traveler or for those who wish to supplement their existing private aviation portfolio when they can take their time. And, of course, Stretch Jet Card holders will enjoy flying in Volato's HondaJet fleet; the most comfortable, stylish, and efficient light jet in market today.
On demand private charter on a modern fleet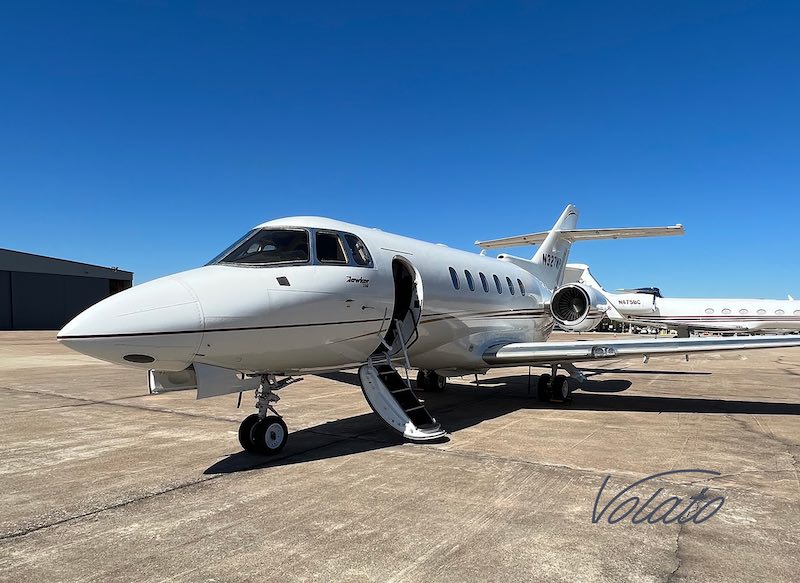 If your private aviation needs are infrequent, Volato offers one-off private air charter services, right across the country. In this program, Volato provides access to an even greater range of aircraft, including the HondaJet, Gulfstream G280, Hawker, Sovereign and King Air. No matter your mission, when you fly charter, Volato has an aircraft to get you to your destination on time and in style.
Volato Aircraft Management Services
If you happen to own an aircraft, consider having Volato take care of it for you. Volato Aircraft Management Services (Volato AMS) has 25 years of experience and operates under the highest safety standards. Volato AMS adopts a personalized approach for every client, crafting comprehensive management agreements that cover all aspects of aircraft ownership from pilots and hangars to fuel and on-time billing. If you like, they can manage charter operations to cover costs, or they can simply take care of your prized possession for when you need it, with white glove service and access to their exclusive concierge team.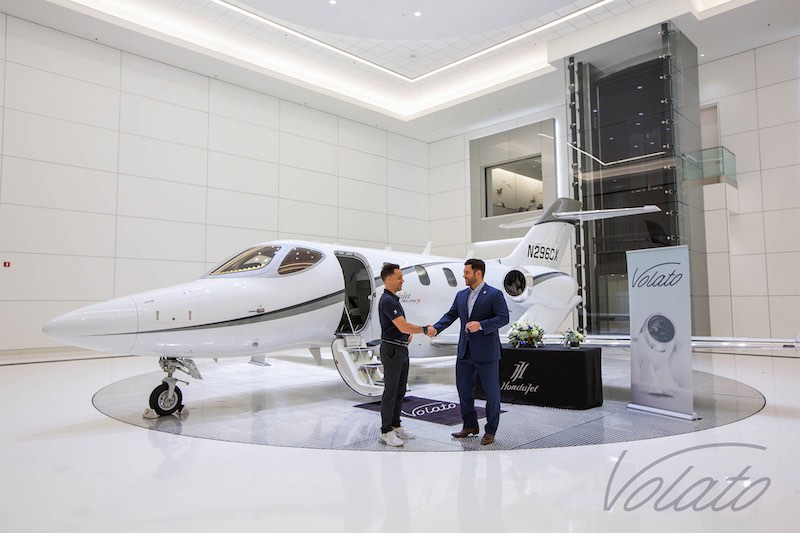 Volato ensures your flying experience is always perfect, they take care of all the details so you can sit back, relax, and enjoy every minute of airtime.
Unparalleled Customer Experience
Volato's first employee was its head of concierge and customer experience. That's how driven they are to deliver your best experience. Given tiny details can make all the difference, Volato is dedicated to making travel plans as seamless and stress-free as possible, from ground transportation to special requests, comprehensive billing services to personalized help with every aspect of your trip. Whether you are planning a quick getaway or a luxurious vacation, Volato will ensure every detail is taken care of.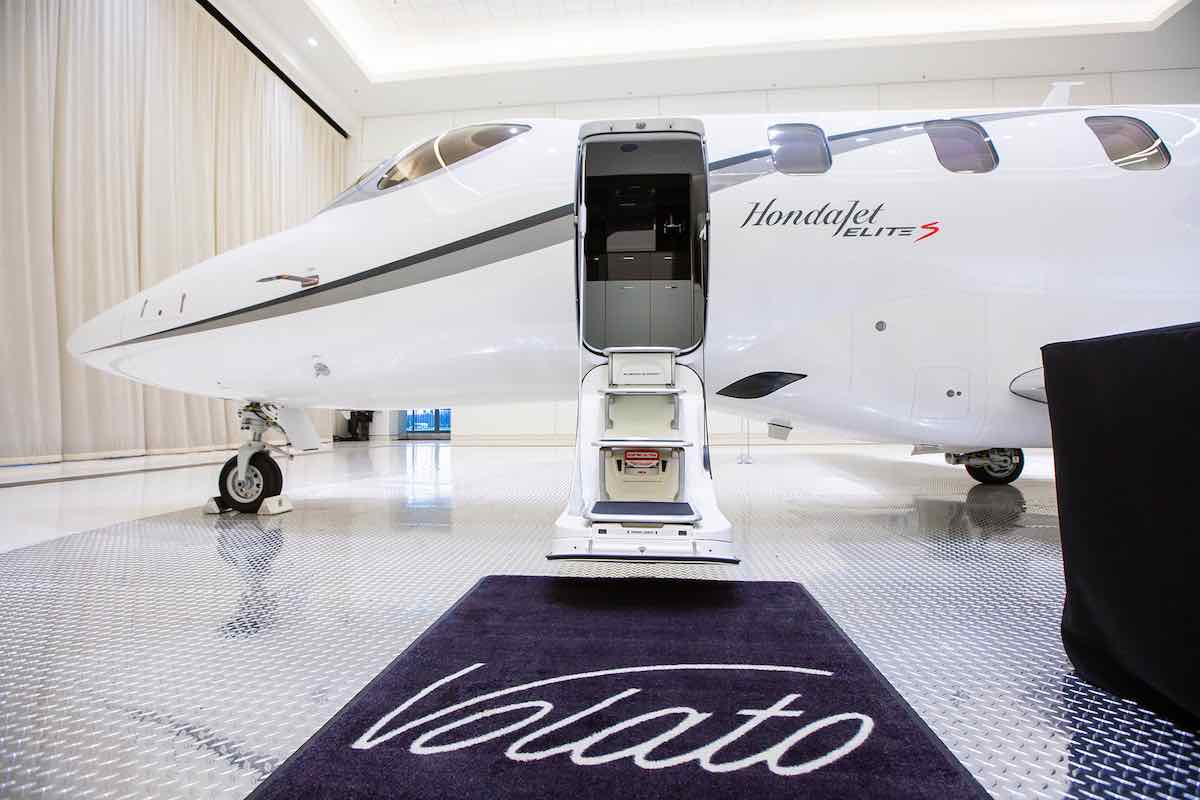 Environmental Leadership
What is a future without being able to enjoy your favorite, secluded beach? To help secure these destinations and provide a better world for all, Volato is on a mission to make private aviation more sustainable. They offset the CO₂ emissions generated by every gallon of fuel on their HondaJet fleet through a partnership with 4AIR, making Volato one of the most environmentally friendly private aviation solutions available. Volato is also committed to flying the most fuel-efficient aircraft for each mission, reducing fuel consumption, and further minimizing its environmental impact.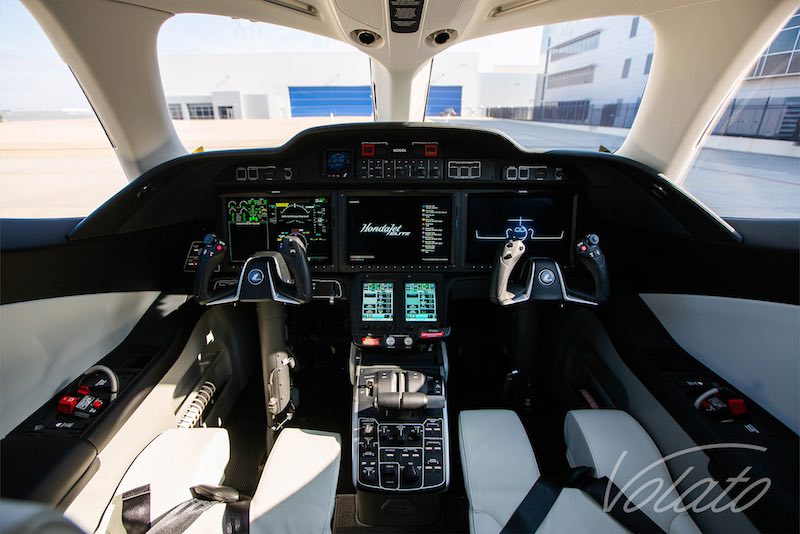 Looking to the future, Volato is committed to continuing its tradition of developing innovative private aviation solutions, excellence in customer service, aircraft quality, and welcoming you to their world.
Visit www.FlyVolato.com to learn more and follow their Instagram page here.
*All Volato flights are operated by its DOT/FAA-authorized air carrier subsidiaries (G C Aviation, Inc., FlyDreams, LLC d/b/a Volato) or by an approved vendor air carrier.