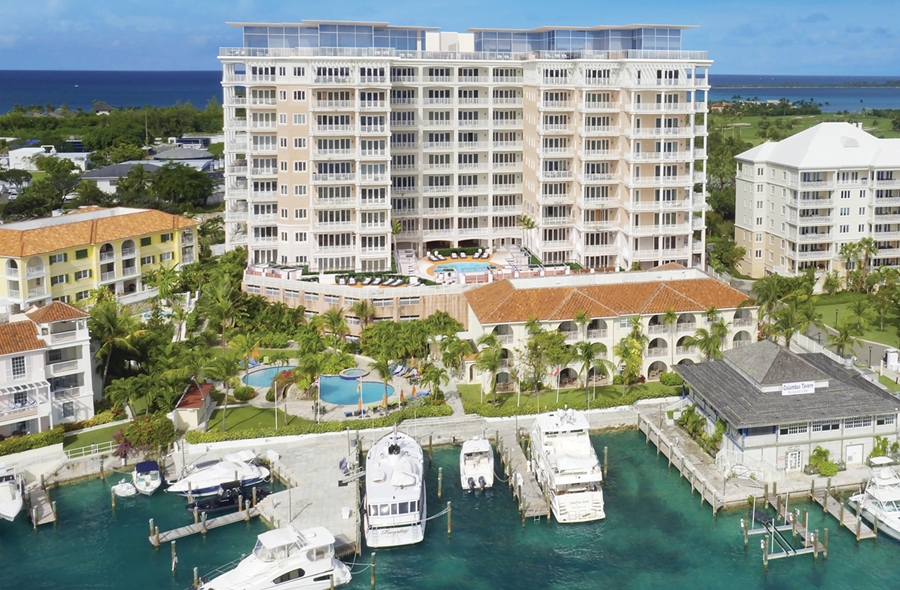 One Ocean's brand new residences overlook panoramic views of blue Caribbean Sea. Spacious floorplans feature well-appointed interiors and large patios that function like outdoor living rooms. Your home away from home is at the heart of Paradise Island, the Bahamas' most envied address.
At The Center Of It All
At One Ocean, getting away from it all puts you at the center of all the best things in life. It's directly across from the sophisticated refinement of One&Only Resort, a block from the restaurants and nightlife of Atlantis, and a short walk from The Bahamas' most beautiful beaches. The islands' best places to dine, drink, shop, and be entertained are within a few blocks, and the award-winning Ocean Club golf course is at your doorstep. Marina Village, next door to Atlantis, has 65,000 square feet of retail space and is your go-to for everything from barista beverages to designer swimsuits and sandals to precious gems.
Dining and Nightlife
Your time at One Ocean offers the elevated lifestyle you enjoy at home, only set amidst the gentle breezes and endless sun of a laidback Caribbean island. With twenty-one restaurants at Atlantis and three at One & Only Resort, your neighborhood dining options span everything from casual poolside to formal elegance. Go out for steak or sushi at Atlantis—or discover what happens when Japanese, Chinese, French, or Italian culinary traditions are given a Bahamian twist. Step across to One & Only Resort for French-Asian fusion at Dune, or slow down your afternoon with smoked salmon sandwiches and high tea—or a glass of champagne—at The Library.
Atlantis's imaginative playscapes provide hours of thrilling aquatic adventure for kids, while its nightclubs and casinos offer upscale fun for adults only—places to dance, gamble, and smoke a cigar. So when you get away from it all to your Bahamian hideaway, you're still an easy walk from great wine lists, classic martinis, and signature cocktails created by inspired mixologists. Except here on Paradise Island, you can sip your drink while Moon Jellyfish float around an aquarium background designed into the bar.
Having It All
These roomy residences live just like home, but with infinitely better weather, hypnotic views, and nothing but recreation on the agenda.
360° Of Blue
At 12 storeys of luxury living, One Ocean is Paradise Island's tallest residential building. From your spacious patio in the sky, a glance in any direction rewards you with incredible blue views—a pure canopy of sky stretched over countless shades of turquoise sea. The panorama encompasses surrounding islands, as well as sailboats and yachts setting out to sea. Look down and you'll see the vivid greens of Ocean Club's award-winning golf course next door.
At Home In Paradise
One Ocean lives like your family home, with no compromise on space, quality, or luxury. The spacious floorplans and refined finishings give this vacation getaway all the comforts you're used to at home, but with a nature-inspired palette that is pure Caribbean style.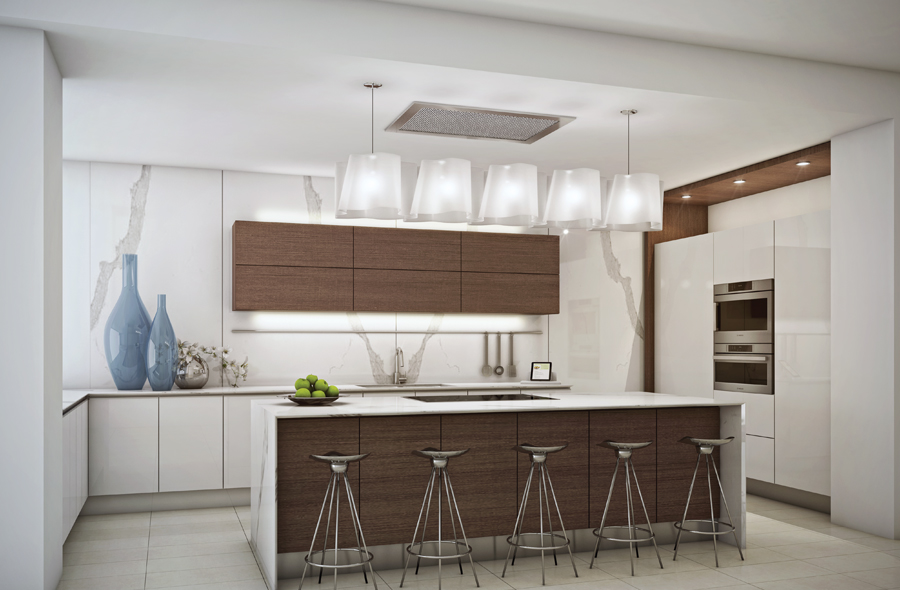 Residences have enormous outdoor spaces, lavish bathrooms, and upscale appliances. So if you want to prepare a meal for friends, invite the family for Christmas, or host a New Years' Eve party, you'll do it in your usual high style. Stunning kitchens include five-burner cooktops, wall ovens, party-sized fridges, wine coolers, dishwashers, and double-bowl sinks. Guests can relax and take a seat at the breakfast bar while they watch you shake cocktails and shred crabmeat.
Open plans make entertaining easy in a casual, relaxed island style, with nine-foot ceilings and oversized windows that make the most of your panoramic views and the idyllic climate. Interiors flow into large patios and balconies, so guests will roam between indoor living room and outdoor living room without noticing where one ends and the other begins. You'll often find yourself inviting friends from the city to hop a plane and stay for a few days; these floorplans have so much space that visitors will be truly welcome.
One Ocean's interiors are professionally designed with that alluring beach-sea-sky-pool palette, resulting in rooms that are luxurious yet calming, elegant yet casual. The indoor environment is soothingly similar to the outdoor elements you love so much, with color stories, materials, and textures chosen to pleasantly blur the lines between indoor and outdoor living.
Penthouses In Paradise
If you choose to purchase a One Ocean penthouse, getting away from it all will mean taking the elevator directly to two storeys of Bahamian luxury. You'll ascend a grand staircase to an entertainment lounge flooded with natural light. Bathrooms are state-of-the-art and some homes have a second master bedroom, making them ideal for guests who want to stay for a while.
Away From It All Without Leaving The Courtyard
At garden level, One Ocean's breezeway and pool deck create a transitional space between the neighborhood and your own residence. In this relaxing retreat, you can take a dip in the pool, recline on a lounger, or nap in the shade of a cabana after you've had enough of the beach, sailing, or shopping for the perfect sandals. It's a place to linger and cool off when you're ready to come home, but not all the way home.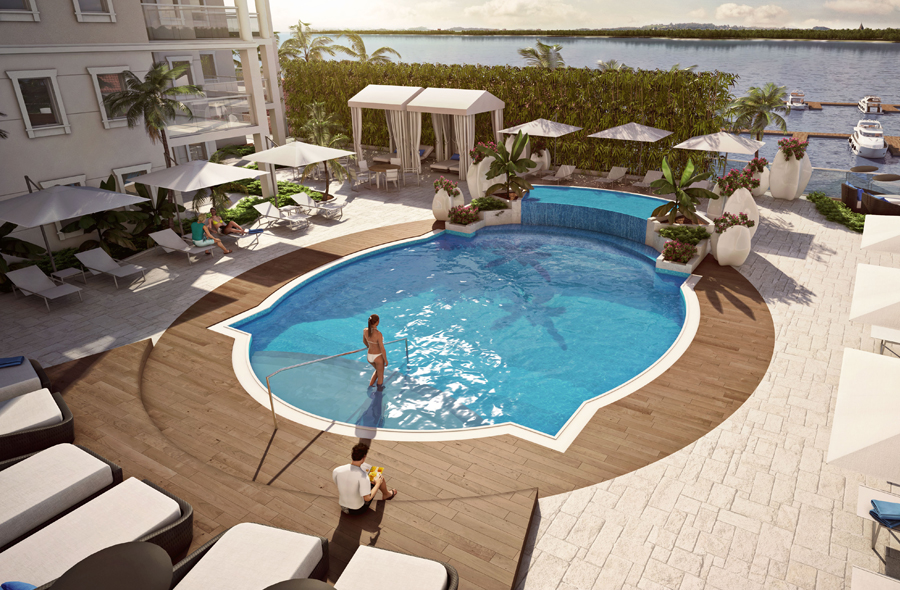 The pool deck and entire courtyard are a lushly landscaped, calming space that says welcome home. Wood-like flooring and porcelain tile suggest a spa environment, and cabanas have adjustable drapes so you can decide how much sun, how much shade, how much sea view, or how much privacy you want. Large, sculptural vases and green space throughout add to the relaxed mood. Outdoor garden rooms include a sunset lounge, a covered lounge, and a trellised seating area.
Swim in the residents-only pool—or simply float around. Sun yourself dry in a lounger, listen to a podcast, or use your iPad to explore what's happening in Nassau tonight. Read, dream, or play cards in a cabana. If you want to be sociable but out of the sun, you can continue the conversation in one of the breezeway's comfortable lounges. Relax without a care in the world; the entire complex has 24-hour manned security.
Doing It All
Vacation time may be about relaxing, but you'll find it easy to fit in many of the things you're too busy to do at home. Just off the pool deck is the residents-only fitness room, a space for yoga and meditation, cardio and sculpting. Jump on a recumbent bike or a cross-trainer in the air-conditioned gym, or work out with weights. Make sure you wind down with a good stretch.
As well as having a private gym, One Ocean is close to a vast range of activities. Play a few holes of golf at the Ocean Club course next door. Run on the beach early in the morning, before the sun gets too high. Swim or work out in One Ocean's pool or snorkel the Caribbean's calm waters. Try kite-surfing; Paradise Island has beaches to suit all levels. Nassau Harbour is just at your doorstep, so set sail to go scuba diving, fishing, or racing. There's a lot of fun to have in your backyard.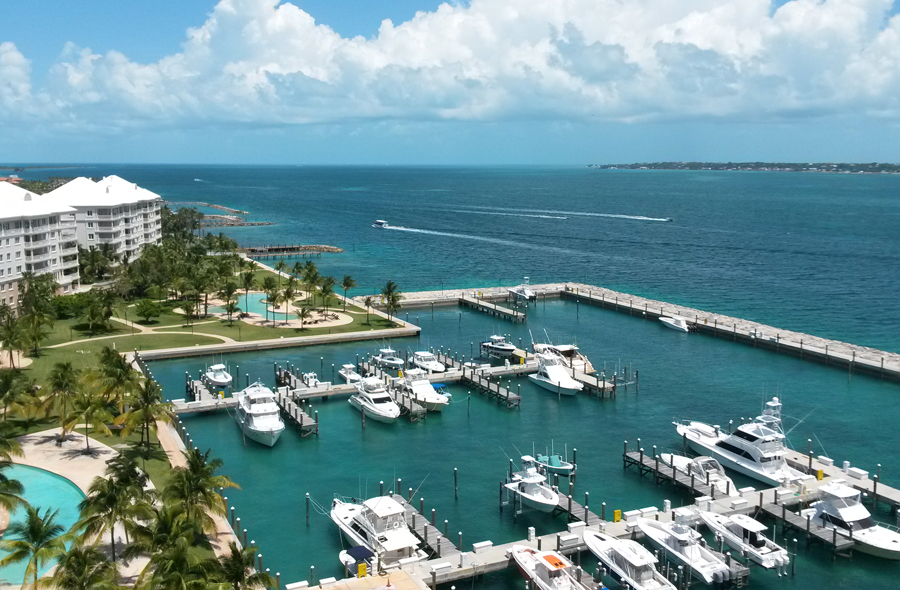 Be Among The First At One Ocean
The first residences at One Ocean will be released soon. For additional information, visit http://oneoceanbahamas.com/