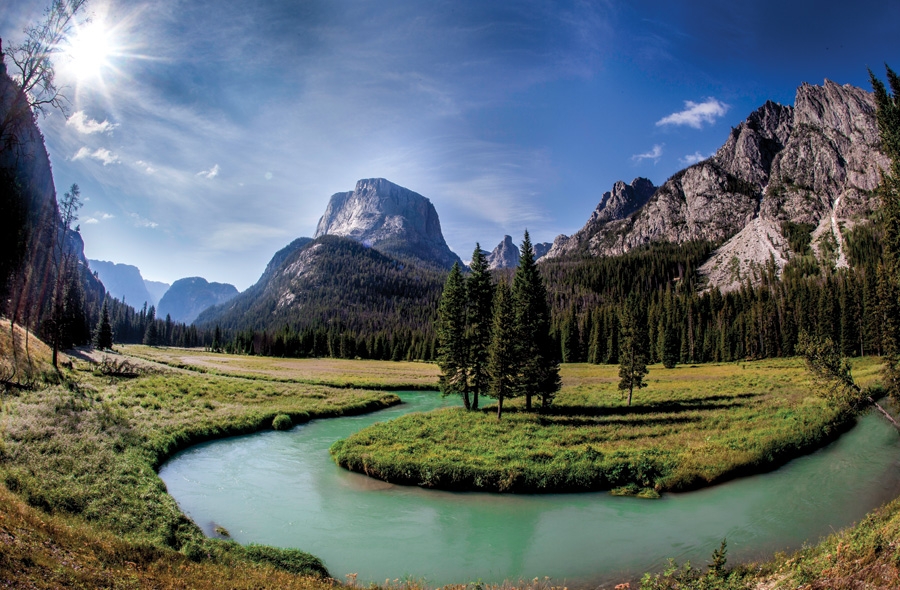 The world's most beautiful and iconic places are not inside a newly renovated hotel.
They are not found in a five star suite or in a VIP lounge at a newly opened restaurant alongside celebrity so and so. True beauty and escape are found off the well-traveled path, away from the glitz and glamour of the city. They are found in the farthest reaches of the world's wildernesses and in the inevitable revival one feels when completing such a journey.
"Man cannot discover new oceans unless he has the courage to lose site of the shore."
Hike Through Yellowstone National Park
PREFERRED BACKPACKING GUIDE: Wildland Trekking
Nowhere is the overwhelming sense of escape better illustrated than deep in the Greater Yellowstone wilderness — still the wildest and most bio-diverse ecosystem in the northern hemisphere. To visit an area like this, you can wait in line to enter the main national park and be surrounded by a babble of tourists gawking at every turn, or you can hire an experienced guide and enter the backcountry where few will ever visit and those that do find absolute solitude and freedom of spirit. That's exactly what Jetset did with Wildland Trekking.
Recommended Trek: Start your journey just outside of Jackson, Wyoming in the Wind River Range, a rarely-visited section of Eastern Yellowstone. The hike will take you 30+ miles, over 8,000 total feet in elevation change, and through some of the most beautiful areas any of us had ever seen. This range offers numerous peaks above 13,000 feet and spectacular glacier-cut valleys that rival any in the world. Wildlife abounds, and given this is wilderness country, you will never cross paths with a motorized vehicle. Trust us when we tell you that this is as wild an area as you can get. And, when you put on your backpack, lace up your boots and grab your trekking poles — the last thing you will be thinking about is work. There is no better escape than this, no freer place to be and no better way to return to your normal life forever changed.
Wildland Trekking operates a world-class organization providing top-of-the-line gear, experienced guides and chef-level cooking along the way. To do a trek of this nature, we highly recommend using a guide (especially for your first time in an area).
Private Yacht Charter To Antarctica
Exploring One of the Last Outposts of Wilderness
PREFERED CHARTER: Jacada Travel
With its spectacular scenery and incredible wildlife, Antarctica is a rarely-visited continent that offers a privileged few a truly special travel experience. In partnership with EYOS Expeditions, Jacada Travel's newly-crafted journey is one that will set a new level of luxury. Twelve guests will be delivered via private jet to board the M/Y Enigma XK Expedition Yacht for a cruise through stunning, deserted waters and a completely personalized itinerary.
A crew of 21 will provide gourmet dining and drinks as you explore one of the most alluring and untouched places in the world. Antarctica has a great appeal in being one of the last outposts of wilderness and is a truly magnificent and pristine continent, with stunning scenery and wildlife.
The itinerary is yours to plan on a day-to-day basis. You can jump into a Zodiac at a moment's notice and play with the whales, go hiking and kayaking through ice cliffs and glaciers, or on exotic fishing tours. How about a swim in a place where the water is heated by volcanic rocks, or an up close and personal visit to penguin colonies?
You can even travel further south and attempt to transit "The Gullet," a very narrow, rarely-visited passage with incredible mountain scenery and ice-strewn waters, that eventually opens out onto spectacular Marguerite Bay — a place only a few have visited. This is travel by design and you are the artist.
See Galápagos as Darwin Did
A panoramic exploration of the Galápagos Islands
PREFERED CHARTER: National Geographic Lindblad Expeditions Experience
Lars-Eric Lindblad was the first to bring civilians to some of the most exotic parts of the world. Now, Lindblad Expeditions, with over forty years of experience, a partnership with National Geographic and two ships based in the Galápagos year round, make this the ultimate way to see this magical archipelago. Like a floating safari camp, your ship will be your home for an unforgettable 10-day journey — immersing you in a panoramic exploration of the Galápagos Islands.
Awake each day to fresh vistas outside your cabin window and inspiring daily discoveries. Take informative hikes with a naturalist to be edified about the unique wonders of each island, or cruise on the Zodiac landing craft. If snorkeling is your passion, the ships are well outfitted with a full array of gear for exploring the vivid wildlife below the water's surface. If relaxation is what you desire, stay aboard and read, or enjoy a wellness treatment in the floating massage pavilion anchored in its own zone of serenity.
This ship-based Galápagos wildlife travel lets you experience all of the endless magic of Galápagos' diverse habitat. From lush green highlands to stark volcanic landscapes, pristine beaches to mangrove thickets and arid terrain to black lava beaches adorned with emerald sea grass — this is Galápagos done right. And coming in 2015, you will have the opportunity to experience "Epic Galápagos Photo Expedition."
Scuba Diving in the French Polynesian Islands
Get Up Close and Personal with Manta Rays,  Sharks and Sea Turtles
PREFERED CHARTER: Noble House Yacht
We believe that chartering a beautiful yacht is the ultimate way to spend a holiday and the spectacular Noble House will give you the opportunity to explore the best islands for scuba diving in true French Polynesian style. Being on a boat brings you much closer to your friends and family, because you have shared a magical experience enhanced by a sense of being free on the water together.
Whether you've never put on a mask before, or are a seasoned diver, scuba diving in French Polynesia will leave you with unforgettable memories. These magnificent islands offer a diversity of dive profiles including lagoons, passes and ocean drop-offs (vertical reefs spilling into deep oceanic blue that provide one of diving's ultimate thrills).
The best diving and snorkeling are at Rangiroa, Tikehau, Manihi, and Fakarava in the Tuamotu Archipelago, where the huge lagoons harbor an incredible variety of fish and sharks. If it's the sharks that compel you, Rangiroa is the place to be and the other areas will illuminate more fish than you ever imagined existed — truly spectacular.
The atolls are also home to heart-stopping "ride the rip" dives and snorkeling trips, on which you literally ride the tidal current through the passes into the lagoons. An endless array of choices is yours for the asking and delivered with a highly-elevated level of opulence and expertise.
Elevate Your NEXT Skiing Excursion
Experience Backcountry Powder
the Way Nature Intended It
PREFERED CHARTER: Mike Wiegele Helicopter Skiing
If rocketing down the mountainside in hip-deep snow is what blows your hair back, you are not alone. Heliskiing is climbing in popularity and is the ultimate adventure for the avid ski buff.
Since 1970, Mike Wiegele has been a true leader in the heliskiing industry. He has created the most exclusive operation available, situated within a unique heli-village resort setting in beautiful Blue River, British Columbia. His vision included smartly staking heli rights in the Cariboo and Monashee ranges of British Columbia. This area is filled with tree runs, high alpine glaciers and everything in between, and is right in the heart of the Snow Belt where it dumps over 1,000 inches per year. Add to that luxurious accommodations highlighted by a beautiful base lodge, five-star cuisine and a vast wine cellar, and you have a winner.
Their guides have the highest level of training available, their equipment is state-of-the-art, and, very importantly, their safety record is impeccable. In fact, Mike Wiegele founded the Canadian Guides Association years ago where hundreds of guides have been trained, and it is recognized as a center of excellence worldwide. A full fleet of helicopters are housed and maintained right onsite, and are at the ready to deliver the adventure of a lifetime.