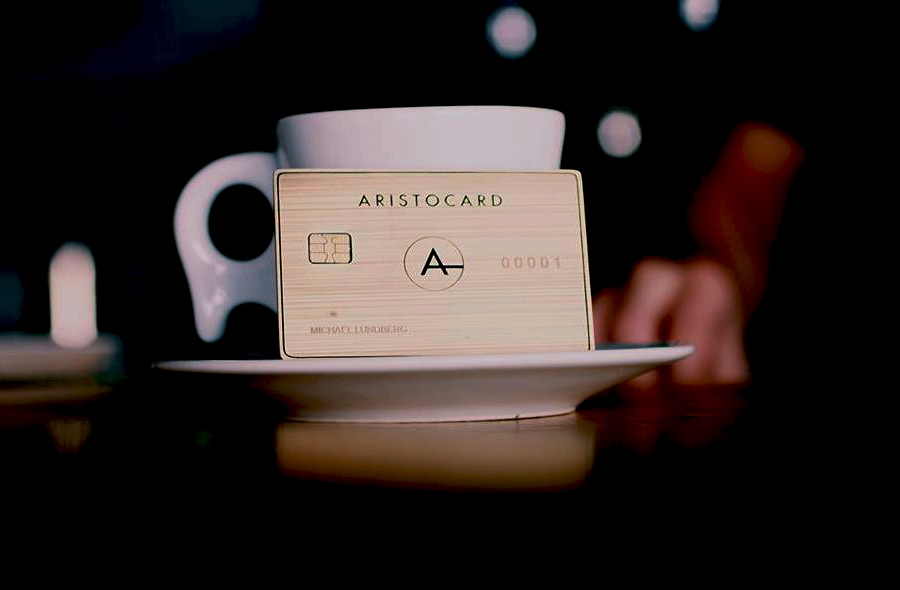 Aristocard is a luxury lifestyle brand and social club that has attracted the movers and shakers of society, a youthful and vibrant community comprised of ambitious financiers, astute lawyers, fashion revolutionaries, global entertainers, culinary masters, entrepreneurial geniuses, engineering marvels and trendy advertisers that embody New York City.
The card exists to provide its members benefits and exclusive offerings throughout the city and internationally while cultivating a refined, intellectual collective. Aristocard is contemporary and fun, progressive and inspiring, graciously inclusive with an air of exclusivity. The ultimate goal: encouraging its members to become true cosmopolitans.
Founded by four colleagues with individual domain expertise in hospitality and finance, the company was born through shared entrepreneurial spirit coupled with the desire to deliver a sophisticated, unrivaled experience of their city with others. James Camp, Michael Lundberg, David Yonan and Josh Zipkowitz envisioned a collection of personalities that would enjoy a diverse, quality offering of New York City featuring exclusive dinners with highly sought after chefs, intimate performances from exceptional artists, an education on spirits and fine wines, access to high end fashion house designers, but more importantly a medium to engage others. While New York City was the natural birthplace for Aristocard, the company has drawn widespread interest and is expanding into multiple cities both domestically and internationally as a powerful and growing brand serving an untapped market.
Aristocard provides access to new tasting events, priority reservations and benefits at restaurants around town, art gallery openings and exclusive meet and greets, private cocktail receptions and professional networking events, special perks and offerings at the world's most opulent hotels, unparalleled travel accommodations, exceptional treatment at retailers across the city, and entry to nightlife venues through its concierge services. Exclusive connections to New York, London, Milan and Paris Fashion Weeks, the Cannes and Sundance Film Festivals, the Oscars and Golden Globes, the Daytona 500, the Kentucky Derby and the Monaco Grand Prix are a sampling of events Aristocard offers. Memberships have reached Australia, Brazil, England, Holland, and South Africa for hotel bookings, villa rentals, helicopter charters, private jets and yachts, and rush passport and VISA services rendered through an experienced travel team.
The sumptuously weighted metal card is more than proof of membership. A member's personal American Express, Visa, or other credit card of choice is transcribed onto the Aristocard with legacy credit networks handling transactions and billing. This allows for each member to enjoy the privileges eschewed by their traditional credit card in conjunction with those offered through their Aristocard membership.
Aristocard centers around its card benefits, but monthly social gatherings at its private loft in the Flatiron District provide respite for its eager and inquisitive members to hunt for new ideas, problem solve, tell stories and ultimately relax. The 2,400 square foot space includes a semi-private parlor ideal for conferences atop its card table. The exposed brick, outdoor balcony, well-appointed bar, tufted leather settees, humidor and flat panel televisions engender a truly sophisticated experience.
Aristocard boasts an eclectic group of members, from acclaimed film producers and neo-pop artists to mergers and acquisitions bankers and lawyers. A disciplined application process, one akin to job interviews, helps identify those who aspire to be the best in their respective fields while also focusing on a prospective member's ambitions and passions beyond the office. More about the company, the application process and membership benefits can be found by visiting Aristocard.com or by contacting the email address below.