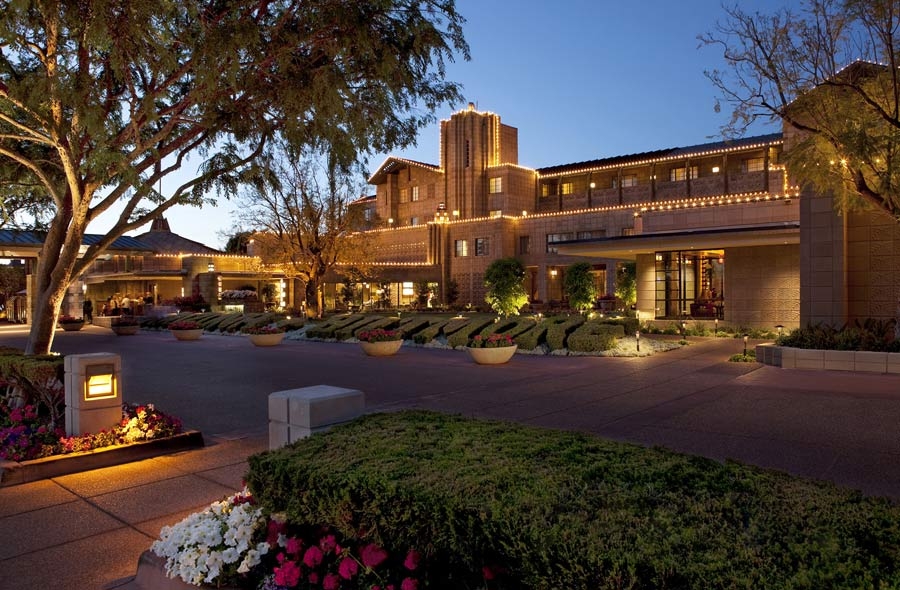 In a renowned resort area like Phoenix/Scottsdale, there are a lot of properties that would love to be considered the "Jewel of the Desert," yet there is only one that for decades has laid claim to the title.
Since it opened in 1929, the Arizona Biltmore has combined exceptional service, a rich history, world-class accommodations and just an omnipresent aura of style and importance that you feel in the hallowed halls of the property. The star power of the resort itself and the A-List roster of world leaders, glamorous Hollywood stars, athletes and entertainers that have stayed at the resort since it opened reads like a who's who list of the biggest names in pop culture. It was even designed by a star, as the legendary Frank Lloyd Wright was the consulting architect. It was and remains the only existing hotel in the world with a Wright design.
We learned on a recent stay that the Arizona Biltmore still exudes a truly unique flair and palpable energy that makes it a place you must visit on your next trip to the Valley of the Sun. One advantage it has over other Phoenix/Scottsdale properties is the location, being in a vibrant section of Phoenix, just 15 minutes from the airport with a vast array of shopping options just a short ride away. But if you're like most visitors to the Arizona Biltmore, the thought of leaving the property will barely enter your mind, because once you arrive on the lush, expansive and beautiful grounds of the resort you have all you need at your fingertips. There are 740 guestrooms, and what will interest Jetset readers is the fact there are 86 suites ranging in size from 700-1,600 square feet with 10-15 foot ceilings, private terraces and balconies, marble baths and gas fireplaces.
It's also a golfer's delight, with two 18-hole PGA courses onsite, plus driving and chipping ranges, putting greens and professional instruction. The spa features 17 indoor treatment rooms including two wet rooms for herbal wraps, a hydrotherapy tub, three spa pools, steam rooms, saunas and separate men's/women's locker rooms and power showers. You can certainly enjoy your vacation being pampered around the clock and never lift a finger during your stay like many people do as they enjoy the always sunny Phoenix weather. But one of the true calling cards of this property is the fact if you like to be active there are so many renowned options for you. On top of the golf, the fitness center features state-of-the-art cardiovascular and weight-training equipment and a variety of classes including yoga, Qi Gong, aqua aerobics, step and sculpting, and how many world-renowned resorts offer seven tennis courts that are all fully-equipped for night play under the lights?
In order to be a destination for the world's most affluent, accomplished, famous and important people, the dining options must be superb, and there are five full-service options for guests to choose from. Wright's at The Biltmore is the signature restaurant, Frank & Albert's serves comfort food with an Arizona twist, and there is also the Wright Bar, The Café, Cabana Club Restaurant & Bar and in-room dining.
An 84-year commitment by management and staff to first class service and discretion has allowed the Arizona Biltmore to be hailed as a "celebrity playground," and for decades it has wined and dined generations of celebrities and dignitaries. The service we experienced at the Arizona Biltmore is extended to everyone, whether you are a world leader, Oscar winner or business tycoon. As you drop your car off at the valet after winding around the grand and dramatic entrance and walk through the lobby to the vast, airy and spectacular check-in area, you can't help but think of how cool it is to consider who else has been standing where you are at that moment. The Arizona Biltmore has hosted nearly every U.S. President since Herbert Hoover. Ronald and Nancy Reagan honeymooned at the Biltmore, as did Clark Gable and Carole Lombard. Since we're name dropping, just a small list of other celebs who have frequented the resort includes George Clooney, Bill Cosby, Tom Cruise, Michael Douglas, George Burns, Fred Astaire, Marlon Brando, Johnny Carson, Bob Hope, Jay Leno, Gregory Peck, Arnold Schwarzenegger, Frank Sinatra, Steven Spielberg, Sylvester Stallone, Sharon Stone and Elizabeth Taylor. Musical artists such as Diana Ross, Elton John, Bruce Springsteen, Eric Clapton and U2 have also stayed at the resort as have broadcasters Tom Brokaw, Barbara Walters, Larry King and Peter Jennings and sports legends like Magic Johnson, Joe Montana and Michael Jordan.
The Arizona Biltmore is a testament to style, history, architecture and class. It is one of the few legendary American hotels that can accurately boast that it is as famous and accomplished as the spectacular array of celebs and dignitaries that have stayed there.