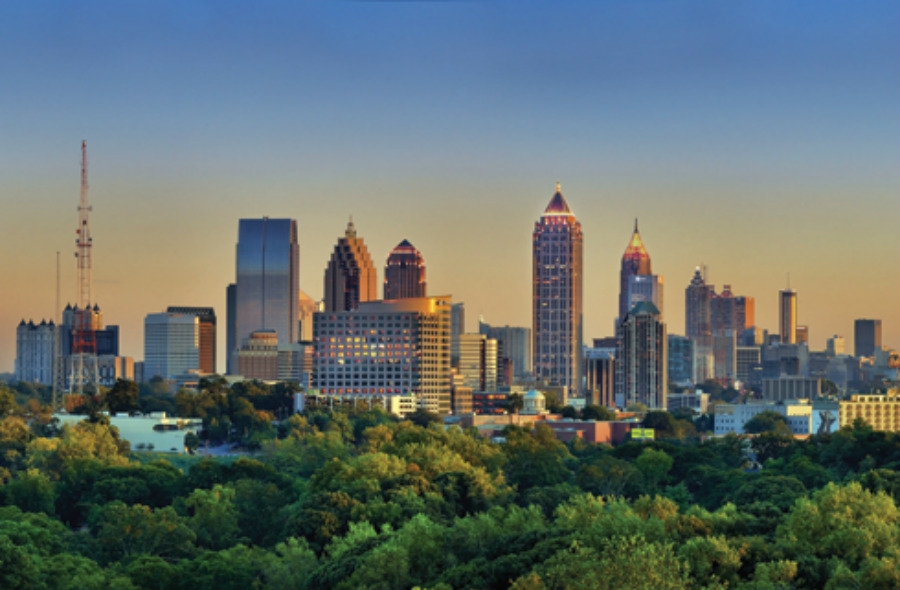 As the South's largest city, Atlanta quickly captures visitors' hearts with its legendary hospitality, so it's hardly surprising that so many people come here for a visit and end up staying for a lifetime.
This vibrant city is easy to reach and even easier to enjoy with its blend of world-class hotels, dining, shopping and nightlife. And each Atlanta neighborhood offers its own unique treasures: the cultural scene of Midtown, the foodies' haven of the Westside, and the fantastic boutiques and galleries of Buckhead. Be prepared to be greeted with a heartfelt "How y'all doing?" In this spectacular city, you'll be sure to be doing just fine.
Where To Stay

The Ritz-Carlton, Atlanta
The Ritz-Carlton, Atlanta is downtown's premier business address and its awe-inspiring new interiors provide a luxurious oasis in the heart of the city. Surrounded by the state's centers of finance and government, and just minutes from the Georgia Aquarium and sports events at the Georgia Dome, Philips Arena and Turner Field, The Ritz-Carlton, Atlanta is ideally situated for work and play.
For additional information and reservations, please visit RitzCarlton.com/Atlanta or call 404.659.0400.

Glenn Hotel Autograph Collection
Glenn is the "character" of this provocative hotel in Atlanta. When guests are ready for a change of pace from the privacy in their downtown Atlanta hotel rooms, Glenn invites them to enjoy his living room "salon" for a drink, to engage in some good conversation, or just relax. No visit is complete without a trip to the acclaimed Glenn's Kitchen or the Rooftop Skylounge for a breathtaking view of greater Atlanta area.
For additional information and reservations, please visit GlennHotel.com or call 404.521.2250.
Where To Eat

Holman & Finch Public House
Restaurant Eugene owner-chef Linton Hopkins, along with mixologist Greg Best, govern an ambitious gastropub just across the breezeway from the mother establishment. With a lively atmosphere and a warm but sophisticated décor, Holeman & Finch presents a raft of small plates and noshes. The menu is a tip of the hat to the historic recipes that pubs, bistros and yes, Southern kitchens have served for hundreds of years and, at the same time, points to what it tastes like to live and eat well in Atlanta.
For additional information, please visit Holeman-Finch.com or call 404.948.1175.

Chop's Lobster Bar
An Atlanta icon known for its exceptional food and service, Chops serves the very best USDA prime aged beef and consistently ranks as one of the top ten steakhouses in the country. Chops Lobster Bar is a seafood lover's paradise. The mosaic-style dining room is the ideal setting to enjoy signature items like the Savannah Lump Crab Cocktail and Famous Jumbo Batter Fried Lobster Tail. Whether you're dining for business or pleasure, a meal at Chops is sure to make a lasting impression.
For additional information, please visit BuckHeadRestaurants.com/Chops-Lobster-Bar or call 404.262.2675.
Where To Play

The Golf Club of Georgia
Since 1990, The Golf Club of Georgia has stood for unmatched service, camaraderie and hospitality, and an unrelenting devotion to daily turf quality and performance. Member-owned since 2001, The Golf Club of Georgia features two Arthur Hills-designed courses, Lakeside and Creekside. Distinctly different from each other, they offer the golfer enormous architectural, aesthetic and strategic variety.
For membership information, please visit GolfClubofGeorgia.com or call 770.772.8175.

Hawks Ridge Golf Club
Hawks Ridge Golf Club is considered to be unrivaled by even the most notable private golf clubs. Hawks Ridge boasts 18 holes of championship golf, a 9 hole par 3 course, and a clubhouse offering two restaurants, locker room, wine room, and executive boardrooms. Two four bedroom cottages are located adjacent to the clubhouse, and helipad facilities are available for members and guests. Hawks Ridge Golf Club is a private golf club that offers local, national and corporate memberships by invitation.
For membership information, please contact Bryan Schacht, Director of Business Development at 678.455.8267 or [email protected]
Where To Relax

The Spa at Mandarin Oriental, Atlanta
A sanctuary for rejuvenation that embodies a harmonious blend of east and west, The Spa at Mandarin Oriental, Atlanta brings a new sense of healing and well being to Atlanta's prestigious Buckhead address. Mandarin Oriental's exclusive signature spa therapies and specially designed treatments take guests on an authentic and holistic journey to restore balance, soothe and rejuvenate.
For additional information and reservations, please visit MandarinOriental.com/Atlanta/ or call 480.995.7526.

The Spa at Château Élan
Located 40 minutes north of Atlanta, Georgia Château Élan Winery & Resort is a Four Diamond, 16th century-style French château with its own 200 acre vineyard and full-production winery. The resort's full-service European-style spa is a nestled in a lakeside mansion complete with a gourmet chef. Guests can stay in the newly renovated Spa Suites designed to provide ultimate relaxation with specialties such as the lavish Therapeutic Airjet Tub or the Waterfall Shower Experience.
For additional information and reservations, please visit ChateauElan.com or call 678.425.0900.
Where To Shop

Phillips Plaza
The South has spoken and the word is that Phipps Plaza is among the best of the South! As the Southeast's premier upscale shopping center, Phipps Plaza is home to more than 100 specialty stores including Gucci, Giorgio Armani, Jimmy Choo, Bang & Olufsen, Tiffany, Hugo Boss, Valentino and Juicy Couture. Well-heeled Atlanta matrons, local and national celebrities, those who wish to "see and be seen," and even those who just find it fun to watch how the other half lives can all be found at Phipps.
For additional information, please visit PhippsPlaza.com or call 404.261.7910.

Lenox Square Mall
Whether you are an Atlanta native or are just visiting the Peach State, if you're any kind of serious fashionista, a must on your to-do list should be a visit to the Lenox Square Mall. Anchored by Bloomingdale's and Neiman Marcus, Lenox features specialty stores like FENDI, Burberry, Cartier, Bvlgari, Ralph Lauren and Salvatore Ferragamo, just to name a few.
For additional information, please visit LenoxSquare.com or call 404.233.7575.