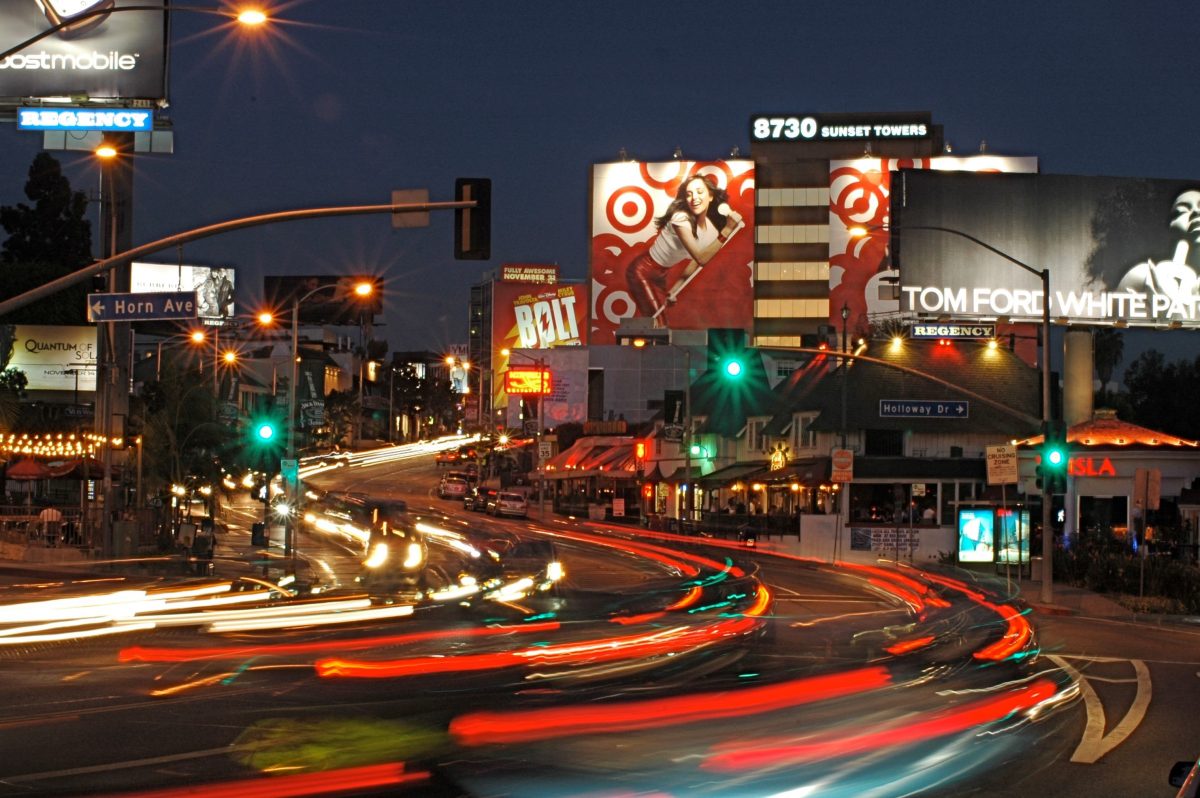 Let's kick off our multipart web series on the best dining in Los Angeles by focusing on perhaps its most restaurant-rich neighborhood, West Hollywood. LA natives and visitors alike have long known that WeHo is a premier location for tremendous food, entertainment, and nightlife. The following is a selection (that admittedly only scratches the surface) of some of the absolute best restaurants in this exceptional area.
Boa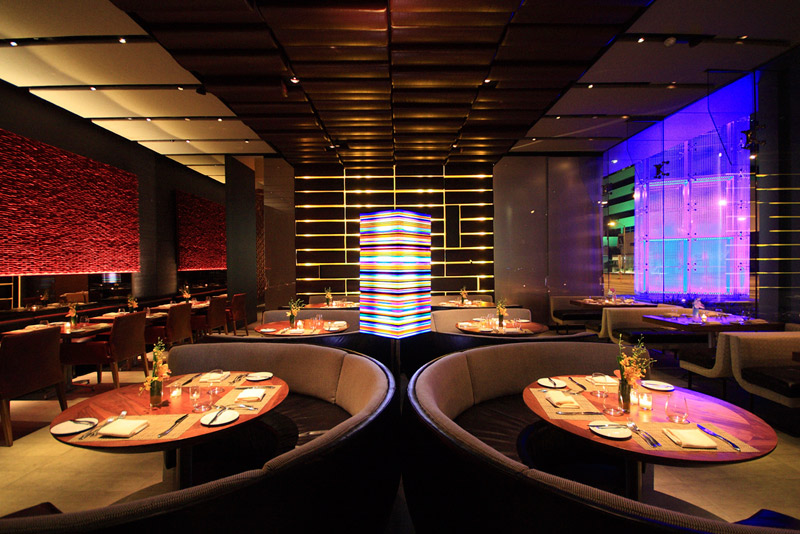 We begin at the top of the Sunset Strip — walking distance from such iconic entertainment spots as 1Oak, The Comedy Store, and Whisky a Go Go — with one of the best steakhouses in all of LA. Since its opening in 2001, this bold, colorful restaurant has attracted both celebrities and praise to equal degree with its fun, hip atmosphere and decadent selection of prime Omaha beef (the "40-Day" dry-aged New York strip is is a must-try), and premium American Wagyu. Steaks are each served with your choice of flavor-enhancing rubs and delicious house-made sauces, and the sides (truffle mac-n-cheese is simply divine) are all top-notch. There's also some tremendous appetizers (like succulent pan-seared scallops), a well-thought cocktail menu, and a Wine Spectator award-winning wine list. But it really is the cool, vibrant atmosphere (we recommend sitting outside) that still elevates Boa to the status of an exceptional dinner spot…even after all these years.
ROKU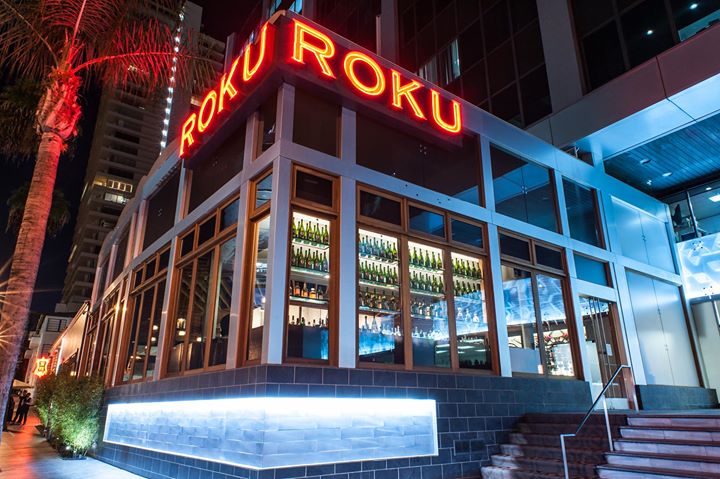 Across the street from Boa lies another exceptional dinner spot. Fans of Sushi Roku will love this new restaurant which dropped the "Sushi" from its name (but certainly not its menu) and launched late last year to much acclaim as simply "ROKU." (Side note: Why must every non-acronym name be all-caps nowadays?) The new restaurant offers a little something for everyone: the entire old Sushi Roku menu (as reliably solid as always), the best teppanyaki in LA (it's fire-juggling table artists a wonder to behold), and a menu of Southeast Asian, and Korean influences with a brilliant selection of meat and seafood including mA5-grade Wagyu and Santa Barbara spot prawns. The atmosphere in the vast, 8,000 square-foot restaurant is palpable as soon as you step in and see the 20-foot, custom Japanese-themed mural by local street artist Hans Haveron giving way the vast, happening dining area littered with meticulously-manicured bonsai trees. Further beyond, you'll find sushi to your left and teppanyaki to your right; and there's also a lively bar with great cocktails (like the signature Pacific Scorpion), and the best selection of Japanese whiskeys in town.
Bar Fifty Three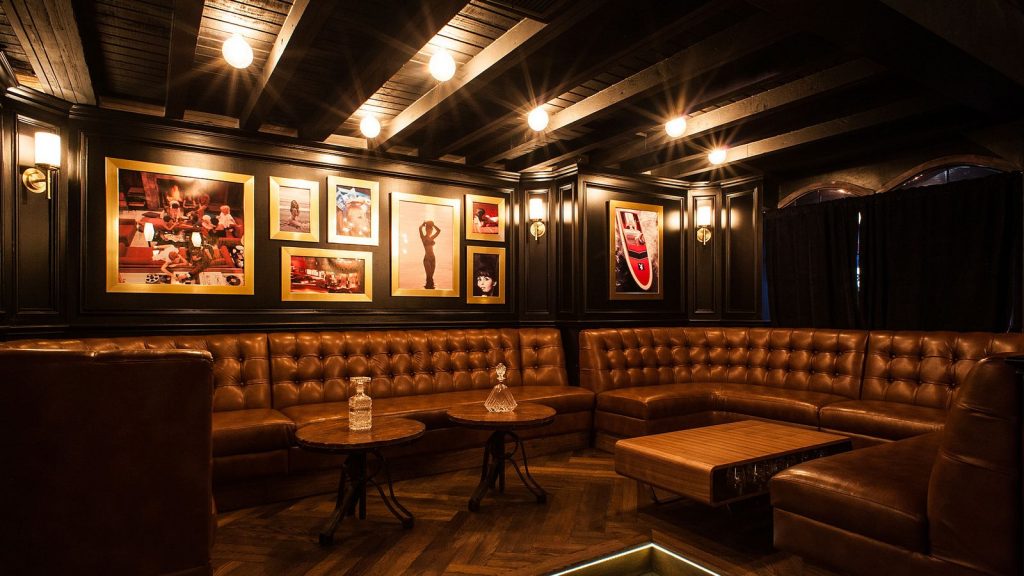 Just a few blocks down Sunset from ROKU, we find Bar Fifty Three. While not technically a restaurant — it made the list because it is an ideal after-dinner, pre-night-or-comedy-club locale — this Playboy-themed bar is named after the year that Jetset hall-of-famer Hugh Hefner founded the legendary brand. This low-key lounge is a celebration of all things vintage Playboy: art and photographs honoring the brand festoon the walls, there's a swank gentleman's club vibe, and midcentury modern Sixties décor featuring plush leather banquettes that encircle the bar. They offer bottle service, a robust selection of cocktails, and (of course) a full collection of Hefner-endorced libations, including Devassa by Playboy beer, Playboy Cachaça, and Playboy Champagne.
Pearl's Rooftop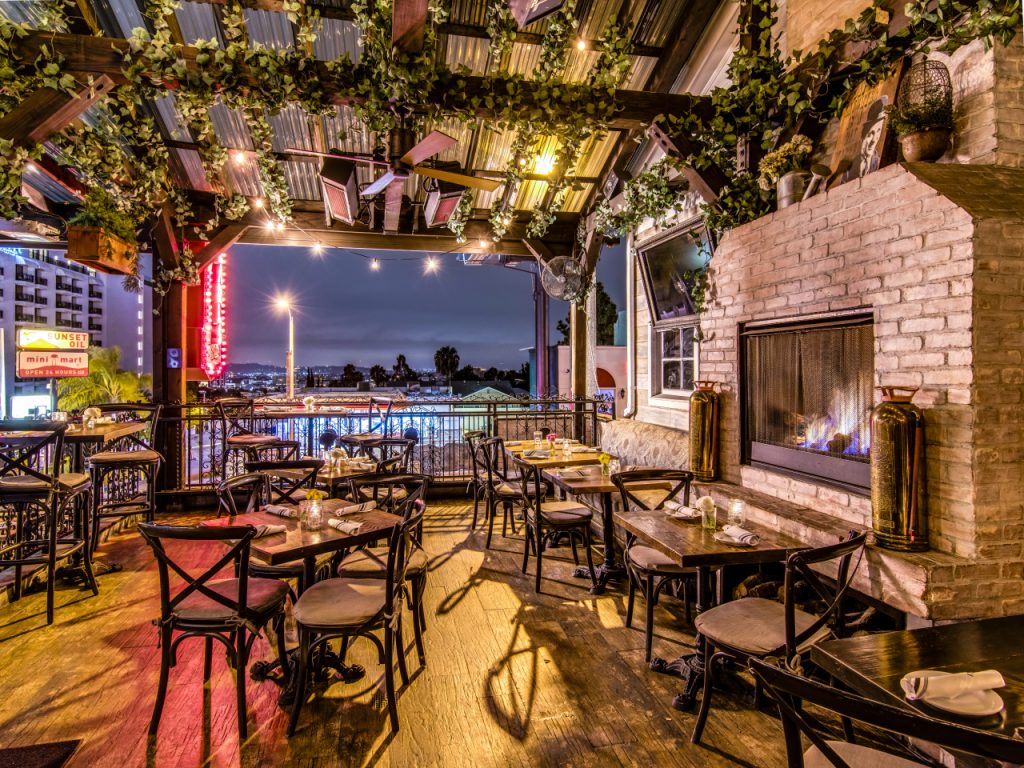 Literally upstairs from Bar Fifty Three rests one of the best hidden gems in Hollywood, Pearl's. If Bar Fifty Three is a celebration of the swinging Sixties, then Pearl's is a celebration of Prohibition-era Tinsel Town. Modeled in part after a 1920s perfumery and jewelry store (there are glass encasements with pearl necklaces on proud display), Pearl's features an exceptional menu of New American cuisine and carefully-curated cocktails. The ideal place to sit is upstairs on the open-air, two-story deck overlooking the subtle serenity of Sunset Boulevard. Watch headlights pass and people shuffle (or perhaps, stumble) up and down one of the famous streets on the planet while you savor drinks like The Pearl (vodka, agave nectar and fresh lime with a strawberry ice sphere), and dine on sublime dishes like Maine lobster with chili lime corn and Kennebec fries.
The Church Key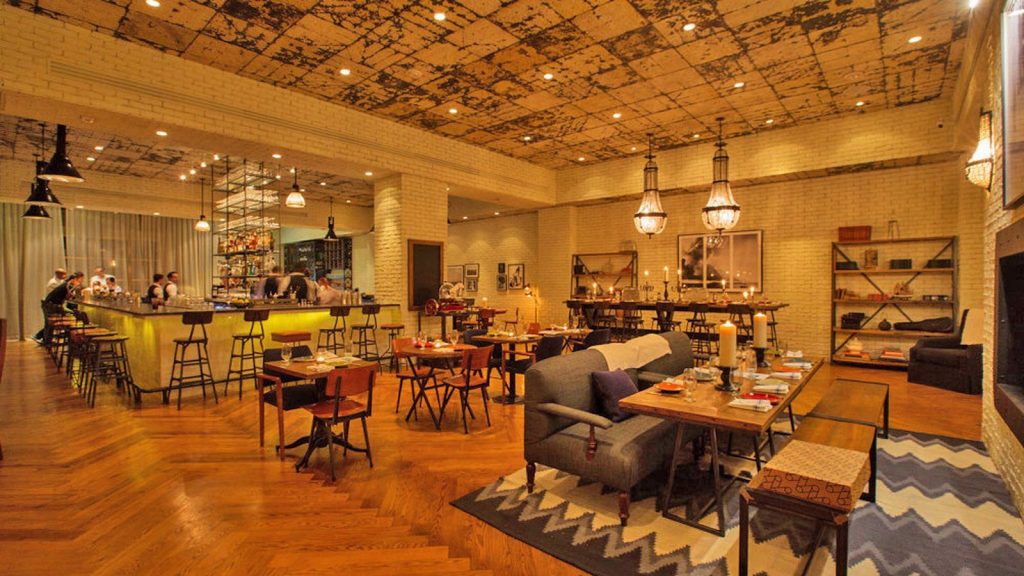 Further east across Sunset is The Church Key, another very lively New American eatery. With its vast space, high ceilings, plush leather sofas, graffiti-blasted bathroom corridor, and shimmering chandeliers, The Church Key has atmosphere in spades. A consistent hot spot since its inception three years ago (like all of the Sunset places on this list, a visit on a Friday or Saturday night is a celeb-gazing experience in and of itself), the restaurant actually bills its cuisine as "American dim sum," a relatively modern moniker, and one that basically means the exceptional menu is augmented by fresh, tasty morsels that are pushed around and solicited in carts. Even when it's not a themed night like "Fried Chicken Mondays," The Church Key is always an original experience. There is really just so much to enjoy: The cocktails (frozen and otherwise) are brilliant, they have flaming deserts, and it's one of those rare places where the appetizers and small bites (like potato perigees, bacon scrumpets, and halibut tacos) outshine the entrees (which isn't to say dishes like tapioca-crusted Tai snapper aren't exceptional).
Eveleigh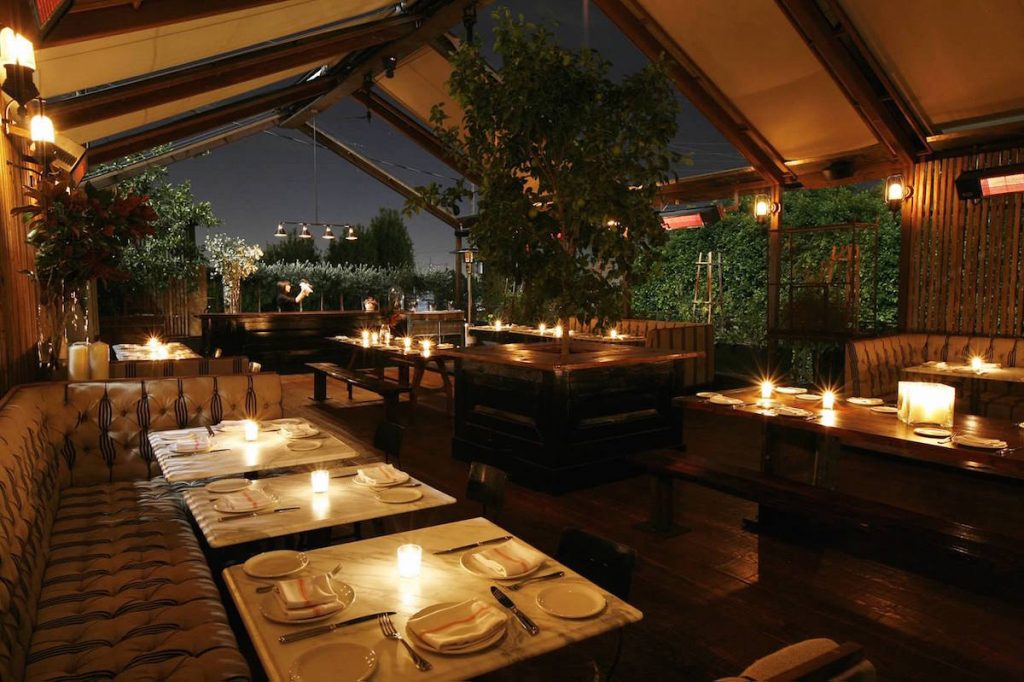 Next door to The Church Key is another deceptively vast hot spot, Eveleigh. The architecture and décor — with its rustic barn doors inviting you in from the courtyard, high wooden beams, industrial sewing lamps, and illuminating skylights — will immediately grab you, and chef Jared Levy's seasonal-driven menu is a constantly-evolving treat for the tastebuds. Current standout dishes include pickled California stone crab with tabasco mayo, sea salt crostini, and lemon; lamb meatballs with crunchy bread crumb salsa, mint, lamb chopper, and gouda; and Devil's Gulch buttermilk-fried quail with sierra beauty apples, baby carrots, garden salt, and vadouvan. With dishes like these — and an atmosphere that is somehow both intimate and engaging — Eveleigh is always a fantastic option.
The Hudson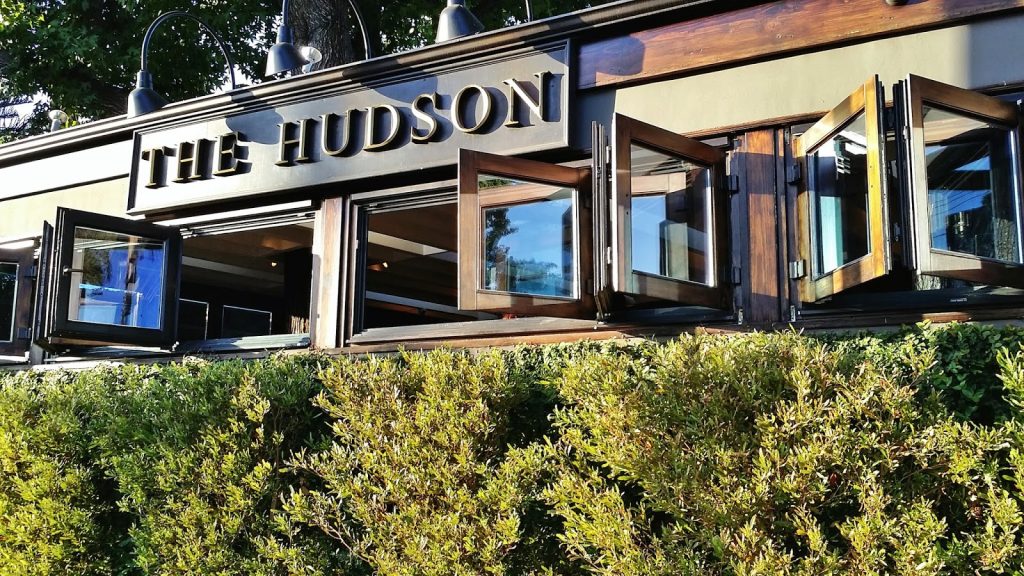 We now venture off of Sunset down Crescent Heights to the exciting neighborhood gastropub that is The Hudson. This casual, hip-but-unpretentious, recently-renovated spot has an easy, inviting vibe that attracts foodies, celebs, and neighborhood folks alike. The menu is taste-centric and full of comforts like short rib tacos (with corn tortillas, pepperjack, chipotle crema, and pico) and mac & cheese (with smoked jalapeño, parmesan, breadcrumbs, and shallots). With an exceptional bar (the lean cocktail menu is delicious and uniformly approachable and there's a solid wine and beer selection) a very friendly staff, The Hudson is easily a place one could spend an entire evening out.
Fig and Olive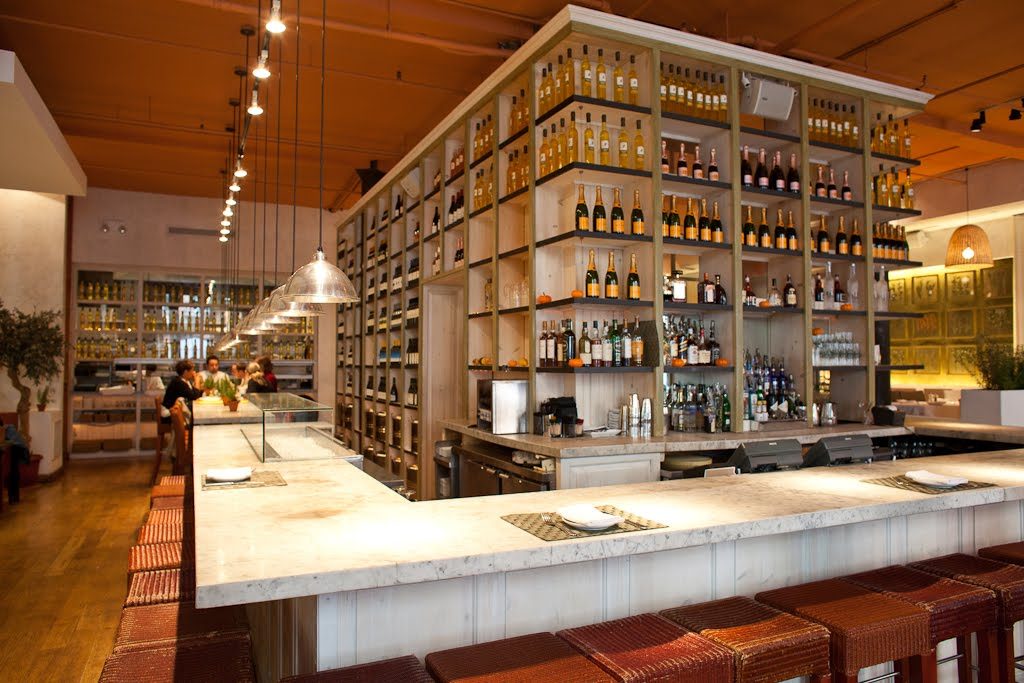 We may have saved the best for last, as this exquisite, Mediterranean Melrose spot will always have a firm place in our hearts. Those who have been to the Newport, Chicago, New York, or DC locations know the enriching experience that Fig and Olive provides, but there is something about this delightfully airy, 8,000 square-foot two-story place — with its pleasing white walls and copious olive trees and rosemary bushes — that makes it perfectly suited for Hollywood. As the name would imply, both figs and olives are staples in many of the dishes, and the sublime olive oil (which comes in several varietals and can be purchased in bottles on your way out) is freshly made in house. A perfect brunch and special occasion spot, the fantastic, fresh menu and chipper atmosphere have attracted everyone from Jetset cover stars like Halle Berry and Leonardo DiCaprio to as none other than President Obama, who hosted a private, $17,500-a-plate, fundraising dinner here back in 2011.