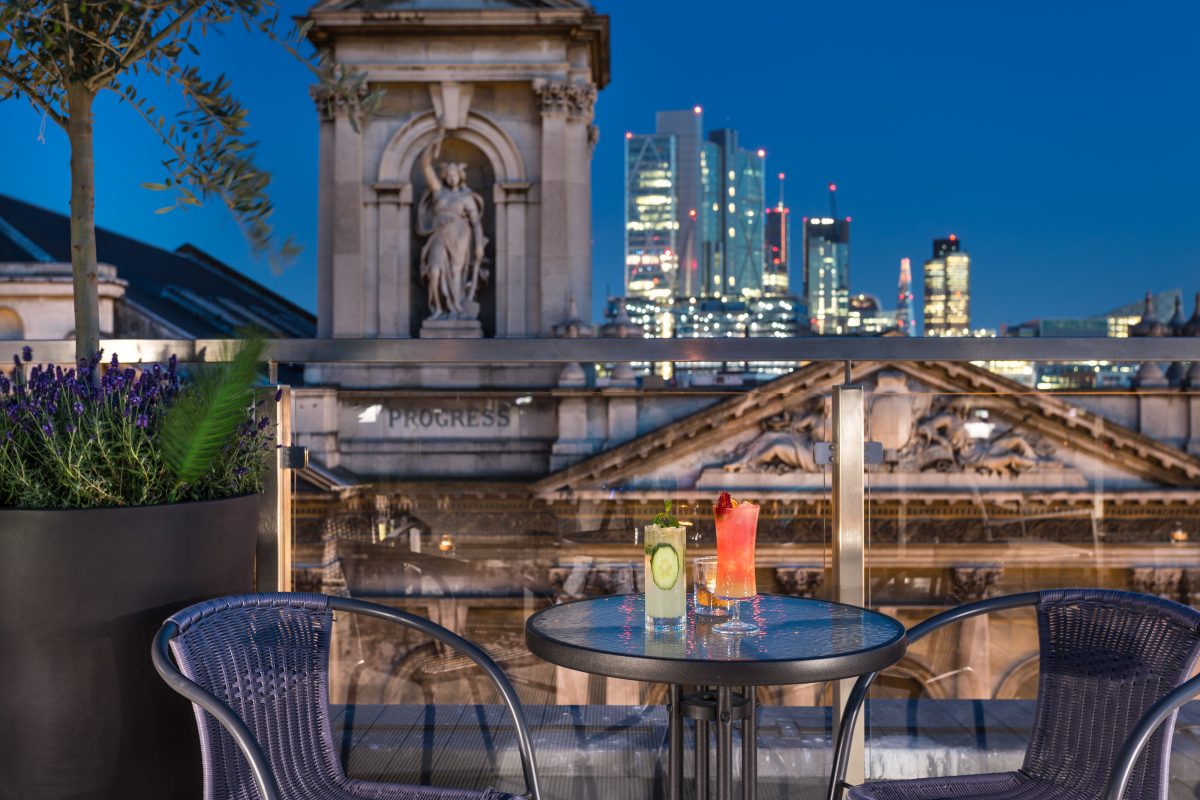 Historic and cosmopolitan, elegant and eclectic, London is that one special city in the world that provides an unparalleled experience for those who wish to seek it. With its sweeping boroughs lending an ever-changing backdrop to satisfy whatever energy you're feeling, there's a reason for its positioned reputation. The vibrant city offers a wealth of varied pursuits with new landmarks and trendy hotels, and we've selected our handful of the most unique places to add to your itinerary across the pond.
Courthouse Hotel Shoreditch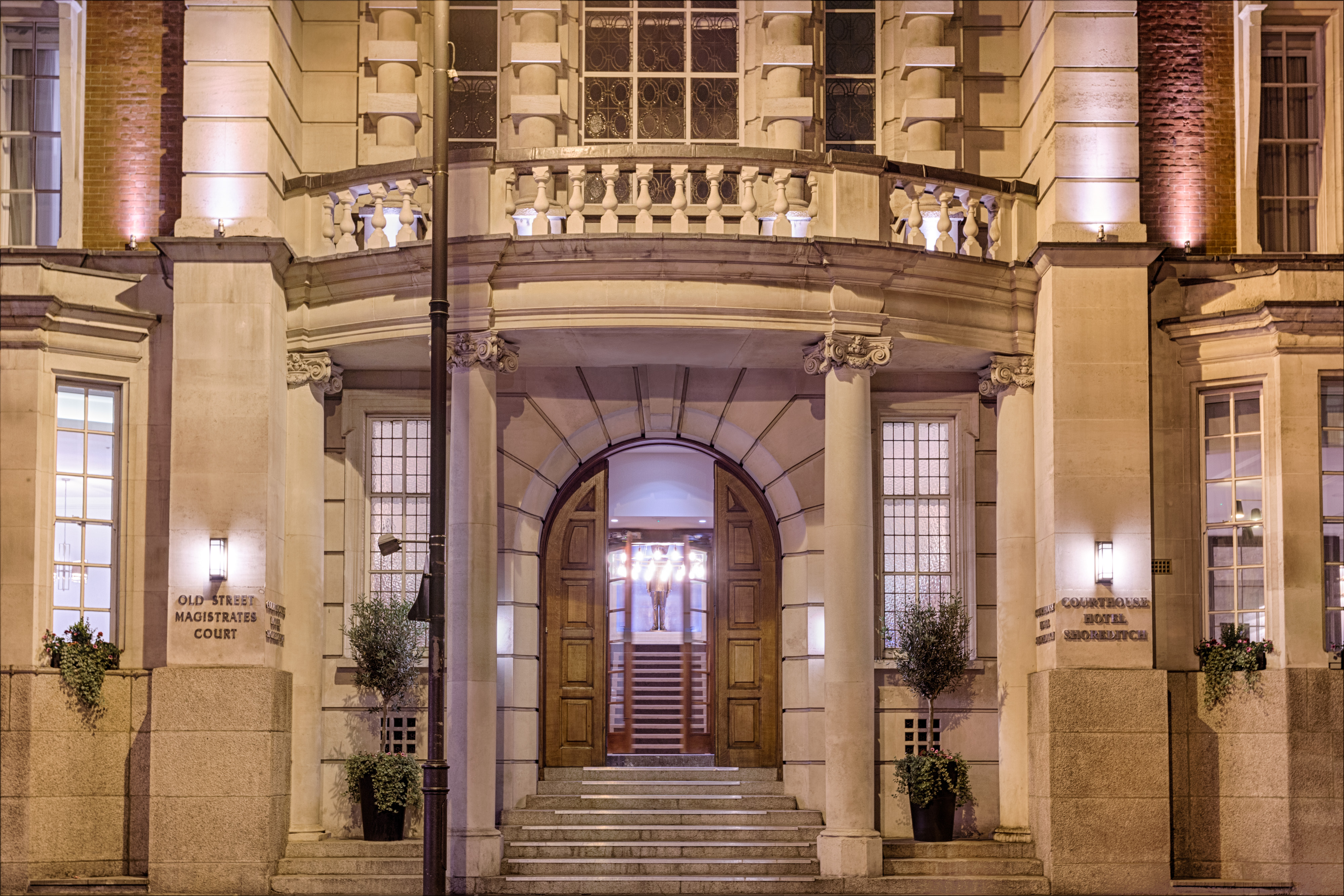 Set in the middle of Shoreditch — East London's cultural beating heart — lies the Courthouse Hotel: an effortlessly cool contemporary luxury hotel set in a Grade II Baroque building which has become one of the neighborhood's most sought after enclaves. The walls here at the Courthouse have some tales to tell, as it was once the Old Street Magistrate's court and police station, and since reimagined with a £40-million renovation giving way to 86 guest rooms and 42 suites complete with a spa, indoor swimming pool, subterranean bowling alley, and cinema.
The lobby — fanciful in muted shades of brown, gray, and red —remains true to a revitalized theme, centered from the moment you arrive through the massive architecture of the front doors, and extending upward from the existing stained glass surrounded with pops of color reflection. Many of the building's original structural features have been seamlessly integrated, complementing London's ongoing theme of historical into contemporary; upon arrival to your right in the lobby is the hotel's main bar, which boasts five refurbished cells complete with metal doors intact if you've had one too many.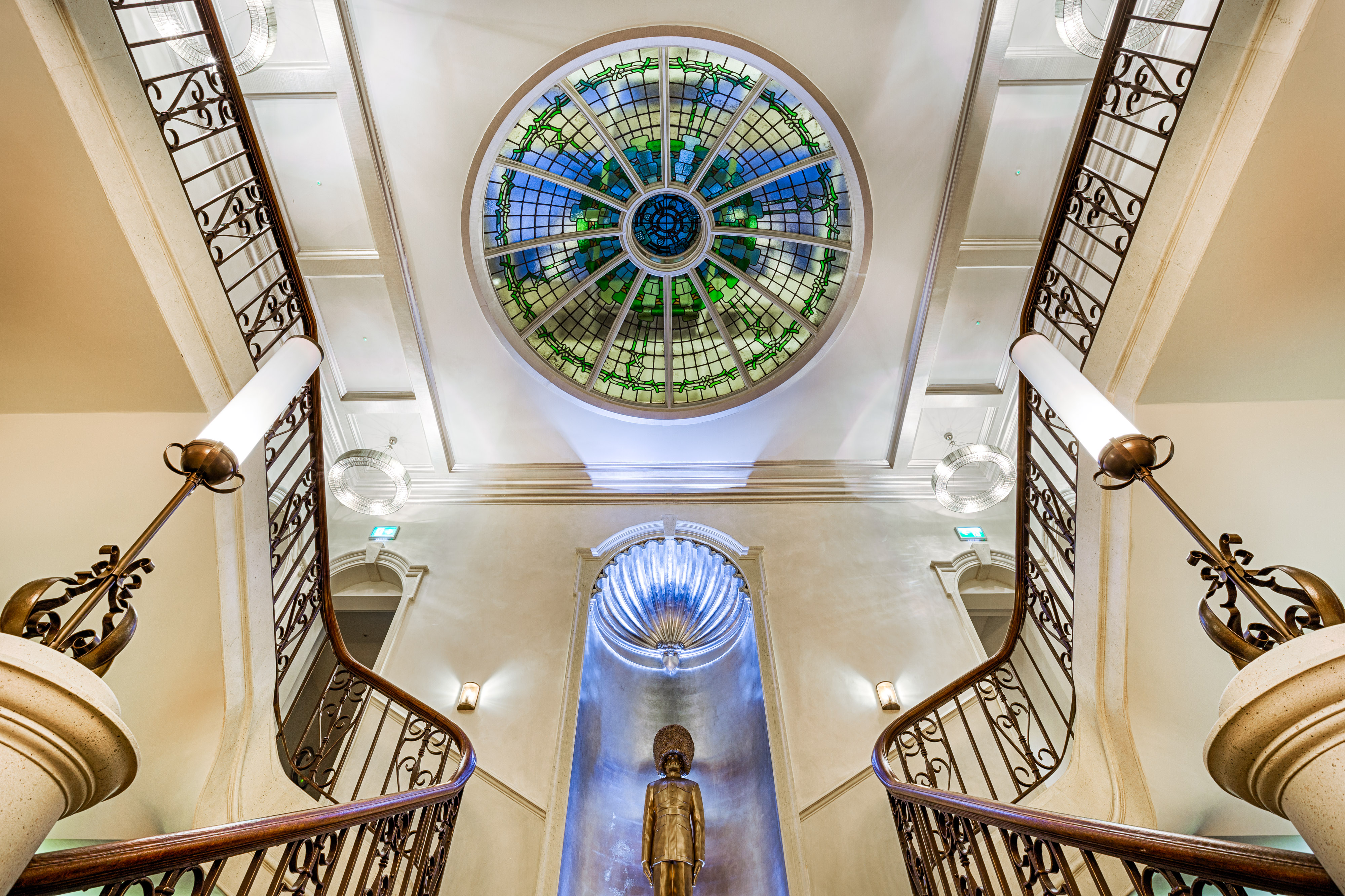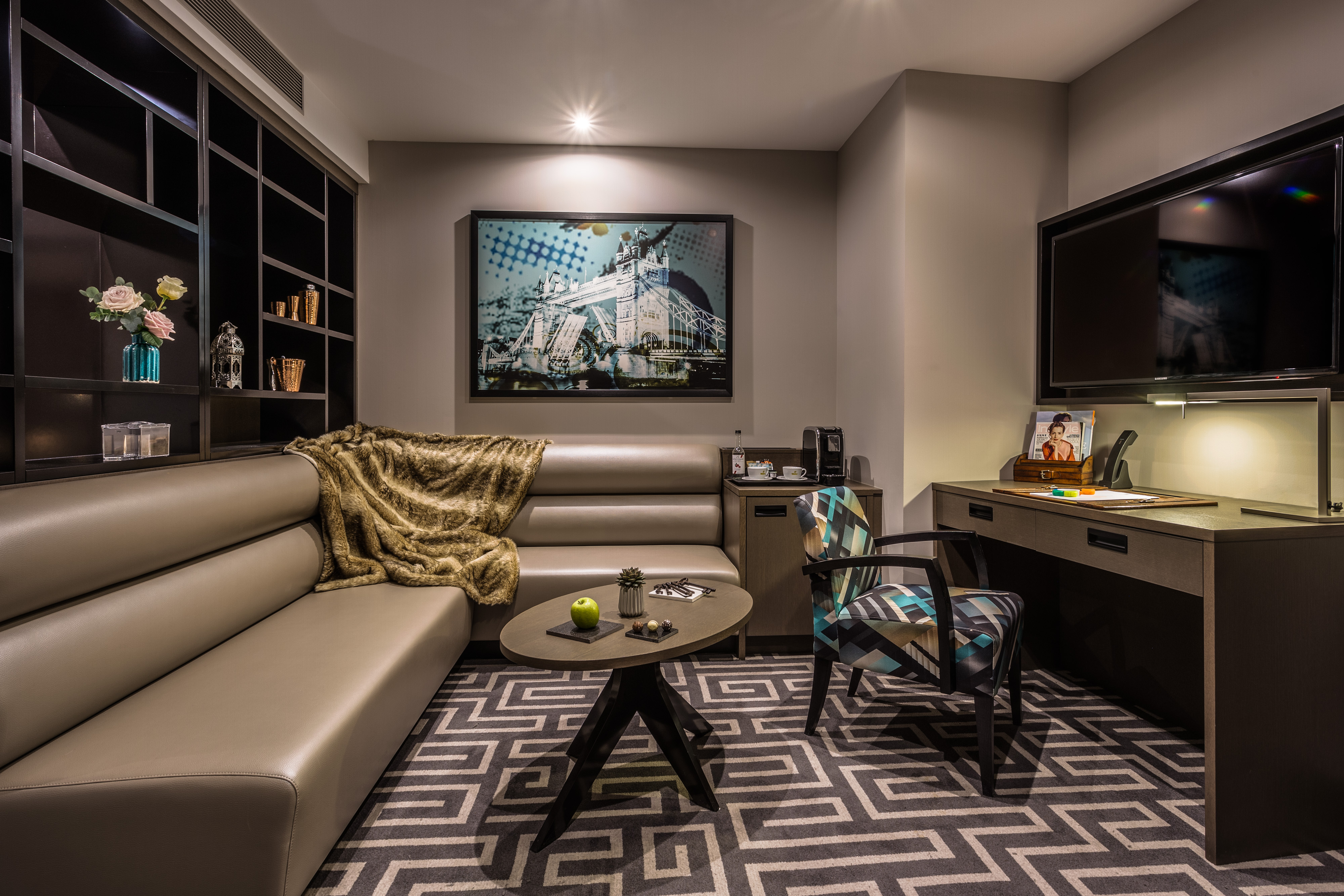 All of the Courthouse's rooms and suites are spacious and replete in an innovative fashion balanced with state-of-the-art amenities and luxuries. The Magistrates Suites occupy the high-ceiling judge's quarters on the first, second, and third floors of the original building, juxtaposing historical touches while effortlessly complementing their guests' modern needs. Befitting a contemporary design hotel, the bathroom interiors are sourced exclusively from Italy, while the windows reflect the hotel's historical bent that is all subtly combined into its ultra-present atmosphere. With many rooms offering spectacular views into the buzzy and hip neighborhood of Shoreditch, one will find themselves wrapped up and at ease in the curious energy the Courthouse Hotel provides.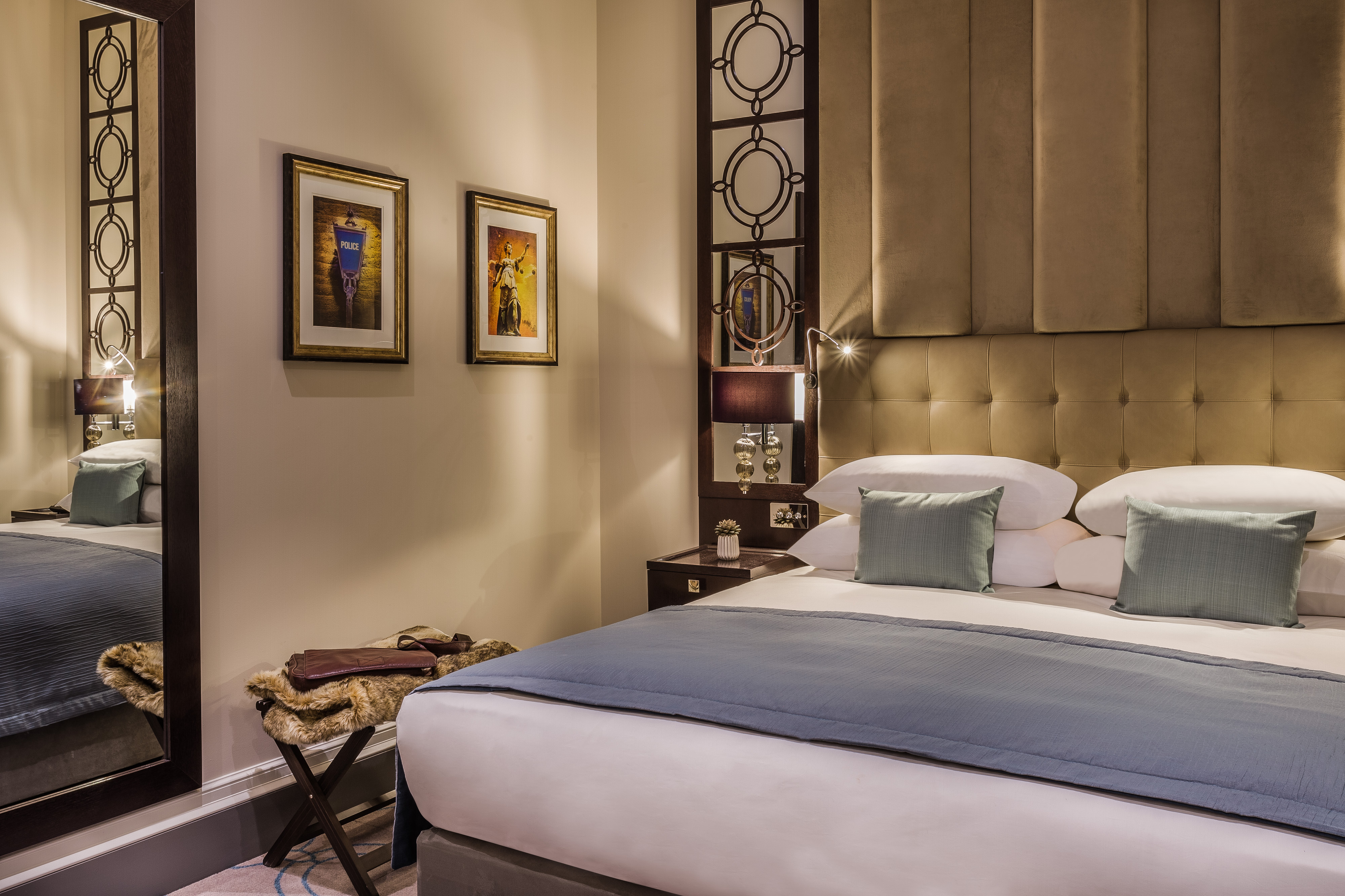 Shoreditch.Courthouse-Hotel.com
South Place Hotel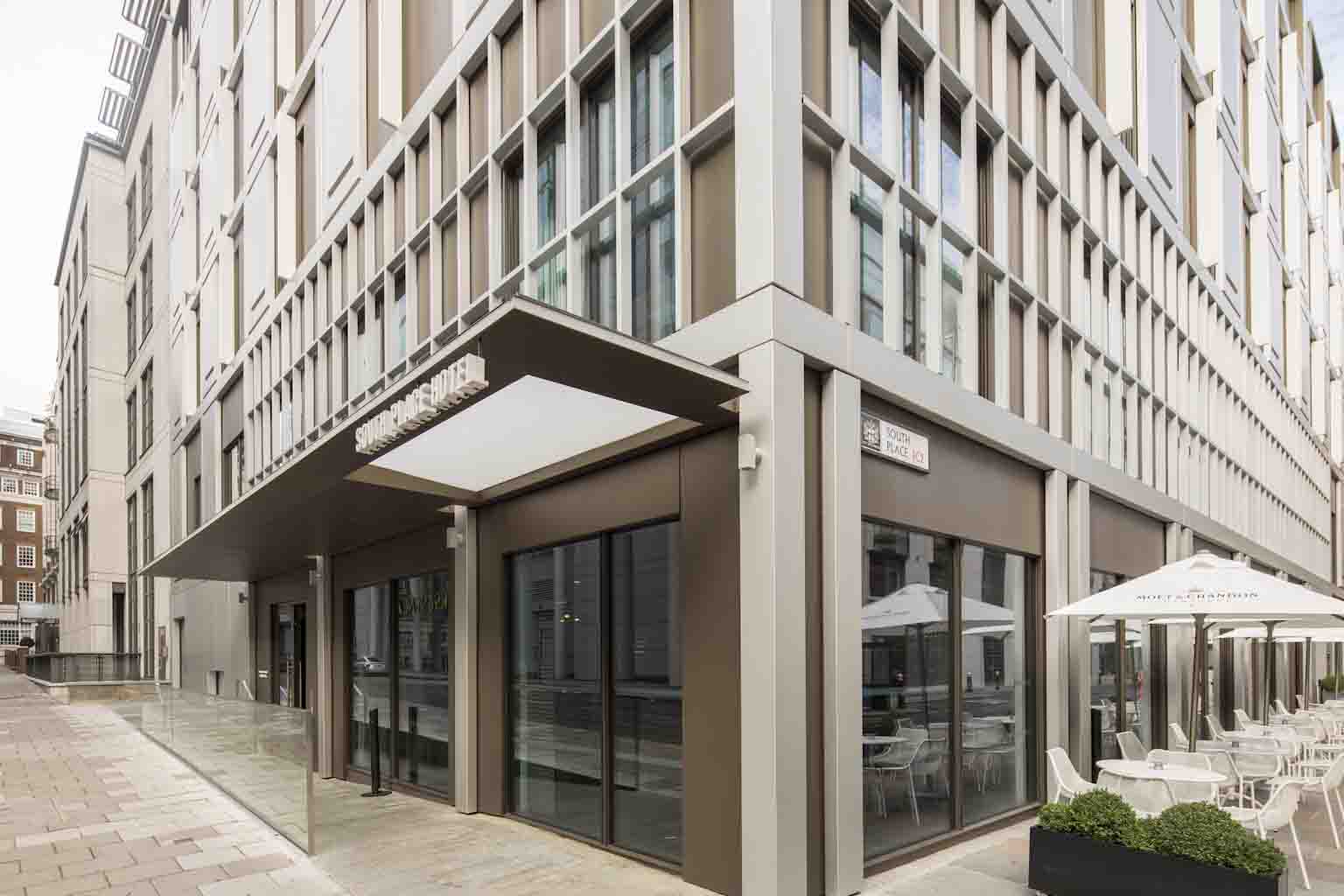 For the business minded traveler ready for a night on London Town, South Place Hotel offers East London chic in the city's bustling financial district. Traditionally not a neighborhood known for its hospitality, this area of London has experienced a vibrant surge of life more reminiscent of neighboring areas like Shoreditch thanks to D&D London's uniquely conceived South Place experience. With an exuberant, youthful atmosphere on full-display, South Place Hotel offers a tasteful commingling of what London has to offer, especially for the professional on the go.
Opened in late 2012, South Place Hotel is built in a distinctly urban and contemporary style, with signature touches abound from modern design legend Sir Terence Conran. Featuring a rooftop restaurant, The Angler, and a stylish cocktail bar and quintessentially London chop house in the lobby, a culinary adventure is absolutely in your best interest at South Place (and you needn't venture far). Don't forget to admire the Pop Art-influenced prints, paintings, and three-dimensional sculptures playfully curated by Hoxton Art Gallery and scattered around every nook of the hotel. Masterfully conceptualized and built by D&D London (a luxury restaurant group and hotelier central to London's restaurant and design scenes), South Place is as visually bold in its design details as it is ambitious in attempts to breathe life into London's financial district. Without question, they have succeeded in doing both (by design, of course).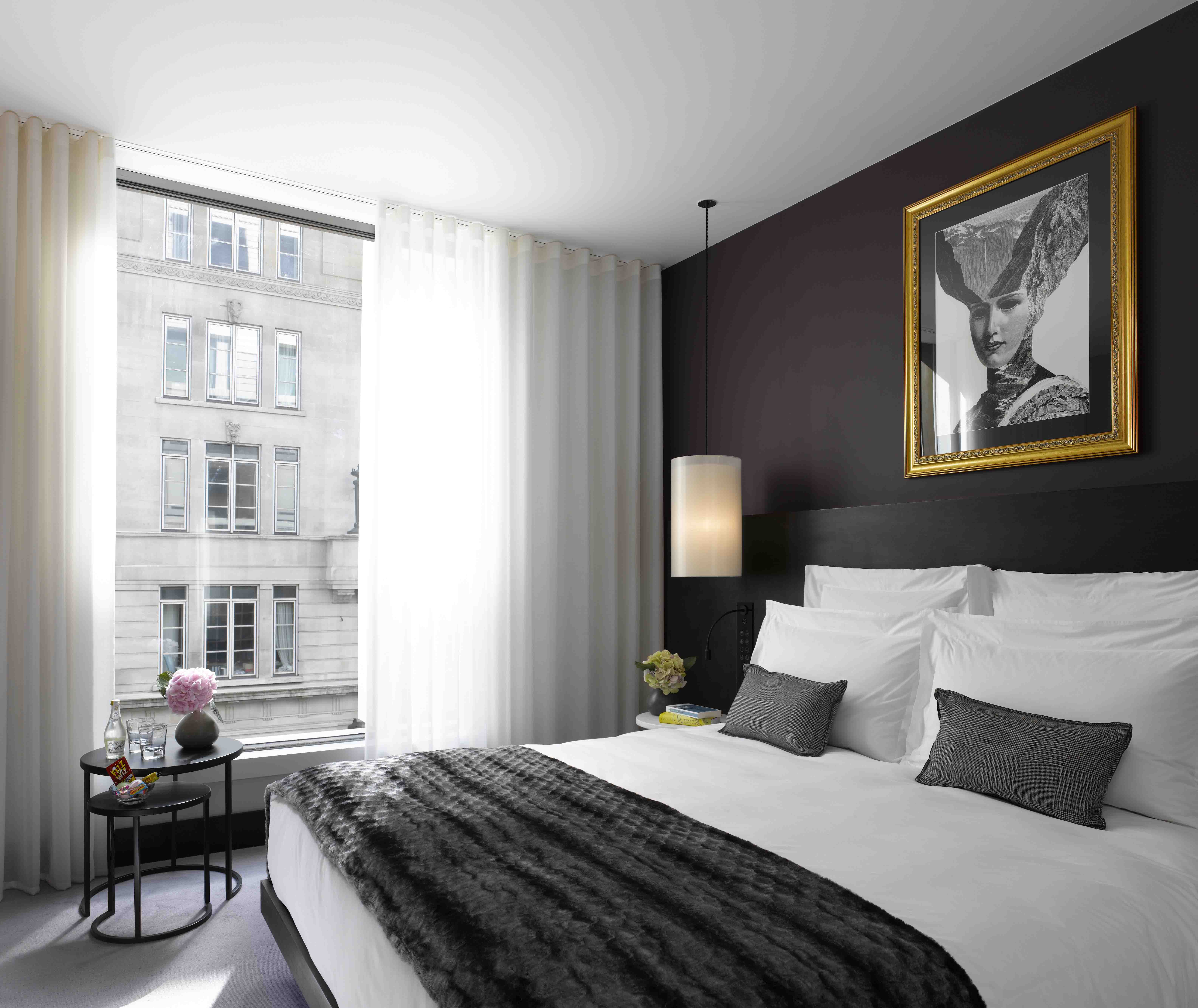 Although the lively social scene of the South Place is one of its most excellent features, there's also a selection of cleverly tucked away amenities available when a breath of calm is needed — especially when you're ready to escape from the bustle of the business district. With a modest 80 suites available, South Place is a true boutique hotel, and the rooms offer modern comforts in the form of Bang & Olufsen electronics, black marble bathrooms with deep tubs, and some dashes of sleek office design with chair selections from Geoffrey Harcourt and Eero Saarinen. Visitors seeking further refuge can escape to the second floor (accessible only to hotel guests) for a quick rendezvous at South Place's private upstairs lounge known as Le Chiffre. Cheekily named for Mads Mikkelsen's Bond villain in Casino Royale, there you can relax fireside with a cocktail, play a leisurely game of billiards, or browse their selection of records for a relaxing listen.
The South Place London experience comes full circle with a visit to South Place Chop House – the hotel's take on the beloved London institution (dating back to the 1600s) known as the "chop house," and featuring a choice selection of dry-aged steaks, chops, and a spin on modern British culinary trends that draws upon the notable reinvention of "British cuisine" as world class cuisine. Successfully dodging the pitfall of imitating the originators of this trend (most notably St. John Restaurant) as so many London restaurants seem to do, South Place's dishes are British comfort with the same modern twist apparent in every aspect of the hotel. As such, the South Place Chop House dinner experience must begin with a taste of their roast split bone marrow with shallots, garlic, parsley, and Henderson's relish on sourdough toast and their classic Caesar salad, ripe with anchovies, parmesan, and freshly made dressing. An immediate sampling of both classic dishes proves Chop House's ability to distinguish their take on the modern British palate with relative ease.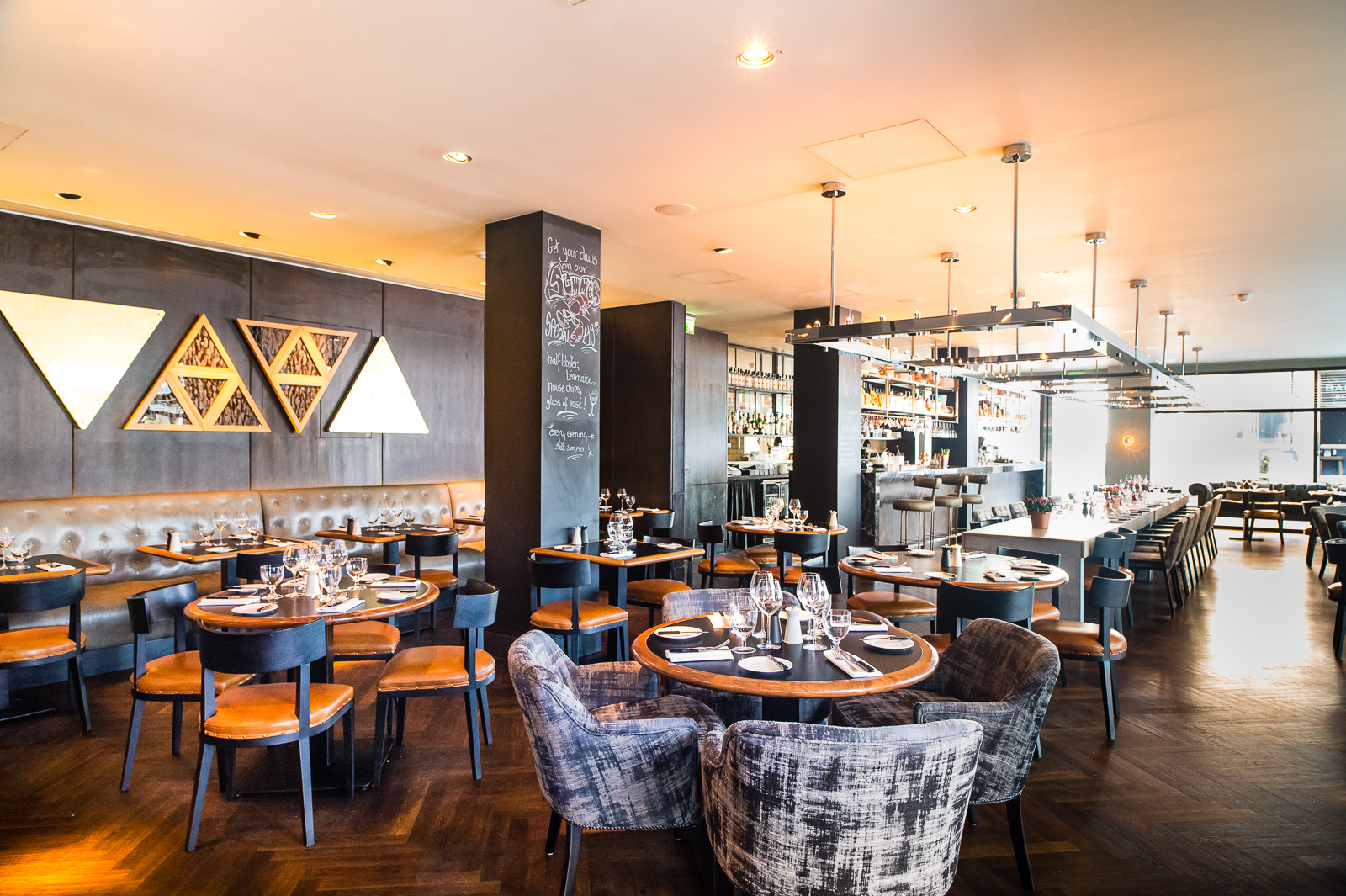 In the hands of their very knowledgeable and kind staff, allow your dishes to be paired with the Chop House's lean but superb selection of British wines you likely won't run into anywhere else. We especially recommend the 2014 Côtes du Rhône Villages ("Les Trois Bises") a Rhône Valley, France D&D group exclusive wine that opens up the tastebuds for what's to come. For a classic English course, try the very British starter of roasted bone marrow matched effortlessly with the 2013 Gusbourne Estate Chardonnay from Kent. As for an entree, the perfectly charred, reverse seared fillet and rump steaks with Bernaise and peppercorn sauces and side dishes of buttery spinach and roasted baby King Edward's potatoes are about as good as it gets. The cuts are sourced from world-renowned H.G. Walter's, a family-run butcher, and are exceptional in taste, texture, and technique. Both cuts pair well with the 2015 Pinot Noir from Foxhole Vineyard, Bolney Estate, Sussex, England (yes, yet another incredible British wine). Finish with a warm rice pudding, Yorkshire rhubarb, and ginger to share. They pair exceptionally well with a glass of 2012 Château Roumieu from Sauternes, France and a glass of 2008 Royal Tokaji 5 Puttonyos, from Hungary.
With an experienced custom tailored to appease and amuse the business minded jet set, there's little doubt that South Place Hotel goes above and beyond in their design focused attention to details. Featuring central access to the financial district with close proximity to neighborhoods like Shoreditch (not to mention a quick skip over to the Tate Modern and other essential London stops), it's a pleasant but not unexpected surprise that this self-proclaimed "Art Hotel" from the D&D London group playfully redefines the art of modern hospitality.
COMO Metropolitan London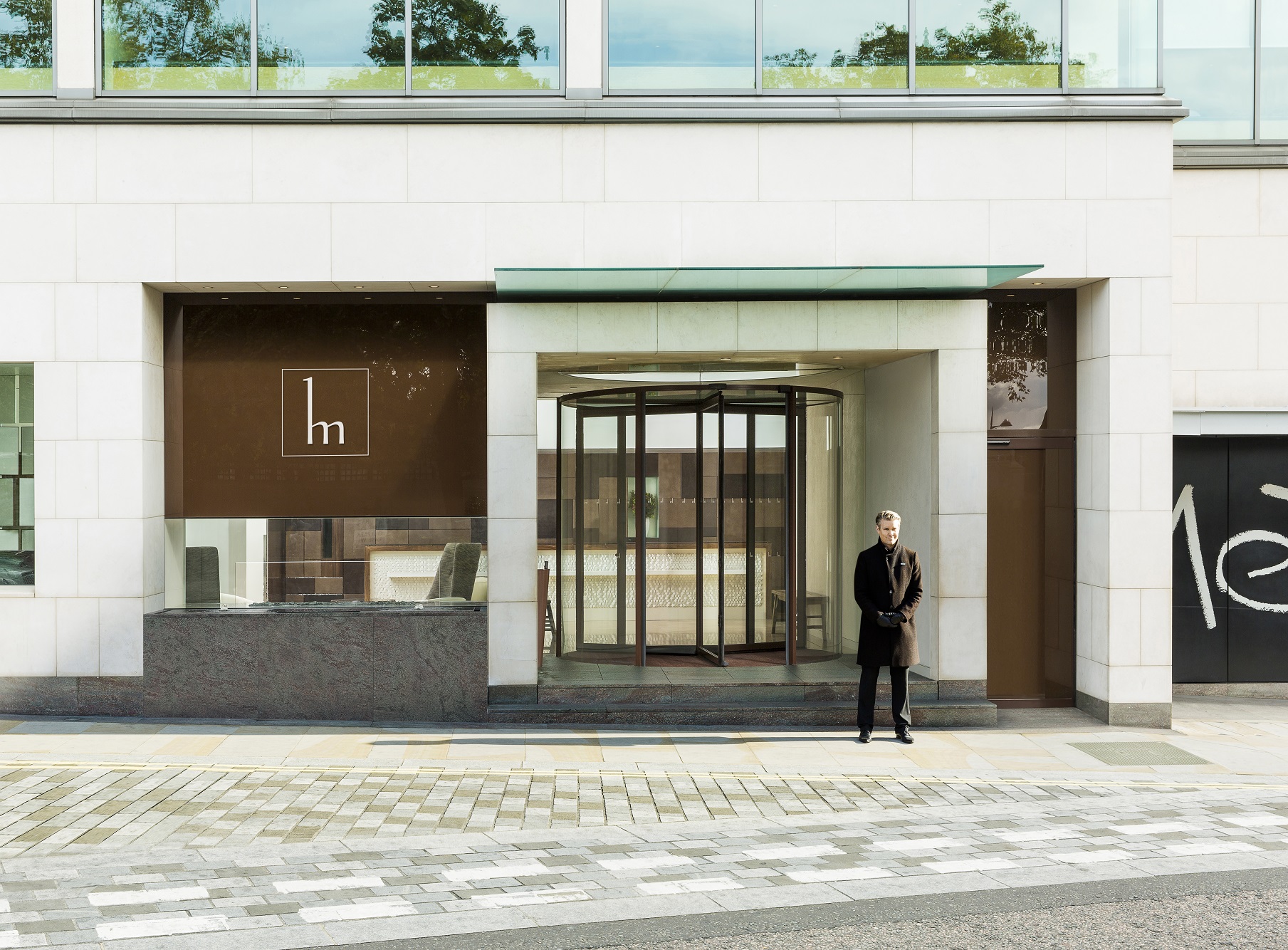 Perfectly merged on one of the most significant thoroughfares in London lies the COMO Metropolitan Hotel. Nestled right on Park Lane andHyde Park Corner, this is a retreat that defines the quintessential proper London experience. Upon opening its doors in 1997, the London flagship location of COMO Hotels and Resorts – the name behind private island resorts like COMO Parrot Cay in the Turks and Caicos, and  adventure retreats like COMO Uma Ubud, Bali and COMO Uma Paro, Bhutan – was among the capital's first hotels to embrace a classic-contemporary design vision, and remains company's original Metropolitan property. Twenty years later, the aesthetically subdued enclave withholds its modernity and is a consistently heralded must-stay in London for seasoned business and leisure travelers alike.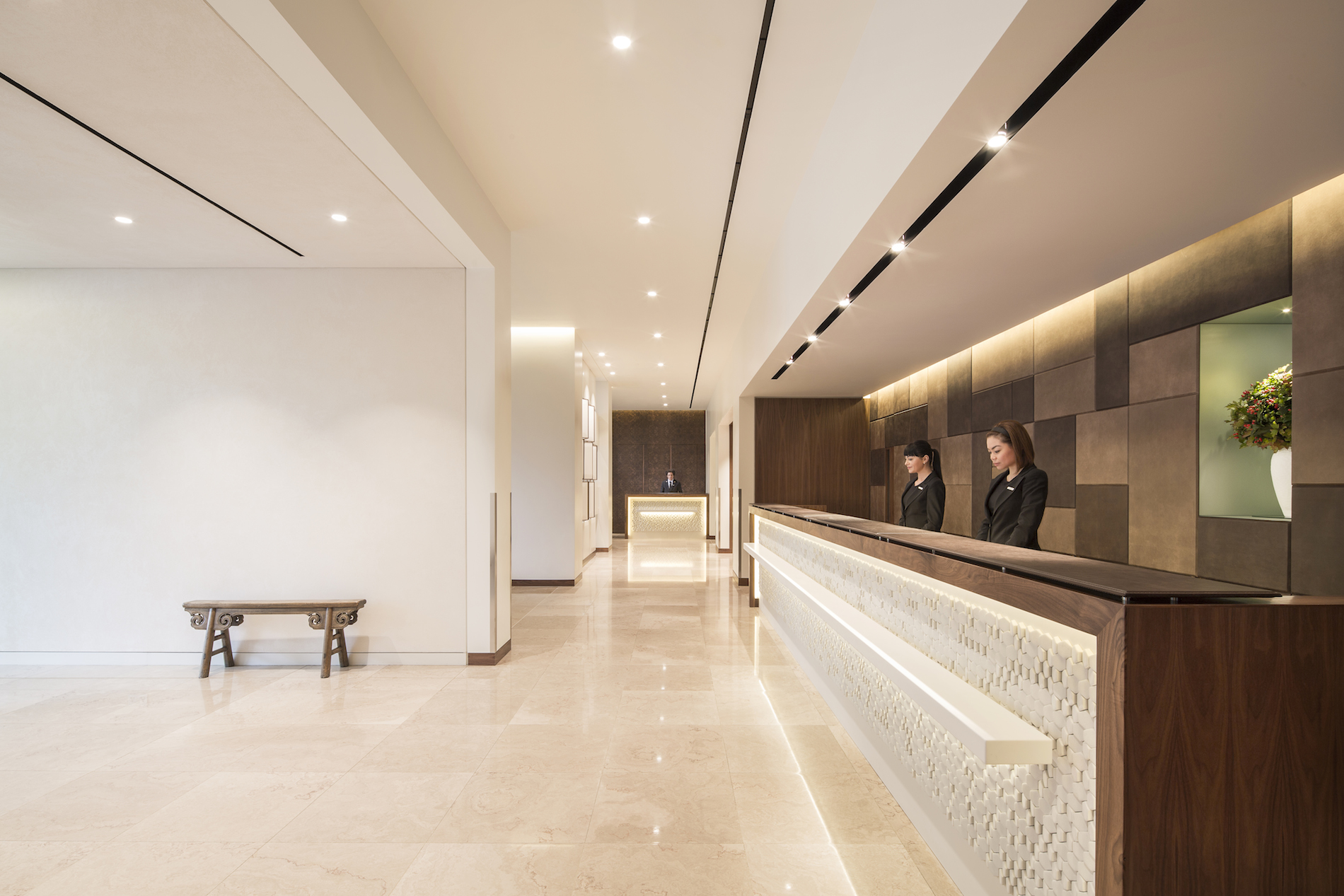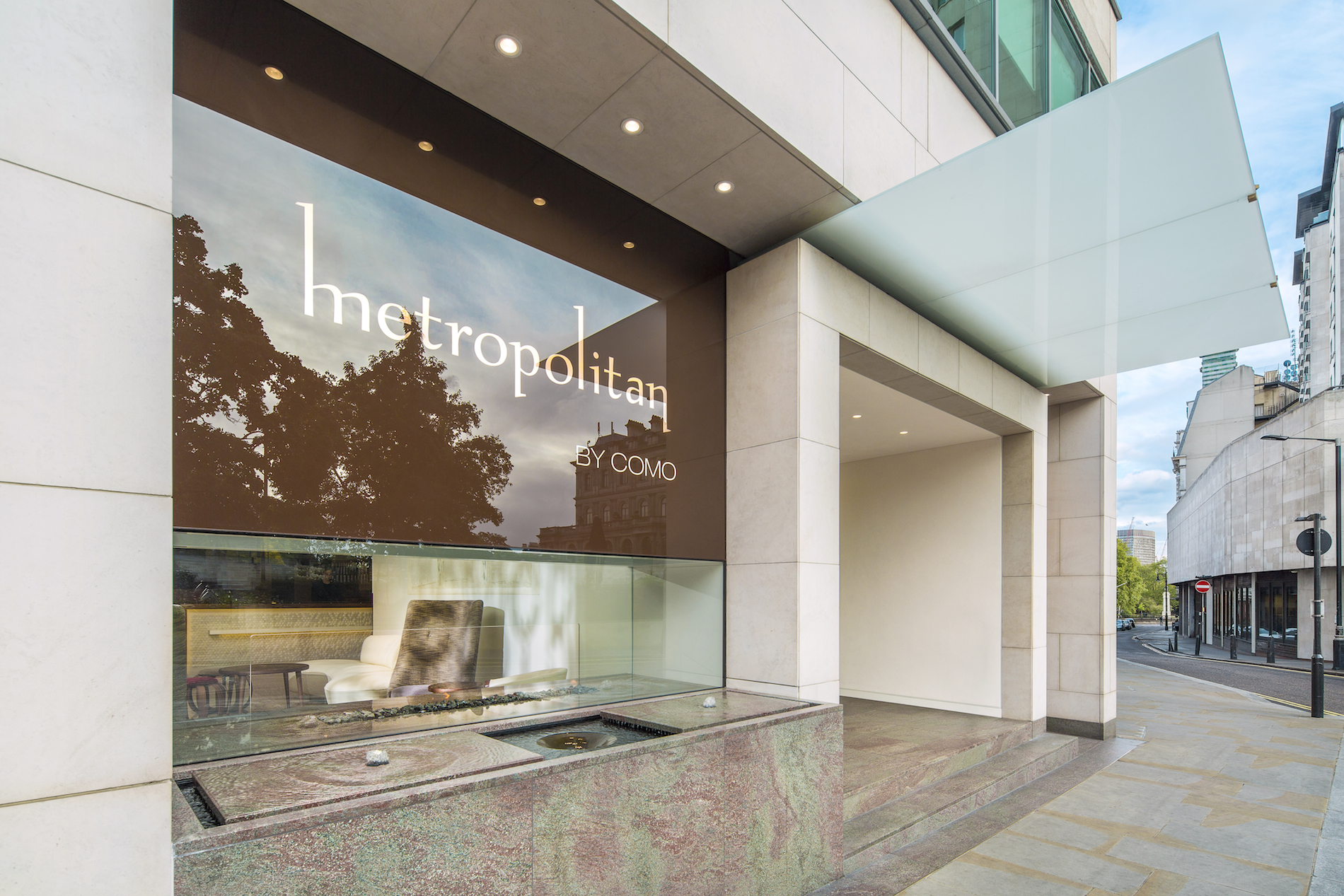 For minimalists, modernists, and fanciers of all things sleek, the COMO Metropolitan provides an ineffable atmosphere the minute you walk through its revolving doors. Their airy and neoteric lobby provides the perfect backdrop to reconvene with guests in the company of service that is both charming and relaxed. The palette is influenced by the natural beauty found in the flora of Hyde Park as reflected in the shades of green and berry complemented by rich walnut timber in both burr and crown, illuminated together in recurring off-white tones. Make sure you carve some time aside to submerge in their premier world-class spa, COMO Shambhala Urban Escape, featuring Asian-inspired holistic therapies and boasting six treatment rooms, steam, and yoga facilities and a state of the art. The latter may come in handy should you feel the need to burn some calories after dining in one of the hotel's two restaurants, the heralded new wave Japanese-Peruvian haunt Nobu, or the famous, tucked-away enclave, Met Bar (which embodies the quintessence of coziness).
All signature suites overlook lush Hyde Park to the east of the property, which brings a sense of nature to the city; prepare for the impressively sweeping panoramic views that leave you breathless upon entering your room. The hotel offers a smart, luxurious mix of accommodations featuring 144 rooms and suites, all of which reflect the clean, pared-back style that has become COMO's hallmark. The amenities and furnishings are confidently mixed with all the mod cons a demanding traveler could desire. The rooms' elegantly lit silver and wood accents are flushed with light through floor-to-ceiling windows, with modern technological features embedded throughout at the touch of a button.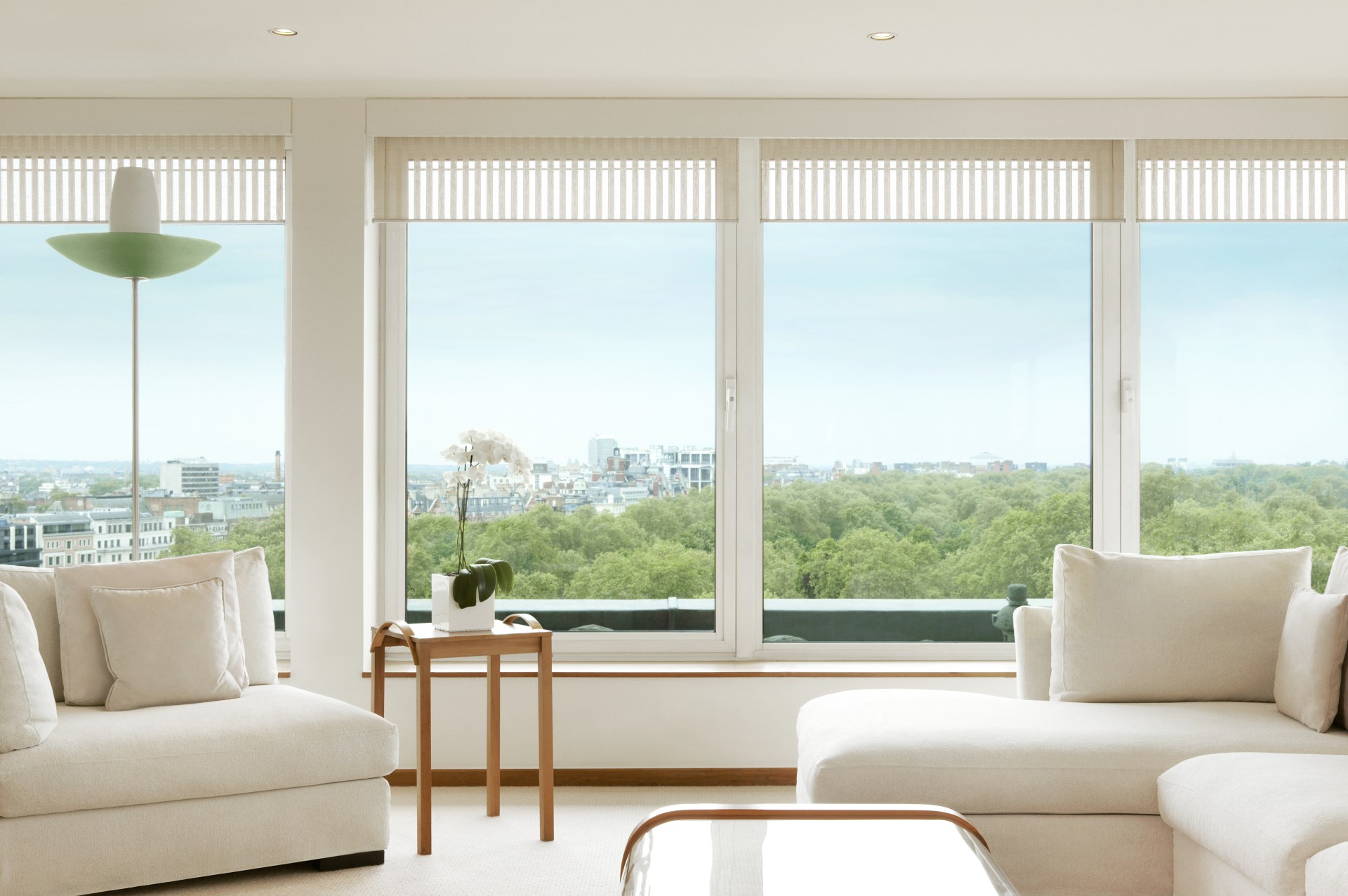 Simply put, the COMO Metropolitan London sets forth all the irresistible elements of a modern European stay, as they have consistently positioned themselves as the original pioneers of modernity for well-seasoned travelers with their sophisticated but warm environment. The combination of a prime location, world-class amenities, and contemporary comfort offered by the COMO group truly represents the best that London has to offer: a city center sanctuary wrapped in a sleek, contemporary approach to hotel living.