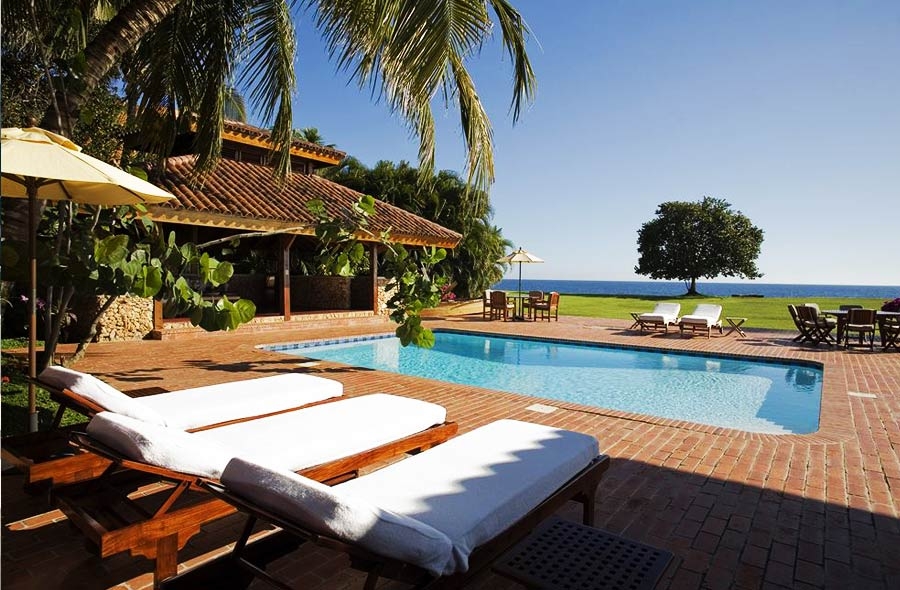 There's a good reason so many of the world's most elite celebrities, entertainers, athletes and political leaders head to Casa de Campo, a 7,000 acre hideaway on the Caribbean coast of the Dominican Republic, when they need some R&R. Truth be told, there are countless reasons.
Let's start with ease of access. After all, it's much easier to give the green light to a getaway when you can get in and out of your destination quickly. The private terminal at La Romana International Airport, located just five minutes from the resort, operates around the clock and can accommodate up to 35 executive jets.
The resort also maintains its own heliport with an illuminated landing platform. For those who prefer to travel to this island paradise by private yacht, the 370-slip marina at Casa de Campo can accommodate ships spanning up to 250 feet. The marina, which was designed by Italian master architect Gianfranco Fini, offers every amenity imaginable, from the spacious, colonial-style yacht club to the array of shops and restaurants clustered together in the inviting setting of a Mediterranean-style seaside village.
Accommodations at Casa de Campo include a choice of more than 50 luxurious private villas that range in size from three to seven bedrooms. Whether guests prefer contemporary, Asian, Mediterranean, colonial or another style of decor, they're sure to find a villa that will suit their tastes. One example is Villa la Laguna del Mar, a two-story, six-bedroom Balinese-inspired oceanfront residence that features an interior lagoon, infinity pool and spectacular views of Minitas Bay. Villas include private maid and butler service as well as the services of a concierge to assist with the scheduling of activities and dinner reservations.
Golf carts are also thoughtfully provided with each villa to make it easy for guests to take advantage of the resort's many other amenities that include a spa, private beach and multiple dining venues, including The Beach Club by Le Cirque, a waterfront restaurant created by the Maccioni Family of the world-famous Le Cirque Restaurant in New York.
Given the resort's idyllic setting, it would be tempting (and perfectly understandable) to simply do nothing but relax, but there is so much more to do here. Golfers will no doubt want to spend as much time as humanly possible on the resort's three Pete Dye-designed courses. Teeth of the Dog, the top-ranked course in the Caribbean, features Dye's signature obstacles, and he guarantees that "this dog WILL bite you." His inland Links course delivers the challenges posed by traditional British and Scottish courses, and the name of his Dye Fore course offers a not-so-subtle hint at the course's spectacular views of the Caribbean, mountains and marina. But beware: this 27-hole course includes seven cliff-side holes that drop 300 feet down to the Chavón River below.
One not-to-be missed experience at Casa de Campo is a visit to Altos de Chavon, a stunning replica of a 16th century Mediterranean village that was originally constructed on the property as a Hollywood movie set. Today, visitors to this enchanting village perched high above the riverbanks can stroll along its cobblestone streets and explore shops, galleries, restaurants, a museum, chapel and 5,000-seat Grecian-style amphitheater where big name performers come to entertain.
Casa de Campo also makes it extremely easy for guests to indulge in the sporting life. The wide choice of activities includes horseback riding, polo, tennis, sailing, deep sea fishing, snorkeling, kayaking and sporting clays. Cigars, anyone? Tabacalera de Garcia, the world's largest handmade cigar factory, is located just minutes from the resort, and tours (and purchases) can easily be arranged.
In essence, there are many more things to do at Casa de Campo than there is time to do them in one brief getaway. That gives guests lucky enough to stay here all the more reason to return, again and again.