Are you like me? When it comes to luxury hotels, it doesn't take long to know if a property has that special quality and vibe that will take your visit to a whole new level: An omnipresent aura of comfort.
Five-star service on every turn from a perfectly-cast staff. Accommodations that accommodate precisely what you are looking for. It's a great feeling when you discover one of those distinct destinations that seem to effortlessly combine everything you are looking for in a vacation or weekend getaway.
It's what I felt when I visited Island Hotel Newport Beach, a beautiful, chic and wonderfully-situated coastal hotel in the heart of Newport Beach, California. The hotel sits just steps from Fashion Island, smack dab in the epicenter of the Orange County social scene, with world-class shopping, golf and dining options literally right around the corner. Island Hotel offers city and harbor views from its 292 guest rooms and suites, and every inch of space in and around the hotel just oozes a California cool version of luxury and relaxation.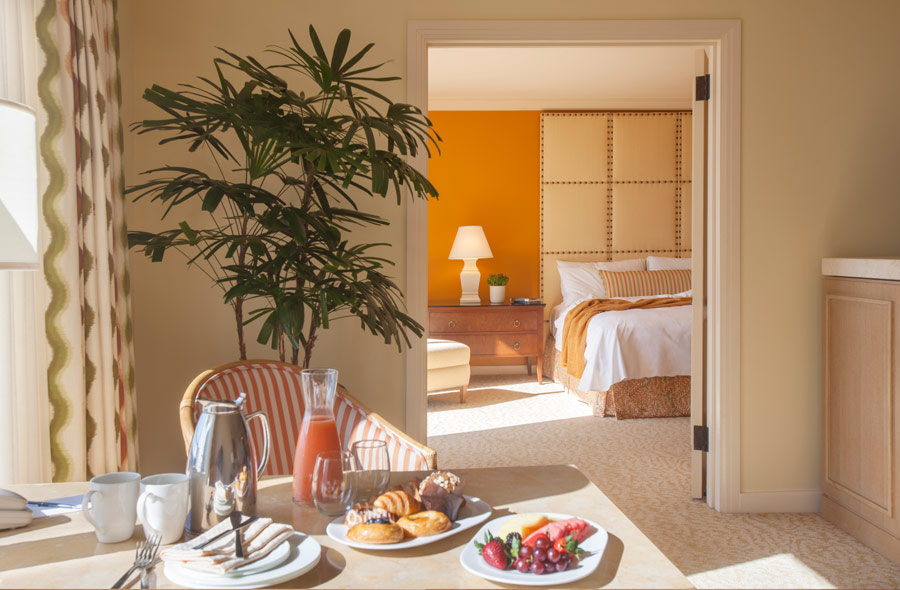 The suites at Island Hotel are exceptionally comfortable, and the larger ones in the hotel all offer sweeping city and Newport Beach harbor views. The Pacific Suites are 860 square feet, while the Lido and Newport Flats, along with the Catalina and Governor's Suites, with sizes ranging from 1,300 to almost 1,500 square feet, allow you to really stretch out and relax, or have plenty of room for kids. The rooms and suites feature custom-designed bedding, California-inspired artwork and upholstered headboards. This is Orange County, home to one of the most ideal year-around climates in the world, and the fact that your suite will have a step-out balcony or furnished patio is such an added bonus because it allows you to absorb the sights of one of America's true glamour metropolitan areas, along with the sounds and smell of those incredible Pacific Ocean breezes. That alone is therapeutic.
The 4,000 square foot Island Spa is also a place you will definitely want to be acquainted with, especially after a day of golf, shopping or a visit to one of the world-renowned amusement parks in Orange County if you bring children. There is a full menu of luxurious massage and skin treatments offered in a very relaxed atmosphere.
If you have a car at the hotel, there are endless dining choices near the hotel, or further north along the coast towards Dana Point and Laguna Beach. For at least one meal, I highly recommend that you take advantage of the fact the hotel has a wonderful restaurant, Oak Grill, which if you talk to locals, you'll know is a Newport Beach original. The "who's who" of the Orange County social scene regularly frequent the restaurant and bar at Oak Grill, and for good reason, as the dining options combine fantastic California cuisine with influences from around the world and a specifically-curated wine, beer and spirits program. It's a place to see and be seen, but it's also discreet, and the lighting and decor give it a very contemporary vibe that manages to be cool and carefree, yet warm and inviting at the same time.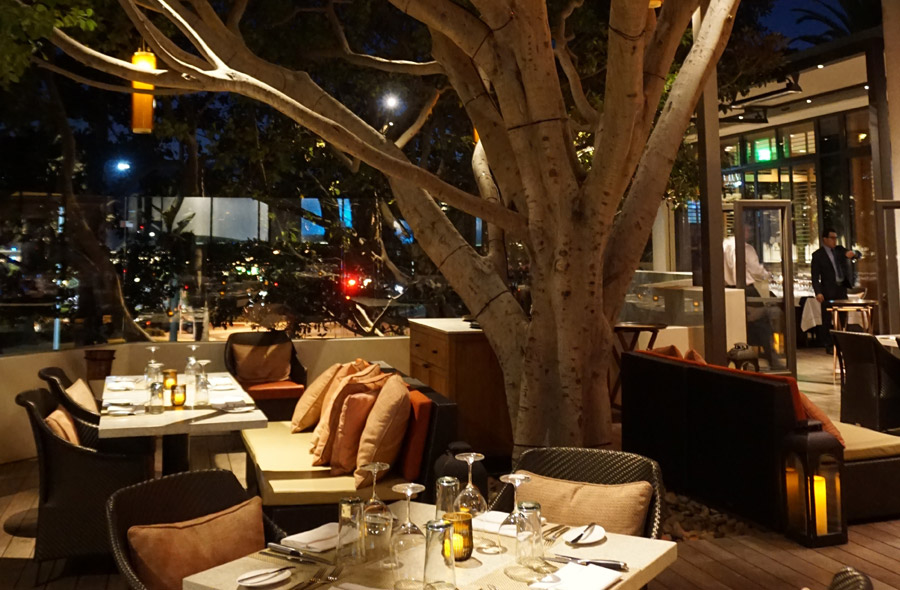 Experienced travelers may recall Island Hotel as the former Four Seasons Newport Beach before the Irvine Company assumed management almost ten years ago and provided various facelifts —the latest being an 18-month transformation that provided tremendous upgrades in design and technology that allow the hotel to offer new conveniences and personalized service. The renovations included a new text concierge program, complimentary wireless Internet access and the addition of the 24-hour Market Place and 2,000 square-foot lounge on the 20th floor with sweeping panoramic ocean views.
If you have never been to Newport Beach, California, this is the luxury hotel to visit to indoctrinate yourself into the Orange County affluent lifestyle. If you are a regular visitor to the area, treat yourself to a wonderful stay at a hotel that delivers in every area that's important.