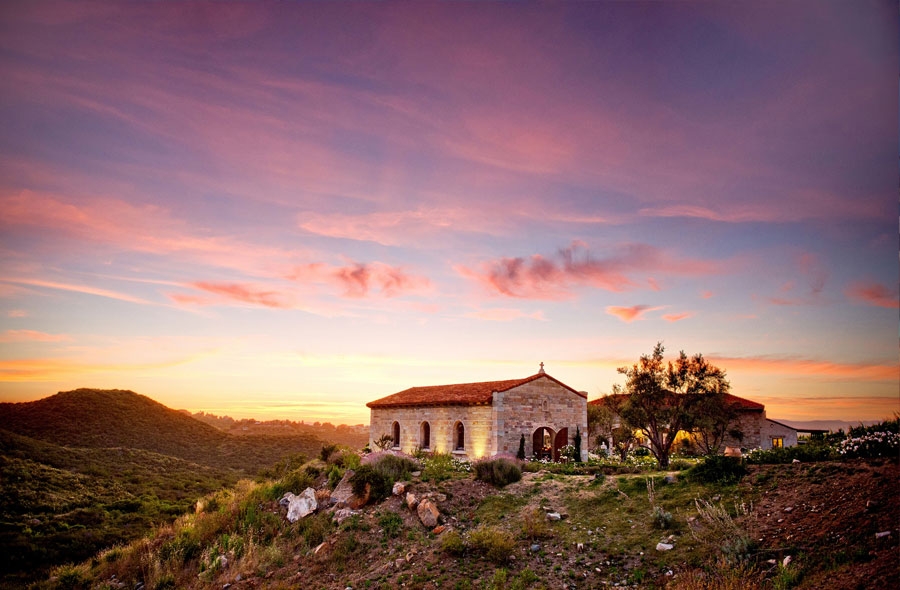 Coastal California has been synonymous with jetset style since Marilyn Monroe famously frolicked in the bubbly surf back in the 1950s.
It was an iconic cultural moment for both Santa Monica Beach and the much-buzzed bikini. These days, the coast is a sultry playground of A-listers, pro athletes and the business elite — a veritable catwalk by the sea. From La Jolla in the south to Sausalito in the north, the coastline unspools to reveal a wonderland of hedonistic delights.
When the pomp and posturing of Beverly Hills becomes a tad much, celebs escape to Cal-a-Vie Health Spa in Vista. A short drive north of San Diego, this is by far the best long-stay spa in the state, a sun-kissed sanctuary surveying ribbons of hiking trails through rolling vineyards. The vast estate feels like something out of a dream — like a Catherine Deneuve film directed by François Truffaut. If luxury spas could win Oscars for best performance in a romantic mise-en-scène, we give it to Cal-a-Vie, clinching the win on terroir alone. Owners John and Terri Havens spare no expense at recreating authentic Provencal style; the signature chapel, originally from Dijon, was rebuilt stone by stone on the grounds. This 400-year-old gem is the oldest building in the county.
Cultish and coveted, regulars are secretive about word getting out; it's hard enough getting a reservation with the likes of Julia Roberts, Natalie Portman and Claire Danes booking up weeks at a time. When Oprah Winfrey came to stay, she ran off with the head chef. Or rather, she poached said chef to work for her. It's just that kind of place. No more than 24 guests, living in lavish cottages, are hosted each Sunday to Sunday session.
Long the hushed domain of gilded doyennes and coquettish socialites, the atmosphere here is more country club than boot camp. Every room here boasts an impressive collection of 16th, 17th and 18th century French antiques, many of museum quality. The tapestries, topiaries, armoires and chandeliers were all collected by the owners on their annual pilgrimage. Renowned organic fare is served in the restaurant, which also arranges picnic baskets. A fitness holiday should be more than aching muscles and heaving lungs, after all.
For the gold standard in Californian hospitality, check into Rancho Valencia in Rancho Santa Fe (the third most expensive zip code in the USA). Acquired in 2010 by a group led by Jeff Jacobs, son of Qualcomm founder Irwin Jacobs, Rancho Valencia steals the spotlight from the usual suspects in the luxury market. Enchanting doesn't even begin to cover it; this is easily one of the country's most refined retreats and the only Relais and Chateaux-christened property in SoCal. Following a $30 million renovation, the resort's 49 all-suite haciendas average 1,000 square feet — among the largest in the United States — opening to sprawling private terraces with fireplaces and hot tubs. Succumbing to such spoils is like slipping down Aladdin's wish-granting lamp, a pop-up world of hypnotic wonders — glass showers the size of cube vans, giant timbers, oversized earthenware. Expect highly-personalized service from a startlingly attractive staff with the resort's four-to-one staff to guest ratio.
Mediterranean-inspired ranch cuisine attracts such diners as Bill Clinton, Sugar Ray Leonard, Michael Jordan and Tiger Woods on a regular basis. Neighbor Bill Gates is a member of the tennis club here, while Julio Iglesias has been known to disappear into the spa for hours on end. A $1.5 M Damien Hirst centerpiece from his Kaleidoscope series elevates the decor here.
No gold list would be complete sans The Resort at Pelican Hill, a smashing sensation since its inception in 2008. An industry darling and leisure traveler favorite, the resort aims to recreate classical Italy in Newport Beach. It's home to the world's largest circular pool with a diameter stretching 41.5 meters and lined with a whopping one million hand-set glass mosaic tiles. This vista is the new status backdrop when it comes to the most luxurious seaside California wedding venue on the market. When you see the instantly iconic background, you know no expense has been spared to please the bride. The villas sport every over-the-top detail — wood-beam ceilings, high-octane sound systems, Italian-limestone fireplaces, and best of all, they line not one, but two Tom Fazio-designed golf courses. Andrea, the hotel's divine Tuscan style resto comes alive at night — with a great live solo guitarist and a lively social scene.
Sure, there's a ton of action on the doorstep of Shutters on the Beach. Yet one can't possibly feel guilty snoozing the day away in rooms designed by Michael Smith to feel like the idealized beach house of your dreams — balconies overlooking Santa Monica Beach, to boot. Drifting off seems the natural thing to do in this rare, soporific air. You'll mingle with discretion seeking sophisticates and a dash of Fortune 500 types. Shutters pretty much perfects the sport of people watching, encouraging guests to linger over lunch while the posh parade goes by. One day it's Channing Tatum taking a meeting, the next it's Angelina Jolie and the kids. The best dining in the area is mere steps away at Water Grill on Ocean Avenue. Tuck into an encyclopedic raw bar as a tangerine sunset illuminates the sky; it's hard to recall the rest of the world exists when there's pillowy soft gnocchi at hand.
On the way up to San Francisco, drop into Carmel Plaza for a one-stop luxury shopping hall of fame. From Bottega Veneta to Tiffany & Co — it's all here in this picturesque open-air utopia. Stroll over 40 specialty boutiques, galleries and designer fashion shops within an award-winning garden setting. If velvety lobster bisque and handbag browsing is your idea of a good time, get thee to Patisserie Boissiere and then onto Kate Spade.
Holding court on Sausalito's waterfront, The Mansion at Casa Madrona Hotel & Spa is the blushing debutant, having only opened this month in the most hotly-anticipated arrival in decades. The Bay Area rarely receives new inventory, let alone of this prime real estate and caliber of luxury. Legendary views are no doubt the star attraction, while haute private dining and a swoon-worthy spa play pivotal supporting roles.
There's such an intimate feeling here, you could easily mistake it for a sprawling private estate, one belonging to a fabulously wealthy family with a fondness for walk-in wine cellars. Staffers are beautifully blasé about how jaw-droppingly gorgeous the Mansion is; they know the real luxury lies in lazy, cashmere-swaddled afternoons by the fire. The best time to book is June and July, when the Mansion is bathed in pearly, early morning skies and sultry late night luster. This is also peak preening season, when key San Francisco socialites drop in for cocktails.
So what's it like inside a private enclave designed to satiate the wealthy in the world's wealthiest nation? Utterly sublime, we must admit. Masterful renovation of its 11-room historic Mansion, featuring the 5,000 sq foot Alexandrite suite (a trophy pad to attract the high-rolling likes of everyone from Larry Ellison to Pharrell) hits all the right high notes. On a scale this intimate, a buyout for weddings or corporate retreats is optimized, giving you the run of posh hillside cottages and meeting spaces. The hotel caters to platinum card Crusoes searching for the real meaning of getting away from it all. It's perfect for escapists yearning to bask in the warm, lazy rhythm of the California coast.