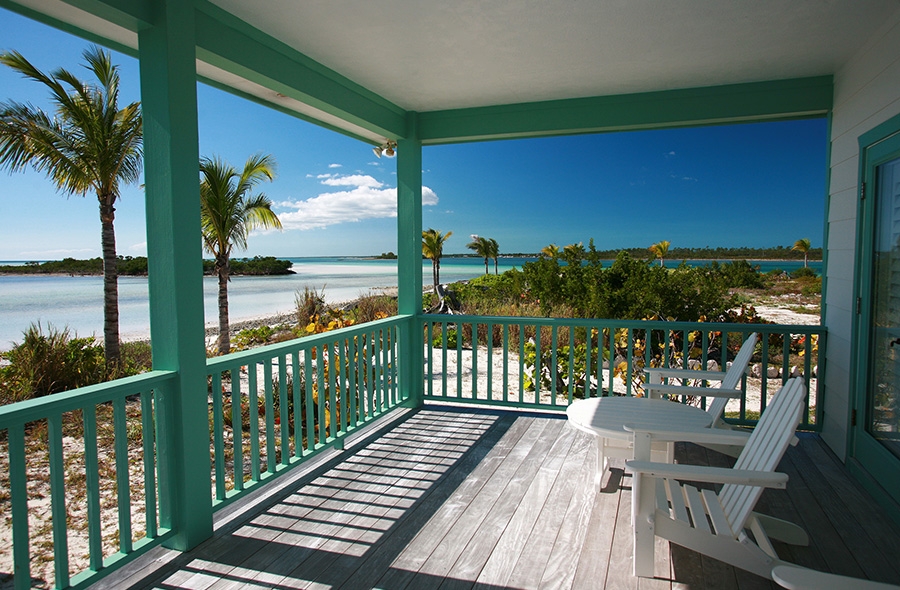 Anglers have come to Deep Water Cay since 1958 for its legendary flats fishing and to take their places alongside their fathers and grandfathers and some of the world's most famous anglers.
Deep Water Cay was founded by two fishing legends: Palm Beach guide Gil Drake Sr. and Field & Stream editor A.J. McClane. Their love for bonefishing led them to these now legendary flats off the East End of Grand Bahama, where they established Deep Water Cay. Soon after, they were joined by other iconic anglers and their families as well as some of the top guides in the Bahamas.
The catches made over the years have now become part of the fabric of the resort. While Deep Water Cay has continued to evolve in its long history, the bonefishing hasn't changed a bit.
Recent record-setting catches, including a 14.6-pound bonefish and a 45-pound permit, bear witness to the Cay's meticulous conservation efforts. Reef and offshore angling take sportsmen to the grouper, snapper, mahi, wahoo, and tuna that provide fresh entrées nightly at the Lodge.
A fleet of top-of-the-line custom Hells Bay Marquesa and Professional Model skiffs ensure comfort on the flats. These boats are designed to float in the skinniest of water and afford a dry ride and stability while casting. For the offshore enthusiast, the World Cats are ready.
World-class aquatic adventures include scuba, kayaking, snorkeling, paddle boarding, sailing, as well as shelling trips to nearby private islands, boating picnics, and dipping into the infinity pool.
One element that determines the quality of all these sporting activities is a pristine marine environment. Deep Water Cay is deeply committed to leaving an ecosystem that is already in excellent health even better. Mangrove shorelines, coral reefs, and bonefish flats are protected and the Cay's partnership with the Bonefish & Tarpon Trust underscores its commitment.
Deep Water continues to emphasize the tradition of genuine hospitality and outdoor adventure. Recent multimillion-dollar upgrades have also instilled the property with a new sense of relaxed elegance. Here you'll experience true, unpretentious luxury. Our guest cottages and private residences offer spacious accommodations with all the modern comforts and conveniences for a relaxing vacation and a real getaway. You will enjoy gracious Bahamian hospitality in accommodations that feel ultra-private and welcoming. Cottages are right on the beach. And our private houses are exactly that. Private. Each is appointed with the appropriate amounts of taste, luxury, and comfort, and each is designed with easy living in mind – featuring full kitchens, spacious sitting and living rooms and charming island-style verandas. Unwind after a full day of fishing or scuba diving and then wake to warm waves lapping on the shores just a few feet from your front door.
After a casual breakfast in the Lodge, head to the dock for your scheduled day of flats fishing, reef fishing, or offshore. Or you can play tennis, kayak, jog, exercise in the fitness center or enjoy a massage. Should you prefer to hit the water, 14- and 16-ft Hobie Cats are available to catch the wind while a fleet of kayaks and stand-up paddle boards are ready for exploring around the island. Snorkelers will relish the clear, warm water, and scuba divers can always add an excursion to the reefs, spectacular underwater sites, and the blue holes for an experience in virtually private diving. Guests can even get certified in our full dive program if planned in advance. Swim in the infinity pool or just relax on the private beach facing the flats or at the private swim beach.
A Tiki Bar, complete with shady palms and fire pit, welcomes guests off the water at days end. After a full day on the water or by the pool, meet your island friends for Bahamian cocktails, a cold local Kalik beer, watch the boats come in, and hear stories of the day's adventures. In the Lodge, chefs prepare superb cuisine with Bahamian flair, letting the fresh, local ingredients shine. Whether it's spiny lobster, stone crab or snapper, this seafood is as fresh as it gets. You'll enjoy a five-star dining experience featuring sumptuous farm-to-table Bahamian cuisine. Panoramic sunrise and sunset views of the ocean are the perfect backdrop in the Lodge and the adjoining Blue Hole Bar.
The guides are superb, the staff is incredibly friendly, and if you want the ultimate small private island experience, this is it.
If you'd welcome your own piece of paradise, you can build your own oceanfront dream home or choose to own a fully furnished luxury cottage. Then you might choose to never leave.
Deep Water Cay, a 2.5-mile-long private island, sits just off East End Grand Bahama Island, a 45-minute flight from Miami, Ft. Lauderdale, and West Palm Beach. The 4000' runway and on-island customs clearance make it easy.
Visit the website at DeepWaterCay.com and for reservations, call (888) 420-6202.