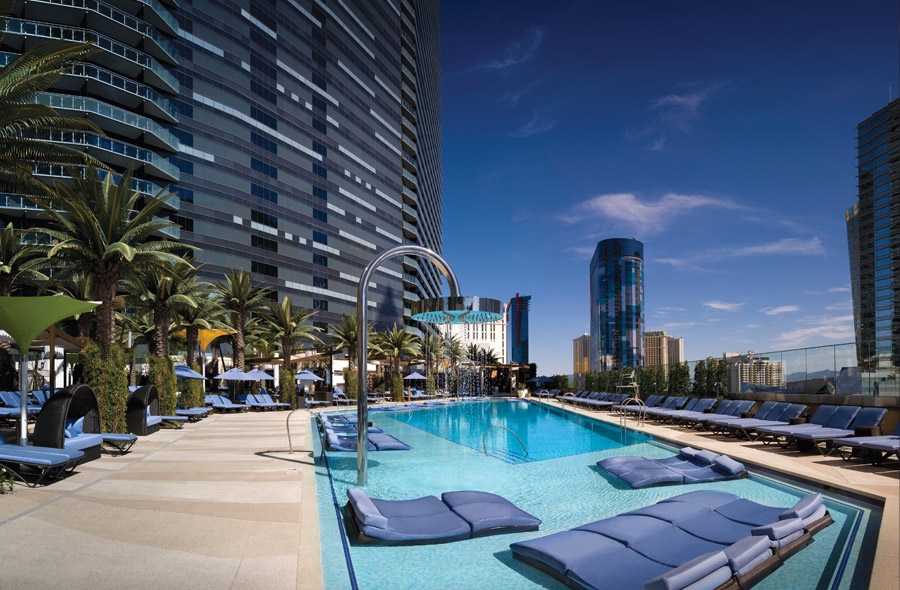 Here at Jetset, we take pride in bringing you in-depth profiles of the absolute best that our favorite destinations have to offer. We always want you know just which places are going to deliver the finest in service, amenities, cuisine, and class. For this feature, we've set our sights on four of our favorite locales in America: Las Vegas, Scottsdale, Los Angeles, and Miami. For each destination, we've selected the best resorts with the most insanely-opulent suites, the most sophisticated and delectable restaurants, and the most lively, yet classy nightclubs in America. This, is destination luxury.
Las Vegas, NV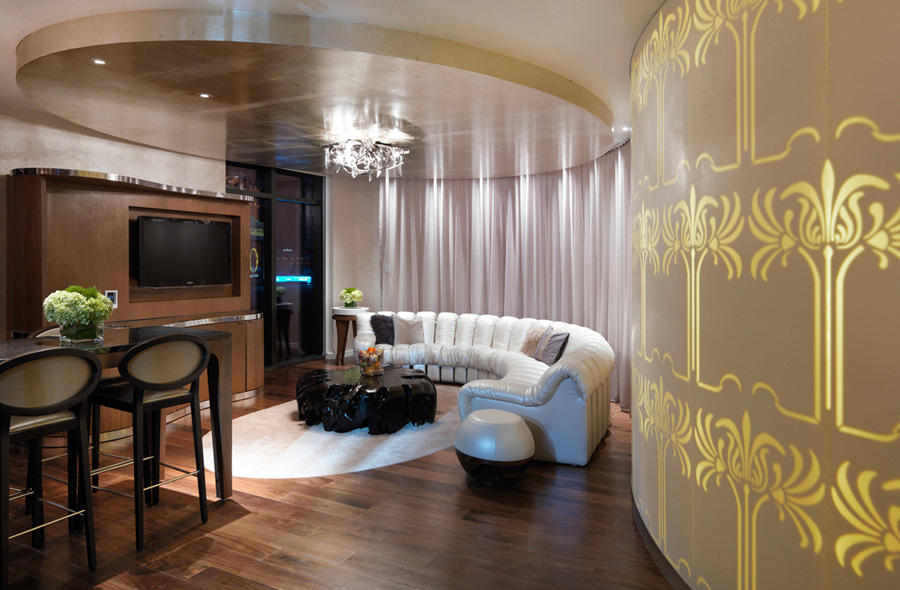 Cosmopolitan – Sahara Suite
The Cosmopolitan of Las Vegas
We begin in fabulous Las Vegas, at an all-time Jetset favorite, the chic Cosmopolitan hotel. In 2013, it was rated "Best Hotel in the World" by Gogobot, and it's not hard to see why. Fine details separate the Cosmo from other Vegas hotels, and posh sophistication is omnipresent, from the crystalline Chandelier bar to the massive collections of multiperiod art that litter the walls. Three pools (including the one on the opening spread), and a sterling collection of restaurants like STK and chef Jose Andres' Jaleo (one of three Andres restaurants at the hotel), only bolster the Cosmopolitan's stature. And while all the rooms are sumptuous enough for a Jetset reader, we are particularly fond of the West End Penthouses (which top out at 3,700 square feet).
---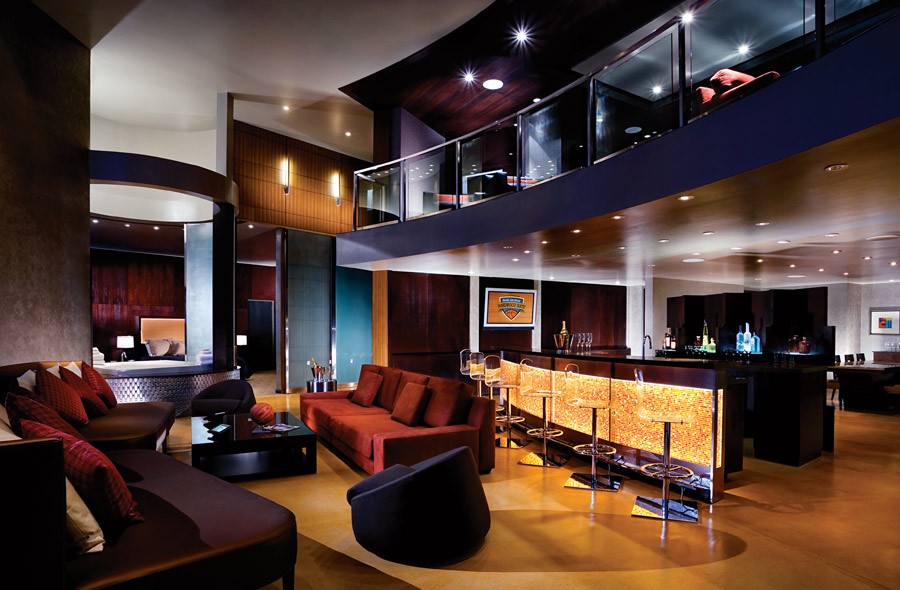 Palms Casino Resort – Hardwood Suite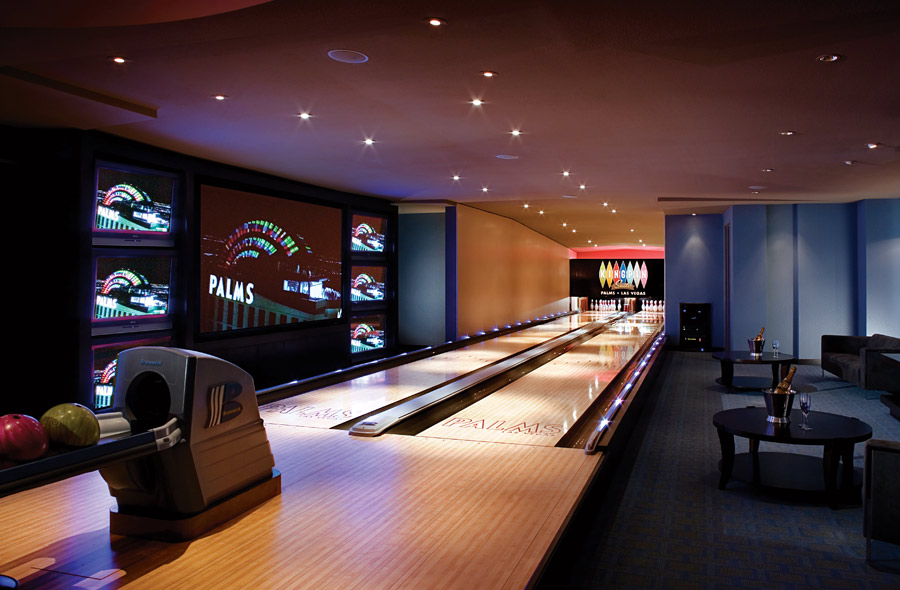 Palms Casino Resort – Kingpin Suite
Palms Casino Resort
It's no secret that the Palms Casino Resort is home to some of the most absurdly-extravagant suites in all of America, as the rooms in the hotel's Luxe Collection have become part of Las Vegas lore. Surely you've seen the 9,000 square-foot, Two-Story Sky Villa (with its trademark, strip-overlooking, cantilevered pool) on a reality show or three. Its views, glass elevator, and absurd amenities make it the ultimate locale to celebrate any special occasion in style. Bachelorettes are more partial to the aptly-named Hot Pink Suite, while the bowling alley-replete Kingpin Suite (where Katy Perry shot her "Waking Up in Vegas" video) is perfect for any party. But my personal favorite is still the 10,000 square-foot Hardwood Suite. Why? Because it has a basketball court in it, that's why. Beyond all the ridiculous suites, guests at the Palms can enjoy access to fantastic restaurants like N9ne Steakhouse and NOVE Italiano, as well as the always-entertaining Ghostbar.
---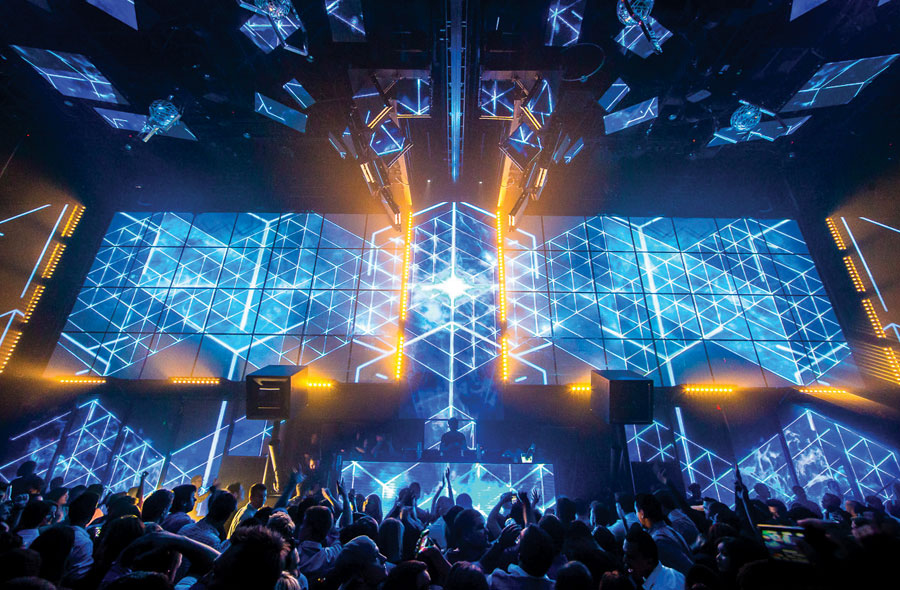 LIGHT
Billed as the "first-ever nightclub turned on by Cirque du Soleil," LIGHT at the Mandalay Bay, is an utterly awe-inspiring nightlife experience. This 38,000 square-foot club is nothing short of revolutionary in the way that it incorporates you into the show. While you are there absorbing the sounds of one the hottest DJs on the planet, you become wholly enveloped by all the technological innovation and unmistakable Cirque costumes and avant-garde choreography. With impeccable service and visuals provided by revolutionary lighting, sound, and special effects experts Moment Factor, it is easy to become transfixed at LIGHT.
---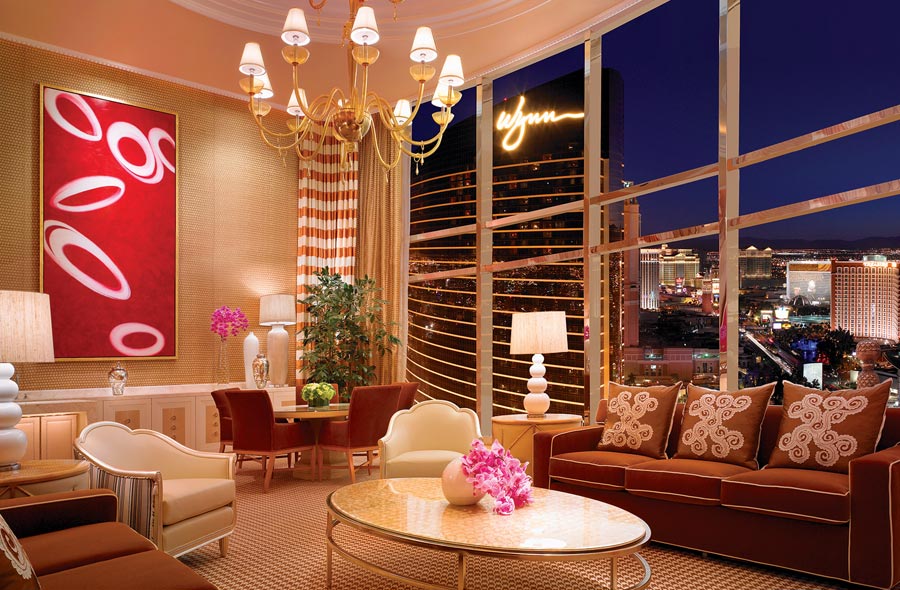 Encore – Duplex Living Room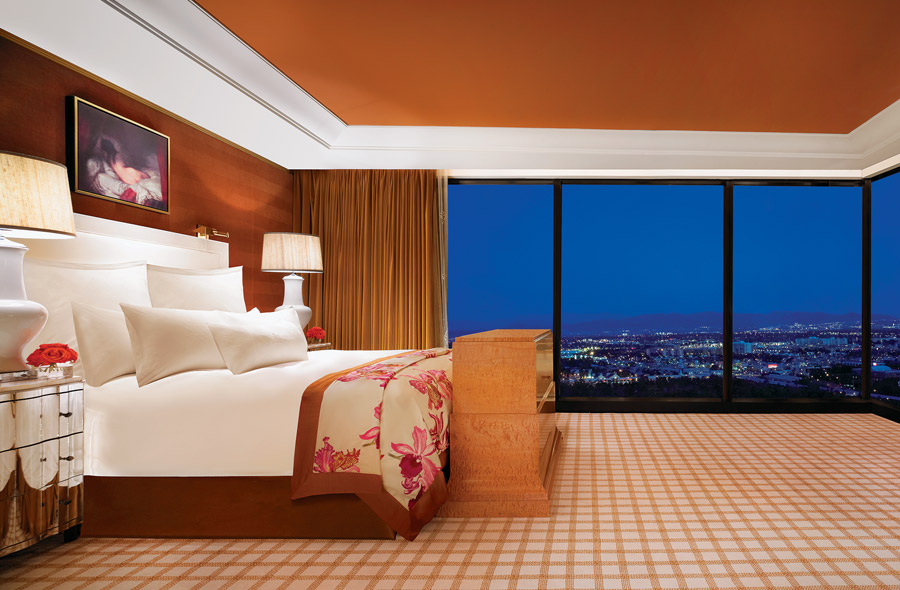 Encore – Duplex Bedroom
Three Bedroom Duplex Suite at the Encore
Majestic, sumptuous, and regal, the Three Bedroom Duplex Suite at the Encore will forever be a Jetset favorite place to stay. Nearly every inch of this 5,829 square-foot architectural wonder — from the billiard room to the private massage and exercise room — features breathtaking floor-to-ceiling views of downtown Las Vegas. The suite contains every conceivable amenity: a wet bar with a buffet, separate powder room, butler's pantry, and (of course) an elevator. Each of the three massive bedrooms features a pop-up TV, seating area, and private baths with separate glass-enclosed rain showers and whirlpool deep-soak tubs. And a dedicated ambassador ensures that your entire stay in the Duplex is as unforgettable as humanly possible.
---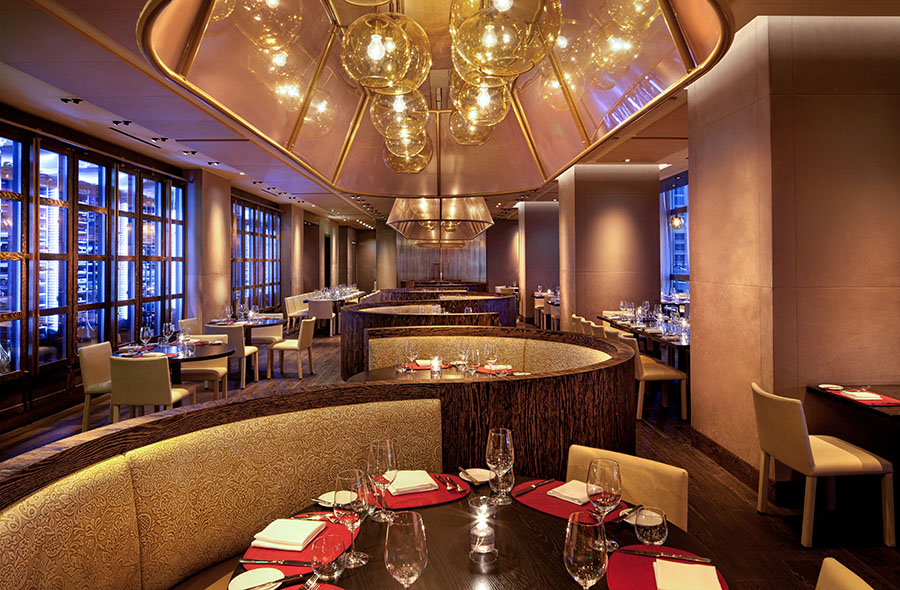 Scarpetta
Lastly, few restaurants in Vegas can compete with the brilliant cuisine, first-rate service, and awe-inspiring views of Scarpetta. Anyone who's dined at the Beverly Hills, Miami, or two New York locations knows exactly what they are in for when they sit down at this modern Italian marvel. Celebrity chef Scott Conant consistently serves up dishes that are somehow simultaneously unique and classic, like Ricotta & Truffle Agnolotti, Fennel Spiced Black Cod, and Duck & Foie Gras Ravioli. For a truly unforgettable dining experience, make sure you request a table overlooking the dancing fountains of the Bellagio, as it is perhaps the best view of any restaurant on the strip.
---
Scottsdale, AZ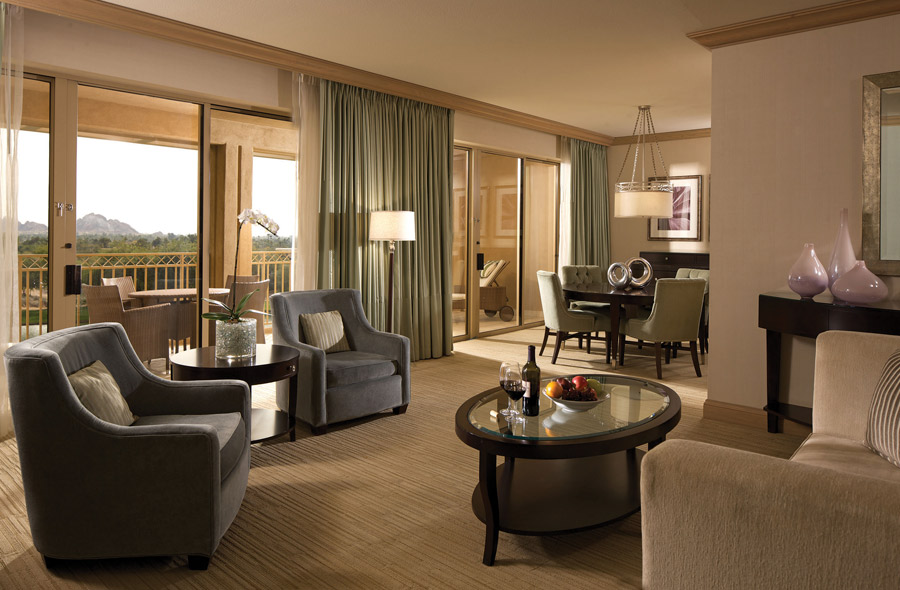 Canyon Suites at the Phoenician
Jetset's home city of Scottsdale, Arizona has been quietly building a reputation as a premier destination for hotels and resorts, and the Canyon Suites at the Phoenician is a perfect example why. A stay at the boutique, 60-room resort is truly a transcendent experience. The ambassador service at the resort is exceptionally innovative, attentive, and accommodating, making whatever you desire during your stay in possible. Nestled against majestic Camelback Mountain, each room at the Canyon Suites is a sumptuous marvel, but we particularly love the 3,000 square-foot, three bedroom suites and the show-stopping Presidential Suite.
---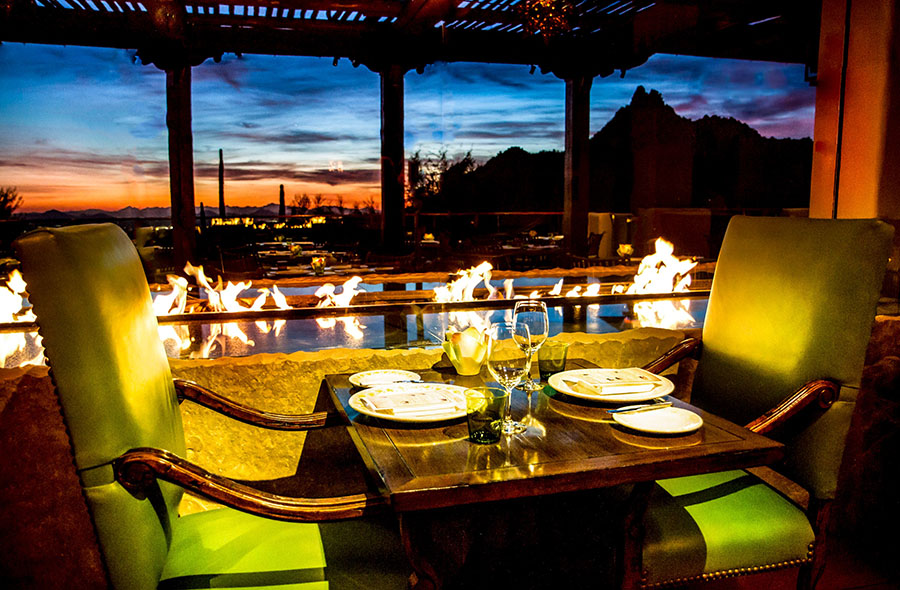 Talavera
The views of the high Sonoran desert are astounding at Talavera, where you'll find a romantic setting and exquisite New American cuisine. Chef Mel Mecinasa delivers a bevy of well-prepared steaks, fresh game, and seafood. His menu features many ingredients from local farms, as well as an almost absurd variety of beef, including grass-fed Southwestern and Australian Wagyu. An absolute must-try is the 20-ounce prime bone-in rib-eye smothered in bordelaise and bone marrow butter. For a true Jetset experience, you must opt for the six-course, chef-selected wine-paired tasting menu.
---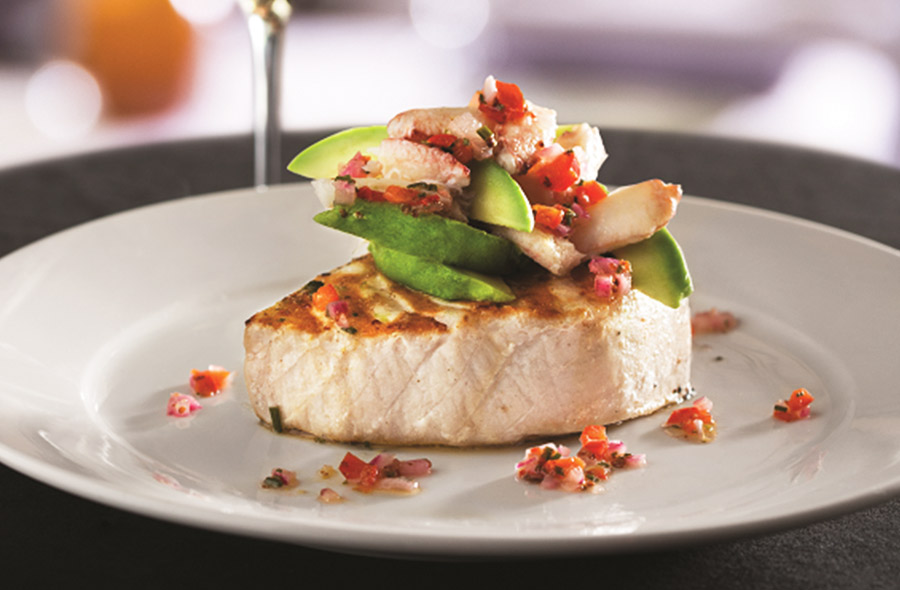 Eddie V's Prime Seafood
From the Hong-Kong style Chilean sea bass to the citrus-sauteed scallops, from the crab fried rice to the truffle mac and cheese, nearly every dish at Eddie V's Prime Seafood is as close to perfection as one can imagine. The atmosphere is upscale and refined, yet energetic, with live jazz music every night. The staff is supremely attentive and devoted, always going out of their way to please. There's also a sushi bar and an elegant lounge area. Everything on the menu is to die for, but I must insist that you try the bananas foster — doused in rum, ignited, caramelized, and extinguished all before your very eyes.
---

Fairmont Scottsdale Princess
With its five gorgeous pools (one replete with a water slide) and a blissful spa, the Fairmont Scottsdale Princess is a palatial desert getaway. Home to the Phoenix Open, this resort has long been a fixture of luxury and repose in the Valley of the Sun. Guests come from all over the world to indulge and relax at the Princess, and it has earned its reputation for its first-rate service, tranquil atmosphere, and fine dining. Restaurants include Chef Michael Mina's awardwinning BOURBON STEAK and Richard Sandoval's La Hacienda (widely heralded as the best Mexican restaurant in Arizona).
---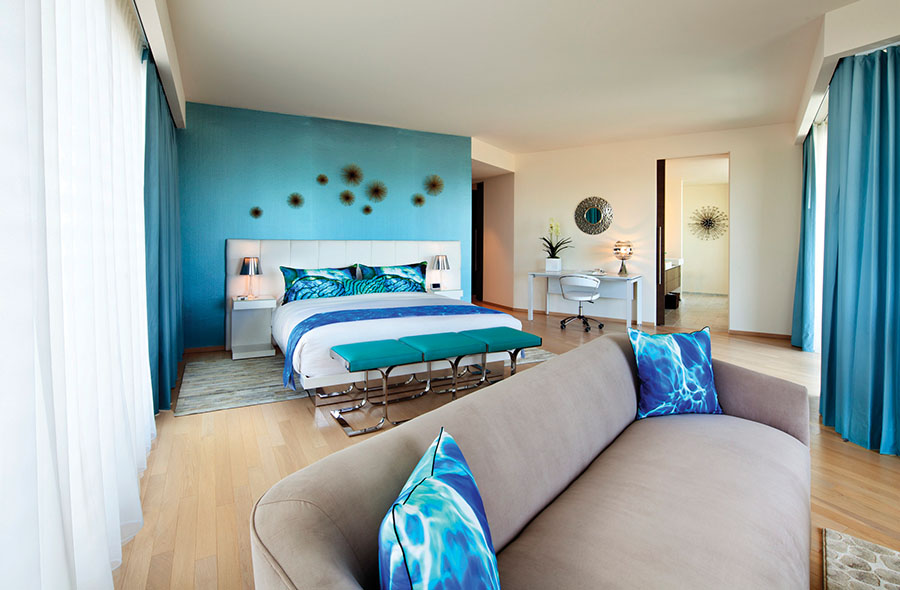 W Scottsdale – Master Bedroom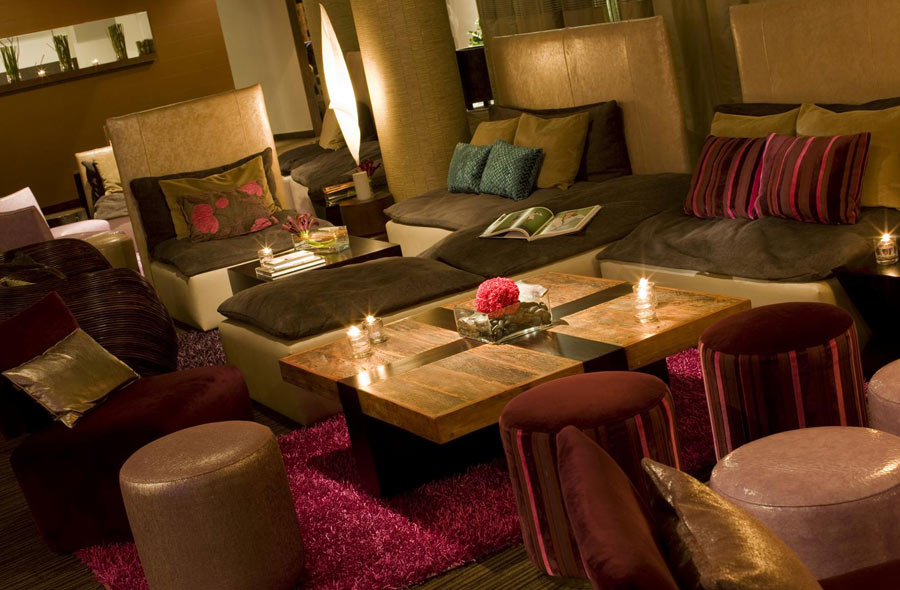 W Scottsdale – Living Room
W Scottsdale
A perennial favorite place to stay for visiting athletes and celebrities, W Scottsdale brims with unpretentious sophistication and New York elegance. Situated right in the epicenter of excellent shopping and nightlife that is the Entertainment District of Old Town Scottsdale, the hotel is the ideal lodging for those in the mood for a good time. The moody Living Room Lounge is perfect for savoring a cocktail, and (like the massive outdoor WET pool deck) frequently features great live local music. On-site Sushi Roku serves up authentic Japanese cuisine and lush atmosphere, while the trademark Bliss Spa offers total relaxation and repose. Simply put, W Scottsdale is one of the finest W's we've ever encountered.
---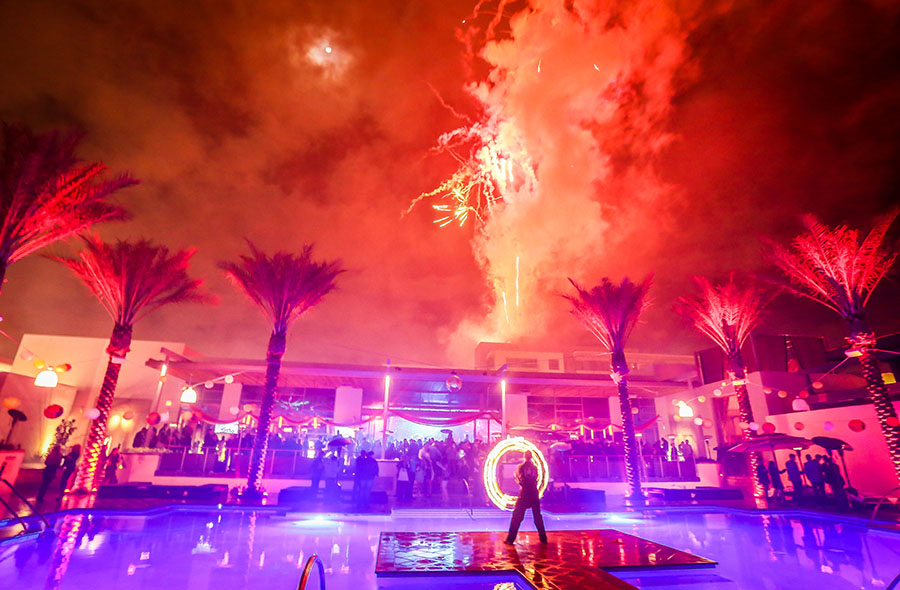 MAYA Day + Night Club
A few hundred feet from the W you'll find the one block expanse of bars and clubs that constitute the best in Arizona nightlife. Of all of them, one clearly stands out above the rest. Since its opening, MAYA Day + Night Club has played host to nearly every preeminent electronic act, all while injecting the local scene with the ethos of a world-class, Vegas-style day and nightclub. The place is lively, vibrant, and meticulously well-run, with perfectly-situated VIP tables and a first-class bottle service. In the warmer months, the 17,600 square foot pool area (with its massive LED video wall and abundant private cabanas and daybeds) comes alive, but on any given night it is unquestionably the hottest spot in the Phoenix area.
---
Los Angeles, CA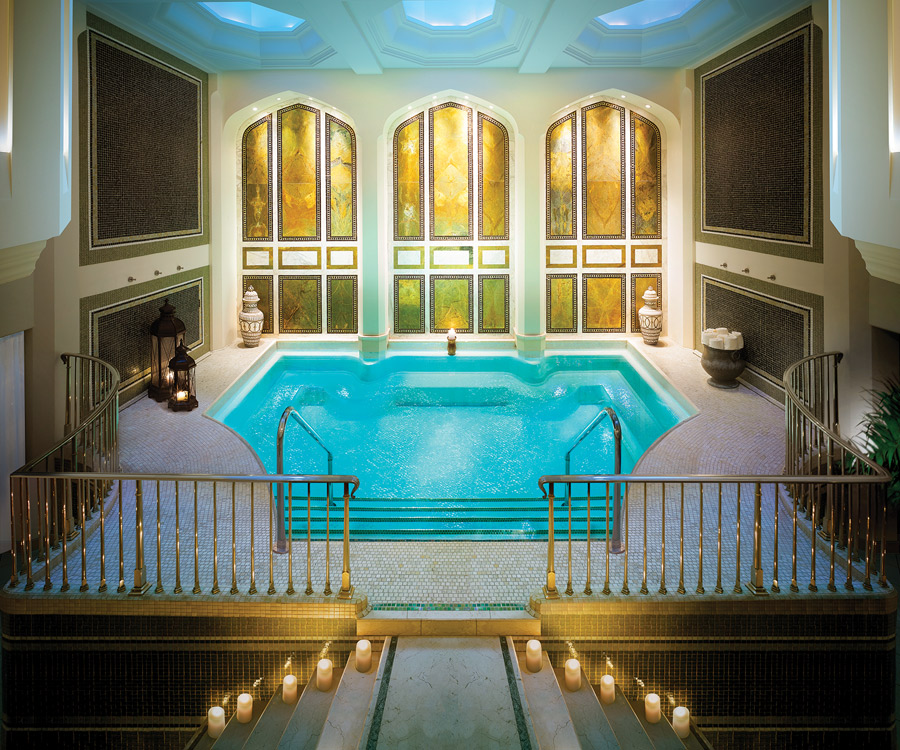 Montage Beverly Hills
Montage Beverly Hills
There's simply no way we could do a feature on the best of Los Angeles and not mention the Montage Beverly Hills. The absolute epitome of everything that Jetset stands for, the hotel possesses a kind of rarefied sophistication and understated opulence the likes of which few places in the world can contend. It's evident in the little refinements, like the plate of crisp applewood bacon, spiced pecans, and 26-month aged gouda that awaits each guest when they arrive at their room. The sweeping views of Beverly Hills from the Rooftop Grille and pool are stunning. The spa is among the best in the world. The house car (usually a Phantom) has a generous, 3-mile radius. Every room at the hotel is regal, but we are particularly fond of each of the three presidential suites: the Hollywood, the California, and the eponymous Montage.
---

STK Los Angeles
Both a modern steakhouse and an atmospheric lounge, STK Los Angeles is one of the best restaurants in one of the best cities for restaurants in the world. Always a hot spot, this vibrant place serves up grilled steaks in three sizes (from 10 to 26 ounces), and each comes with a sauce like a delicious herb béarnaise or creamy horseradish. There are also plenty of seafood options (like snapper in a shiitake-ponzu brown butter), delectable sides like parmesan truffle fries, and succulent deserts like a flourless chocolate torte and STK's signature donuts. Equally impressive is the cocktail menu. The Jetset favorite? A Hennessy ginger mojito. Resplendent.
---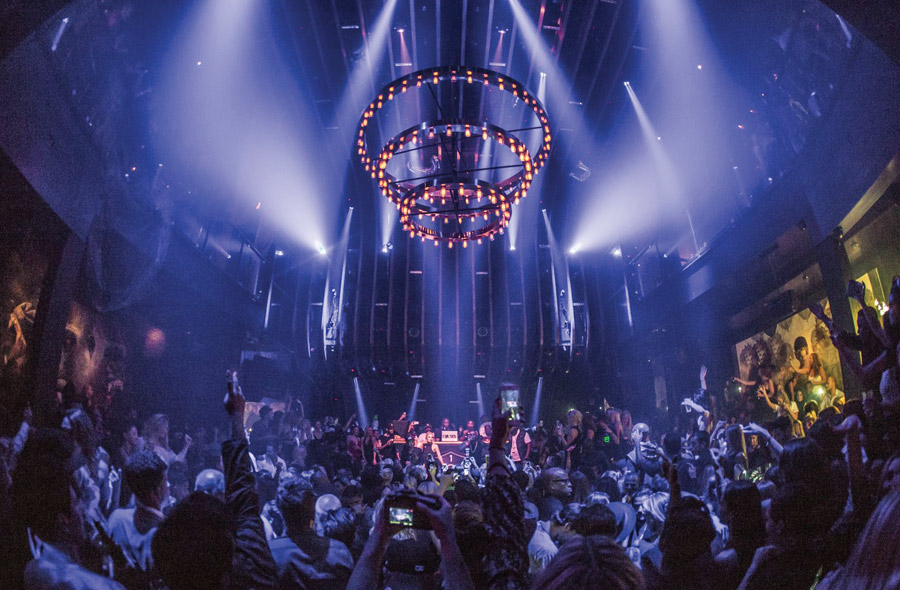 1Oak Los Angeles
Another constant hot spot since its opening, 1Oak Los Angeles is possibly the best nightclub in L. A. From Jay-Z to Rihanna, pretty much every A-List celebrity has passed through its doors in search of excitement. One trip to this sophisticated funhouse on Sunset, and you'll understand why it has become a home away from home for Jetset cover star Leonardo DiCaprio. From the leather banquettes to the rich Brazilian-wood bar, all of the accents are splendid. But it's the unbelievable atmosphere that keeps people lining up outside. We recommend you secure a perfectly-situated VIP table to avoid some of the inherent madness and better experience 1Oak's splendor.
---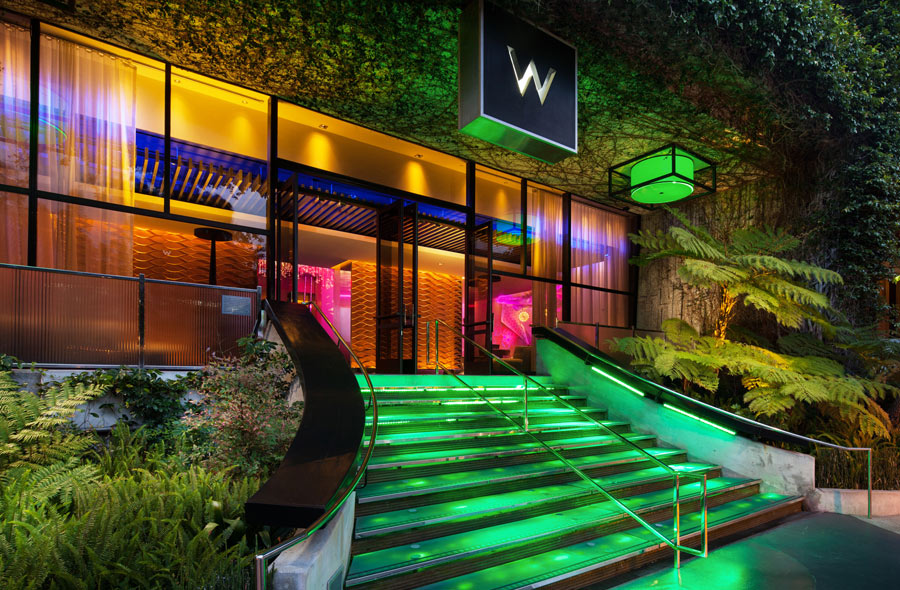 W Los Angeles
Located in West Beverly Hills, W Los Angeles is a swank, secluded retreat. At night, the hotel's iconic blue-lit steps are instantly recognizable from a distance. Journey inside and you'll discover the rich atmosphere and modern design that make this one of the most unique hotels in Los Angeles. Like every W, the W Los Angeles' staff adheres to the "whatever/whenever" policy, meaning if you can think of it, they will make it a reality (granted it's legal). In the warmer months, the pool and Backyard area is one of the most happening spaces in L.A. We recommend staying in the Extreme Wow Suite, complete with its own movie screening room, perfect for viewing that new pilot or indie film you financed.
---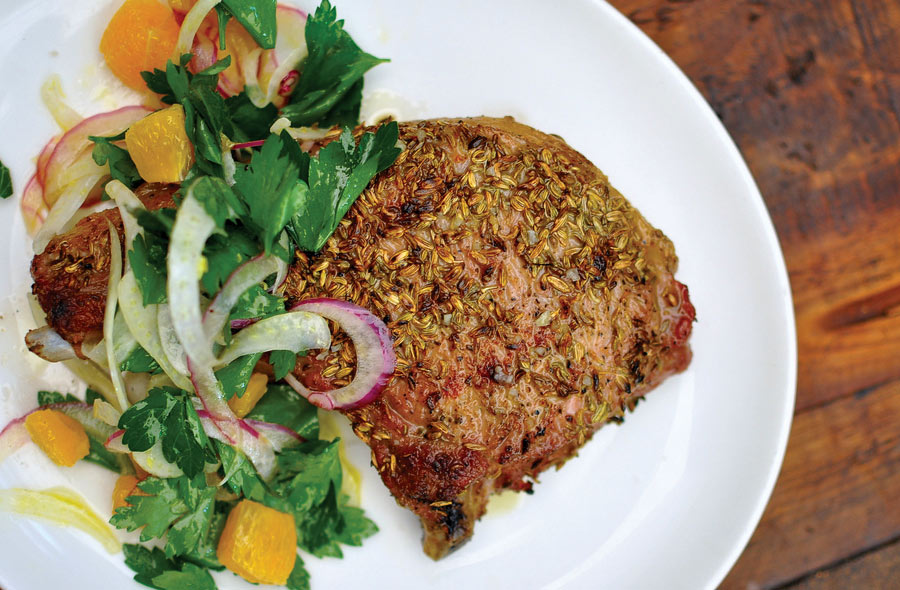 Sotto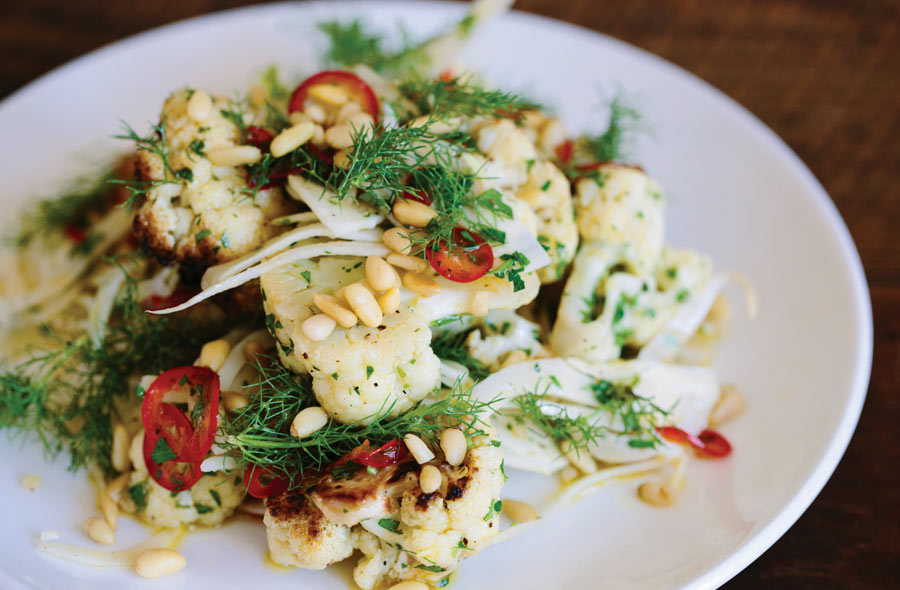 Sotto
Tucked away underground off Pico Boulevard you'll find Sotto, one of the best kept secrets in all of Los Angles. This modern Italian eatery is home to many delectable dishes and artisan craft cocktails, all served in a romantic, subdued atmosphere. The cuisine is decidedly Southern Italian, and all the dishes from the housemade pastas to the braised lamb ragu are unquestionably delicious. The unpretentious, refined aura and high level of care put into the cuisine truly set Sotto apart in a city with innumerable trendy eateries.
---
Miami, FL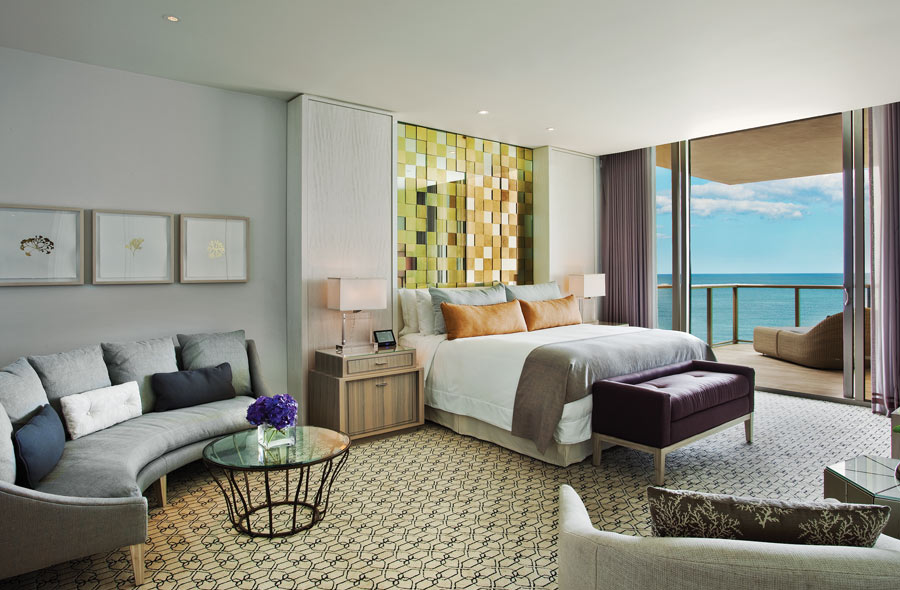 St. Regis Bal Harbour
We begin in Miami at the St. Regis Bal Harbour. Because to put it simply, it is unequivocally the best hotel in Miami. This AAA Five- Diamond, ultra-luxury resort puts most hotels on the planet to shame. Traversing the main lobby is like walking through a living work of art. The rooms, like the massive suites that overlook the ocean, are opulent to the very last detail. The butler service is absolutely impeccable. The spa might be the best we have ever encountered. The newly-launched Burger Bar has a foi grais burger that you cannot live your life without trying. Meanwhile over at J&G Grill, chef Dagan Stocks serves up some of the most succulent cuts of meat and specialty dishes imaginable. If money is no option and you wish to avoid the noise, this is the one place to stay in Miami.
---

LIV
Now if you don't mind the noise, then you cannot leave Miami without going to LIV. Regarded by many as the greatest nightclub on earth, this dance music utopia delivers the absolute ultimate affluent nightlife experience. Located within the Fontainebleau, the curvilinear LIV impresses with 18,000 square feet of space ingeniously engineered to give you a bird's-eye view from every position in the club. With its unbelievable service, striking atmosphere, and firstrate entertainment, a night at LIV is a night not soon forgot. Again, we recommend you reserve a table for the least amount of hassle and optimum Jetset experience.
---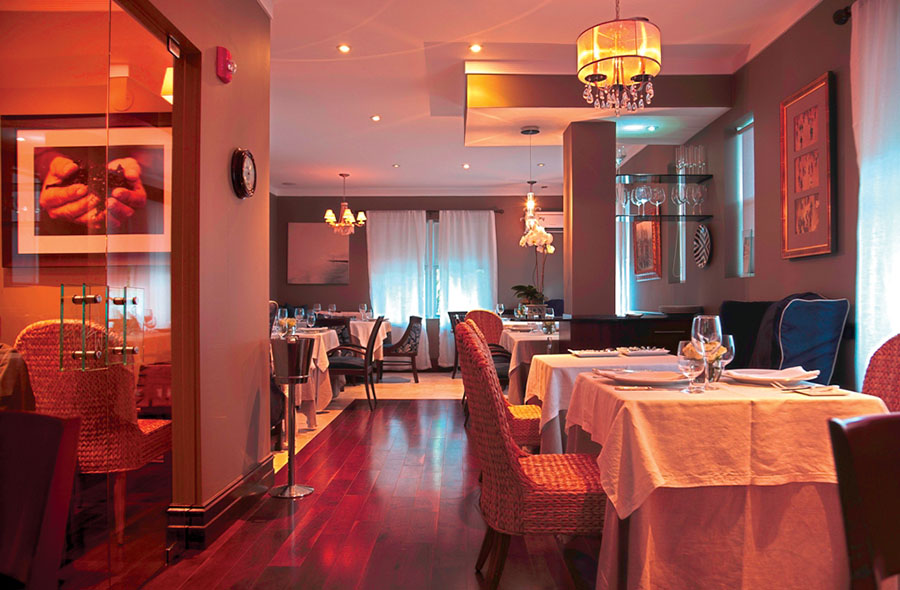 Pied à Terre
Few dining experiences on earth can contend with Pied à Terre. Located inside the quaint boutique that is the Cadet Hotel, this is the best French Restaurant in all of Florida. As you walk through the lobby (past the piano Clark Gable used to sit and play), and up the stairs into this secluded restaurant with no more than a dozen tables, you'll soon forget all the hustle bustle of Miami. Pied a Terre feels like traveling back in time to another era, one with some of the most unbelievably finely-crafted cuisine imaginable. From the marinated rack of lamb "sous vide" to the filet of wild venaison sauce grand veneur, every dish is an experience. And the wine list is so vast and esoteric, it is nothing short of a revelation.
---

Red, the Steakhouse
Always heralded as one of the best steakhouses in America, Red, the Steakhouse is full of unbelievable cuts of meat and a beautiful atmosphere. Featuring only the finest Certified Angus Beef Prime on and off the bone, the menu – created by Executive Chef, Peter Vauthy – is a hybrid of classic cuisine and the freshest seasonal ingredients. Everything from the sauces to the garnishes is prepared in-house and from scratch. In addition to their own extensive variety of handmade signature cocktails, they feature a staggering collection of over 500 wines, including Red's own private blends.
---
Pelican Grand Beach Resort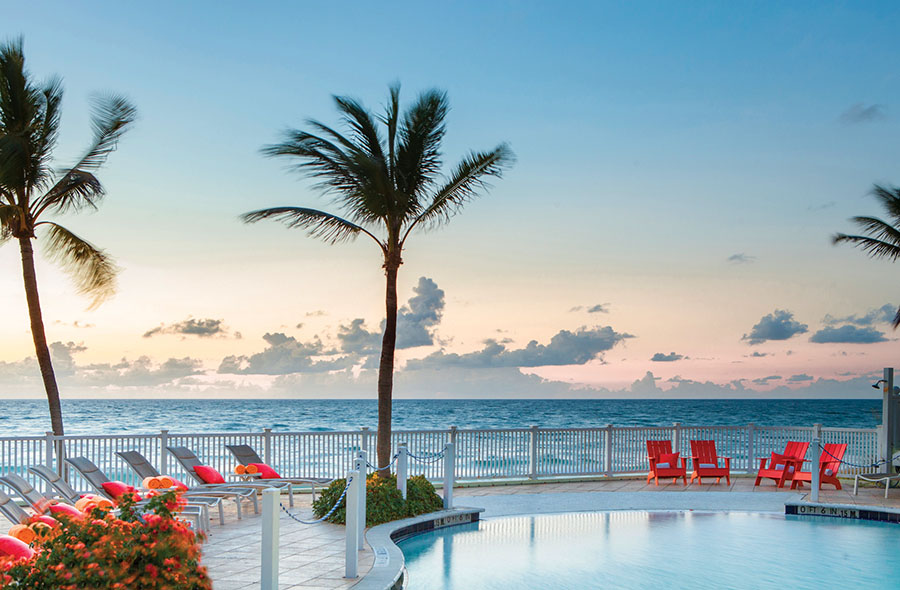 Pelican Grand Beach Resort
Confession: This last one technically isn't in Miami. No, the Pelican Grand Beach Resort is actually 35 minutes north in Fort Lauderdale. But this gorgeous, timeless hotel is just so quintessentially Floridian and stately, that we couldn't help but include it. The architecture conjures up thoughts of old, refined Southern manors. The local bar has unbelievable live musicians like virtuoso Spanish guitarists and there are frequent art exhibits in the lobby. The massive Sky and Ocean View suites are to die for, while over at the restaurant, Ocean2000, executive Chef Michael Bloise serves up innovative signature dishes like fruity pebble crème brulee while the waves crash into the sea shore beneath you.