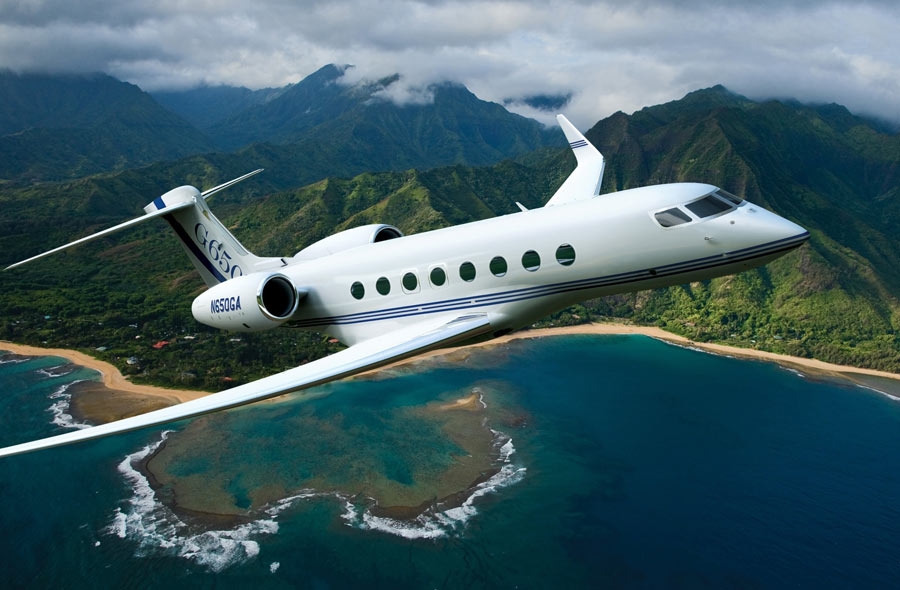 With so many options, we thought we would save you a little time by doing some research for you. We've found four great choices for elite travel, ranging from the high-energy city life of Hong Kong to a private Caribbean island to a mountaintop mansion in Central America to a secluded beach in Brazil where no one will ever find you (unless you want them to, of course). Enjoy the journey!
Hong Kong
Stay: The Ritz-Carlton, Hong Kong
It's easy to see why Hong Kong has earned the title of "Asia's World City." This lively cultural crossroads offers a unique blend of old and new, so there is no shortage of exciting experiences to enjoy. If there's one "must do" to put on your list, it's to take a tram ride up to The Peak. Located in the city's most exclusive neighborhood, it's the highest point on Hong Kong Island and offers jaw-dropping views of the city's skyline, Victoria Harbour and the distant green hills of the New Territories. With 11,000 restaurants to choose from, you certainly won't go hungry. You can choose to indulge in traditional favorites like Chinese barbeque, rice noodles or dim sum, or sample some creative fusion cuisine. For fine dining, you'll have plenty of options. Whether you're craving French, Chinese, Italian, Cantonese or Shanghainese delicacies, you'll find a Michelin-starred restaurant to satisfy you.
Be sure to leave some extra room in your suitcase, because Hong Kong is a true shopper's paradise. Being measured for a custom-tailored suit, commissioning a leather craftsman to design the perfect piece of luggage or enjoying a private viewing of the latest in haute couture are just some of the memorable experiences that await shoppers. Hong Kong also has more jewelry stores per square kilometer than any other city in the world, so the selection of jewelry and watches is both extensive and impressive. You may also want to check out the jade selection. According to Chinese tradition, wearing it can help ward off bad luck. Even if you don't make it to the top of The Peak, you can enjoy magnificent views from your luxurious accommodations at The Ritz-Carlton, Hong Kong. As the world's highest hotel, it occupies the 102nd to the 118th floors of the International Commerce Centre. Guests enjoy 24-hour access to the Ritz-Carlton Club Lounge which offers six food and beverage presentations daily, a dedicated Club Concierge and work stations. Each of the hotel's restaurants and bars offers panoramic views of Victoria Harbour and Hong Kong Island.
St. Vincent And The Grenadines
Stay: Petit St. Vincent, Private Island
If thoughts of idyllic beaches, turquoise lagoons and coral reefs teeming with colorful sea life send you into daydreaming mode, it just may be time to start planning your getaway to St. Vincent and The Grenadines. This breathtakingly scenic Caribbean nation spans 32 islands in the Lesser Antilles between St. Lucia and Grenada.
The country's largest and northernmost island is St. Vincent, which features a mountainous interior blanketed by forests and dominated by La Soufriere, a 4,000-foot active volcano. South of St. Vincent, the most populated islands are Bequia, Mustique, Canouan and Union Island.
As you might expect from a Caribbean nation, many of the country's most popular activities center on the ocean. There are excellent diving and snorkeling opportunities here as well as eco-adventures that include whale, dolphin and turtle watching. There are also many beautiful beaches to enjoy. Yacht chartering is another great way to experience St. Vincent and The Grenadines, and charter operators are readily available.
If your timing is right, you might even catch one of the islands' many festivals such as the Bequia Music Fest and Mustique Blues Festival in January, or Vincy Mas in June and July, which is billed as "The Hottest Carnival in the Caribbean."
For the ultimate getaway, book a stay in a luxurious cottage on the private island of Petit St. Vincent. There are no phones, TVs or Internet connections in the cottages – just the soothing sounds of waves, birds and tropical breezes. Of course, that doesn't mean you have to rough it. There are oceanfront gourmet meals, a well-stocked wine cellar, private romantic picnics and open-air spa treatments to enjoy. And whenever you desire a little extra privacy, simply raise the red flag outside your cottage and no one will disturb you. You can even arrange to reserve the entire island for your private use.
The easiest way to reach Petit St. Vincent is to fly into Barbados, then take a charter flight to Union Island. Upon arrival you will be greeted and then transferred to your private getaway which is located just 20 minutes away via private launch.
Costa Rica Central Pacific Coast
Stay: Zephyr Palace
Costa Rica is a land filled with natural wonders – volcanoes, rain forests, waterfalls, rivers and a spectacular coastline lined with white and black sand beaches. So it's no surprise that this popular Central American destination is a magnet for adventurers of all types – surfers, kayakers, fishing enthusiasts, hikers and others who love the great outdoors.
Given the fact that Costa Rica is one of the most bio-diverse regions in the world, the country also does a thriving business in ecotourism. The choice of activities ranges from guided horseback riding expeditions to the thrill of soaring above the tree tops of a tropical rainforest in an aerial tram that travels more than 100 feet above the jungle floor.
There's also a lot to be said for simply relaxing and taking in all of the scenic beauty this country has to offer. An excellent place to do that is Zephyr Palace, a stunning mansion set on a mountaintop 350 feet above the Pacific on Costa Rica's central coast. Guests fortunate enough to stay at this luxurious boutique hotel can enjoy 360 degree views of the Gulf of Nicoya and bask on the hotel's private beach. Each suite at Zephyr Palace features a different theme such as Egyptian, Oriental, African and New World, and is decorated accordingly to create a truly global experience.
Brazil's Southern Bahia Coast
Stay: Fazenda Sao Francisco Do Corumbau
The Oxford Dictionary defines a retreat as "a quiet or secluded place in which one can rest and relax." If its authors needed a picture to go along with this definition, they could easily use one of Corumbau, on Brazil's secluded southern Bahia Coast. This well-kept secret of a destination is ideal for those who simply want to get away, unplug, take a deep breath and relax. It's the perfect place to greet the sunrise from a sugary sand beach, take a dip in the turquoise sea or enjoy a quiet hike through the mangroves. The word "corumbau" means "distant place" in the language of the Pataxo natives, and once you arrive, you will find yourself far away from your daily cares.
The place to stay is Fazenda Sao Francisco do Corumbau, a former coconut farm that has been transformed into a luxury oceanfront retreat. There are only 10 suites and bungalows, so you'll never have to worry about crowds on the 1.5 mile beach. The diving is great here, too, as there are coral reefs filled with a rainbow of plant and marine life right in front of the resort. Its charming restaurant specializes in serving homemade delicacies, organic produce and freshly caught seafood. After enjoying the fabulous cuisine, you just might find one of the resort's hammocks calling out to you.
The Islands Of Tahiti
French Polynesia's shimmering blue lagoons and soaring green peaks create an unparalleled beauty that has inspired travelers for decades. Often called Tahiti after its most famous isle, there are actually 118 idyllic islands including such jewels as Bora Bora, Moorea and Tahaa awaiting your discovery.
When we began contemplating Tahiti's special qualities, we immediately turned to Custom Tahiti Travel (CustomTahiti.com) to help us in our quest. Owner Richard Bondurant understands the kind of passion these islands evoke. He and his company have been designing luxury travel itineraries to these islands for nearly two decades. "I have traveled the world, and it's the most beautiful place on earth," Bondurant says. "It combines the best of the best: the brilliant turquoise waters, dazzlingly white sand beaches, and overwater bungalows that you find in the Maldives and the spectacular mountain peaks that you see in Kauai. There's no place else like Tahiti for natural beauty. With friendly people, a wonderful climate and some of the world's most romantic, exotic, and luxurious resorts there's no limit to the pleasures to be found here."
St. Regis Princeville Resort
Situated on one of the most beautiful sites in the world, the St. Regis Princeville Resort is Hawaii's quintessential address. Elegantly appointed, it offers 251 spacious guest rooms including the exclusive Crown Suite Collection and famed St. Regis Butler Service. Enjoy four premiere restaurants including Kauai Grill by Chef Jean-Georges Vongerichten. From this ocean side retreat experience world-class golf or rejuvenate mind and body in the sanctuary of Halele'a Spa. The St. Regis Princeville offers bespoke service amid magnificent natural surroundings.
For connoisseurs who desire the finest expressions in luxury.

StRegisPrinceville.com
877.ST.REGIS
Jackson Hole, Wyoming
Jackson Hole continues to draw luxurious travelers with its sophistication and Americana spirit – and remains one of the most beautiful (and authentic) destinations of the West.
The Clear Creek Group properties offer luxury private villa rentals ideally suited for your Jackson Hole vacation. Peruse their portfolio which contain some of the most exceptional homes in the valley. We love The Shooting Star Cabins in Teton Village. The Shooting Star lands span 1,300 acres between Snake River & the Grand Tetons. The properties were named for the bejeweled Wyoming night sky – and each of these private villas evoke beauty and classic Western tradition with expansive mountain and sky views. For the most luxe experience, book their new "Jackson Hole Powder Perfection" package which incorporates spa, private heli-skiing and on-mountain dining.
If staying at one of The Clear Creek Group properties, enjoy dining from private chefs, or have their concierges plan a day of helicopter (heli-skiing) with a private guide or go on a winter safari and check out the wolves, moose, deer, coyotes, elk and more.