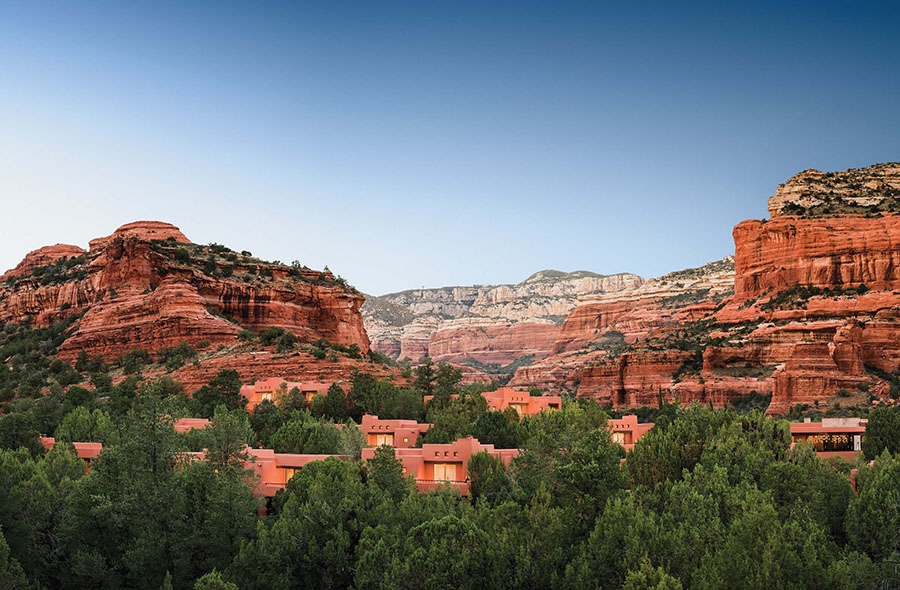 Surrounded by the towering red rock walls of Northern Arizona's Boynton Canyon, Enchantment Resort combines the rugged grandeur of the Southwest landscape with equal parts luxury and Native American culture.
The 70-acre resort is designed to take advantage of the awesome scenery with private, one-story adobe accommodations and panoramic views of rock formations. Inside, a centrally located clubhouse features two restaurants, as well as a gift shop and concierge desk. Outside, a rooftop deck provides an ideal vantage point for the millions of stars in Arizona's clear night sky.
Enchantment Resort accommodations are offered in a broad range of configurations. All are comfortably furnished in a regional/Southwestern theme and include luxurious amenities such as fireplaces and private decks offering stunning views of the canyon. Select accommodations include gas grills, kitchens, microwaves and indoor/outdoor dining areas. All guest rooms are equipped with high-speed Internet, mini bars, coffee makers, irons, hair dryers, bathrobes, nightly turndown service and fresh orange juice and a newspaper each morning.
Enchantment hosts a variety of dining experiences. The signature restaurant, Che-Ah-Chi hosts a sophisticated Wine Bar; Tii Gavo bar and grill has a more relaxed atmosphere and View 180 is ideal for drinks and tapas. A pool bar and grill is open seasonally and Mii amo Café is available exclusively for registered guests.
Hiking, tennis, swimming, outdoor whirlpool spa, mountain bike rentals, a par-three golf course and golf at Seven Canyons, championship croquet, bocce ball and ping pong await each guest at Enchantment Resort.
Mii amo, a Yuman word signifying "to continue one's path, moving forward, or journey," is a destination spa resort located adjacent to Enchantment Resort. Reminiscent of many Native American pueblos, the 24,000-square-foot, two-level main building is nestled in the natural slope of the canyon wall, maximizing views of the red rock canyon. Simple lines, monumental forms, and pure materials—adobe brick, wood, indigenous stone-blend organically with the surrounding environment. Natural light and water are recurring themes, and interior and exterior spaces flow into one another, making the building easily adaptable to the seasons. The signature form is a 172-foot-long horizontal spine from which rise five adobe brick towers inspired by the cliff dwellings of the Anasazi. Communal areas and pools are on the ground level, while treatment rooms are housed on the second floor. The design is at once modern and ancient, representing a modern application of many Anasazi ideas.
Nineteen spacious treatment rooms are located on the second level with chapel-like privacy, and windows overlooking the canyon or natural light wells. Five outdoor treatment areas, shaded by wooden trellises inspired by Native American "wikiups," provide secluded, hillside shelter for outdoor massage, meditation and Watsu therapy. Guests choose from three-, four- and seven-night programs, inclusive of luxury accommodation, daily meals at Mii amo Café, spa treatments, private consultation, fitness classes, lectures, and use of spa facilities.
Full 60- and 90-minute treatments include massage, Reiki, Cranial Sacral, hydrotherapy baths, body treatments, Watsu, Ayurvedic treatments, facials and spiritual sessions. Specially-trained therapists provide a number of restorative therapies using Mii amo signature blends of oils and lotions, natural ingredients and Native American traditional practices.
Ongoing fitness classes include yoga, Pilates, Qigong, aqua aerobics, and outdoor walks. Other activities include mountain biking, stargazing, cooking demonstrations, organic gardening, guest lectures, guided meditation and Native American programs.